Hey there! As an Amazon Associate, I earn from qualifying purchases. I greatly appreciate your support!
Today, am going to be showing you which Nutribullet can crush ice. If you love to take a cold drink and you want a Nutribullet that can crush ice, sit tight and read below.
I have listed and also explained various Nutribullet that can crush ice, not only ice cubes but can also do various tasks in the kitchen for your everyday superfood.
You will soon find out the Nutribullet that is best for you and your household.
WHAT IS A NUTRIBULLET?
Nutribullet is a small kitchen appliance that is designed to assist you to take your cooking to the next level. It is used for making various dishes. With its powerful motor watt and twist blade, you can crush ice for your drinks and smoothies.
Nutribullet is made for both single and family servings.
WHICH NUTRIBULLET CAN CRUSH ICE
This Nutribullet is the fastest and easiest solution for crushing ice and making nutrient-packed smoothies.
We have various Nutribullet that can crush the ice with different powerful motor watts, blending capacity, and a god twist blade for breakdown ingredients. Examples are,
NUTRIBULLENT BLENDER
Nutribullet blenders are power user blender; it is fast, easy, and perfect. It is the best nutrient-packed smoothie, for healthy eating and drinking. It is used to maximize your food's nutritional potential.
The 1200 watt with stainless steel is used to pulverize the toughest ingredients and even crush ice.
When it is overheating the pre-programmed pulse cycle will automatically shut off. It comes with 2 comfort lip rings, 2 flip-top lids, 1 user Manuel recipe book, and 1 pocked nutritional.
READ ALSO: MEAT GRINDER VS BLENDER
READ ALSO: WHAT IS THE BEST JUICER BLENDER COMBO?
NUTRIBULLET 900 WATTS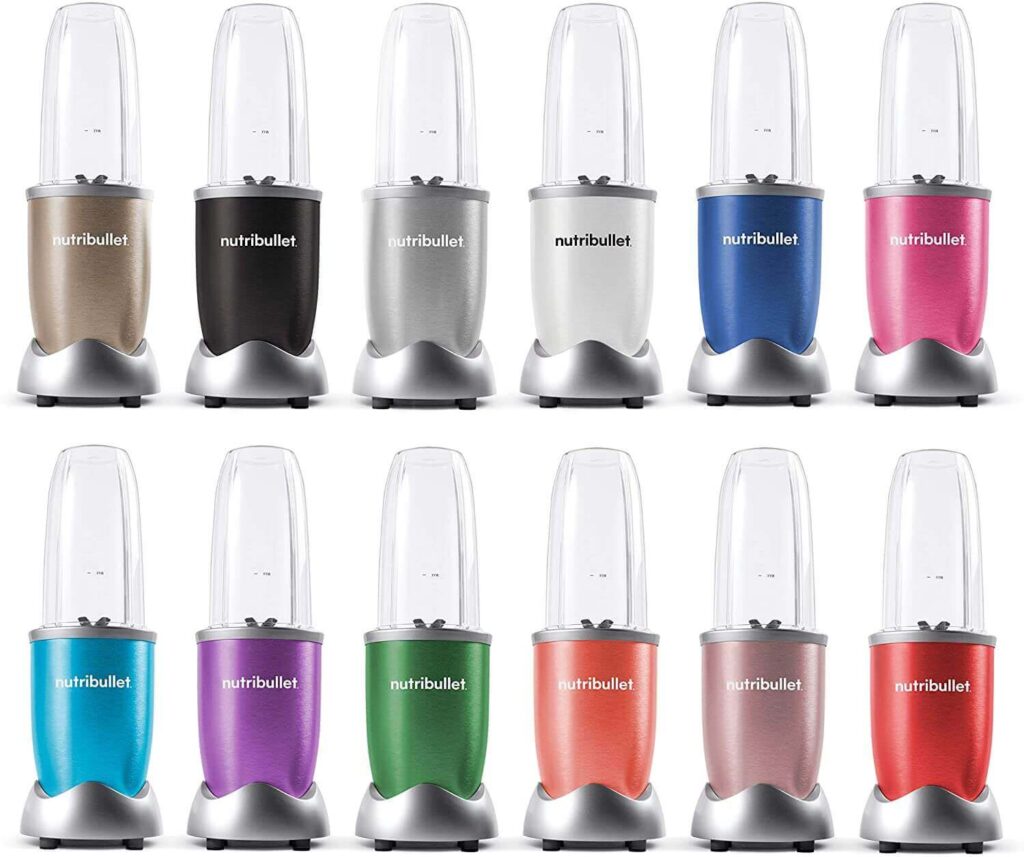 Powerful stainless steel Extractor blades use Cyclonic action to break down the toughest whole food into nutritious shakes, smoothies, and nut butter. It is a BPA-free plastic cup that is long-lasting and durable.
The optimized 900 watts power pro is faster and stronger than the original. It comes with an extractor blade to crush small ice and blend ingredients into a healthier delicious meal.
The colors are perfectly designed for your kitchen taste.
The blade can be easily rinsed with soap and water, the cups are dishwasher safe.
NUTRIBULLET 600 WATTS
It is a kitchen appliance that has a 600watts powerful motor and a stainless steel blade that crushes ice and extracts foods into liquid form in just one second.
The features include:
High quality, easy to use/ clean up.
It is simple to operate and assists you to make your favorite food and smoothie faster with ease.
The blade and cup can be easily cleaned with soap and water.
It comes with a recipe book to make easy home food by you faster.
READ ALSO: BEST BLENDER FOR GRINDING RICE
READ ALSO: BLENDTEC PRO 800 VS VITAMIX QUIET ONE
NUTRIBULLET RX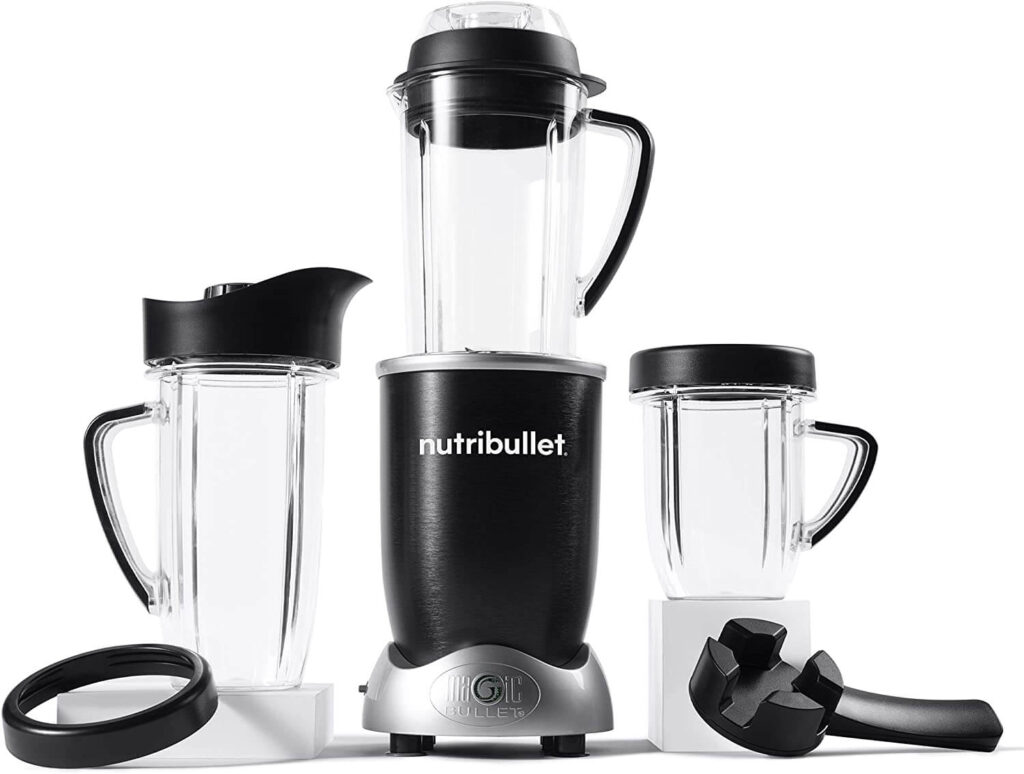 This product is manufactured in compliance with US & Canadian Electrical Standards.
Nutribullet is perfectly made for the best extraction nutrient to transform your health without limitation.
It has 1700watt and a 45oz blending capability to crush ice and break down tough ingredients. It comes with an additional cup to take your vitamin anywhere.
The blade can be easily rinsed with soap and water, the cups are dishwasher safe.
It has a heating blending for soup and sauces. Its server is for single and family use.
Instruction: When using this Nutribullet above to crush ice, don't put too many ice cubes into the cup for blending, you can use a small ice cube.
READ ALSO: BEST BLENDER TO PUREE FOOD FOR ELDERLY
BLENDER THAT CAN CRUSH ICE
If you want to use other blenders instead of Nutribullet design, you can use these blenders to also crush your ice. Examples are;
AICOOK PROFESSIONAL COUNTERTOP BLENDER
Powerful Kitchen Blender – Peak 1800W motor and 26000rpm/min(max) smoothie blender can pulverize ingredients faster and smoother, handle many roles efficiently from daily food blending to powerful ice crushing. It can also break cell walls of ingredients in seconds and keep most pulp to stay more nutritious with delicious taste.
It has a pulse and 11-speed control to handle different ingredients like carrot, apple, spinach, nuts, etc. It refines with precision from smoothest to smoothie fruit.
High-Performance Blades –Its stainless steel blade is used to blend the toughest or chunkiest food ingredients without getting stuck and breaking. It also crushes ice to snow in seconds.
Large Capacity –It has 32oz, for ideal smoothie maker to creating medium batches for the family meal.
It is easy to clean with a dishwasher with just a drop of dish soap and warm water.
NINJA BL770 MEGA KITCHEN BLENDER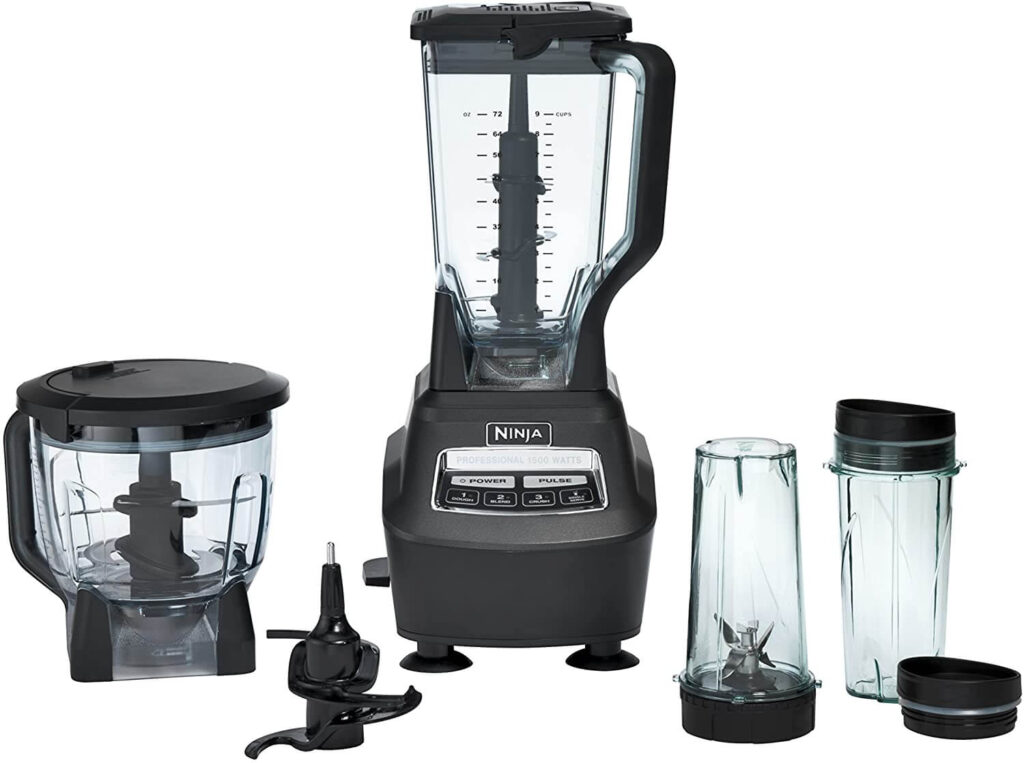 The ninja mega kitchen blender has a 1500watts powerful motor with 72 ounces for crushing ice to snow in just one second. You can now enjoy your cold nutritious creamy drink and smoothie.
It comes with a 16oz. personal cup or single-serve cup to take your nutrient-rich drinks anywhere you go.
It has a processed food bowl with a blade for mixing and chopping to make dough. It is easy to use and clean.
COSORI BLENDER
Cosori blender is designed in California. It has a 1400 watts and 25,00rpm motor with a sharp blade that crushes ice cubes and breaks down nuts, seeds, frozen fruits, vegetables, and all kinds of ingredients into nutrient and vitamin form.
The speed control knob is used for low and high speed to make vortex while blending. Its pitcher is BPA-free.
It comes with a bottle to take your smoothie out, recipe books are made by a Cosori chef for easy cooking.
It is self-cleaning; with a drop of dish soap and warm water, your Cosori blender can clean itself in 30 to 60 seconds.
HAMILTON BEACH PROFESSIONAL QUITE SHIELD BLENDER
The Hamilton blender has a Powerful 1500 Watt with a 2.0 peak horsepower motor that crushes ice and frozen ingredients in seconds. It is needed for restaurant-quality results.
It has an easy removable quiet shield that reduces noise during the blending process. You can as well have a peaceful conversation while blending.
The hardened, stainless steel blades rotate at speeds over 105 mph to blast through tough ingredients.
By turning the dial with a touch to press start, the four pre-programmed settings are used for Smoothie, Ice Crush, Puree, and more.
It has a variable use for mixing and chopping to achieve ideal texture for restaurant-quality results.
It is easy to clean by using warm water, dish detergent to the blender jar, and use the pre-programmed clean setting for quick cleaning. The blender jar, lid, and tamper are all dishwasher safe as well, it's 32 oz. the jar is BPA-free.
With the help of the tample, you can blend frozen fruit, thick mixtures like nut butter for better consistency.
It has a speed dial that offers effortless blending control.
CAN THE MAGIC BULLET CRUSH ICE?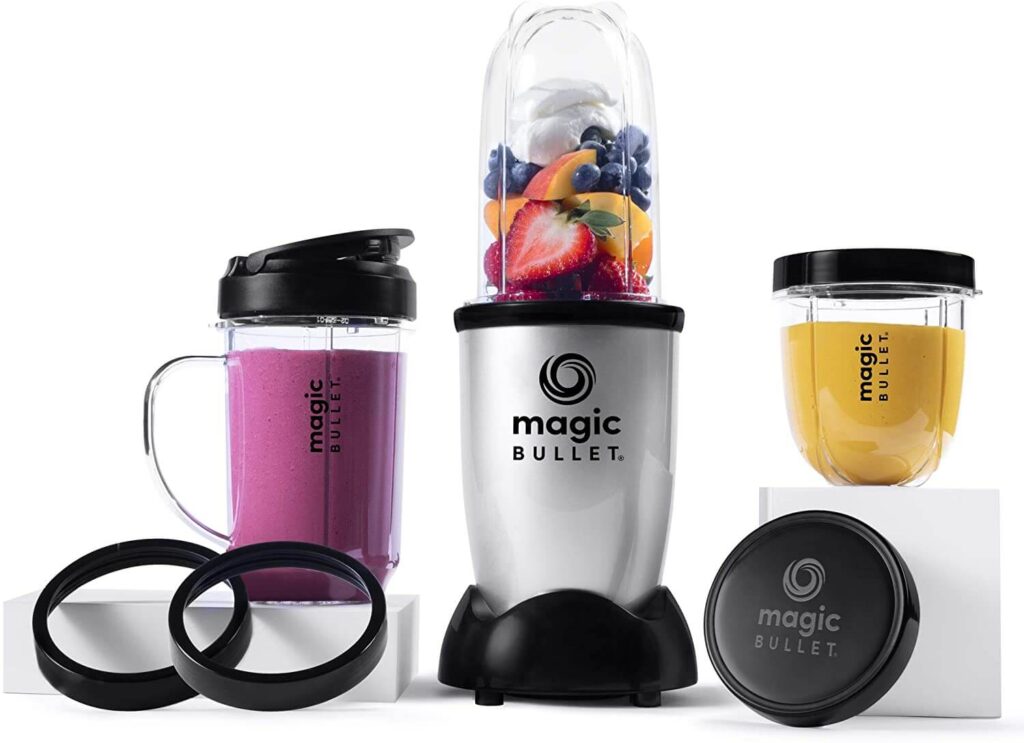 A magic bullet can crush ice but not perfectly well.
The magic bullet is small personal kitchen assistance that can perfect various tasks in the kitchen which are chopping, mixing, blending, whipping, grinding, and more.
It has 250watts power that allows you to create your favorite meals and snacks like smoothies, sauces, cocktails, omelets, dip, and more.
It comes with a recipe book to get your day started with. The recipe book assists you in preparing quick, easy, and delicious dishes. In the box are additional blender cups, blades, and more. It has a single-serve cup that can carry your smoothie anywhere you go.
HOW MAGIC BULLET WORKS
Magic bullet doesn't have any buttons; just load your ingredient into the cup. It works by twisting the cap and pushing the ingredients into the blade base, lining up the tab, and place on the power base for blending. If you are not satisfied with the consistency, you push it again until you are satisfied with it. It also implies ice cubes.
READ ALSO: HOW MANY WATTS DO YOU NEED TO BLEND FROZEN FRUITS
CAN NUTRIBULLET CRUSH FROZEN FRUIT?
Yes, Nutribullet has powerful motor watts and stainless steel blade that can crush frozen fruit perfectly well, starting from 600 watts and above.
READ ALSO: WHICH NUTRIBULLET IS BEST FOR FROZEN FRUIT