Hey there! As an Amazon Associate, I earn from qualifying purchases. I greatly appreciate your support!
In the world of Scanpan, there are various collections for everyday cooking performance and Scanpan CTX is one of them. The question now is, is Scanpan CTX safe? Can it be used for safe food?
Scanpan CTX is an exclusion series of cookware for the everyday demand of food enthusiasts. With CTX, you get uncompromising cookware for your safe foods.
SCANPAN was the first manufacturer of cookware to introduce environmentally friendly, PFOA-free nonstick products to the market, and all SCANPAN products are free from both PFOA and PFOS.
WHERE IS SCANPAN CTX MADE?
Scanpan CTX products are made in Denmark, with high-quality safe materials to meet consumers' needs.
IS SCANPAN TOXIC FREE?
Scanpan is committed to the safety of consumers by removing every trace of harmful substance during the production process leaving all products PFOA and PFOS free for safe meals.
SCANPAN CTX REVIEW
The ScanPan CTX series is one of the most desirable ranges within Danish cookware due to its special steel and aluminum construction for optimum even heat distribution.
The superior multi-ply construction of CTX allows quick and efficient transfer of heat evenly over the entire body of the pan.
All cookware in the CTX series is constructed with a satin-finished stainless steel exterior to bring elegance and functionality to any kitchen.
The nonstick surface is extraordinarily robust ensuring perfect cooking and safe use.
The Scanpan handles are cast stainless steel secure by rivets, preventing food build-up that leads to bacterial growth and also designed to stay cooler longer.
Scanpan CTX series is suitable for all cooktops, including induction top and also PFOA and PFOS free.
The Scanpan CTX is ovenproof up to 500 degrees Fahrenheit (260 degrees Celsius). When removing your Scanpan CTX pan from the oven make use of a potholder because the handle can be hot when heated in the oven.
IS SCANPAN CTX SAFE?
Scanpan CTX made in Demark is manufactured without the use of harmful chemicals and is free of lead, cadmium, PFOA making it safe for healthy food.
SCANPAN CTX FRYING PAN
Scanpan CTX frying pan features premium 5-ply construction for professional-grade heat distribution and a patented metal-utensil-safe nonstick surface.
The pans are PFOA-free, oven-safe up to 500 degrees Fahrenheit, and suitable for all stovetops including induction.
It comes with a lifetime warranty when used according to the manufacturer's instructions.
READ ALSO: IS GRANITE COOKWARE SAFE
SCANPAN REVIEW
Scanpan was the first brand to introduce environmentally friendly cookware and patented nonstick coating products that are free from both PFOA and PFOS.
SCANPAN product bases are manufactured for optimum heat distribution ensuring a consistent cooking performance every time.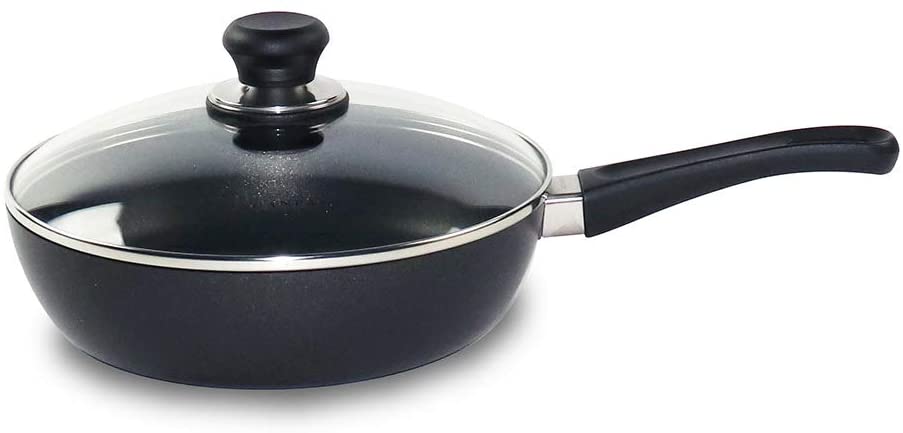 The nonstick surface is safe and sustainable to use for food preparation and is FDA approved. Scanpan cookware is designed to promote healthy cooking with less oil. For best results, preheat your pan on low or medium heat for a minute or two before you start cooking.
Scanpan is easy to clean, simply wash pans with warm, soapy water and a dish sponge after use to remove food and oil residue.
All Scanpan cookware is compatible with gas and electric stovetops and for induction, stoves make use of Scanpan Pro IQ, HaptIQ CS+, CTX, and classic induction.
Scanpan cookware has the ability to withstand heat temperatures like oven-safe up to 500 degrees including lids and handles.
Scanpan cookware comes with a limited lifetime warranty against manufacturer's defects and is safe in the dishwasher.
READ ALSO: IS SCANPAN REALLY SAFE
READ ALSO: CAN I PUT MY SWISS DIAMOND PAN IN THE OVEN
SCANPAN CTX VS PROFESSIONAL
The Scanpan CTX vs professional are both durable high quality ceramic nonstick cookware that shares the same brand.
The Scanpan CTX comes with 3 ply, 5 layers construction stainless steel and pure aluminum at its core for even heat distribution while the professional is crafted from squeeze cast aluminum for the good conductor.
CTX has a magnetic stainless steel finish on the exterior and ceramic titanium on the inside which makes it induction compatible while the professional thick base is highly resistant to wrap.
The professional range has a black ceramic finish on the outside, while CTX has an 18/0 stainless steel finish.
The professional and CTX are famous and can be used on electric cooktops, gas stoves, and ovens but CTX is at the top of the class because of its induction compatibility.
CTX and professional series handle feature stay-cool stainless steel that is secured by rivets and comfortable to hold.
The lid of the professional is stainless while the lid of the CTX is a glass lid with a stainless steel rim.
The advantage of the CTX lid is that it allows its user to see through and monitor cooking performance. The drawback of the CTX lid is that is a bit heavier because of the combination of the glass and stainless but has nothing to do with its function.
You can use metal utensils on the professional and CTX cookware because of its tough surface that is resistant to scratch.
The CTX and professional come with a lifetime warranty against manufacturer defects. Defects include peeling, pitting, and bubbling of the surface and do not include residue buildup, damage due to propellant sprays, and damage from dropping.
Both cookware sets are going to last for you when use in accordance with the manufacturer's instructions.
The professional and CTX cookware is easy to clean either by hand wash or in the dishwasher. But we do recommend a hand wash for long-lasting.
SCANPAN STRATANIUM
STRATANIUM is SCANPAN's patented PFOA/PFOS-free nonstick coating system. SCANPAN spent over two years researching and testing to create the extremely durable, high-performing STRATANIUM non-stick system.
STRATANIUM is a 5-step system in which hard particle and wave-like layers interlock to reinforce the non-stick layer, making it a metal tool safe and extremely durable.
SCANPAN PROFESSIONAL
The Scanpan professional cookware is one of the unique collections of the Scanpan cookware brand to provide inspiration for better even cooking at the time
The Scanpan professional pan is used mostly by professional chefs because of is easy to clean, resistant to scratching, oil-free cooking, and lightweight.
The Scanpan professional pan is handmade of recycled cast aluminum for optimum even heat distribution. Aluminum used on the professional fry pan does not have a magnetic base making it not compatible with induction top but suitable on gas and ceramic cooktop.
The professional series is environment friendly and consists of multiple layers during the production process making it hard on the surface.
The Scanpan professional fry pan is ovenproof up to 500 degrees Fahrenheit and metal utensil safe.
SCANPAN CTX VS CST
The Scanpan CS+ is a commercial grade non-stick Stratanium+ that is constructed exteriorly with stainless steel and interiorly with aluminum for heat distribution. CS+ has a smooth surface for searing and is suitable for all cooktops.
Scanpan CTX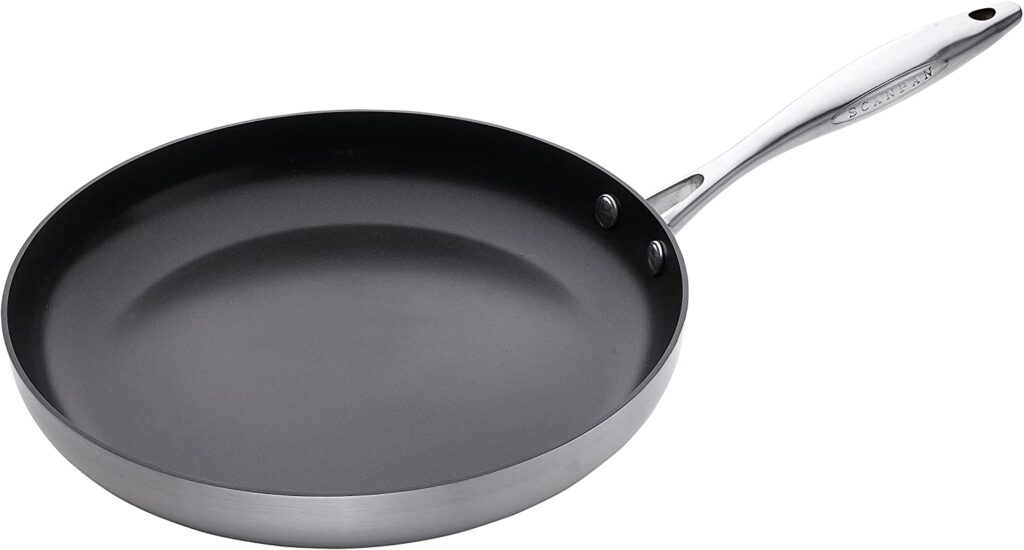 The beautiful CTX Fry Pan is made of 3-ply/5-layer stainless steel construction with aluminum at its core for even heat distribution.
The patented nonstick interior coating sears browns and deglazes with ease. It is compatible with all stovetops including induction.
It is dishwasher safe, utensil safe, oven safe up to 500 F, and PFOA free.
IS SCANPAN CTX INDUCTION SAFE?
Yes, Scanpan CTX is induction safe because it comes with a magnetic base that sits flat on the hob for evenly heat distribution.
SCANPAN CTX WOK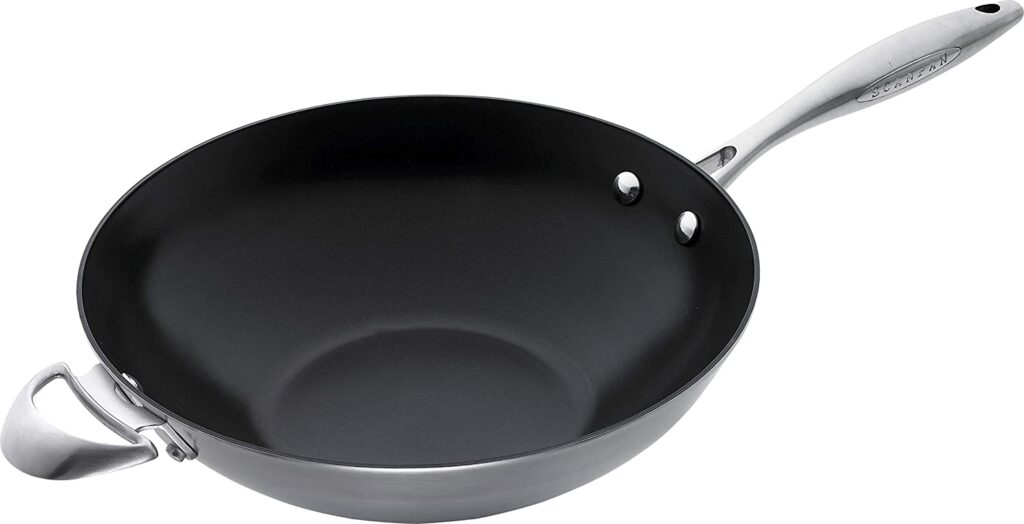 The SCANPAN CTX 32cm Wok uses the best 5 ply clad stainless steel for the internal non-stick surface that is PFOA free.
The cast stainless steel handles are secured with rivets, and the pan is oven safe up to 260 degrees Celsius with rapid and even heat distribution.
Before you use after the purchase of your wok pan, Wash in hot soapy water with a nylon brush. Do not use harsh scourers. When cooking is complete, empty contents and fill the pan with hot soapy water.
Use a soft nylon scourer and vigorously scrub the pan, ensuring all food fat and residue are removed. Never use harsh or abrasive cloths or cleaning liquids/pastes. Dry and store appropriately. Do not use excessive high heat on your pan.
Scanpan CTX wok is designed and made in Denmark with a 10-year warranty against manufacturing defects.
READ ALSO: SCANPAN CTX