Hey there! As an Amazon Associate, I earn from qualifying purchases. I greatly appreciate your support!
Preparing a baby's food should be done in a delicate manner. In a bid to either control budget or make the best decision when it comes to buying a baby food maker, it is good we really understand if it's a must you need a baby food maker.
The question here is; "do you need a baby food maker"? Are you expecting a baby or are you thinking of adding a baby food maker to your registry list?
Whatever your answer is, baby food makers come in handy for steaming and pureeing capabilities. Make your baby happy today by preparing tasty, fresh, and safe homemade fruit meals.
DO YOU NEED A BABY FOOD MAKER?
While using a baby food maker to prepare baby food is considered healthy, it is not a must you need to use a baby food maker to prepare your baby food as most food processors can grind, puree, and come with steam baskets.
Apart from this advantage stated above, using a baby food maker can help you save money as most baby-related products and baby food doesn't come cheap. This is especially true if you opt for organic and pasture-raised ingredients that simply cost more to produce.
With a baby food maker, you know exactly what your baby is eating because some products contain additives or excess sugar or salt, none of which fit into a healthy baby's diet.
Also, with the baby food maker, the steaming process allows for more nutrients to be left in the end result. You'll be very happy knowing that baby's getting all of the vitamins and minerals he needs to grow and develop.
Finally, using a baby food maker, you can introduce new flavors into the baby's food slowly as he learns all about your family culture!
HOW TO MAKE BABY FOOD
Are you a busy mom? If yes, allow me to share with you helpful tips that will assist you to prepare your baby food easily. We all know that preparing baby food can be time-consuming, but the steps below will improve your efficiency.
For this explanation on how to make baby food, we are going to be using the Baby cook baby food maker appliance. A very good breakfast for baby food should be very simple.
Most mothers prefer the Baby cook maker machine because it comes with baby food recipes which you could follow as a guide.
We will be using Organic mango chunks and whole-grain oatmeal cereal which are all organic and good for the baby. You can make a baby food puree and put it in the fridge.
STEP 1; Pour in the organic mango chunks into the plastic container of the Baby cook food maker appliance. Steam the mango chunks, pour out the water and then grind/puree.
STEP 2; Pour the oatmeal into a bowl, add a little water, then pour (pour bit by bit not all at once) in the puree organic mango chunks into the same bowl and stir gently.
STEP 3; Get an airtight container and pour in the pureed baby food for easy and safe storage.
You can also prepare baby food with the big size package of Organic diced butternut squash together with pear. You simply follow the same steps above; steaming and grinding/pureeing the baby food, then storage.
STEAMER AND BLENDER FOR BABY FOOD
Generally, a baby food blender or food processor is used to puree and prepare baby food.  Recently, we have had the steamer and blender combo combined for making baby food easily.
The baby food steamer and blender provide you with an intelligent operation. Ease of use by pressing the button will automatically allow the steaming and food processor function to be active.
Eliminate the tedious and redundant steps in preparing your baby's food. Below are the best recommendations for steamer and blender baby food;
GROWNSY BABY FOOD MAKER, STEAMER, AND BABY FOOD PROCESSOR.
The Grownsy baby food maker and steamer is the best baby food processor appliance as it is multi-functional providing stirring, constant temperature preservation, and of course steam heating.
Perfect for all fruits, vegetables, and meat. It can also heat milk and keep warm. Enhance and care for your baby's intestinal health and baby's resistance.
The Grownsy baby food blender has two different mixing modes to meet your baby's needs for different food tastes. It is also designed with a water shortage smart reminder that reminds you when the baby steamer is short of water.
It has a separate option for pureeing meat. Purees are perfect, very easy to set up and clean. I would highly recommend this product to parents who want to make quality food for their little kids.
This food processor is just amazing. It makes great food in just a matter of minutes.
We used a blender before to make juices and to slice solid food in pieces before, which were messy, this food processor is very easy to use and easy to clean after use.
The Grownsy baby food maker and steamer is a decent baby food maker that you can conveniently use without too many complicated steps. It is pretty straightforward to use, you can prepare smoothies and other foods for your toddler and make purées for the baby.
BABYMOOV FOOD MAKER AND PROCESSOR WITH STEAM COOKER, (NUTRITIONIST APPROVED).
Easily make delicious healthy baby food with the Babymoov steamer and food maker appliance. The Babymoov food maker has 3 steamer baskets, 3-speed blenders that are easily programmable for various cook times.
Preserve the nutrients, vitamins, and natural flavor of your baby food. The Large capacity of the Babymoov food maker helps busy mums to preserve and prepare large baby food to store.
Easy to use and It is fully programmable and gives alerts to you when done. The Babymoov baby food maker, processor, and steamer can also cook, blend, warm, and defrost your food.
Furthermore, the Babymoov is a perfect baby food maker because it can be used as a bottle warmer/ sterilizer to reduce the need for a separate appliance thereby saving space.
Finally, this baby food maker and steamer are easy to clean, BPA FREE, LEAD-FREE, AND PHTHALATE FREE!
BEABA BABY FOOD MAKER AND STEAM COOKER BLENDER
The Beaba baby food maker is made in France. They are well known for designing steam cooker and blenders for making baby food.
The Beaba baby food maker can steam, blend and defrost. It is an all-in-one system that can prepare fruits, vegetables, meat, or fish from raw to any stage baby and toddler food in 15 minutes.
Easily make any stage baby food. Also make soups, purees, steamed vegetables, apple sauce, and more for the rest of the family.
The Beaba baby food steamer and blender have an auto-shut-off function when you are done with the baby food.
This baby food blender and food processors are BPA, Lead, and Phthalate free.
The steam cooking locks in vitamins and nutrients, a multi-purpose mixing blade provides just the right texture, the timer has an audible alert to tell you when meals are ready, and all of this with total one-handed operation.
Finally, the Beaba baby food maker will make every parent a "pro" in baby food.
BABY BREZZA BABY FOOD MAKER
The Baby Brezza food maker comes in various types. We have the Baby brezza small baby food maker set that can steam, puree baby food. You can easily make organic food for infants and toddlers.
With the small baby Brezza, you can cook and blend in one step. Make homemade baby food in as little as 10 minutes. Easy to use, easy to clean after steaming and blending.
The small baby Brezza food maker is a complete system that can store, make and serve baby food effortlessly.
Secondly, we have a 4 cup capacity Baby Brezza food maker. With the Large 4 cup Baby Brezza baby food maker, you can automatically steam and blend easily. Steam and automatically blend foods with the push of a button.
This is a steam and Blender kitchen appliance for toddlers and infants regarding organic foods. It is also easy to use, clean as the bowls and blades are dishwasher safe and BPA-FREE.
BABY FOOD GRINDER
A baby-food grinder is used for making puree fruits and vegetables. It is possible you keep your baby happy by getting the right baby food grinder.
You can prepare homemade baby meals by using the right baby food grinder. Before you decide on the best baby food grinder to buy, you should pay attention to these features;
You have to pay attention to the capacity of the baby food grinder. The capacity determines how many baby food you can grind in a session.
You also need to pay attention to the Grinding capacity of the baby food grinder. It is not all baby food grinder that can handle a large chunk of fruits and vegetables. Make sure you get the right model with the right grinder capacity.
Always check out the construction of the grinder before buying. The construction will determine the durability of the baby food grinder appliance.
DANSA BABY FOOD MAKER CHOPPER GRINDER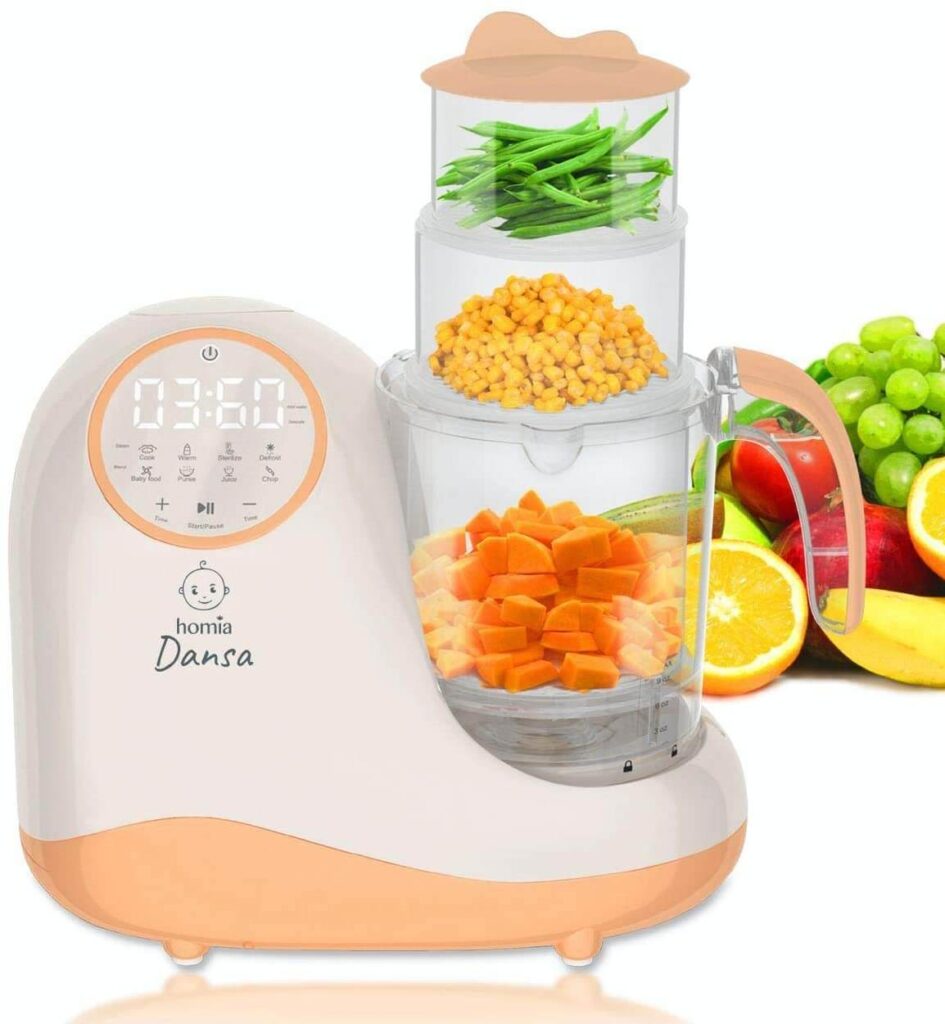 The Dansa Baby food maker and chopper grinder come in as our top baby food grinder that can steam, sterilize, cook, juice, warm, defrost, puree and chop.
The Dansa baby food grinder has all the requirements for a food processor for babies. This baby food grinder allows you to cook 3 separate meals at once.
Easy to use baby grinder allows you to prepare healthy and safe food for your baby with the press of a button.
Easy to clean baby food processor/ steamer/ Blender and chopper for your family.
CAN I USE A FOOD PROCESSOR TO MAKE BABY FOOD?
Absolutely Yes! You can use a food processor to make baby food because most food processor has the same features as most baby food appliances.
The newly designed food processors can grind, puree, slice, shred, mince, steam, and chop various fruits and vegetables with ease. In terms of price, the food processor and baby food maker aren't far apart.
They are both easy to use, easy to clean, and free from lead and cadmium! You can quickly make home baby food with a food processor without much stress.