Hey there! As an Amazon Associate, I earn from qualifying purchases. I greatly appreciate your support!
A microwave oven is a very essential appliance for home use, office break, as well as in the camper van for traveling.
Most people love spending the holiday traveling in a camper van with loved ones to have a relax time and enjoy freedom.
During the holiday, cooking, reheating, and defrosting can be done in a quick and convenient method by a Microwave Oven.
A camper van might not have the same space as your home kitchen and is a good idea to know the best small microwave for camper van.
In this article today, we are going to list and explain the best small microwave that you can use in the camper van to have a great holiday or camping.
MANUEL OR DIGITAL MICROWAVE
A Manuel microwave comes in the form of rotary dials that will need to be turned to get the required time or function.
Manuel uses less power and they are easy to clean and use. It is ideal for people who are looking for a simple and easy option.
Digital microwaves mostly have a control panel for various heating and defrosting options. They come in form of a touchscreen.
A digital microwave uses more power, making food heat faster. It is very easy to clean.
BEST SMALL MICROWAVE FOR CAMPER VAN
Below are the best small microwave ovens that you can conveniently use to enjoy your holiday or camping. These microwaves are space-saving, easy to operate, and clean. They are perfect for leftovers and cooking to save time and have lots of time for full experiences.
COMMERCIAL CHEF CHM660 600W MICROWAVE OVEN
This small compact design Kitchen microwave is great for a camper van and is also perfect for small living spaces such as dorm rooms and apartments.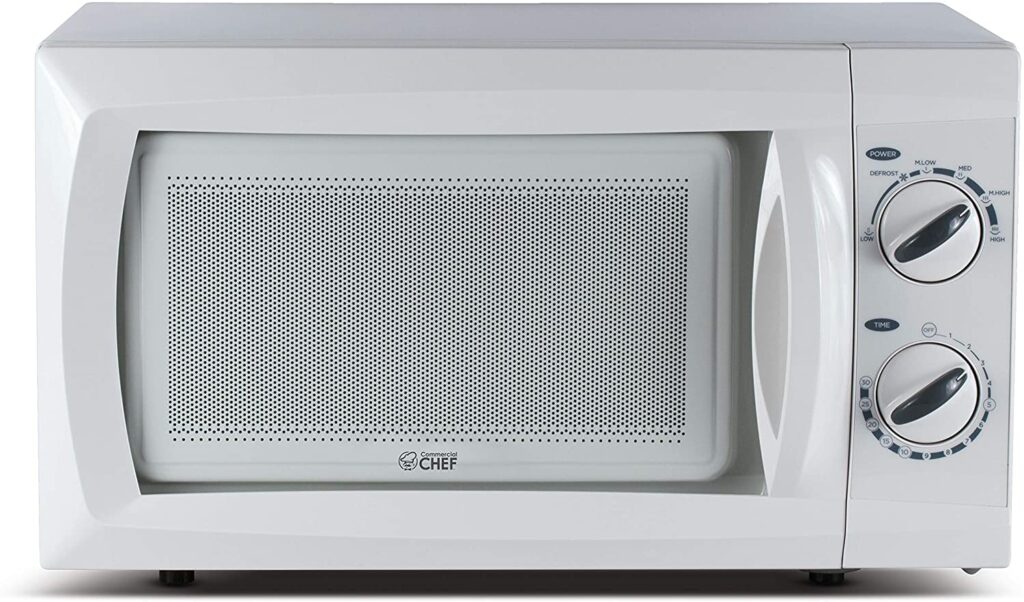 The commercial chef small microwave is a great choice for Camper Van as the mechanical dials on the microwave control 6 cooking power levels and a timer for simple operation. Just turn the dial and this Commercial Chef microwave does the rest.
The mechanical dial controls are also good, especially for senior citizens, and people with vision impairments.
This low wattage will suit your camper van, with the 600 watts power that takes care of various cooking tasks. Whether you want to quickly reheat leftovers, defrost veggies, prepare breakfast for kids or frozen dinners, it is designed to meet your needs.
Another interesting part is that the 9.5″ glass turntable can hold standard microwave-safe plates, and bowls for quick cooking tasks.
MAINSTAYS 700W MICROWAVE OVEN
The mainstay is 0.7 cu. feet, 700W microwave oven has everything you need in an oven. It is lightweight, quiet, and works very well.
It has a nice door handle that makes opening easy. This microwave is compact to fit into any camper van, dorm room, bedroom, or office.
700 watts take a few minutes extra for cooking, reheating, and defrosting as is sufficient to carry out its tasks.
It has a 0.7 cubic feet capacity which is perfect to put a plate of food. It is also lightweight, convenient, and easy to operate.
The 700 watts have 6 quick-set menu buttons with timer for popcorn, potatoes, beverages, frozen vegetable, dinner plates, and pizza.
It has a child safety lock so you don't need to worry about your kid trying to open it. The glass turntable is removable and easy to clean.
FARBERWARE WHITE MICROWAVE OVEN
You don't need to bother yourself if planning on camping if you use the Farberware white microwave oven on your camper van. It is ideal for cooking and heating frozen food for office break rooms, dorm rooms, or smaller kitchens.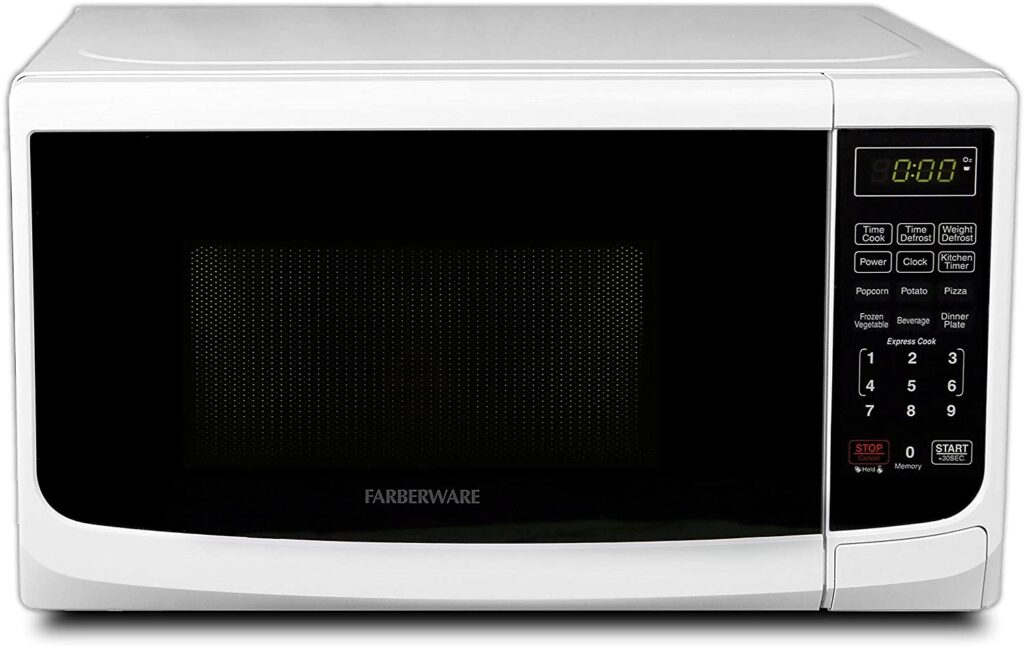 The white exterior looks great in any type of cooking area. The 6 cooking programs let you optimally cook most of your favorite meals with a touch on the button.
It is perfect on any camper van, for easy cooking, reheating, and defrosting vegetables for better camping experience. It is designed safe as food retains its nutrition and flavor for healthy use.
This camper van microwave has a 0.7 capacity that can fit microwave dinnerware material for direct transfer of heat.
The large digital screen has a clock feature and can display a countdown timer in addition to the cooking time remaining. The memory function lets you customize and save your favorite cook settings.
You can easily prepare a meal or snack when you are on the road with this Farberware microwave oven. It is lightweight, compact, easy to use, and clean.
ROVSUN RETRO COUNTERTOP MICROWAVE OVEN
Warm your food while on the go with the Rovsun Retro Countertop Microwave Oven, simply plug it into a light source in your campervan for quick heat-up of your meals.
For effective use, this 700 watt is perfect for cooking and reheating leftover meals.
It has a child safety lock for protection and LCD display feature. This Retro microwave oven is convenient and has 8 default cooking menus for special foods, like popcorn, pizza, potatoes, beverage, fish, and more.
This power campervan microwave has a removable glass turntable that is easy to clean and evenly reheat food.
This durable, compact microwave oven has been tested to ensure safety and longevity for reliable use. The Retro 0.7 cubic feet capacity is large enough to hold a full-sized plate and it also takes up small spaces.
The retro microwave oven is designed perfectly to fit in your camper van to perform its various cooking and heating task.
READ ALSO: IS 11OO WATT MICROWAVE GOOD
READ ALSO: IS A 900 WATT MICROWAVE GOOD
CAMPER VAN MICROWAVE 12V
The 12V microwave oven is designed to fit well in any camper van, truck, car, and office work to cook and reheat fresh, or frozen meals evenly.
Camper van microwave 12V is capable of heating your food quickly without drying out and preserving moisture and nutrition.
Easily cook meals on the go by simply placing your meal inside and plugging it in the car and watch how fast it works.
12V Microwave Oven is suitable to accommodate large containers up to 9" L X 6.75" W X 3.5" H and is also easy to carry anytime, anywhere.
WHAT IS THE SMALLEST MOST POWERFUL MICROWAVE?
The smallest most powerful microwave oven is the Magic chef 0.7 cubic feet microwave. It has 10 power levels for a variety of cooking, express 30-second convenient cooking option and its preset function is for food preparation.
It also has a beautiful finish that suits any kitchen style and child safety lock as well as weight and time defrost options.
CAMPING MICROWAVE
Going on camping requires many things that you should bring along and a microwave oven is also one important device that you need to make your camping enjoyable because cooking and reheating can be done in an easy and simple way.
For camping, there are various microwave ovens available that you can use;
AOTTO PORTABLE OVEN PERSONAL FOOD WARMER
The AOTTO portable personal microwave oven is an ideal oven that you can use for camping for cooking and reheating leftover or frozen meats and vegetables.
This portable microwave oven is practically easy to carry anywhere to bring your food to an ideal temperature.
The portable personal oven electric can be used in the office, school dorm, bedroom, parties, gatherings, or homes by simply placing your meal inside and plugging it in.
It is compatible with most heat-resistant containers such as aluminum foil, plastic, glass, and more.
Preserve the moisture, nitrite, and flavor of your meals while you enjoy your camping with this portable microwave today.
You can use it in your car; you would need an inverter that plugs into the cigarette lighter or at home in a 110 volts outlet.
This portable oven is easy to clean, lightweight, and less expensive, and food cooked with it is healthy to eat.
SAMSUNG ROADMATE 12V MICROWAVE OVEN
The Samsung 12V microwave is an ideal choice for caravans, camper vans, trucks, and other vehicles.
It is designed beautifully and made to consume less energy and maintain taste. it is equipped with an electronic timer. The sensor cook technology allows you to automatically adjust cooking time for optimal results.
It is beautiful and accommodating even with your largest dishes too. With the 1.9 cu. feet capacity, multiple meals can be prepared without stress.
Meals prepared in this microwave are the same thing as you can have in any large-sized microwave oven. It is easy to use and clean.
WHAT WATT MICROWAVE IS FOR A CAMPER?
The best watt microwave for camper vans should be between 500 and 700 watts. It should have a range of power settings and be compact, lightweight, and easy to use.
WHAT MICROWAVE CAN I PUT IN A MOTORHOME?
The ideal wattage for motorhomes should be a 12V microwave. The 12V microwave is perfect for small or large families who want to heat food in a quick and easy way.
LOW WATTAGE MICROWAVE FOR CARAVAN
When considering a microwave for a caravan, it should not be the same wattage because most home microwaves use high wattage and are not a choice for caravans.
They can sometimes be too heavy for a caravan to withstand and overall weight could tip over the limit.
Low wattage microwave for caravan should be 600- 700 watts taking up small space.
READ ALSO: SMALL MICROWAVE OVEN FOR CARAVAN