Hey there! As an Amazon Associate, I earn from qualifying purchases. I greatly appreciate your support!
Knives are important kitchen tools used for specific and various tasks and they appear in different designs and shapes. Whether you are a professional chef or a mere cook at home, using the right tools is important.
In today's discussion, we are going to present one of the commonly used knives "Honesuki vs Petty".
The Honesuki is a Japanese-style boning knife used to butcher meat and poultry. It can be used to debone little animals as well.
The Honesuki does not have the flexibility as a typical western boning knife, but its sharp, pointed tip helps you to ride the blade along with bones, cartilage, and joints to separate different cuts of meat.
DEBA VS PETTY
Deba Japanese knife is traditionally used to clean and fillet whole fish. Petty is a Japanese utility knife suitable and comfortable for hand-peeling fruits and vegetables.
Deba is usually used to divide the head of a fish into quarters. Its thick and heavy blade can also be used for breaking down dress poultry. It is suitable and comfortable for hand-peeling fruits and vegetables. Petty can also fit to take care of the delicate small tasks on a chopping board.
The petty knife comes in different sizes to take care of your regular tasks.
HONESUKI VS PETTY
Honesuki is a Japanese boning knife that has a triangular shape and a stiff blade with a pointed tip for deboning and breaking down poultry while Petty is a Japanese utility knife that is ideal for a small, incredible, and delicate task as peeling fruits and slicing vegetables.
Petty knives are smaller and lighter than the Honesuki knives.
Petty ranges from 75mm to 210mm in size while Honesuki ranges from 150mm to 275mm in size.
The blade of the petty is much narrower than Honesuki.
The blade length of Honesuki is 5.5 inches to 7 inches but the most common length is 6 inches while petty blade length varies, the most search length range between 6 inches to 8 inches.
The petty knife can fit in as an alternative for a boning(Honesuki) knife, to slice up pieces of already deboned meat while Honesuki cannot fit in for a petty knife to peel fruits and chop vegetables because of the structure of the blade.
HONESUKI VS DEBA
Honesuki is a Japanese knife designed for the de-boning process, cutting chicken, and filleting a fish. It is lighter and thinner. while Deba is a Japanese knife designed for cutting fish; its thick and heavier incredible blade edge is suitable for cutting a fish, chicken, and also filleting tasks.
The Honesuki and Deba can fulfill the same similar task with their sharp tip. The difference between the Honesuki and Deba is their appearance.
HONESUKI KNIFE USE
The Honesuki is a strong and sturdy knife used to separate the meat from the bone.
The blade angle and its pointed tip with a straight handle make it simple to debone and trim meat.
It can be used to break down whole chickens.
BEST HONESUKI KNIFE
Honesuki knife is one of the best-used tools for delicate kitchen tasks; it comes in a comfortable handle for trimming and cutting around connective tissue of poultry easily and fast.
It is designed to get in and around bones and joints, to strip out cut meat easily without damaging the knife.
Below are the best used and recommended Honesuki knives;
MISONO MOLYBDENUM HONESUKI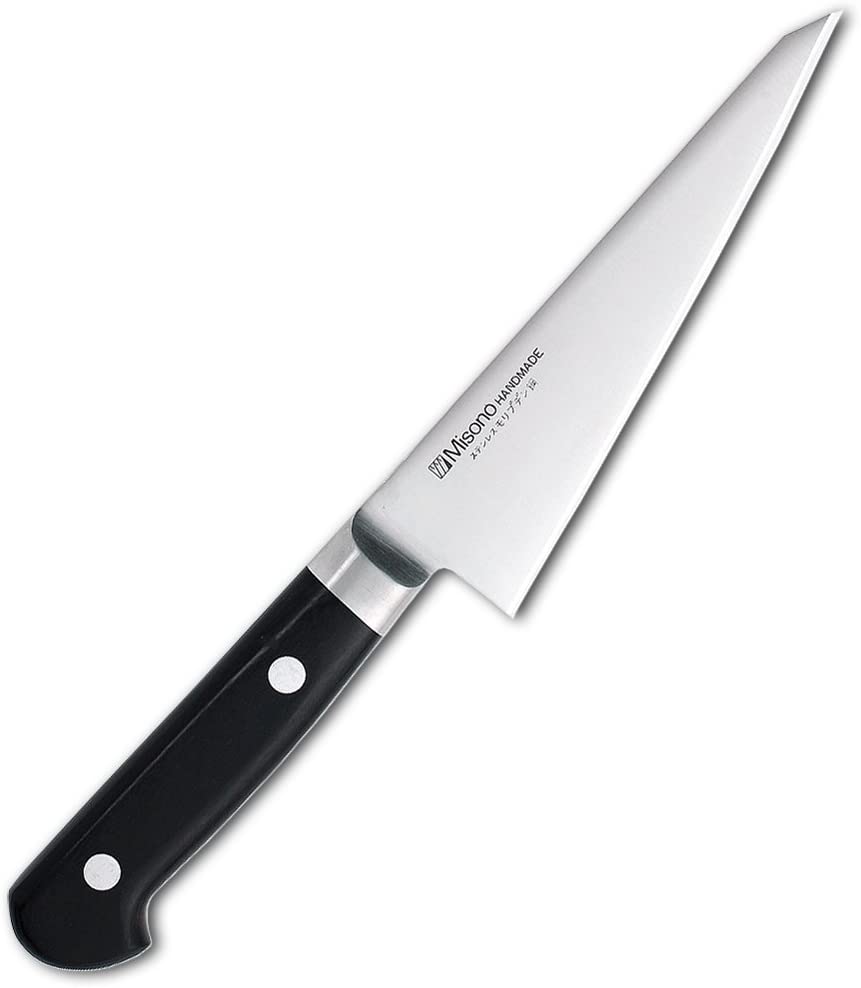 This is our first pick Misono Molybdenum Honesuki. The knife performs well and is ready to meet up with your regular kitchen task.
Misono's Molybdenum line of knives are created with a high carbon stain resistant molybdenum steel blade
The Honesuki is a poultry boning knife used to separate the meat from the bones. It is lighter and thinner than the Garasuki and can be used in place of a Western boning knife.
Its thin blade allows the knife to be used and sharpened for a long period of time.
This knife has an excellent design and it flows well while using it. Let me say this here, no chicken stands a chance when making Yakitori with this Honesuki.
It is thin and lightweight when holding. Japanese knives have a sharper blade and maintain their sharpness longer than most other knives.
HONESUKI 6-INCHES
This Honesuki 6-inch is designed in Japan and the handle is composite wood. The blade is made of Stain-Resistant Steel
The cutting edge of the blade is as sharp and durable as a carbon steel knife, while the stain-resistant steel outer layer makes this knife very easy to maintain.
Honesuki has a pointed tip to open and get around the bone of poultry without damage.
This knife is also capable of trimming connective tissue and fat, particularly when using the sharp and precise tip area.   
READ ALSO: BEST CUTTING BOARD FOR JAPANESE KNIVES
INFINITY HONESUKI KNIFE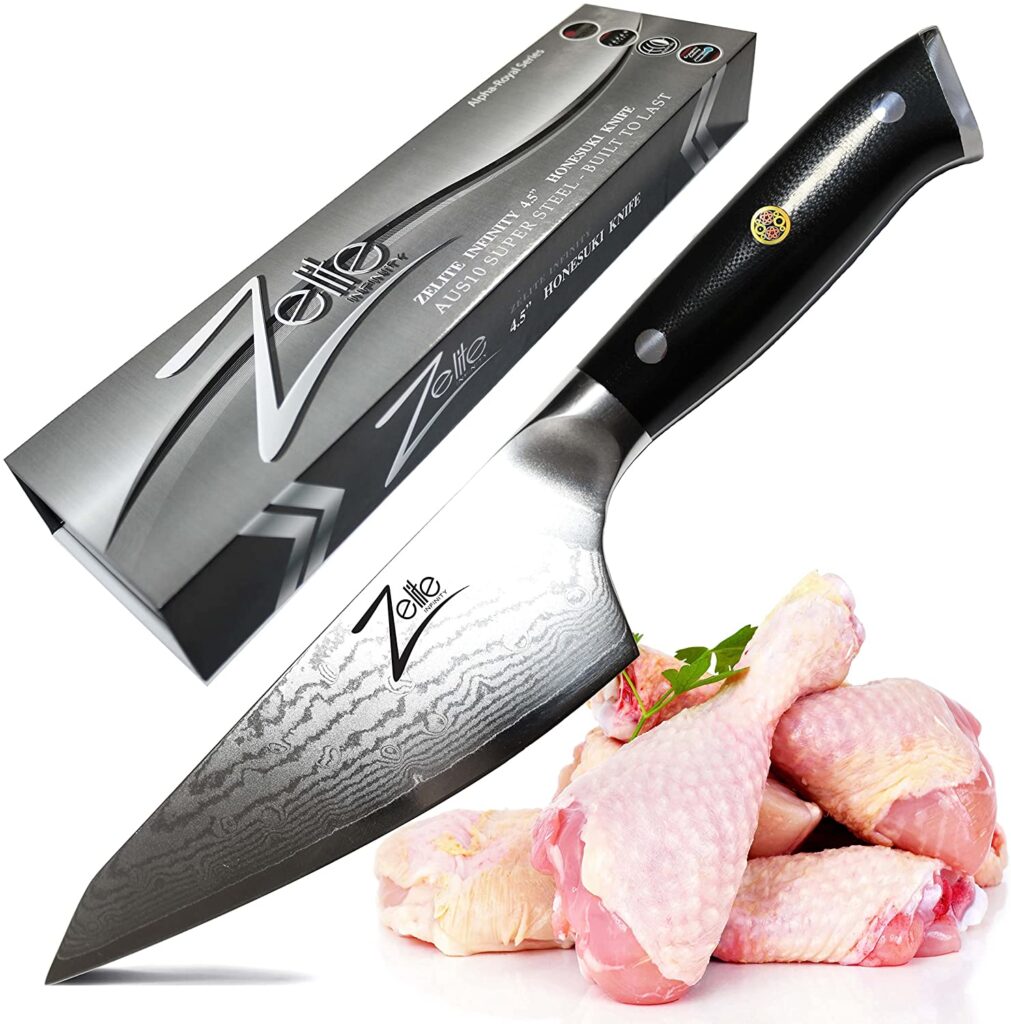 This Incredibly maneuverable, ultra-versatile Japanese Chicken Boning Knife is the best for breaking down a whole chicken. It is equally good whether you are Trimming Brisket, Filleting Fish, or even slicing Tomatoes or other Vegetables.
This Japanese Honesuki is additionally comprised of 67 layers of carbon spotless Damascus steel cladding and it is versatile against rusting and corrosion.
The blade is super sharp and can tackle a multitude of foods with ease as well as looking very cool with the pattern running through it. Despite its smallish size, the knife feels sturdy in the hand with the beautiful handle weighted perfectly.
The handle helps keep the blade resting comfortably in your supporting fingers.
This Knife has an Incredible 12-degree pro razor edge per side, mirror polished cutting angle ensuring maximum sharpness and safety. You get Effortless Slicing of Meat, Fish – Sushi, and much more bringing excitement back to cooking. This knife is pleasant to use and it makes any preparation effortless, whether Butchering, Fishing, Hunting, or Kitchen work – this is the Best for You.
READ ALSO: NAKIRI KNIFE VS CHEF KNIFE
READ ALSO: BREAKING KNIFE VS CIMETER
JAPANESE PETTY KNIFE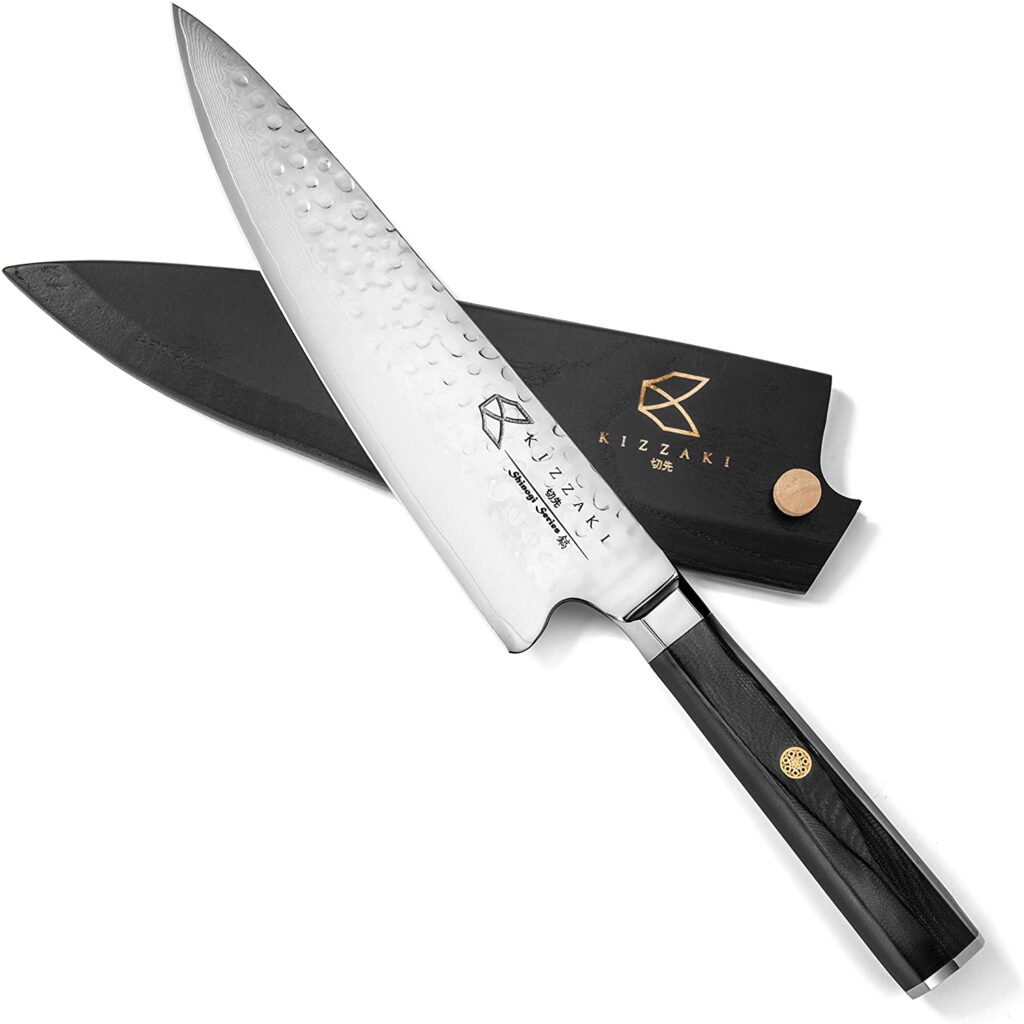 Japanese petty or utility knife is a smaller knife for the smaller tasks. It comes in different sizes for food preparation.
Most home cooks prefer using a utility knife as a primary preference because most time when you are cutting things at home, it seems a bit smaller than when you are working in a restaurant.
This Japanese petty knife is beautiful and durable, a great addition for home cooks, professional chefs as well as Kitchen Enthusiast. Its impressive aesthetics bring a sense of desire to look and cook every single time.
Its Beautiful Damascus "Tsunami Rose" Pattern and Hammered Finish, make it Perfectly balanced.
The Ergonomic handle of the Japanese petty blade is insusceptible to cold, heat, and moisture.
The handle is made of Military Grade G1. Due to its Ergonomic Diamond Grip 8 Angle Design you can be certain that it will be of a great fit in most hands for great comfort while chopping as well as reduce fatigue given its flawless balance.
As a home chef, I needed a new multipurpose knife for my kitchen as I do a lot of home cooking so I decided to go for a higher quality chef knife. This knife is gorgeous. I am impressed with the hammer finish on the steel and the logo engravings in both the knife and the back of the handle as well as the waves on the blade. The balance of the knife is spot on.
The handle is quite comfortable, it has excellent grip, and doesn't slide easily off my hand even when slightly wet. The best part for me is that chopping and cutting veggies are effortless.
This knife is SHARP off the box so if you like to scrape the blade with your thumb to test sharpness then be careful because this knife is incredibly sharp.
This petty knife is non-stick and is able to cut through food with ease. It is treated with liquid nitrogen for extended longevity and resistance.
This petty Knife is very easy to clean – Just rinse well and dry it with a kitchen towel or provided microfiber cloth then guard it with your wooden Scabbard. NOTE: DO NOT DISH WASH.
SHUN CLASSIC UTILITY KNIFE, 6 INCHES.
Let me say this if you already have a Chef knife, Santoku, and Honesuki, that you use all the time, don't you think it probably needs a partner. You cannot do everything with your Chef knife.
The difference between a chef's knife and a paring knife is the size, the Shun Classic Utility Knife has a narrower and straighter blade, affording power and precision when cutting a variety of ingredients and peeling an apple.
It is equipped with a blade made from the exclusive Shun formula of VG-MAX steel; the Utility Knife retains its sharp edge longer for optimal performance with each use.
This Shun Classic 6-inch Utility Knife makes a great gift for grandparents, parents, homeowners, hosts, newlyweds, entertainers, and aspiring chefs.
Handcrafted in Japan and designed with an emphasis on technology, innovation, and high quality, Shun knives are essential tools for any kitchen, bringing enjoyment back into meal preparation.
The handle is made of Pakkawood which is waterproof, incredibly durable, and won't harbor bacteria.
The Shun Classic 6-inch Utility Knife is a perfect example of cutting-edge design and innovative technology for a sharp, durable knife that maintains its precision and edge.
NOTE: Traditional Japanese-style handles have a slight ridge on the right side, which fits into the curl of the fingers for a comfortable and secure grip.
GARASUKI KNIFE
The Garasuki is a heavier and heftier version of the Honesuki, a traditional Japanese boning knife for poultry and bigger meat. The Garasuki and the Honesuki are becoming one of the most sought-after new tools for cooks and chefs.
This Japanese boning knife is the Shimomura Kogyo knife which is made of stainless steel superalloy and molybdenum-vanadium steel.
This Garasuki boning knife is thicker and heavier, making it a better choice when tackling the larger sizes of poultry and cuts of meat.
This Garasuki extremely sharp pointed tip is able to get in and out of poultry without stroke on it.
With its spine that increases in thickness towards the heel of the blade, extra heft and balance allow the blade to cut through joints and cartilage for perfect butchering.
This Garasuki is suitable for people who prepare poultry and meat.
READ ALSO: IS A PETTY KNIFE UNIQUELY USEFUL