Hey there! As an Amazon Associate, I earn from qualifying purchases. I greatly appreciate your support!
As a professional chef, you need good quality, and effective knives in order to carry out your everyday task effortlessly.
There are various knives in the market for use, but using the right tool is necessary. In today's article, we are discussing two designed-style knives Usuba vs Santoku.
These knives are different in their blades, designs, strength, and balance.
The Usuba knife blade is thinner than other knives when you compare them.
The Usuba is a Japanese-style knife designed specially to cut vegetables and fruits while Santoku is a multipurpose or three virtue knife that can take care of meat, fish, and vegetables.
USUBA KNIFE
Its thin and sharp blade is needed for breaking through firm vegetables without crushing them.
The sharp blade makes it effortless and easy to cut.
The ergonomic handle of Usuba is designed to ensure easy operation and provide comfortable grip and stability.
Usuba knife is balanced and anti-slip when hands are wet.
Usuba knife is non-sticky, which makes it durable, and easy to wash and maintain.
USUBA VS SANTOKU
Usuba is a traditional Japanese knife designed especially for cutting vegetables while Santoku is a multipurpose knife that can take care of meat, fish, and vegetables.
Usuba literally means "thin blade" while Santoku means three virtues.
Usuba knife has a thin blade as well as a sturdy handle and a comfortable grip while Santoku has a wide blade with no tip.
Usuba has a thin and long flat blade while Santoku has a flat edge and sheep foot blade that curves down an angle.
The Usuba and Santoku knives are both durable and sharp.
USUBA VS NAKIRI
Usuba and Nakiri are similar to each other although they are different in so many ways as will be discussed here.
The Usuba blade is sharpened only from one side (single bevel), while the Nakiri blade is sharpened from both sides (double bevel). Bevel refers to a surface that has been ground to form the knife edge.
Usuba is thicker than Nakiri.
The Usuba and Nakiri are used to chop vegetables and fruits.
For home cooks, who need an Usuba knife we recommend 180mm to 210mm size, but If you prefer a knife with a double-beveled edge, we recommend the similarly-shaped Nakiri, which was designed specifically for vegetables.
READ ALSO: BEST CUTTING BOARD FOR JAPANESE KNIVES
READ ALSO: BREAKING VS CIMETER
SANTOKU KNIFE
Santoku explains what is known as three virtues (chopping, dicing, and mincing). It is designed in Japan and is an all-purpose knife.
Santoku is used for chopping, dicing vegetables, fruit, and also mincing meat but not for larger meat bones. It maintains the up and down motion cutting and not rocking motion.
Santoku can be a single or double bevel.
It is lighter to hold and has a balanced weight for cutting.
Example of a Santoku knife;
SANTOKU IMARKU 7 INCHES KNIFE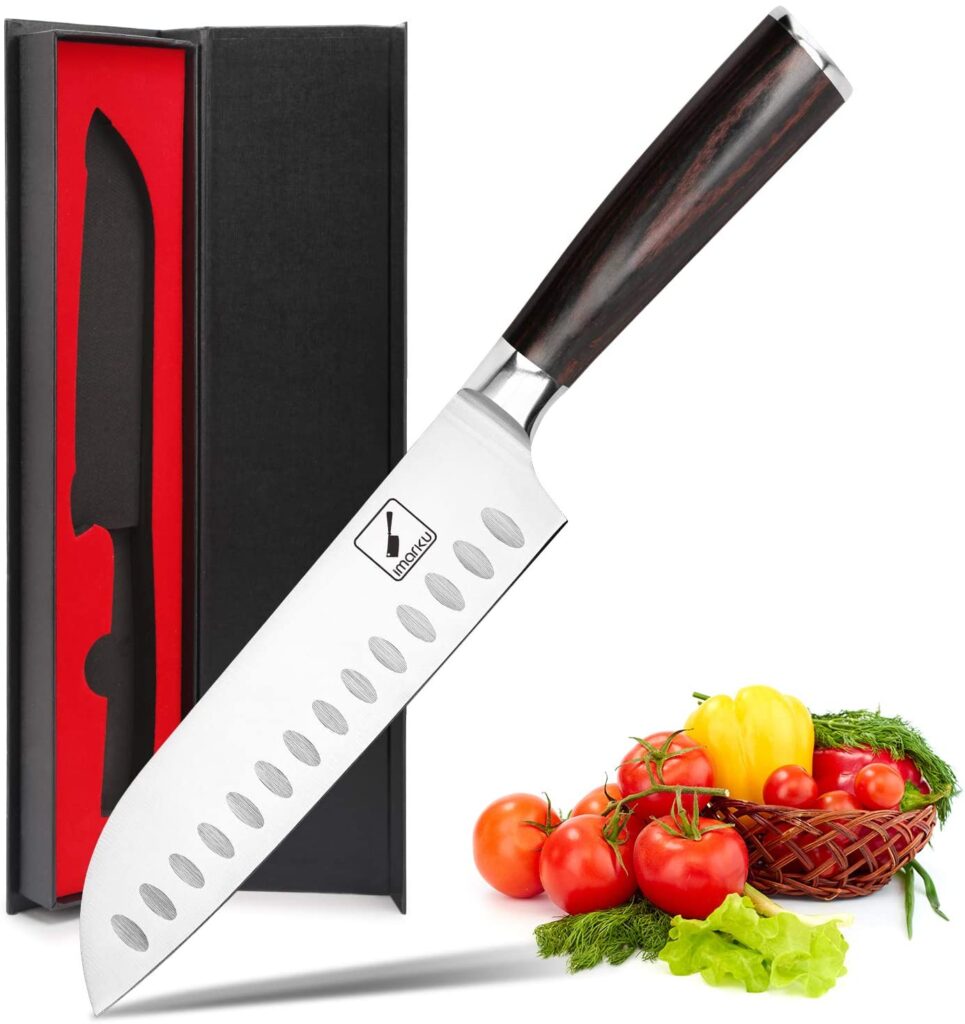 Imarku 7 inches santoku knife is designed for daily kitchen tasks of chopping, slicing, dicing, and mincing of all kinds of meat, vegetables, fruits, and bread. It is suitable for both home and restaurant kitchens.
The blade of a 7-inch santoku knife is made of German High Carbon Stainless steel which makes it rust-proof, resistant to wear, stain, and corrosion.
The thickness of this kitchen knife is 2.5mm. Its hand-polished edge is 15-18 degrees per side, which is sturdy and sharp to get the job done perfectly.
The hallow edge gap between the knife blade and the material being cut keeps things from sticking to the knife blade.
The Pakkawood handle minimizes wrist tension while providing a secure, comfortable grip no matter your hand size or where you grip. Even after prolonged use, your palm and wrist will not fatigue. It is ideal for both people who cook frequently and those who just like preparing snacks.
NAKIRI VS SANTOKU
Japanese Nakiri knives are much better for slicing vegetables.
Nakiri is designed to cut through the vegetable all the way with a pull-push motion while Santoku is a Japanese multipurpose knife that performs three virtues tasks.
The blade length of Nakiri ranges from 6.5 to 7 inches while Santoku's blade length range from 6 to 7 inches. Nakiri thin squared tip helps you to obtain a precise cut without folding them e.g. tomato, fruits while Santoku maintains rocking and straight up and down cut.
In terms of design, Nakiri is a double bevel while Santoku some knives are single and most are double bevel.
DEBA KNIFE
Deba is traditional single bevel Japanese knives designed for cutting and filleting fish. It can also be used for poultry but not for cutting bones.
Deba knife is heavy, with a thick spin for filleting.
Example of a Deba knife;
IMARKU JAPANESE DEBA KNIFE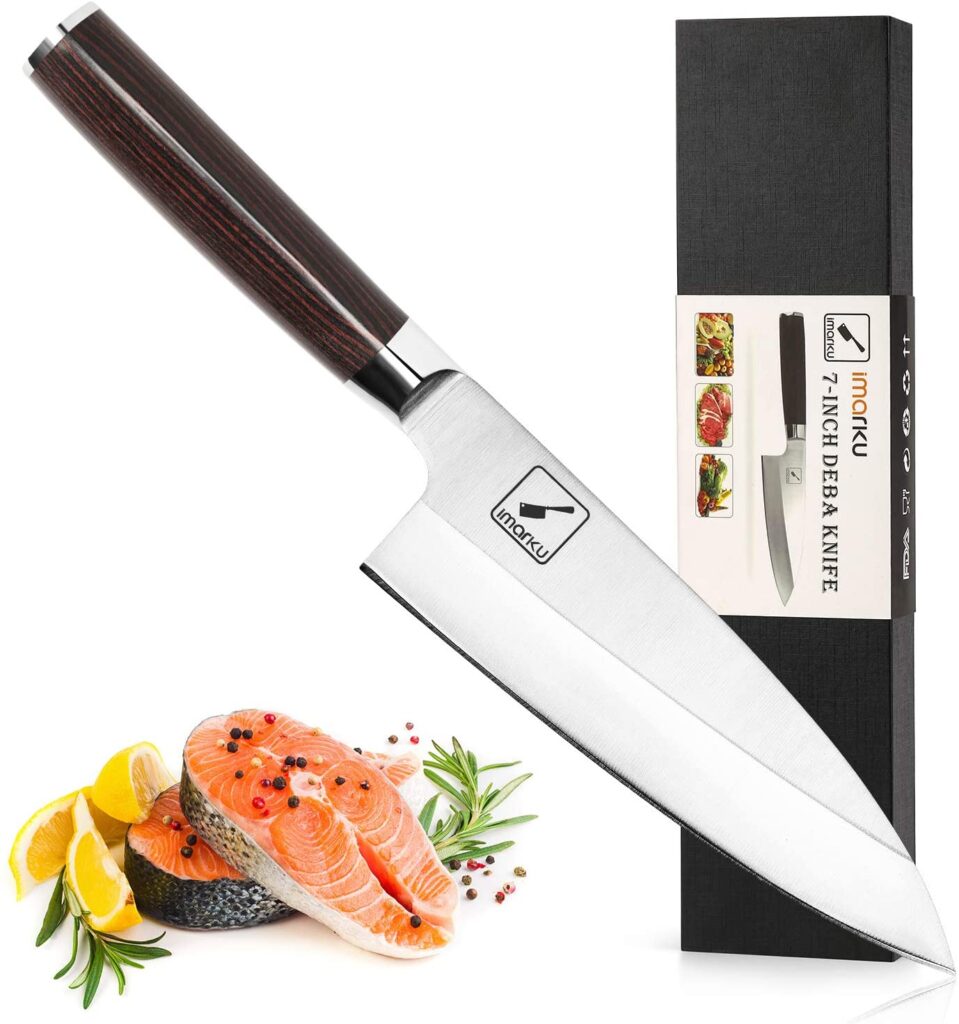 This professional True Deba Knife for Fish Cutting is a Japanese Deba kitchen knife that is thick, wide, and ultra-sharp, mainly used for rough processing of whole fish, such as cutting fish heads, breaking fish bones, gutting, and filleting with precision.
This 7 inches sharp Deba knife is manufactured with High Carbon Stainless Steel for incredible hardness, flexibility, and corrosion resistance
The blade of this Deba knife is integrated with a soft and comfortable Pakkawood handle, creating the perfect grip, very firm and comfortable when cutting fish, suitable for chef man or those who like to cook.
The handle of the Deba Knife is made of vintage and elegant rosewood. When you use Deba Knife to handle fish, the wearable and ergonomic handle will make you enjoy cooking more. It is worth noting that it also adds an artistic atmosphere to your kitchen.
Deba Knife is a single bevel, which can achieve higher sharpness and is easier to polish with a sharpener because you only need to concentrate on a single blade and the other blade only needs simple handling. In addition, the blade of the Deba Knife has a concave surface (Urasuki), which makes the Deba Knife competent for more delicate work like handling fish bones.
NAKIRI KNIFE
This 7 inches Nakiri knife can handle all ingredients, like vegetables, fruits, and meats. It can also work on many tasks like slicing thin or thick, cutting large or small cubes. The wide blade of this Nakiri knife is the versatility of the chef's knife, which makes it an essential tool for precision preps work at home kitchen, and restaurant.
The ergonomic shape enables perfect control and balance between the smooth handle and the thin blade, ensuring ease of movement. The non-slip Pakka wood is made to ensure safety, and effectively reduce fatigue caused by prolonged use. The razor-sharp cutting edge allows you to cut foods effortlessly.
Pakka wood handle is comfortable, non-slippery, and easy to control.
The high carbon makes the meat and vegetable cleaver have higher hardness (HRC 56+), stronger toughness, better corrosion resistance, and long working life.
This all-around cooking knife is easy to re-sharpen, clean, and maintain. This knife is reliable and perfect for gifts.
NOTE THIS;
1. Most importantly- to avoid rust, it should be wiped dry.
2. Dish detergent can be used.
3. Hand washing recommended – no dishwasher.
4. Do not cut bones with a Nakiri knife.
5. Don't use the knife as a can opener.