Hey there! As an Amazon Associate, I earn from qualifying purchases. I greatly appreciate your support!
Is granite cookware safe? Most people are cautious about the cookware they use in preparing meals in the kitchen because Most cookware sets are made with harmful chemical materials blended in them which contain toxic that is being released when cooking is ongoing.
Granite cookware sets are wonderful collections to improve your kitchens like spoons, pots, pans for effortless cooking, and more.
Do you want to purchase safe granite cookware or replace your old cookware for your delicious meals?
Read below to find out more.;
Granite cookware has a very wonderful cooking performance and it can also prevent food from sticking to the pan. Granite cookware is a good and safe cookware to use in the kitchen.
Few granitewares have done an honest job in preventing food from sticking. Also with the cookware, you will be ready to cook healthier meals for your family since you don't need to use maximum amount of oil.
WHAT IS GRANITE COOKWARE?

Granite cookware is also known for its non-sticking nature. You can use the pans for frying eggs, fish, and more without them being stuck on the pan.
The word "GRANITE" is an igneous rock that occurs naturally and has been known from ancient times. It is one of the oldest rocks used for manufacturing different items that are being used every day.
The interesting thing about granite cookware is that it still looks shiny and stronger even after using it a couple of times. Granite has feldspar, quartz, and many more.
IS GRANITE COOKWARE SAFE?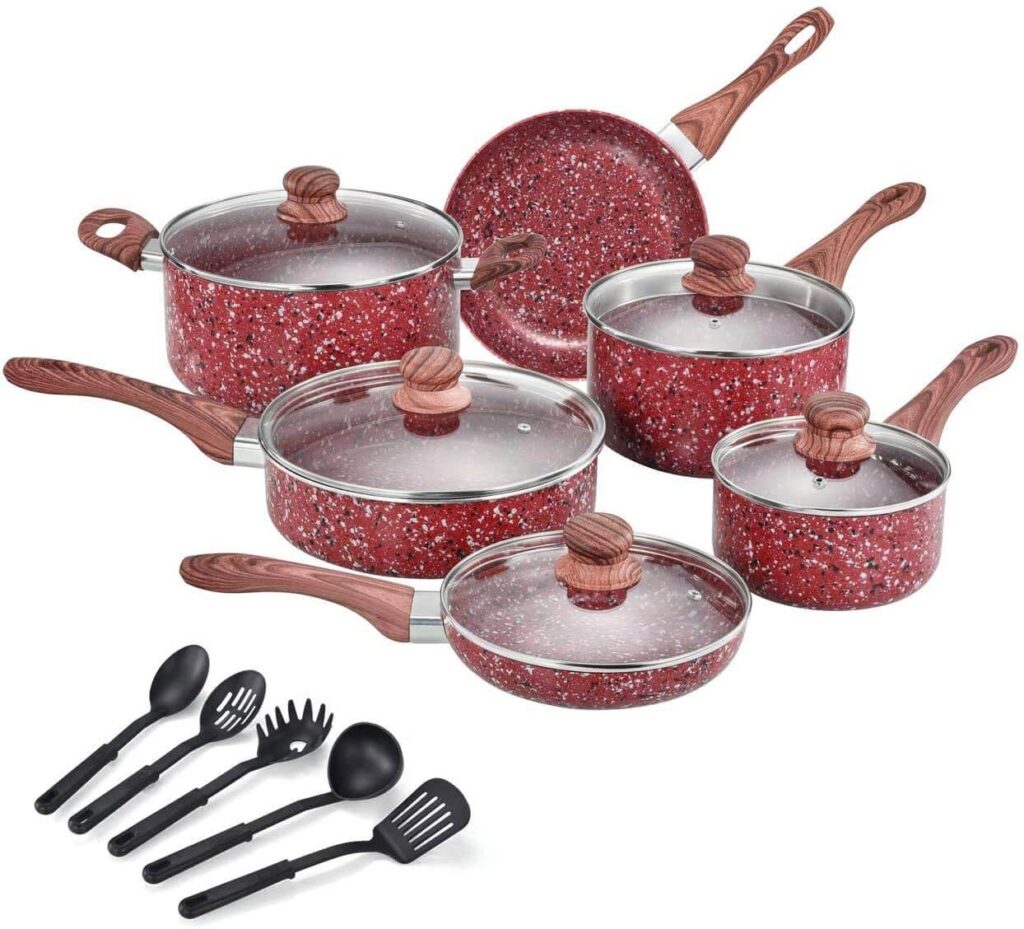 We all want healthy cooking, but not using the right and safe cookware can lead to disaster. Nothing is as important as having non-toxic and healthy cookware.
These days most granite cookware has stainless steel core material and lid glass coating. The porcelain enamel is fused in the granite cookware which makes it safe to use. Granite cookware remains safe if no damage happens to the porcelain coating.
The smooth surface in the granite cookware set prevents chemical reactions with food and it does not emit fumes when overheated and does not contain any Lead, Cadmium, PFOA, PTFE, Copper materials.
Granite Cookware has good heat distribution and is also easy to clean.
READ ALSO: IS IT SAFE TO COOK WITH STAINLESS STEEL
READ ALSO: CERAMIC COOKWARE VS STAINLESS STEEL
GRANITE COOKWARE SET
Granite cookware is one of the many types of enamelware. Despite its name, it doesn't contain any granite and is only named as such because of its similarity in appearance. If you're looking for non-stick cookware that can replace your Teflon-coated pans, then you've probably heard of granite cookware.
Granite cookware tends to be a better alternative to ceramic cookware due to its non-toxic, higher durability, and aesthetic qualities.
READ ALSO: IS ANOLON COOKWARE HEALTHY
READ ALSO: IS CALPHALON COOKWARE SAFE FOR GLASS TOP STOVES
GRANITE COOKWARE PROS AND CONS
Granite cookware is made of good color. The pots and pans come in different shapes and sizes for cooking and frying.
PROS
Granite is wonderfully made and is a good means to start your super healthy food in the kitchen.
Granite cookware products are free of PFOA, PFOS, and other harmful chemicals including lead and cadmium for healthy meals.
The pans heat up quickly and retain heat for a long time after being removed from the stovetop.
Granite cookware is semi lightweight.
You can safely cook with this cookware because of the porcelain enamel.
Compare to other cookware, granite cookware are different and easy to identify because of its appearance.
Granite cookware is a time-saver, it makes cooking easier and faster.
It is easy to clean up, to retain its smoothest surface.
They are non-stick cookware, easy to clean; use and the handles do not get hot.
Granite pan does not rust, unlike cast iron because of its stainless steel base.
It is durable and long-lasting when handled with care.
Granite cookware is durable and aesthetic qualified.
In granite cookware, the taste and smell of your food will not change even if you use acidic or strong-smelling ingredients.
CONS
They have poor heat retention quality.
Some granite cookwares are not sticking as they claim to be by most manufacturers, so to avoid food sticking to the cooking surface, you add little oil in the pan before using it especially if you want to fry an egg.
BEFORE YOU PURCHASE ANY GRANITE COOKWARE, YOU NEED TO HAVE THIS IN MIND
You will not want a handle that is always hot when using it, that is why you look out for granite cookware with the handle that always stays cool when cooking.
Granite cookwares are not used on glass stovetop. Before purchase check if you are using a glass stove to avoid breaking.
When purchasing a new set, clearly check the material used for the cookware and make sure that it indicates PTOA, PTFE, Lead, and Cadmium free.
Check the warranty before purchasing it, because you will not want to buy cookware that will not last.
When buying cookware, one of the important things is non-sticking capabilities. Some graniteware coating does a good job in preventing food from sticking, to enable you to cook healthier meals for your family since you won't use as much oil.
ADVICE
It is best to use a medium temperature for your granite cookware, especially when you are not sure of the material used.
The wooden utensil is preferred on this cookware surface.
Wash the cookware gently.
Do not make the pan too hot and too cold quickly.
For healthy eating and safe cooking. below are the safest cookware to use;
GRANITE COOKWARE SETS NON-STICK POTS AND PANS SET NON-STICK – 23PC KITCHEN COOKWARE SETS
This 23pc has everything you need to get started in the kitchen; it also comes with 3 bonus pans protectors, 2 cleaning sponges, and 2 pan scrapers.
It is suitable for all stovetop induction and oven safe. NOTE; not the egg pan.
The 23 pieces granite cookware set features non-stick pots and pans and a wonderful bakeware surface, it is durable and lasts longer than standard non-stick coatings. There is no chipping, peeling, or flaking.
This home induction pan set is designed with the user in mind. The handles are made to maximize airflow so there is no heat.
GRANITE STONE 10 PIECE COOKWARE SET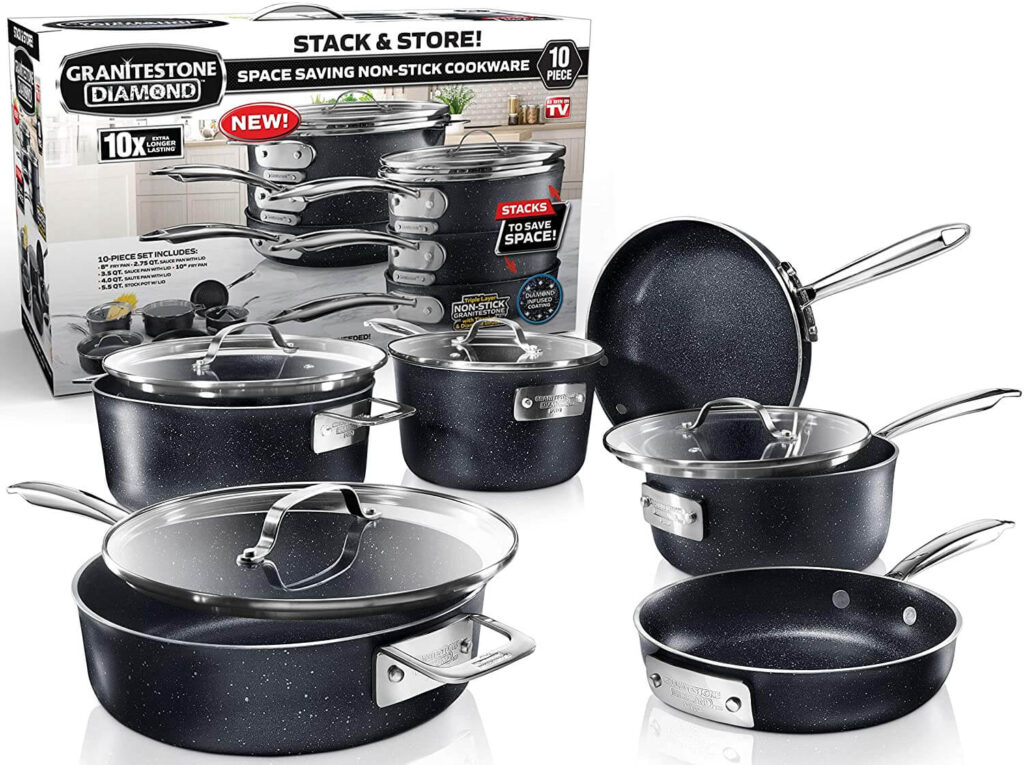 Inside the box is a complete cookware set that has everything you need to get the cooking started. It is designed to save space in the kitchen.
This new design pots and pans set save space and allow you to easily organize your cabinets & kitchen by stacking the entire cookware set together.
Aluminum is pressed at the base for heat conduction, it is coated 3x with adorable non-stick granite stone for non-sticking performance.
 This cookware set is suitable for all cooktops including gas, electric, and induction. It is oven save up to 500°F. It can withstand metal spatulas, spoons, whisks, and more.
The lids are made of glass to let you monitor food while it cooks and fit tight to seal nutrients for more flavorful results.
OZERI STONE EARTH FRYING PAN
If you want to purchase a safe frying pan or replace your old pan. Ozeri stone earth frying pan is 100% free of PTOA and PTFE.
It delivers a non-sticking performance to your frying pan with oil.
It is scratch resistance and easy to clean. It is environmentally friendly when used.
Its handle is heat resistant and it is used on an induction stove.
RE COOK 5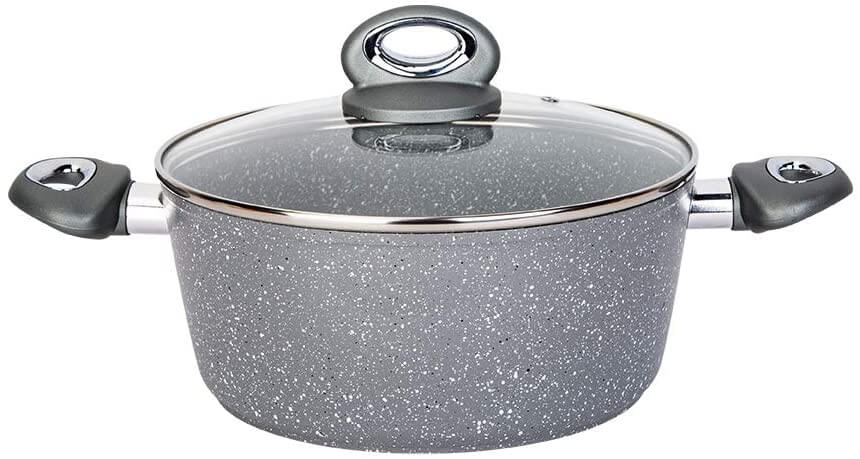 The pot is one of the best-used pots for cooking. It has a clarified certification from FDA food safety, also with 5 stars, graded by customers.
What makes these pots special, unique, safe to purchase and use are as follows:
It is a non-stick coating. The materials are always checked to make sure that it is 100% free of APEO, PFOS, PFOS, and other toxic and harmful substance that can damage the reproductive organs.
The non-stick pot is made of durable aluminum alloy which provides heat up quickly and stable heat distribution.
The handle is heat resistant and it is used comfortably. It is easy to clean up with a dishwasher. It is durable and suitable for all use: induction ceramic, electric and infrared cooker. It is oven safe up to a temperature of 350F.
We highly recommend this pot for family use and commercial purpose.
Advice on how to use and care for this pot;
Wash your cookware in warm soapy water after use, rinse and dry thoroughly.
Hand wash is recommended and dry with a soft towel, it is optional.
After cooking, please cool the pan off before putting it into the dishwater.
We recommend washing cookware in warm soapy water prior to use, rinse and dry thoroughly.
Hand wash is recommended and dry with a soft towel.
Never leave an empty pot or pan on a hot burner or element.
When cooking, never leave your cookware unattended for long periods of time.
To prolong the life of your cookware, we recommend cooking over low to medium heat.
Do not use metal utensils as they will damage the surface. Use only wood, bamboo, nylon, or plastic utensils for non-stick pots and pans.
.
MICHELANGELO STONE COOKWARE SET 12 PIECE
It is perfect non-stick cookware that has multi-layered in them, to make food slide off rightly from the pan unto the plate once it is ready. No chipping, no peeling, no flaking is found in this cookware. It is durable and long-lasting.
It has multifunctional pots and pans for your various kitchen cooking tasks, suitable for family and restaurant use.
The non-sticking pots and pans sets are made of an aluminum alloy body that conducts heat quickly and evenly with precise temperature control and no hot spots for consistency.
The pots and pans sets are 100% free of cadmium, lead, PFOA, and PTFE for healthy eating and cooking.
It is suitable for all stovetops including glass and gas and it is oven safe up to a temperature of 400°f. Cleaning up is easy with a dishwasher. Hand wash is recommended to keep the cookware shining.
The handles are great and stay cool to carry from the stovetop. The pots and pans are weight- light so they are easy to use.
If you want a complete cooking and baking set, this is for you.
GRANITE STONE DIAMOND COMPLETE COOKWARE AND BAKEWARE SET
Inside the box, it has everything you need to complete your kitchen and takes your cooking and baking to the next level.
It includes full cookware set with frying pans, skillets, saucepans, stockpots with tempered glass lids.
The Granite stone Blue non-stick cooking surface is coated three times and reinforced with diamonds to deliver the ultimate food release. No seasoning or even oil or butter is needed.
The Granite Stone coating is derived from minerals and reinforced with diamonds, ensuring this frying pan free of PFOA, PFOS, lead & cadmium for an eco-friendly, healthy experience for your entire family.
It is made with the strongest material which makes it durable enough to withstand metal utensils, spatulas, spoons, whisks, and even electric beaters.
After all the cooking and prepping are done, cleaning up is quick and easy with the dishwasher. It is compatible with gas, electric, glass cooktops & oven safe up to a temperature of 500° f.
The stainless-steel handles are designed to withstand heat and keep cool to the touch.
READ ALSO: FRYING PANS WITH DETACHABLE HANDLES
READ ALSO: HOW SAFE IS GRANITE COOKWARE