Hey there! As an Amazon Associate, I earn from qualifying purchases. I greatly appreciate your support!
Induction cooking is a fast, easy and safer way of cooking. It works by direct induction heating of the cookware vessels and not the hob.
The only disadvantage is that not every cookware can be used on an induction hob, only the ones with a flat bottom base made of ferrous or magnetic metal.
Are you in the market for a new pan and do you want to invest in ceramic pans for your new or old induction hob? We are going to answer this question, "Can you use ceramic pans on an induction hob"?
Yes, you can use ceramic cookware on an induction cooktop, but you cannot just use any type of ceramic cookware.
Keep reading to know the ceramic pans that suit your induction hob.
HOW DOES INDUCTION HOB WORK?
Induction Hob works by a process known as electromagnetism. This reaction takes place between induction-compatible cookware and the coils.
Beneath the hob, induction coils made from copper wire create a magnetic field as electricity is passed through them. If a pan with a magnetized base is placed on the hob, the magnetic field causes it to heat up directly. The hob will remain cool with only some residual heat from the pans.
WHAT HAPPENS IF YOU PUT A NON-COMPATIBLE PAN ON AN INDUCTION HOB?
If you put a non-induction pan on an induction hob, there will be no electric current in the cookware because the magnetic field will not be able to pass.
Secondly, the hobs ring will not turn on because a pan for an induction hob must be made from ferrous metal, or have a ferrous metal base. Without any ferrous metal in a pan, the hob won't recognize that a pan has been placed on the hob.
HOW TO TELL IF YOUR COOKWARE IS INDUCTION COMPATIBLE?
Nowadays, many manufacturers are putting an induction-compatible symbol on the bottom of their cookware or on the packaging.
If you want to know if the pan is induction compatible, check if the pan has a flat bottom or simply conduct a magnet test.
A magnet test works by holding a magnet to the bottom of your cookware, if the magnet clings to the underside, the cookware will work on an induction cooktop and then heat well.
CAN YOU USE CERAMIC PANS ON AN INDUCTION HOB?
Absolutely YES! You can use ceramic pans on an induction hob, but not all ceramic cookware can be used on an induction hob.
The ceramic cookware needs to have a magnetic base layer for direct heating.
BEST CERAMIC INDUCTION COOKWARE
Below are the best ceramic inductions compatible;
BLUE DIAMOND COOKWARE TRI-PLY STAINLESS STEEL CERAMIC NONSTICK, 8″ FRYING PAN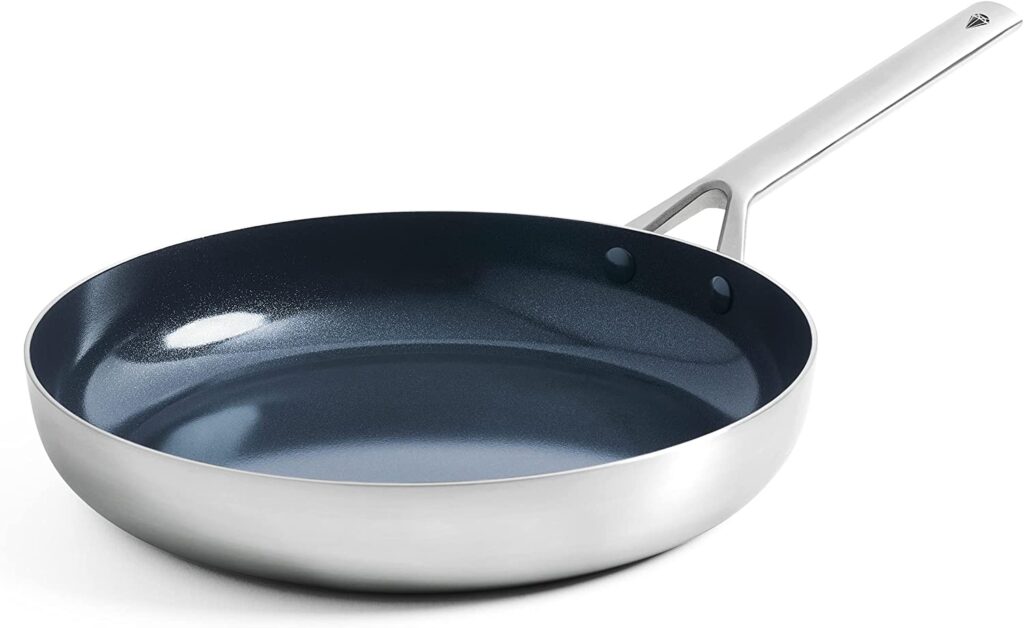 If you are looking forward to adding ceramic induction compatible to your kitchen, the Blue Diamond frying is here for you.
Blue Diamond is known for their high-quality cookware set, and they are durable, distribute heat evenly, compatible, and easy to clean.
These three-layer tri-ply stainless steel bodies deliver even heating and incredible browning, searing, and sautéing results.
Blue Diamond's diamond-infused coating is 5x harder and 10x longer lasting than traditional nonstick, and best of all they are toxin-free. No PFAS, PFOA, lead, or cadmium in the material for safe meals.
It is suitable for all cooktops and optimized for induction stovetops. The Mirror-finished bodies are extra durable and oven and broiler safe up to 600°F.
The stainless steel handles stay cool, and the angled shape allows the pans to stack and save space.
GREENPAN VALENCIA PRO HARD-ANODIZED HEALTHY CERAMIC COOKWARE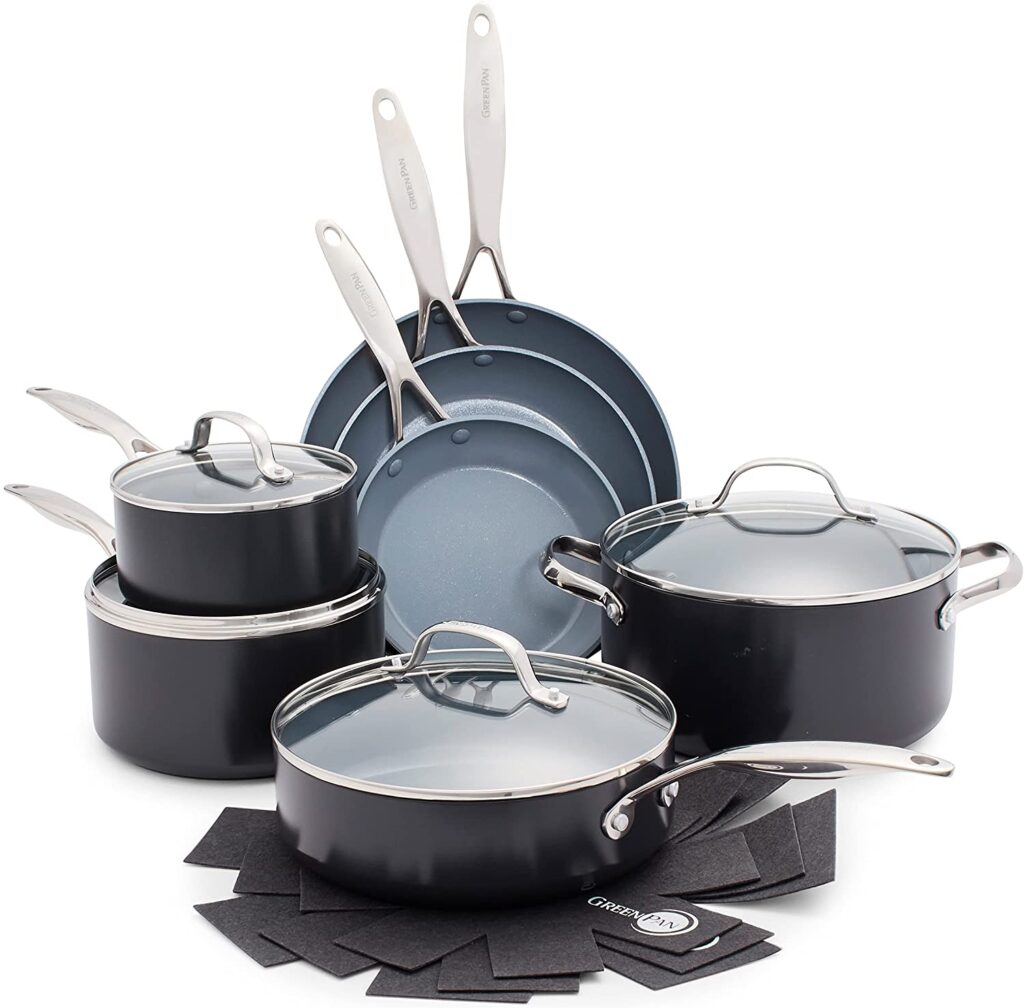 The Greenpan collection is a bright color that will match and fit any kitchen style for cooking performances.
The Greenpan is constructed from hard-anodized material which makes it durable, and also provides quick and even heating with excellent heat retention.
The bottom is completely flat, which provides stability and even heating contact with your induction cooktop.
This cookware has repeatedly undergone testing and it confirms safety for every kitchen use.
Infused with diamonds, GreenPan's Thermolon Minerals Pro healthy ceramic nonstick coating is free of PFAS, PFOA, lead, and cadmium, so it will never release toxic fumes, even if it's accidentally overheated.
Valencia Pro's Magneto Induction Bases bring incredible searing and browning to all stovetops, including induction.
It is oven and broiler safe up to 600°Fahrenheit. Dishwasher safe for easy cleanup. Hand washing is recommended.
The durable glass lids help for easy food monitoring and are oven safe up to 425 degrees Fahrenheit.
COOKSMARK 10-PIECE DIAMOND NONSTICK CERAMIC INDUCTION COOKWARE SET
The cookware features an induction-compatible spiral bottom that works on gas, electric, or halogen stovetops.
The durable three-layer construction ensures even heat retention and distribution without any hotspots. The flat stainless steel bottom heats up quickly around the side for fast cooking.
The Cooksmark 10-inch non-stick Omelette fry pan offers effortless food release with little or no oil for healthy meals.
It is PTFE, PFOA, and cadmium free for safe cooking. It is resistant to thermo- shock so there is no fear of shattering. The cookware does not retain bacteria, odor, and bad taste or discolor your food.
The beautiful glass lid allows you to keep an eye on your cooking, without losing heat and moisture.
It is safe for use in every home and is a good choice for any food preparation.
The handles are safe for every cooking activity and are also cool to touch. It is easy to clean with a dishwasher. Hand washing is recommended.
DUXTOP CERAMIC 8-INCH NON-STICK FRYING PAN, STAINLESS STEEL INDUCTION FRYING PAN.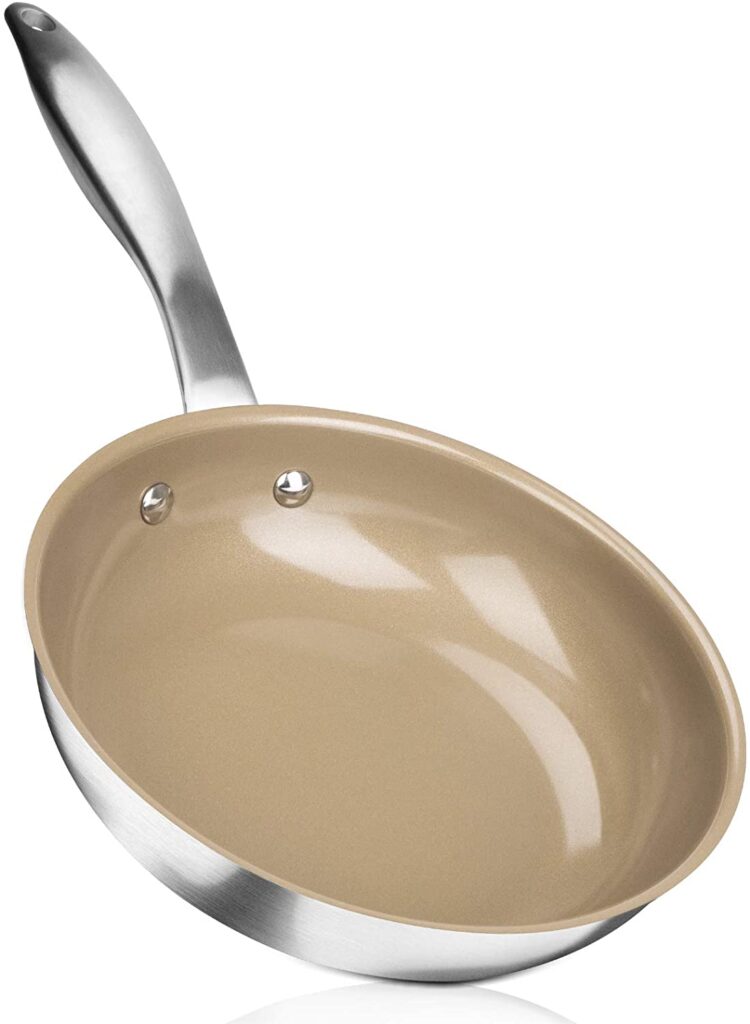 This fry pan is suitable for all stovetops, such as induction, gas, electric, and halogen cooktops, perfect for even the most seasoned cooks.
The heavy-gauge impact-bonded aluminum base provides even and energy-efficient heating and is built to last a lifetime.
The ceramic non-stick interior of this ceramic pan stands up to everyday use, ensuring effortless food release and easy cleanup. It helps to make fried eggs, omelets, pancakes, bacon, fish, and more, without using excess oil.
This Duxtop frying pan is completely free of PFAS, PFOA, PTFE, Lead, or Cadmium for healthy meal benefits.
It is safe and good to use, for best performance, use low to medium heat with a small amount of oil or butter to cook.
The stainless steel handle with an anti-slip satin finish makes it comfortable to hold while cooking, and you can use silicone, nylon, plastic, or wooden utensils without the worry of scratches on the surface.
It is Freezer-safe for food storage, Oven-safe up to 500 degrees Fahrenheit and dishwasher and hand wash safe.
READ ALSO: CAN I USE LE CREUSET PAN ON INDUCTION HOB
INDUCTION COOKTOP
The induction cooktop is a very fast and quick way of cooking. It works on magnetic energy created by an electrical current. The magnetic energy connects with your cookware and effectively turns it into a heat source for a safe cook.
BEST COOKWARE FOR INDUCTION COOKTOP
For your new induction cooktop, you need to use cookware that is compatible and we have done our research.
Below are the best-recommended cookware for induction cooktops;
CUISINART MULTI CLAD PRO TRIPLE PLY 12-PIECE COOKWARE SET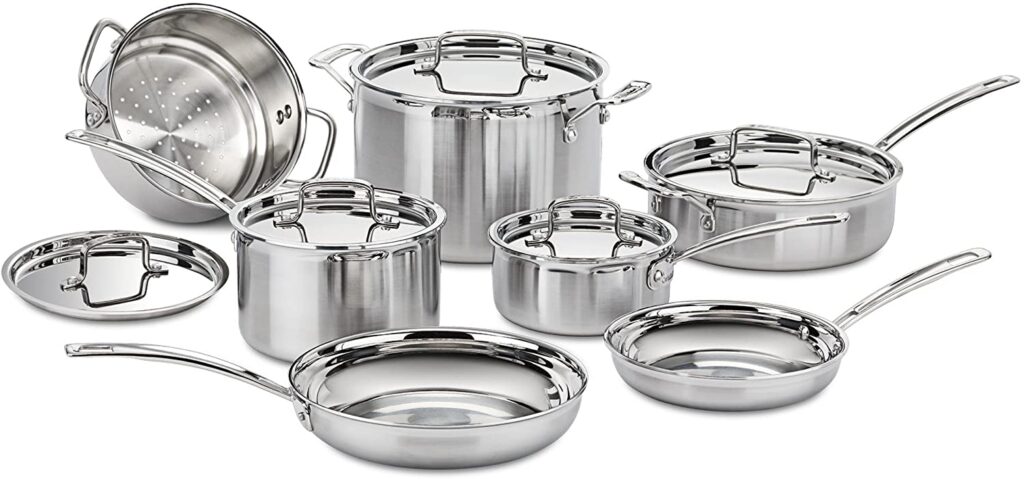 SET INCLUDES: 1.5 Quart saucepan with cover, 3 Quart saucepan with cover, 3.5 Quart sauté pan with helper handle and cover, 8 Quart stockpot with cover, 8″ skillet, 10″ skillet, 20cm steamer insert with cover.
The Multiclad pro-triple-ply silver cookware is designed to brighten your cookware and it evenly distributes heat throughout the cookware, delivering perfectly cooked meals every time.
It is constructed with the finest materials to perfectly perform all the classic cooking techniques for every kitchen needs.
The MultiClad Pro cookware is great to meet the demands of chefs and household chefs everywhere for a better cooking experience.
This cookware is a great option for easy release of food, which makes clean-up a breeze. It offers low maintenance and is designed to last long.
The Polished cooking surface does not discolor, react with food, or alter flavors. Tight-fitting stainless steel covers seal in food's natural juices, flavor, and nutrients for healthier meals leaving guests wanting more.
It is oven safe up to 550 degrees Fahrenheit with rims tapered for a drip-free pouring experience.
This cookware is suitable for use with gas, electric, as well as induction cooktops as well.
VIKING 3-PLY STAINLESS STEEL COOKWARE SET, 10 PIECE
The Viking Contemporary 3-Ply Stainless Steel Cookware 10 Piece Set includes a 5.2-quart Dutch oven with a lid, a 3.6 quart sauté pan with a lid, and 2.4 quart and 3.4-quart saucepans with lids, and 8 inch and 10-inch fry pans.
Viking is designed to deliver professional performance for every Home. It is made with material that will not change or contaminate your food.
The vented glass lids allow you to monitor the cooking progress of your meal while reducing the chance of boil-over.
The aluminum core provides exceptional heat transfer throughout the cookware, while the magnetic stainless steel exterior makes it incredibly durable and safe for all cooktops, including induction.
The Viking signature stay-cool handles are ergonomically designed for a secure grip, comfort, and balance while remaining cool to the touch.
It is oven, broiler, and grill safe up to 600°F/315°C (oven safe up to 450°F/232°C with a glass lid),
Clean-up is easy and is safe in the dishwasher safe. No need to worry about this cookware because it has a limited lifetime warranty.
CIRCULON MOMENTUM STAINLESS STEEL COOKWARE SET WITH GLASS LIDS
Set Includes 1-qt Pouring Saucepan, 2-qt Saucepan with Lid, 3-Quart Sauté Pan with Lid, 6-qt Stockpot with Lid, 10-in Frying Pan with Lid, 8-in and 11.5-in Frying Pans.
The cookware has raised circles that make food release easy and cleanup effortless. It is PFOA-free and metal utensil safe.
This high-performance Circulon nonstick Momentum Stainless Steel pot and pan set has what it takes for all-range cooking performance with its nonstick technology. It is also dishwasher-safe convenience.
The fully-encapsulated stainless steel base conducts heat quickly throughout the cookware for quick cook and the exteriors mirror-polished are easy to clean.
This set is versatile, durable and oven safe to 400 degrees F. the shatter-resistant glass lids and dual-riveted silicone-enhanced stainless steel handles are also oven safe.
Note: When using your cookware in the oven, use a potholder or oven glove.
It has a full Free Lifetime Guarantee.
ANOLON TRIPLY CLAD STAINLESS STEEL COOKWARE POTS AND PANS SET
SET INCLUDES 1.5 Saucepan with Lid, 2-Quart Saucepan with Lid, 3.5-Quart Saucepot with Lid, 4-Quart Sauté Pan with Lid, 8-Quart Stockpot with Lid, 8.5-Inch Frying Pan, and 10.25-Inch Frying Pan.
The cookware set is suitable for use on all stovetops, including induction; the polished, stainless steel exteriors are easy to clean.
The durable three-ply construction features an aluminum core between layers of stainless steel for excellent heat distribution.
Anolon stainless steel cookware is professional cookware that will take care of your entire cooking task. It is perfect for every home and best for all chefs for good results.
If you love searing, frying, and stewing, this cookware is good. Nothing sticks on the surface for easy cleaning. You can use little or no oil for your frying and with medium heat.
It has comfortable stainless steel handles that stay cool to the touch. The cookware set is oven safe up to 500 degrees Fahrenheit and dishwasher safe for convenient cleanup.
DO YOU NEED SPECIAL PANS FOR AN INDUCTION HOB?
Induction cooktops use copper coils to generate heat from electric currents directly to your cookware. In order for the induction hob to work, pots and pans need to have a magnetic and flat bottom.
CAN YOU USE STAINLESS STEEL PANS ON AN INDUCTION HOB?
Yes, you can use stainless steel pans on induction hobs because stainless steel cookware has a flat bottom and it is magnetic at the base.
INDUCTION HOB PANS IKEA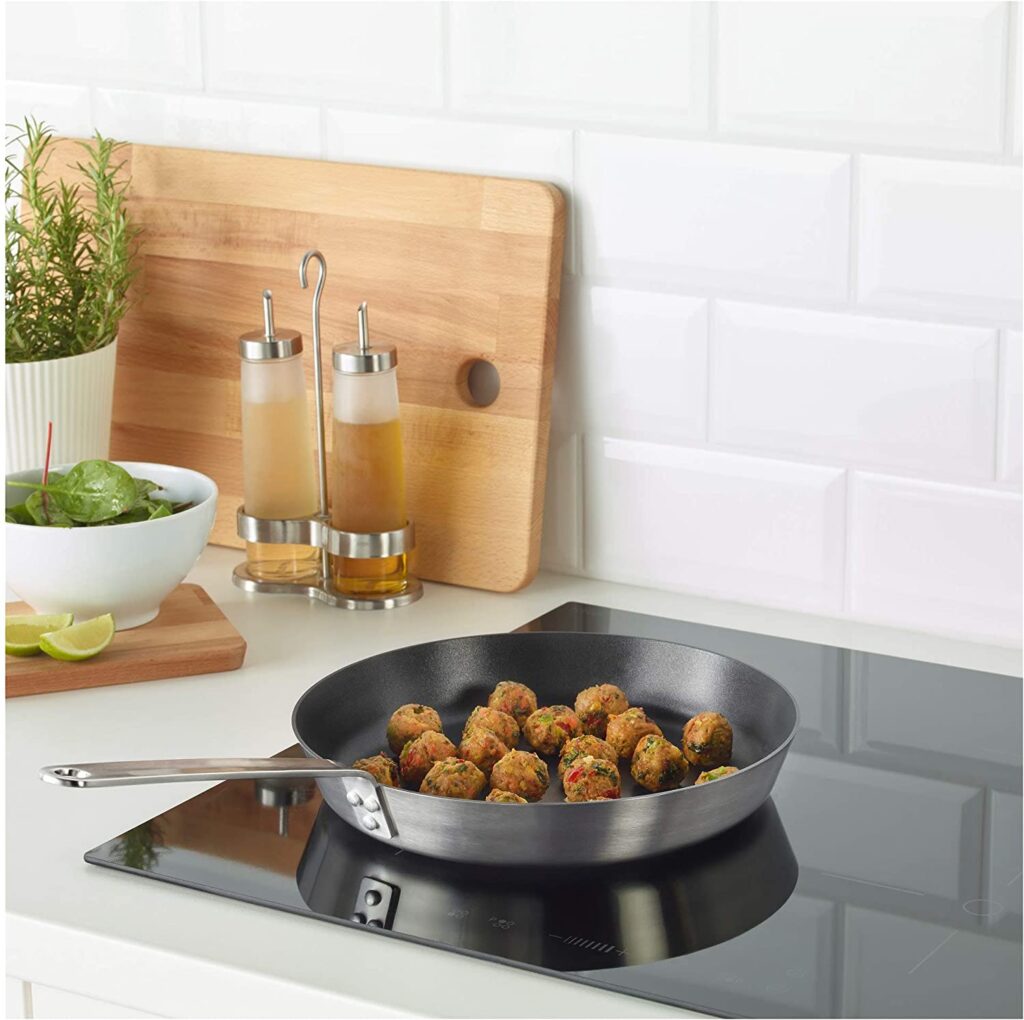 Ikea has everything you need to unleash your cooking creativity. If you are planning on moving away from home or replaying your worm-out pans Ikea is here.
This pan is made of stainless steel, which makes the pan durable, compatible, and easy to clean, suitable for all types of cooktops, including induction cooktops.
This pan is built to last long, distribute heat evenly, and is great value for money. The pan is not safe in the dishwasher so hand washing with soapy water will do just fine to get your pan cleaned up.
It is safe for all meals and it distributes and retains heat well. Medium heat is advisable while using this pan.
CAN WE USE A NON-STICK PAN ON THE INDUCTION STOVE?
The best pan for induction stoves is made from ferrous materials such as stainless and cast iron. Other pans like aluminum, copper, glass, anodized, or ceramic will not work well unless they have an induction plate built into the base.
If your non-stick pan has a magnetic base layer is safe for use on your induction stove.