Hey there! As an Amazon Associate, I earn from qualifying purchases. I greatly appreciate your support!
Corelle dish is one of the most searched dinnerware sets known for its resistance, durability, and non-porous. They are regular dishes used for serving, eating, and reheating.
Lovers of Corelle often ask can Corelle dishes go in the oven. Corelle dishes are heat resistant and break-resistant.
According to Corelle, the dinnerware can be heated up to a certain temperature for the safety of your dish.
Furthermore, you should not heat or put Corelle dishes on top of a stove, gas, electric, ceramic, and even induction.
Indeed, Corelle dishes can be used in a pre-heated conventional oven but not in a toaster oven.
WHAT IS CORELLE MADE OF?
Corelle is a brand that manufactured glassware and dinnerware with a material known as Vitrelle glass.
Corelle is made of unique 3 layers of Vitrelle glass which makes Corelle thin and translucent and also resistant against stain, breaks, and chip.
ARE CORELLE DISHES TOXIC?
Corelle dishes made in the USA with tempered Vitrelle glass are durable, thin, lightweight, and free of toxic chemicals that affect health.
CAN CORELLE DISHES GO IN THE OVEN?
Corelle products can be used for serving and reheating food in a microwave or preheated heated conventional oven up to 360F (176 Celsius). When used in accordance with the safety and usage instructions that came with your product at the time of purchase.
CAN CORELLE DISHES GO IN THE DISHWASHER?
Yes, Corelle dinnerware sets are dishwasher safe when loaded perfectly well in the dishwasher because it is made of Vitrelle triple-layer glass that makes them strong, resistant to chip and break.
When loading your dishes in the dishwasher makes use of space them to avoid scratches and also use a phosphate-free detergent.
Do not use abrasive cleaners, scouring pads, or any object that will scratch your dinnerware.
Stoneware cups and mugs should not soak, as water can be absorbed through the unfinished foot.
CORELLE DINNERWARE SET
Corelle dinnerware sets are great for use especially the pure white Corelle dishes which are free of lead and cadmium that cause harm to the health.
Below are recommended Corelle dinnerware;
CORELLE WINTER FROST WHITE LUNCH PLATES SET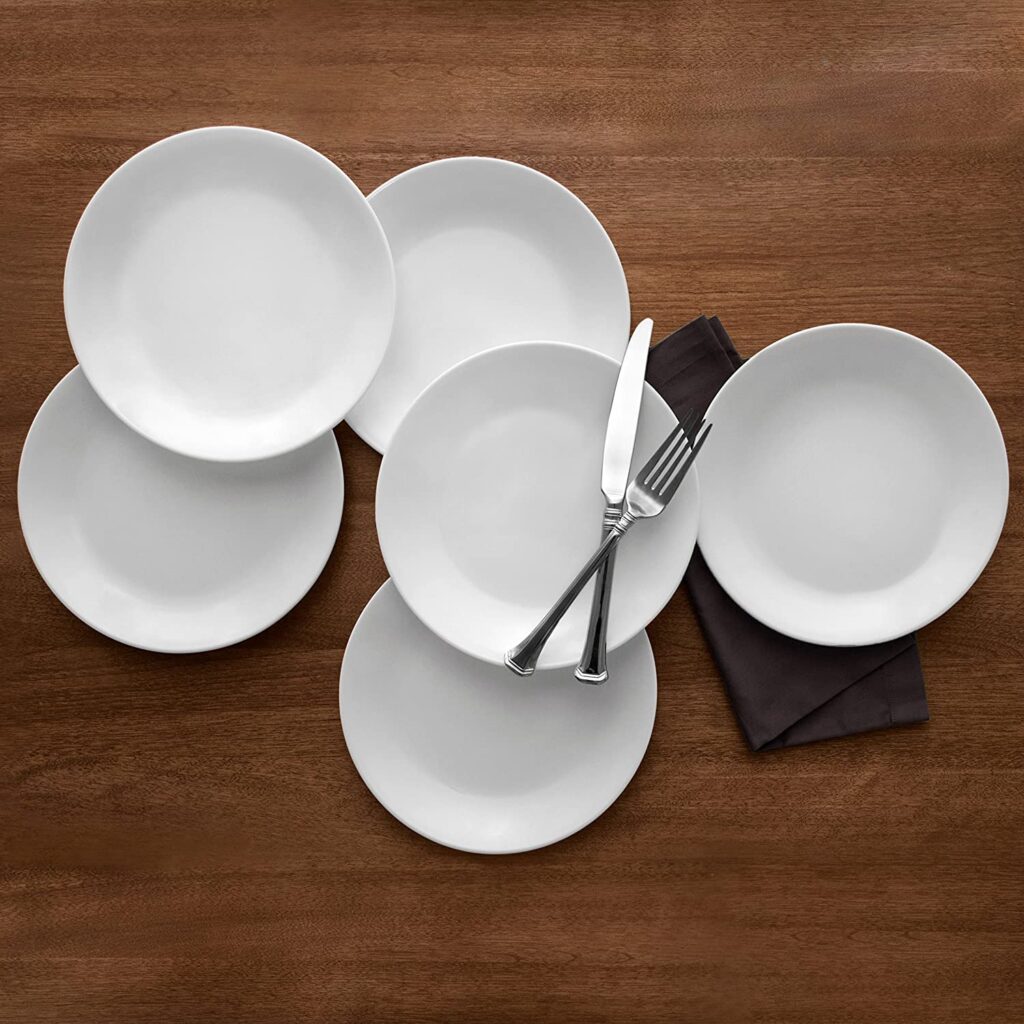 1. All pieces are made of Corelle triple-layer strong glasses that are break and chip resistant.
2. Lightweight, and easily stackable for space-saving Dishwasher safe.
3. This non-porous and versatile dinnerware can be used in the microwave and oven.
CORELLE SOUP/CEREAL BOWLS SET (18-OUNCE, 6-PIECE, WINTER FROST WHITE)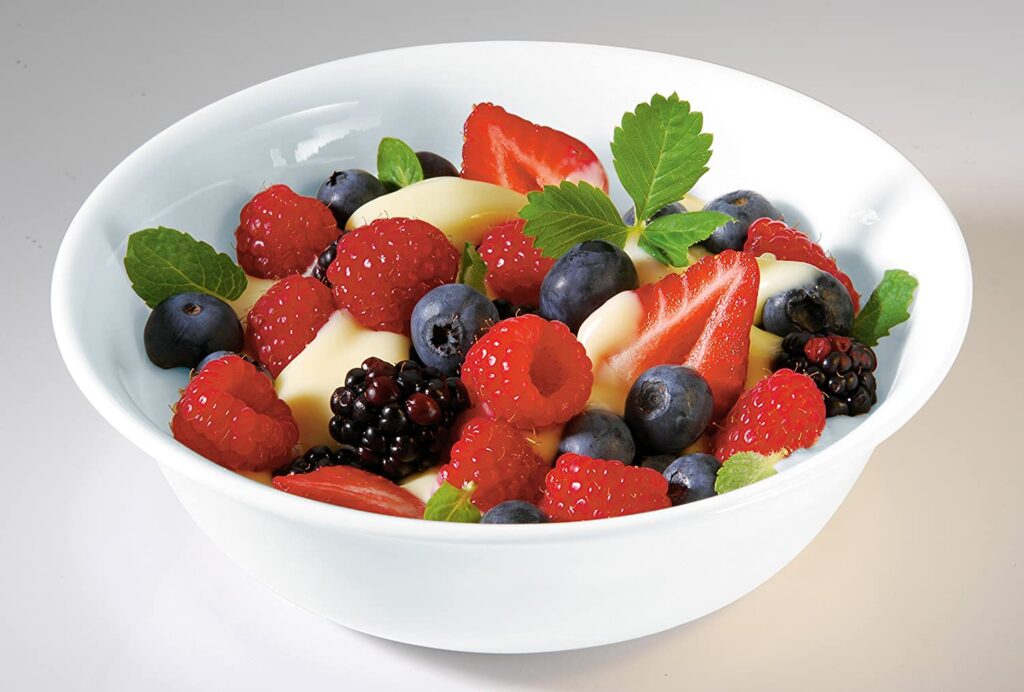 1. This Winter Frost White six 18-ounce soup/cereal bowl is crafted with pride in corning, new York.
2. This set features simple and elegant all-white pieces, perfect for any table setting and any decoration.
3. It is dishwasher safe, microwave, and preheated oven.
CORELLE LIVINGWARE 12 PIECE DINNERWARE SET, WINTER FROST WHITE, SERVICE FOR 4
1. This oven-safe Corelle Livingware Winter Frost White 12-piece Dinnerware Set Contains 4 Plates, 4(Plates), 4 (18-oz Bowls)
2. It is ultra-hygienic, non-porous, and easy to clean.
3. Plates and bowls stack compactly taking up half the space of ceramic.
CORELLE CHIP RESISTANT, CLASSIC DINNERWARE SET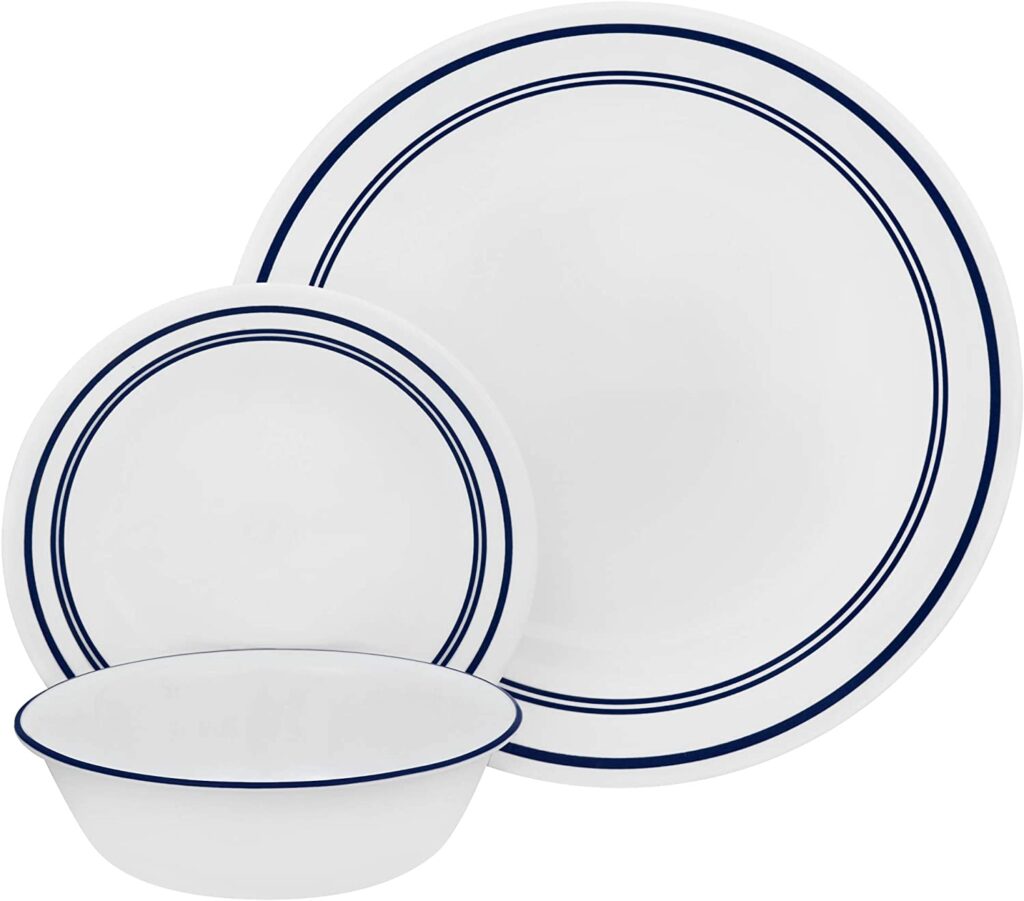 1. The 18-piece set includes all the everyday essentials, perfectly coordinated in navy and white for a tailored table from breakfast to dinner.
2. It has three-layer-strong glass plates and bowls that are highly resistant to chips and cracks.
3. Lightweight and easy to handle.
4. Ultra-hygienic, non-porous and easy-to-clean.
CORELLE LIVINGWARE WINTER FROST WHITE DIVIDED DINNER PLATE
This Corelle Livingware Winter Frost White 10-1/4″ Divided Dish is Break and chip resistance for carefree durability.
It is a wonderful plate for picky eaters and anyone that want different food recipes on a single plate.
It won't wash, wear or scratch off for a long time use. Microwave and oven use for versatility.
It is perfect for all ages and Food stays in its own section. The dinnerware set is lightweight and can be used by elderly, senior, and dementia patients to help keep things on the plate.
HOW DO YOU NEED IF THERE IS LEAD IN YOUR DISHES?
The best way to know if there are dishes in your dishes is by testing. Home test kits can tell you if the dishes have leachable lead.
Another method is the XRF instrument.
CAN CORELLE GO IN THE MICROWAVE?
Yes, Corelle dishes can be used in a microwave. Corelle dishes can go in the microwave up to 360 degrees Fahrenheit.
When using your dinnerware in the microwave, note that you should not microwave a small amount of food in a large dish.
Do not heat an empty vessel in a microwave oven and always handle hot dishes with a potholder or oven gloves.
CAN CORELLE DISHES GO IN THE TOASTER OVEN?
Corelle dishes which are made of Vitrelle glass cannot be used in the toaster oven. Most dishes manufactured don't have the capacity to withstand thermal shock.
Thermal shock is the change in temperature which causes tension in a material. That is why you need to check the manufacturer's description of the product you want to purchase to be on the safer side.
Using Corelle dishes in a toaster oven is adding stress to the dish and when the material exceeds the limited strength, it causes it to crack.
Instead, you can use Corningware products. Corningware shares the same parent company with Corelle but has a higher temperature than Corelle and can be used in a toaster oven.
CAN CORELLE DISHES GO IN THE AIR FRYER?
Yes, Corelle dishes can go in the air fryer up to a temperature of 360 degrees Fahrenheit, but do not leave your Corelle dinnerware in an air fryer for a longer period of time because it has more heat than a microwave oven.
CAN I USE CORELLE FOR STEAMING?
Yes, you can use your Corelle dinnerware for steaming on top of a streaming rack.
CAN CORELLE GO FROM REFRIGERATION TO MICROWAVE?
Yes, Corelle dishes can be put in the refrigeration or freezer and then taken out of the freezer or refrigerator and put into a microwave oven.
CAN CORNINGWARE DISHES GO IN THE OVEN?
You can use Corningware stoneware, glass-ceramic, or ovenware in a preheated conventional oven and also in a microwave.
DOES CORELLE BREAK?
Corelle dinnerware is made of tempered glass, which makes it chip, break and scratch resistant but not unbreakable. Apply caution with Corelle dishes.
Stoneware products (cups and Mugs) should not be soaked in water for a period because when heat is applied to the item, the glaze may crack.
DOES CORELLE CONTAIN BPA?
Corelle is made of Vitrelle glass and not plastic which makes it interior and exterior safe for use. There is no BPA in a glass.
CAN CORELLE GO UNDER BROILER?
According to Corelle, your Corelle dishes are not designed for use under the broiler. It will damage the dish if you put it under the broiler.
HOW TO CLEAN CORELLE DISHES?
To clean your Corelle dishes after eating simply wash by hand with soapy water and rinse in the sink with clean water.
READ ALSO: CORELLE