Hey there! As an Amazon Associate, I earn from qualifying purchases. I greatly appreciate your support!
Corelle dishes are the top searched dinnerware in the market and they are known for their Vitrelle glass that is resistant to stain, odor, and break.
Corelle as a brand has made a name in the community of dinnerware.
As we know Corelle brand has numerous dishes starting from Vintage to plain white dinnerware. Now the question is, Are white Corelle dishes Lead-free? Can I use it without Lead leaching into my food?
These questions are answered below to help you and your loved one enjoy healthy meals.
Corelle dishes manufactured after 2005 are safe and comply with FDA regulations. Most dishes were manufactured before regulation on how much Lead could be used for dinnerware.
IS CORELLE DISHES DINNERWARE SAFE TO USE?
According to Corning, not all Corelle dishes are completely Lead and Cadmium free. The dishes that do meet the FDA standard are the pure white dinnerware set.
Corelle recommends using dishes made before FDA regulation as decorative pieces due to the concerns for high levels of lead.
Corelle dinnerware is safe to use when you make use of the white dishes.
THE DANGERS OF LEAD EXPOSURE
Lead exposure occurs when its particles are breathed in, swallowed, or absorbed. Once absorbed, it is stored in the bones, blood, and tissue.
As you get older and your bones begin to dematerialize, a large amount of Lead may be released from your bone causing life-threatening.
If exposure to a large amount of Lead or heavy metal over a short period of time can result to lead poisoning.
HOW DO I KNOW IF CORELLE DISHES HAVE LEAD
Testing your dishes is the best and only way to know for sure if they do contain lead and if it is leaching out into your food.
By using a home test kit, dishes can be checked to know whether they have leachable Lead. The home test kit is a simple color test method that you can use to detect if there is lead in your dishes. The test kits only detect the presence of lead, not the amount of Lead.
If you want to know the amount of Lead in the dishes, you can send them to a laboratory for testing.
XRF tests will accurately measure the amount of Lead present without harming your dish.
XRF test is used to the determine presence of Lead.
ARE WHITE CORELLE DISHES LEAD-FREE?
Yes, the plain white Corelle dishes without the colored or decorative elements are Lead-free and will not leach Lead into your superfood.
The pure white Corelle dishes do not contain harmful chemicals and they are the best choice for mealtime with a loved one
READ ALSO: IS FRENCH WHITE CORNINGWARE LEAD-FREE?
READ ALSO: ADAPTIVE PLATES FOR ELDERLY
LEAD-FREE CORELLE DISHES
Lead-free Corelle dishes are dishes that are safe for children, adults, and elders for healthy meals.
It does not contain lead and cadmium.
Below are recommended dishes;
CORELLE WHITE BELLA FAENZA 18-PIECE DINNERWARE SET
This Lead- free Plates and bowls are made from unique, durable Vitrelle glass. It is Break, chip, scratch, and stain-resistant.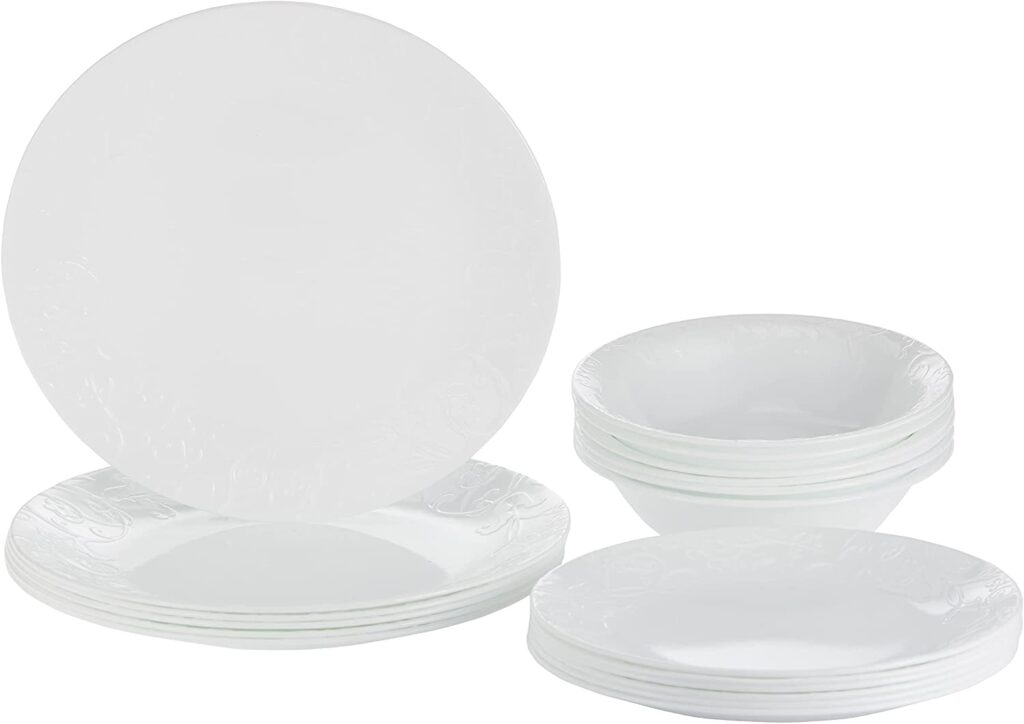 They are made of Corelle triple-layer strong glass which is break and chip resistant, they are also lightweight, and easily stackable for space-saving.
Dishwasher safe, versatile dinnerware for microwave and oven.
Vitrelle is microwave safe and even safe for oven use up to 180 degrees
CORELLE 16-PIECE VITRELLE GLASS CHERISH CHIP AND BREAK-RESISTANT
These plates are made with Corelle triple-layer strong glass, which is lightweight, stackable, and resistant to chips and breaks. Each piece is dishwasher safe and can be used in an oven or microwave.
The plate and bowls stack compactly; they are ultra-hygienic, non-porous, and easy to clean. It can be used every day for meals and for special occasions.
CORELLE BOUTIQUE CHERISH EMBOSSED SQUARE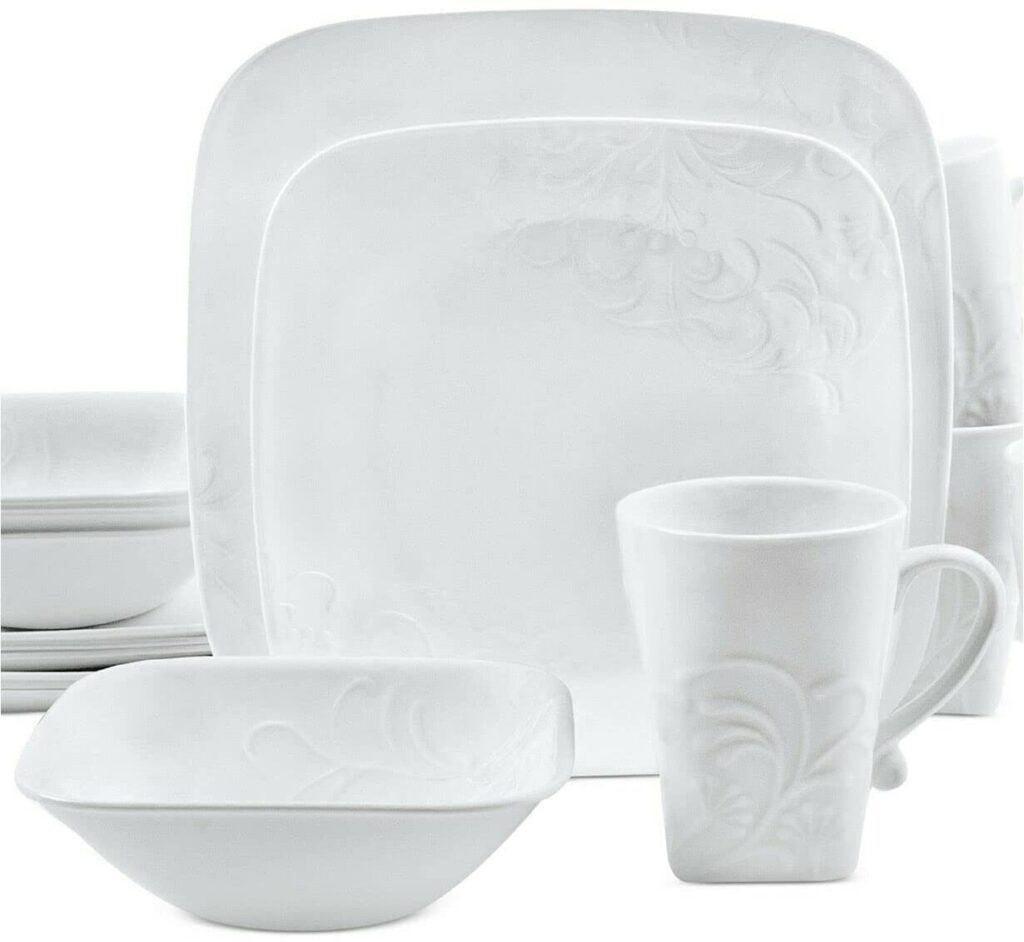 This dinnerware pattern will not wear, stain or scratch off.
This dinnerware set is lightweight, the perfect plate for elderly parents. is space-saving, microwave, dishwasher safe, and can be placed in an oven.
It is Lead-free, sturdy, classy, and simple.
Why we love Corelle dishes is that they are not prone to chipping easily, harder to break, and are perfect for everyday use.
READ ALSO: IS LUMINARC GLASSWARE SAFE
READ ALSO: IS BAMBOO DINNERWARE SAFE
READ ALSO: DRINKING CUPS FOR ELDERLY
IS CORELLE WINTER FROST WHITE LEAD-FREE
Made in the USA from a unique glass material called Vitrelle, Corelle dinnerware is renowned for being thin and lightweight, yet amazingly strong and durable.
The unique 3 layered Vitrelle glass makes Corelle dinnerware as thin and translucent as fine china, yet dramatically stronger.
Every piece of Corelle dinnerware is chip and break-resistant, making it perfect for outdoor and indoor dining.
Corelle dinnerware is also the perfect alternative to melamine dinner sets because it can go into the oven and microwave. It adds a touch of elegance to the outdoor dining experience.
Corelle dinnerware is both stain and scratch-resistant, so you can use forks and knives without worrying about scratching the surface.
The all-white piece features simple and elegant perfect for complementing your existing dinnerware. It is made of Lead-free material for durable use.
All pieces are made of Corelle triple-layer strong glass, which is break and chip resistant, lightweight, and easily stackable for space-saving
It is Dishwasher safe, hygienic, non-porous, and versatile dinnerware that can be used in the microwave and oven
Corelle glass is made in the USA and comes with a three-year limited warranty against manufacturer defects.
Below are winter frost white lead-free dinnerware set;
CORELLE LIVINGWARE DINNERWARE SET
This Corelle Livingware dinnerware is made of Vitrelle glass and Vitrelle glass is designed to be resistant to chips and breaks.
The bowls are microwave dishwasher safe and lead-free. Good size for cereal and soup.
VINTAGE CORELLE DISHES
Corelle products purchased after 2005 are safe and comply with FDA regulations. Now, if you have any older dishes that gets a little trickier. You'll want to avoid eating off of older Corelle dinnerware if it shows obvious signs of deterioration; if the glaze is worn if the paint is melting or chipping, etc
WHICH CORELLE DISHES ARE LEAD AND CADMIUM FREE
According to Corning, the manufacturers of Corelle dinnerware sets have advised users to make use of their dishware made before 2005.
The pure white dinnerware sets are lead-free. The dishes that have decorative patterns do have a small amount of lead in them.
LEAD-FREE DINNERWARE
Below are examples of Lead-free dinnerware
FIESTA LEAD-FREE DINNERWARE
Festa is a line of ceramic glazed dinnerware introduced in 1936 by Fiesta Tableware Company in Newell, West Virginia, USA.
In 1936 Fiestaware was manufactured with radioactive glaze which contains uranium. Uranium oxide was used in glaze because of the color it impaired. Dinnerwares that contain uranium oxide are not safe to use so the dinnerware was discontinued.
Fiestaware made in 1936 did not meet the standard of the FDA and was removed from the market.
After the discontinuation, Fiesta pledged to continue to make a safe and reusable product free of harmful materials such as lead.
Fiesta Company saw the need to reintroduce its products but was first sent to the independent laboratory to be tested for leachable lead release. The leachable lead release from Homer Laughin is 250 times lower than the maximum which is good by the FDA.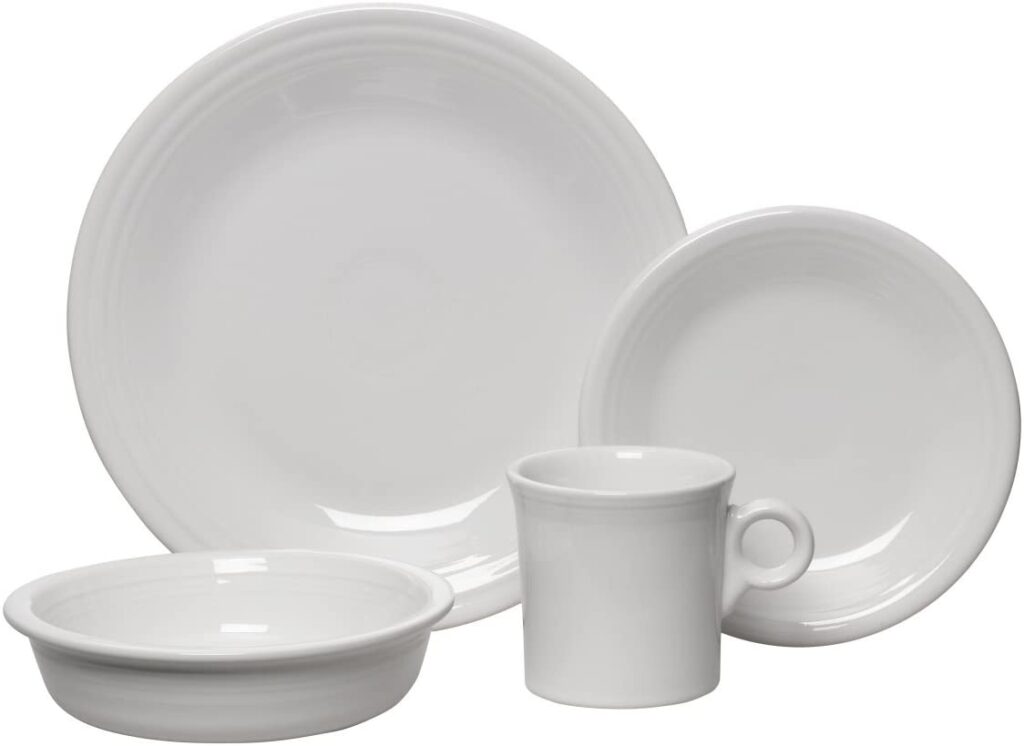 Made in the USA by the Homer Laughlin China Company, All Fiestaware produced since its reintroduction in 1986 is dishwasher-, oven-, and microwave-safe, colored with a lead-free glaze, and fully vitrified to result in chip-resistant durable restaurant use.
EURO CERAMICA ESSENTIAL DINNERWARE
Euro Ceramica was founded in 1994 by Nicolas Marjieh. For over 25 years Euro Ceramica has been pursuing the mission of bringing quality design at affordable prices.
The company is known for laying classic refined and joyful dinner tables for family and friends.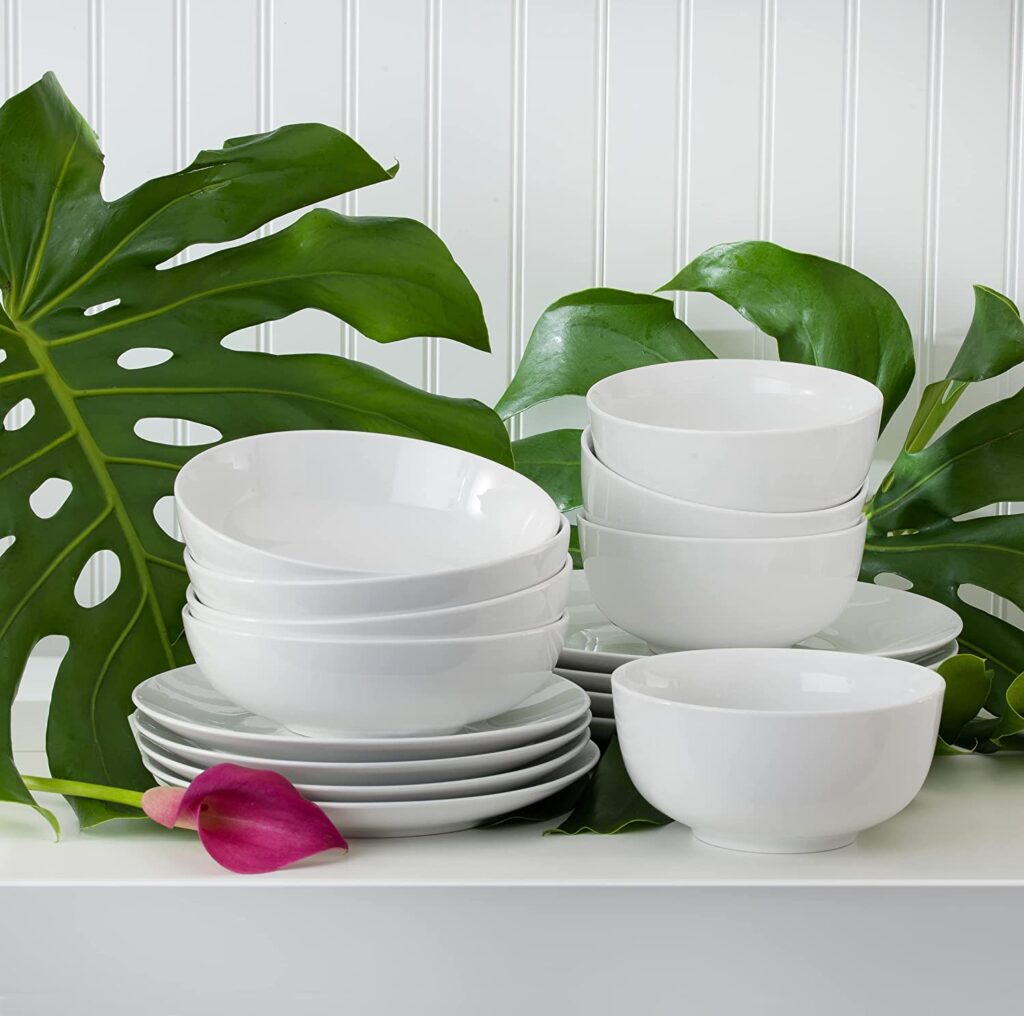 The White essentials collection is oven-to-table, microwave safe, and dishwasher safe; it is made of durable true-white porcelain that is Lead-free.
LIBBEY TEMPO 12-PIECE GLASS DINNERWARE SET
The Full glass dinnerware set is made of Lead-free material and contains no harmful chemicals or heavy metals.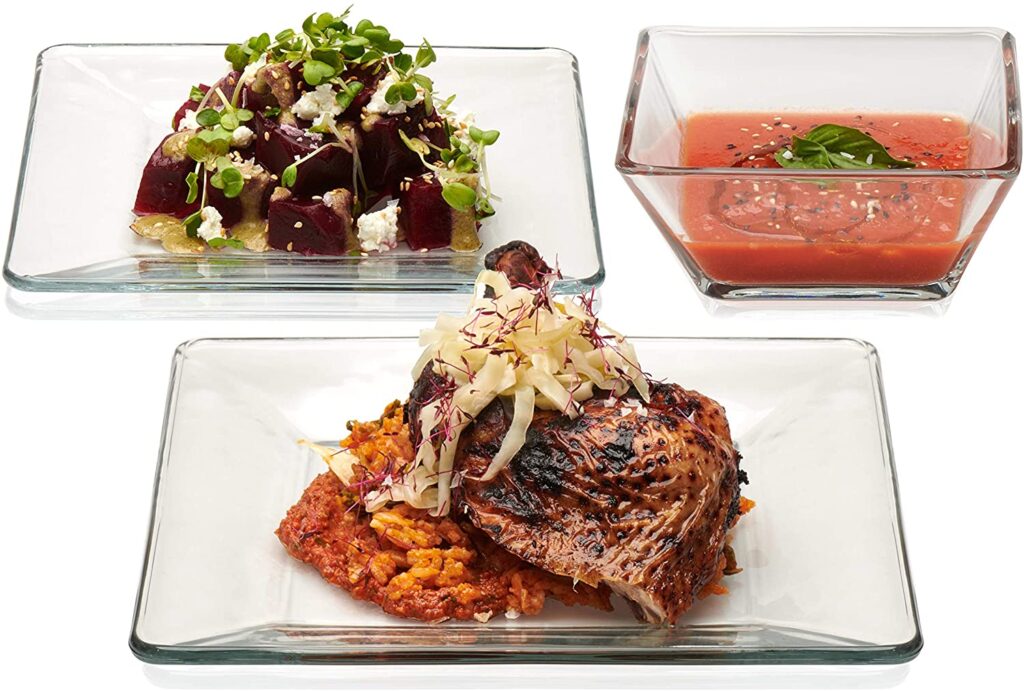 These square dinner plates, salad plates, and bowls are stackable for cupboard space.
Glassware is made 100% BPA-free, non-toxic, and lead-free.
It is Durable and dishwasher safe for quick, easy cleanup, not safe for microwave use. We do recommend hand washing for long-lasting.
ANCHOR HOCKING SAVANNAH CHIP AND DIP SET
Anchor Hocking began in 1905 with a simple goal to make glassware that homes really need to have a better time during mealtime.
Anchor Hocking is made of glass material that is non-toxic, hygienic and has no Lead.
Anchor Hocking Savannan dinnerware set is used to complement table meals.
ALSO READ: DOES ANCHOR HOCKING CONTAIN LEAD
DURALEX MADE IN FRANCE LYS 8 INCH CLEAR CALOTTE PLATE
This set includes six 8 inch calotte plates. It is 2.5 times more resistant to breakage and chipping than normal glass.
Duralex dinnerware is Lead-free and can also withstand sudden thermal shock from -4°F to 212°F.
Duralex glass is very hygienic: It is non-porous and does not absorb liquids, colors, or flavors
Duralex glassware is Dishwasher, fridge, and microwave safe; products maintain the original look for years.
READ ALSO: IS DURALEX MICROWAVE SAFE
LIST OF CORELLE DISHES WITH LEAD
Dishes with decorative patterns.
Old dishes that show signs of crack and deteriorate
READ ALSO: CORELLE WHITE BELLA