Hey there! As an Amazon Associate, I earn from qualifying purchases. I greatly appreciate your support!
In my previous article on baby food makers, I explained various blenders and their combinations. Today, I am going to be answering the question of what is the best juicer blender combo.
As you will read below, I have extensively explained the various combination that exists with regards to juicing, blending, and food processing.
You will find the best product that will suit your need either as a blender, juicer, or both. Stay healthy, fresh, and strong all day with the best juicer and blender combo!
WHAT IS A JUICER?
A juicer is a simple kitchen appliance that is mostly known for extracting juice from fruits and vegetables.
A juicer is commonly called a juice extractor. Thinking of delicious healthy juice, then you need the juicer to extract liquid from your fruits, vegetables, leaving a mash of nutrient-packed solids to be discarded.
Some types of juicers can also double up as a food processors. Types of juicers includes; Squeezers, centrifugal juicers, Masticating juicers, Triturating Juicers, and steam juice extractor.
A popular juicer has twin gear and horizontal attachments that can crush herbs, spices, make baby food, noodles, grind coffee, and nut butter.
WHAT IS A BLENDER?
Every home has a Blender because it makes kitchen chores and cooking easy and efficient. A Blender is simply a kitchen appliance that can chop, mix, puree, and Liquidize food.
A Blender is commonly known as a mixer or Liquidizer. A Blender is made up of a mechanical blade, electric motor and plastic body for easy housing.
A good blender should have the following characteristics;
Quick "pulsing" effect
Easy clean and assembly
Ease of use
Low noise during usage
Power usage from "300 to 1000" watts
Examples of types of blenders are Immersion blenders (stick or hand blenders) and countertop blenders).
WHAT IS THE BEST JUICER BLENDER COMBO?
While there are numerous brands and designs of the juicer blender combo available today, the best juicer blender we recommend as the all-time best overall appliance is the NutriBullet Magic Bullet Blender Juicer combo.
We regard the NutriBullet Magic Blender juicer combo as the overall best because it has everything you need to start creating delicious, nutrient-rich drinks and dishes.
The Nutribullet juicer and Blender combo can crack through stems, shred tough skins and break down the toughest foods to unlock the vital nutrient that you need!
BEST BLENDER FOR PUREEING MEAT
WHAT IS THE BEST JUICER TO BUY FOR HOME USE?
The best Juicer to buy for home use is the Sboly slow Masticating Juicer Extractor. We recommend this juicer for home use because it has 2-speed modes for extracting both soft and hard fruits and vegetables.
The Sboly Juicer Extractor has an upgraded spiral auger that offers 7 Stage extraction to maximize juicing. This juicer perfectly separates the pulp from the juice while delivering maximum nutritional value.
Secondly, it is easy to clean, simple to operate, compact, quiet, safe, and secure for use!
WHAT IS THE BEST JUICER AND SMOOTHIE, MAKER?
The best smoothie maker and the juicer are the NutriBullet Nutrient Extractor with 600 watts. It has the ability to make the fastest nutrient-packed smoothies.
Blend your way to a healthy lifestyle as you load and blend your favorite foods like nuts, berries, spinach by push and twist.
This Powerful 600-watt motor and refined nutrient-extraction blades blend whole foods into liquid fuel for your body – in seconds.
DIFFERENCE BETWEEN A BLENDER AND A JUICER?
A Blender has the ability to pulverize the whole fruit or vegetables including fiber. You will end up drinking all the vitamins, minerals, and fiber that the ingredients have to offer, this thick drink produced by the pulverization is often called a smoothie.
While a Juicer only separates the fiber from the fruits or vegetables. Leaving you with only the juice to drink. The remaining fiber pulp is left alone or discarded, leaving you with all your vitamins and nutrients in the most digestible form.
JUICER AND BLENDER COMBO
The phrase "Juicer and Blender combo" is simply a combination of a kitchen appliance with the ability to juice and blend fruits and vegetables.
Recently, to make various recipes regarding smoothies and blending, top brands in the kitchen niche designed a kitchen appliance to make this possible.
Helping cook and smoothie enthusiasts to save cost and be effective. Below are the best blender and juicer all in one combo;
USUGER best Juicer Machine Vegetable and Fruit Juicer Extractor all in one combo
Cuisinart best Compact Juicing Blender all in one comb
NutriBullet best Blender Combo
USUGER BLENDER MACHINE AND JUICER EXTRACTOR COMBO
The Usuger juicer and blender combo is one of the best all-in-one kitchen appliance that has 250watts powerful motor and a 4 blade to handle fruits, vegetables, ice cubes, and more.
This Usuger juicer and bender all in one combo is flexible and versatile. Great for juice, shakes, and making of various smoothies.
This juicer and blender machine comes with a recipe book to make a fast and easy stay-at-home juice or even baby food yourself.
It is also simple to operate just with the press of a button. It is also equipped with overhead protection function to enable the machine to auto shut off, protecting the motor.
Quick and easy to assemble and clean. The parts and attachments are BPA-free and dishwasher safe. We highly recommend this all-in-one best bender and juicer.
CUISINART ALL IN ONE JUICING BLENDER COMBO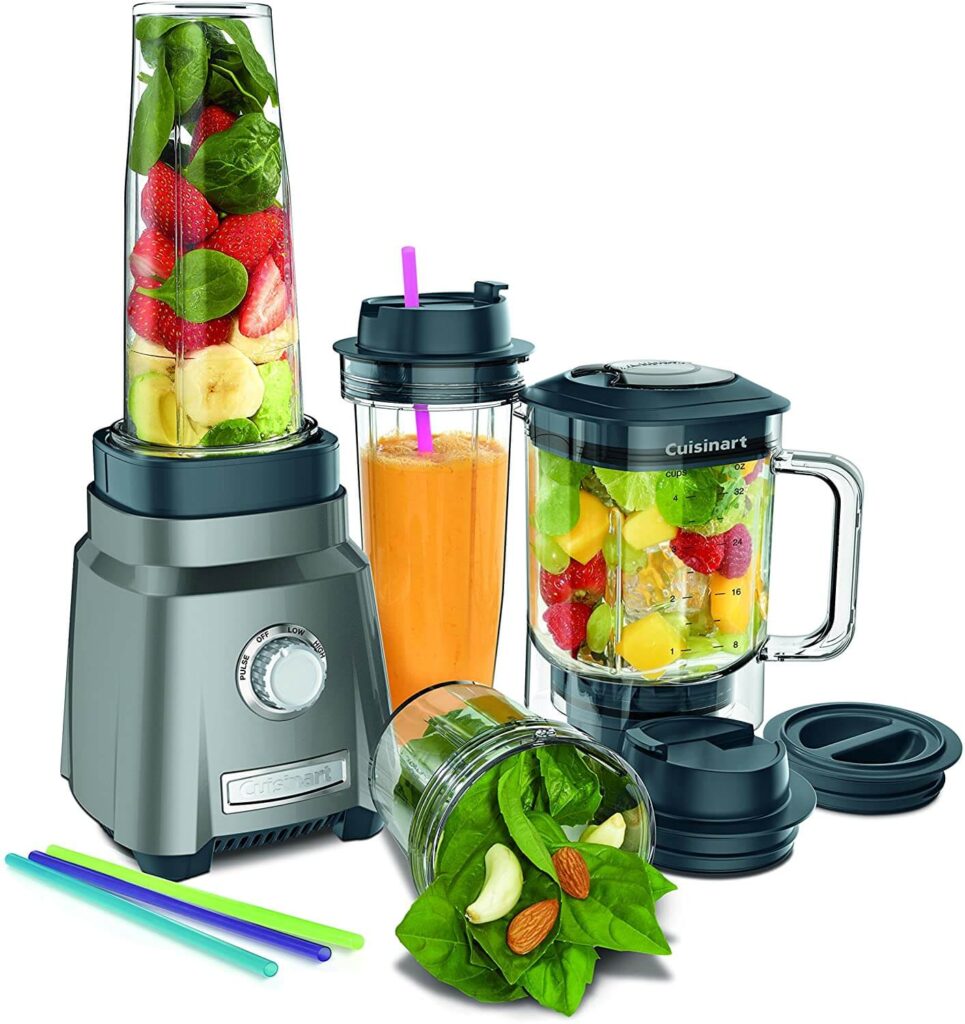 The Compact Juicing Blender all in one combo can break down whole fruits and vegetables for delicious nutrient-filled juices or smoothies.
The Compact blender and juicer combo have a big-blender performance and blends in 'To Go' cup convenience.
The Rotary Dial Controls has Pulse, Low & High functionality. The removable blade assembly for easy cleaning. They are also BPA-free!
NUTRIBULLET BLENDER AND JUICER COMBO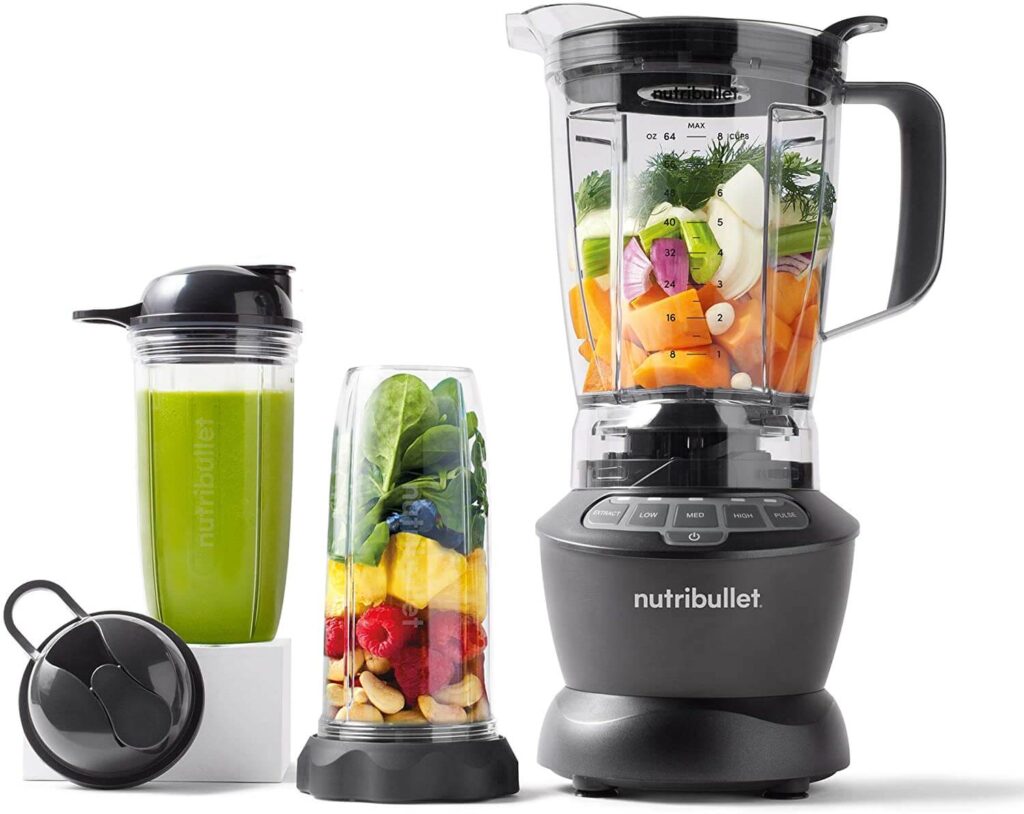 The Nutribullet blender and juicer combo has a multi-serving pitcher and single-serve cup that takes your nutrition extraction to the next level.
It is equipped with 3 precision speeds, the 1200 watts allow you to make smoothies, soups, sauces, and nuts.
The easy twist extractor blade is made up of powerful stainless steel with cyclonic action. The plastic is BPA –FREE.
All parts of the Nutribullet all in one juicer and blender are dishwasher safe, you can easily clean the extractor blades with soap and water.
BREVILLE JUICER AND BLENDER COMBO
The Breville Juicer and Blender combo is a simple to use and space-saving kitchen appliance. You can easily create nutritious smoothies, blended drinks, and 100% fresh juice.
The Breville juicer and blender combo is built to last, the five variable speeds can crush ice, make smoothies with pulse settings.
The juice pitcher dumps everything into a lid that holds the froth back when you serve into a glass. All in all, a very well thought out, well-designed, juicer.
The hemisphere Blade and Bowl Technology eliminates food traps; plus a large 51-oz. glass pitcher that resists scratching and chipping.
The attachment parts are dishwasher safe. The Juicer is 13¼" x 8¼" x 17″ with a 1000 watt motor; Blender is 8¼" x 8¼" x 18″ with a 1200-watt motor.
Assembly and disassembly is super quick and it churns out juice very fast. Clean-up is a breeze. Highly recommend for those looking to fill both those roles (juking and blending) in one unit.
The juicer noise isn't that bad. Drink and eat healthier with this juicer and blender combo at your disposal. You can make a juice breakfast and at least rinse off all the parts in less than 8 minutes.
The dial knob speed control and on-off button are easy to use. It is a lot better than trying to figure out what button to press on those others. The motor senses resistance and adjusts speed automatically. The mesh filter comes off very easily for cleaning.
BEST BLENDER FOR JUICING AND SMOOTHIES
As I have explained above the best juicer and blender combo, let's also see the best blenders that can be used for juicing and for making smoothies effortlessly.
Nowadays, it is a known fact that Blenders can now perform numerous functions. Below are the best blenders for juicing and making smoothies;
VITAMIX PROFESSIONAL BLENDER
The Vitamix Professional Blender is the best overall blender for juicing and smoothies. It is designed with variable speed control system that helps to adjust the speed to a variety of textures.
The hardened stainless steel blades are designed to handle the toughest ingredients. The Vitamix Professional Blender also has a self-cleaning mechanism that cleans itself in 30 to 60 seconds.
You can blend from medium to large batches as the shape and size of the self-cleaning 64-ounce container is ideal for this.
The Vitamix professional blender for juicing and making smoothies is the universal tool for family meals and entertaining.
All Vitamix Blenders include thermal sensors designed to shut the unit off when overheating. When this occurs, turn the power off for up to 45 minutes, allowing the blender to cool down or reset.
Finally, the Vitamix Blender for juicing and smoothies are perfect for making the following;
Hot soup
Frozen treats
Grind nuts, coffee, and more
Mix batter and dough
Make smoothies and Juice
Dips and spreads
Dressing and sauces
Pureeing Baby food.
NUTRI NINJA PERSONAL AND COUNTERTOP BLENDER FOR SMOOTHIES AND JUICING.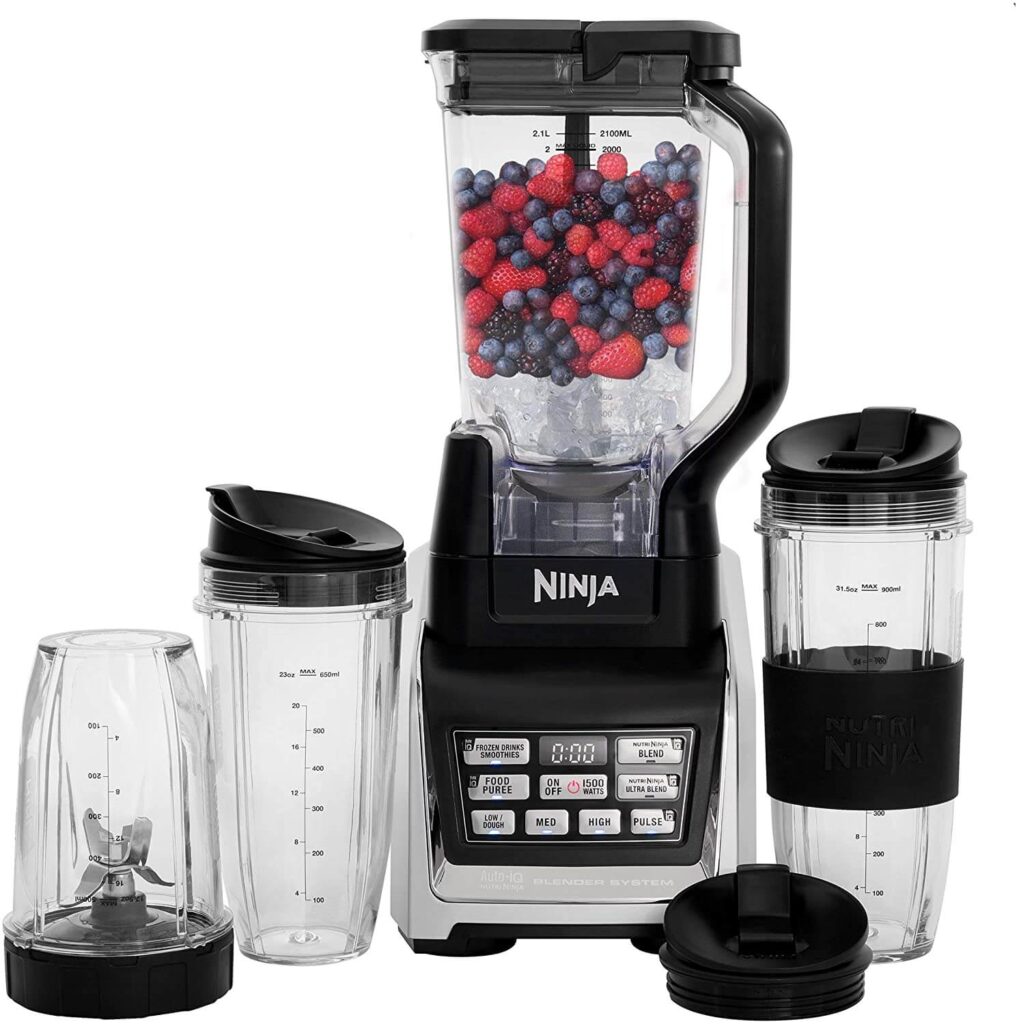 The Nutri Ninja Countertop blender for smoothies and juicing has an Auto IQ technology that offers intelligent blending programs that can do all the work for you seamlessly.
This Blender easily pulverize and crush ice in seconds so you can enjoy your creamy frozen drinks and smoothies.
The Nutri Ninja Pro extractor blades break down whole fruits, vegetables, ice, and seeds for maximum nutrient & vitamin extraction.
This is a high-quality product, sturdy and protected with custom-formed plastic sheaths and marked with caution; handle with care! Warnings".
Easy to assemble, simple to understand, easy to clean and use. You will definitely be happy with this Purchase!
JUICER BLENDER FOOD PROCESSOR COMBO
Let's now look at blenders that have the function of blending and food processing all in one. Instead of buying a food processor appliance separately and then a blender separately, it will be wise to get an all-in-one blender that can juice and process food at the same time.
Below are top blenders all in one juicing and food processing combo;
CUISINART BLENDER, JUICER, AND FOOD PROCESSOR.
The Cuisinart blender is our best overall juicer blender with food processor combo. You will love this unit because it sits secure and stable on the countertop.
It is easy to use and clean. It is made up of stainless steel and the wattage is 350 watts.
HOMEND BLENDER AND JUICER FOOD PROCESSOR COMBO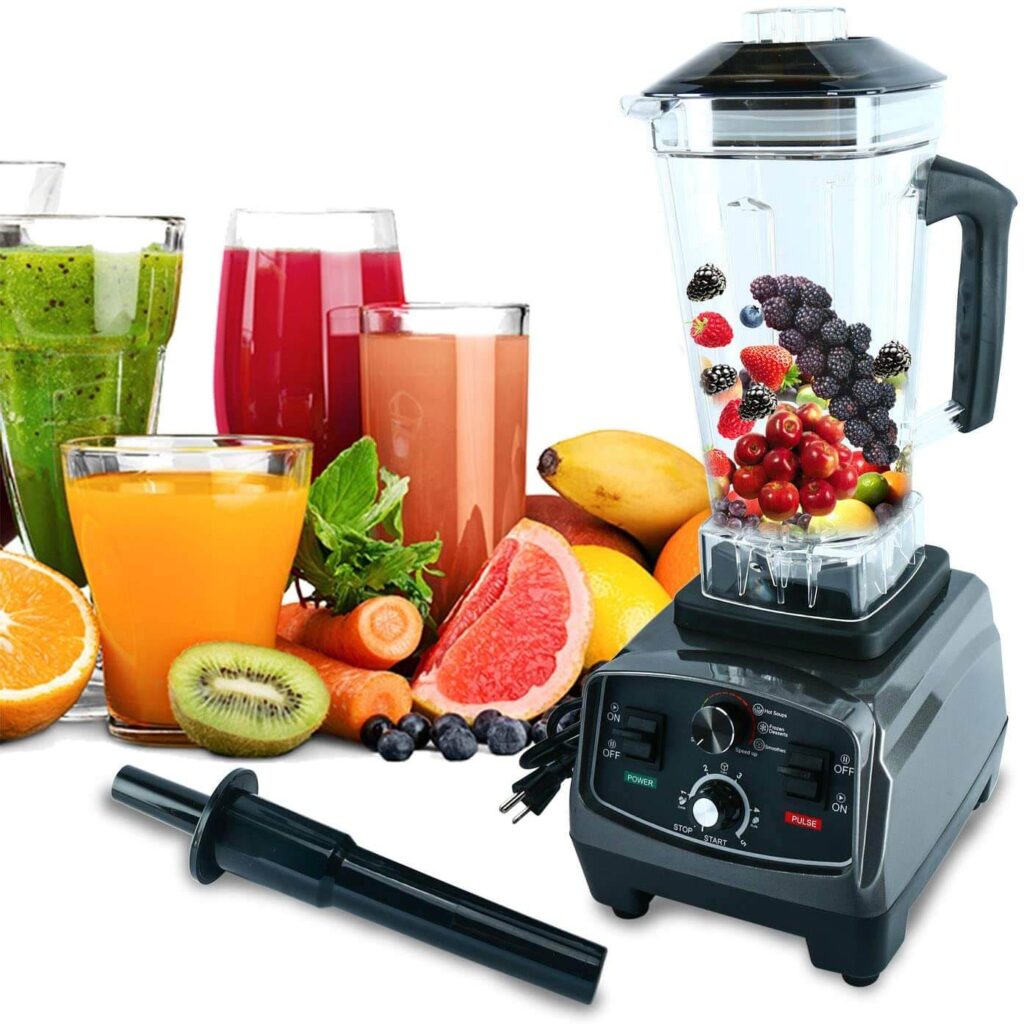 The Homend blender with juicer and food processor combo is suitable for home or business and can help you achieve a perfect crushing, mixing, mashing, and control food processing easily.
The Homend blender is fast and easy to control, the stainless steel razor-sharp blades can quickly cut through fruits, vegetables, make smoothies, grind cereals, sauces, coffee, and soups.
The material for this juicer blender is a BPA-free, four-rubber pad that improves the stability of the bottom of the device. Gravity switch safety protection shuts off automatically.
Finally, this professional blender jar is ideal for making drinks and smoothies for the whole family.
2 IN 1 JUICER AND BLENDER
The 2 in 1 term shouldn't be confusing. It simply means a kitchen appliance that has the tendency to be used as a Juicer and also act as a Blender.
This combination of blending and juicing will help you save the cost of purchasing different blenders for your home or business.
An example is the Nesco American Harvest 2-in-1 Juicer/Blender. This 2-in-1 juicer/blender combo easily converts from a juicer to a blender.
It is designed with 2 speeds, plus pulse, Juicer tube, pusher, and juice cup; easy-to-remove sieve and pulp collector.
Finally, it has a secure locking mechanism; all parts are dishwasher-safe (except the base).
3 IN 1 BLENDER FOOD PROCESSOR AND JUICER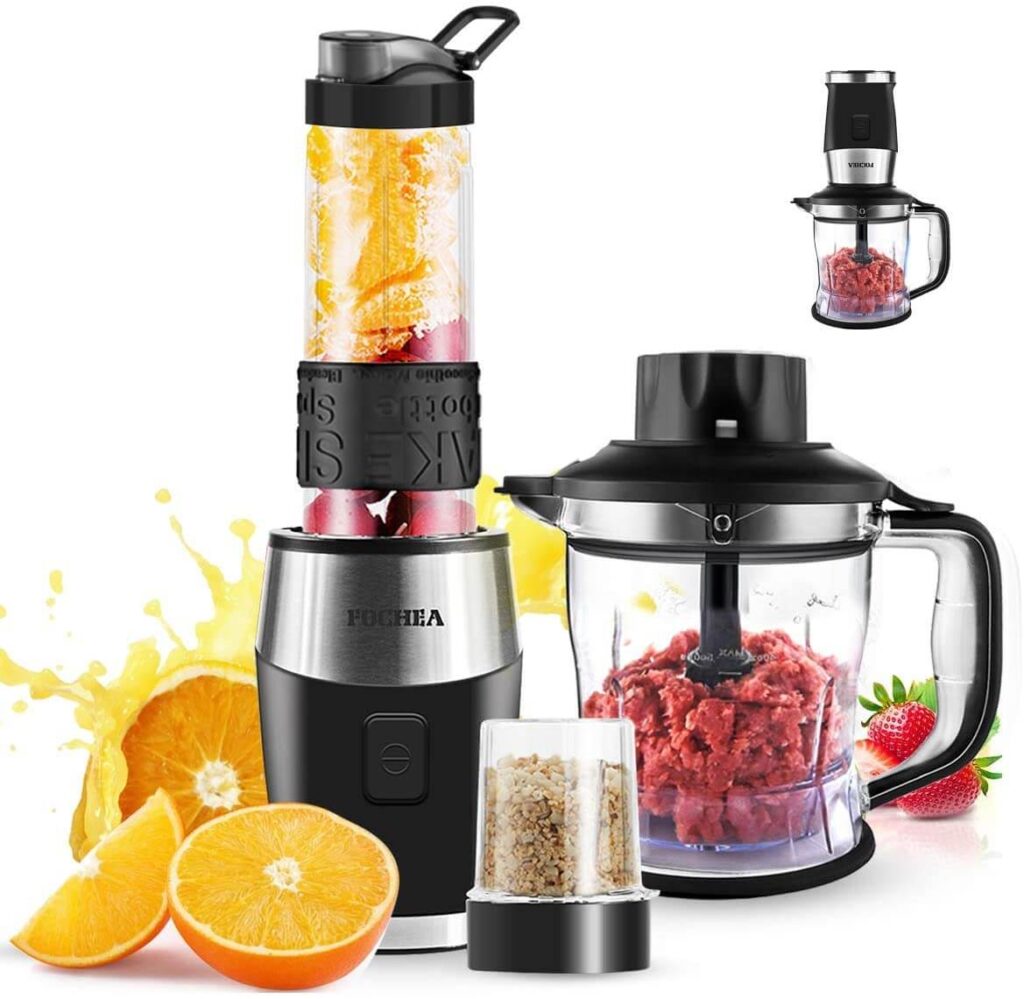 The 3 in 1 is a term used to describe a kitchen appliance that can perform 3 functions; blending, food processing, and juicing.
An example is the Fochea Food processor for making Juice. With 700Watts powerful motor stainless steel body can blend, chop and grind.
The Blender compartment enables you to make smoothies effortlessly. With a one-touch operation, you can easily make your favorite drink in 10 seconds.
The food processor chopper can quickly chop and mince meat, cheese, small frozen ice, ingredients, and vegetables.
The Mixer Grinder part is so easy to grind coffee, spices, nuts, and seeds without any hassle. High Quality and Easy to Use/Clean.
All accessories can be changed with one click, all detachable parts are dishwasher safe.