Hey there! As an Amazon Associate, I earn from qualifying purchases. I greatly appreciate your support!
Pans are important kitchen equipment that is used in the kitchen for various purposes. A pan is a round metal container with a short or long handle.
As a home and professional chef, I have always wanted a pan that can serve effectively for cooking on a stovetop or cooker and also for baking (pans that can go in the oven).
I did my research and came across Swiss Diamond pans. But can I put my Swiss Diamond pan in the oven?
In this article today, you will find out the answer to the above question.
Let's dive in;
WHERE IS SWISS DIAMOND COOKWARE MADE?
Swiss Diamond products are made in Sierre, Switzerland. Swiss Diamond coated products include: Swiss Diamond Classic, Induction, HD Pro, and Swiss Titan.
Swiss Diamond products are manufactured and designed to meet the end needs of every professional cook with its high safe quality materials.
READ ALSO: MARBLE COOKWARE PROS AND CONS
IS SWISS DIAMOND COOKWARE SAFE?
Another reason why I love and recommend Swiss Diamond is that it is safe for use. You can use Swiss diamond cookware with little or no oil reducing calories and fat.
Swiss Diamond cookware does not contain lead, cadmium, PFOA throughout the production process which is firmly suitable for healthy cooking.
Indeed, Swiss Diamond quality nonstick cookware is manufactured under health and safety regulation and undergo Independent test by the Danish Institute to make sure that the products are safe before it is used by consumers.
CAN I PUT MY SWISS DIAMOND PAN IN THE OVEN?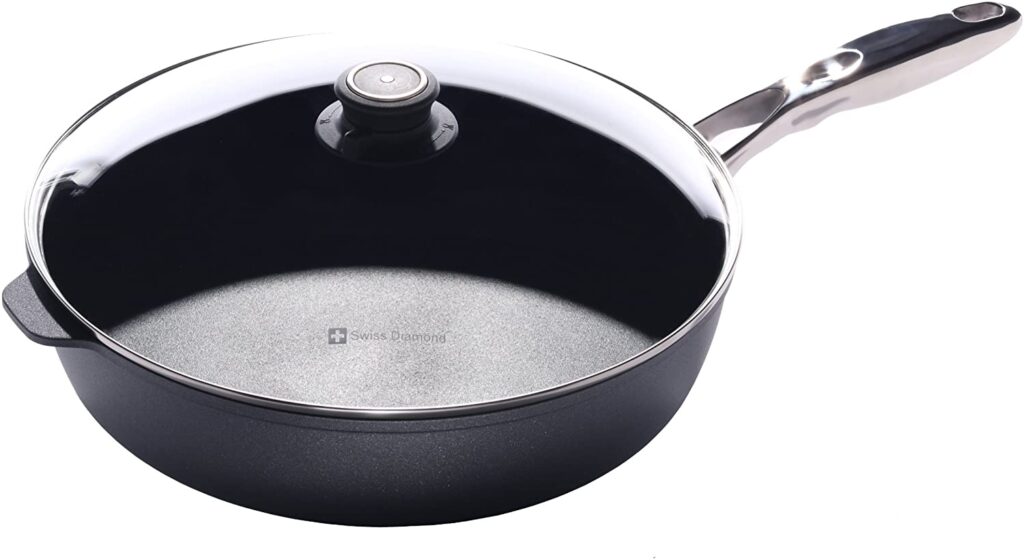 Yes, the Swiss Diamond pan and handle are oven safe up to 500 Fahrenheit (260 C). Swiss Diamond cookware also comes with a tempered glass lid which is also oven safe.
The Swiss pan can go from stove to oven and table but should not be used in the boiler or placed too close to a heating element.
Note: When removing your Swiss Diamond from the oven, use a potholder or oven glove to avoid harm.
According to the swiss diamond website, when using one item, place your Swiss Diamond cookware in the middle of the oven, allowing plenty of space between the cookware and the heating coil.
HOW DO I KNOW IF MY PAN IS OVEN-SAFE?
The materials used for your pan matter a lot, that is why you have to check the manufacturer's instructions to ensure that your pan is oven safe because not all pans in the market are safe to go in the oven.
Secondly, the handle of the pan is important, if the pan has a metal handle like stainless and cast iron handles, they are safe in the oven. But avoid plastic or wood items in the oven and boiler.
Thirdly, be careful when placing frying pans with insulated handles.
SWISS DIAMOND COOKWARE REVIEWS
The Swiss Diamond cookware set is a durable, safe, high-quality nonstick coating cookware that can be used with little or no oil for healthy cooking.
The cookware is made using cast aluminum that is cured for resilience. The cast aluminum provides even distribution with no hot spot for excellent performance and the product will never wrap, even when taken straight from the stovetop to running water.
All Swiss Diamond handles are tightly threaded to exterior metal bolsters cast as one piece with the body of the cookware. This unique method eliminates interior rivets, preventing food build-up that can lead to bacterial growth.
The Swiss Diamond factory uses eco-friendly manufacturing methods which help Swiss Diamond last a very long time, and to prevent waste in landfills around the world, the aluminum body of Swiss Diamond cookware is fully recyclable.
Swiss Diamond's brand eliminates all traces of PFOA particles during the production process for the health of consumers. PFOA is a harmful chemical found to be carcinogenic, that is why Danish independent technology has tested the product and provides assurance that Diamond products do not contain any PFOA particles.
Due to its high-quality nonstick coating, the American Vegetarian Association recommended Swiss Diamond cookware sets for the preparation of vegetarian and vegan dishes.
When using your pan for cooking, avoid high heat because the Swiss Diamond's cast aluminum is constructed to ensure the pan generates enough heat over stove setting (medium).
The Swiss Diamond has various materials used for cookware like aluminum, stainless steel, cast aluminum, and anodized cookware set, and they come in designs like a saucepan, cookware set, pan that fit your budget.
IS SWISS'SDIAMOND DISHWASHER SAFE?
Yes, Swiss Diamond cookware is top racks dishwasher safe. Even if the cookware is dishwasher safe, you have to use a dishwasher detergent that is phosphate-free to prevent gray residue on the base of the pan.
If you already notice residue on your pan, what you have to do is prepare a paste by mixing baking soda and water and apply it on the spot for a few minutes before rinsing.
Though the manufacturer's instruction indicated dishwasher safe, we do recommend hand washing of cookware for long-lasting and shining.
IS SWISS DIAMOND COOKWARE INDUCTION COMPATIBLE?
Yes, because Swiss Diamond utilizes a thermic process to infuse magnetic steel on the exterior of the aluminum body. Unlike most induction cookware, the manufacturers utilize a magnetic core to make their cookware induction compatible, embedding it into the base of the pan.
Over time, as the cookware is repeatedly heated and cooled, the cookware body and magnetic core start to separate. This is due to the different rates of expansion and contraction in each type of metal. Once the magnetic core has loosened itself from the surrounding metal, it begins to vibrate inside the cookware when exposed to heat, causing the "buzzing" sounds.
Swiss Diamond is not like that, the Induction Collection products do not have a magnetic core. Instead, the entire base of the cookware receives a magnetic steel layer which is inseparable from the cookware body and with the reinforced real diamonds – make it a better heat conductor than any metal, making it a good choice for induction cookware.
Note: The Collection made of high-quality cast aluminum, has many advantages, but it is not suitable for an induction cooktop because it is not magnetic.
SWISS DIAMOND PANS
Swiss Diamond cookware uses a revolutionary nonstick coating made with diamonds. The coating of each Swiss Diamond pan contains up to 240,000 real diamond crystals for a long-lasting nonstick surface. You might want to ask why diamond;
Diamond is durable and it gives the coating additional strength and longevity.
Diamonds help distribute heat evenly across the surface of the pan.
One striking feature of diamonds is that they have intrinsic nonstick properties, unlike titanium reinforcement. This gives the coating outstanding nonstick release properties.
Below are good recommended pans;
SWISS DIAMOND NONSTICK FRY PAN, 8 INCH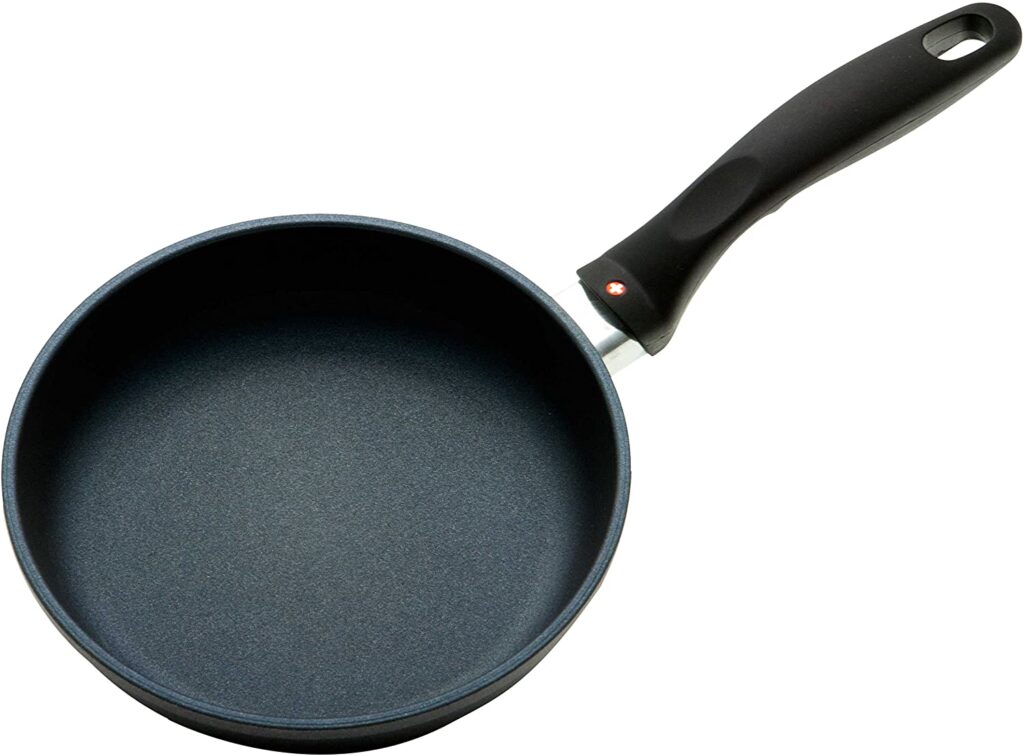 This Cast aluminum pan, made in Switzerland is a patented nonstick coating reinforced with real diamond crystals that is PFOA-free.
The pan is embedded in real diamond crystals and is in the coating to yield a long-lasting, naturally nonstick cooking surface that eliminates the need to use unhealthy oils.
It's dishwasher safe; hand wash is recommended. It can be used on Gas, Electric, Radiant Ring, Ceramic, and Halogen.
The pan is oven-safe up to 500 degrees F, and it has a stay-cool ergonomic handle that provides a safe and comfortable grip.
SWISS DIAMOND 2 PIECE SET: FRY PAN DUO – 9.5″ AND 11″
These two pieces sets are high quality, versatile, and easy to clean pans that add functional and stylish presence to your cookware collection.
These long-lasting pans boast excellent heat conduction to sear like stainless steel without messy clean-up. The surface is so nonstick that you don't need to use any additional oil or fat, encouraging a healthier lifestyle.
It is Oven-safe up to 500 degrees F, and it has perfectly improved durability and cooking performance for easy food release every time.
SWISS DIAMOND NONSTICK FRY PAN – 10.25 INCH
This Swiss Diamond nonstick 10.25-inch fry pan is a great pan for any home or professional chef to use.
The diamond coating gives the pan a high-quality look and the surface will not wear or tear for long-lasting use.
Swiss Diamond is completely PFOA-free, which allows you to cook as frequently as you would like without the fear of toxic chemicals being emitted into your food.
Use wooden utensils or silicone on the surface of your pan to retain its smooth surface, and not metal utensils because metal utensils will scratch the nonstick coating away over time causing decoration and scratch marks which the warranty does not cover.
The handle is sturdy, easy to handle, easy to clean like a breeze, and even heat distribution.
This 10.25 fry pan with tempered glass lid allows you to through with the knob that doubles as a steam vent.
Stay-cool ergonomic handle provides a safe, comfortable grip.
The extra-thick, cast aluminum body features a perfectly flat base that will not tip, spin or warp while cooking – providing the ultimate even heat distribution. With the premium rivet-free cooking surface, you and your guests are protected against bacteria.
SWISS DIAMOND'S WARRANTY COVERAGE
The Swiss Diamond offers a limited lifetime warranty against manufacturing defects. The defect must have been caused during the manufacturing process, only then will your pan be replaced at any time.
Note: The warranty does not cover normal wear and tear, use, or misuse.
HOW TO CLEAN SWISS DIAMOND COOKWARE PANS
When properly maintained and cleaned, your Swiss Diamond cookware will provide a lifetime of unsurpassed nonstick performance and easy-clean convenience. Always be sure to follow the Use and Care instructions.
Use low to medium heat: High heat is never required because of the high thermal conductivity of Swiss Diamond cookware. Start with medium heat and adjust accordingly. Always place your pan on the center of the heating surface. Caution: Overheating can damage the cooking surface.
Preheating: When recipes recommend pre-heating, place the pan on medium heat for 2 to 3 minutes before adding food. To test if the pan is hot enough, sprinkle a few drops of water on the surface. If the water sizzles or beads, the pan is ready. If the water evaporates instantly, turn the heat down and test again in 3 minutes. There is no need to pre-heat an empty pan longer than 5 minutes.
Cooking with oil: Designed for healthy cooking, Swiss Diamond allows cooking with little or no oil. If you choose to use oil, always use it at the proper heat setting.
Proper Utensils: Silicone and wooden tools are recommended – metal utensils should not be used. Any tool with a sharp point or edge should not be used. Do not chop or cut food in the pan. If using an immersion blender or electric beater, take care not to touch the sides or bottom of the pan.
Oven Use: Swiss Diamond cookware is oven safe up to 500°F (260°C). The handles will get hot under these conditions – always use pot holders when removing pans from the oven.
Cleaning: Before using for the first time and after each use, wash cookware thoroughly with hot soapy water. Do not use abrasive detergents, oven cleaners or scouring pads, which may affect the quality of the non-stick surface. Although your cookware may be cleaned in the dishwasher, we recommend washing by hand.
To maintain cooking efficiency, it is important that your cookware be thoroughly cleaned after each use. When any cookware is not cleaned properly, thin layers of food particles remain on the surface and may become carbonated when reheated.
Using caustic soaps (especially high-powered dishwasher soaps) can dry out or bleach the nonstick coating. If the pan has been bleached repeatedly, the nonstick properties may be permanently lost. Using caustic or abrasive cleaners voids the manufacturer's warranty.
Storing: If the pans are nested one on top of the other, we recommend placing a paper towel between each pan to prevent scratches.
The most common problems that are reported with any nonstick cookware are caused by using the pans with metal utensils, using the pans over too high heat, and not cleaning the pans properly. By following these guidelines, you can extend the life of your nonstick cookware for many years.
RESTORE SWISS DIAMOND PAN
Like all high-quality nonstick cookware, Swiss Diamond has a specific set of Use and Care Instructions that should always be followed to maintain optimal performance. There are several common mistakes that can damage the nonstick coating of any product, including Swiss Diamond cookware.
They are as follows:
Oil buildup
A dark build-up on the surface of the pan indicates oil carbonization. This occurs over time when cooking oil is used above its smoke point – extra virgin olive oil or butter is the usual culprit. The oil doesn't damage the pan, but it can be very difficult to remove. We recommend below;

Baking Soda Treatment for Nonstick Cookware
Mix a solution of baking soda and water about the consistency of toothpaste.
Rub this solution into the pan wherever you see the dark build-up.
Scrub vigorously with a non-abrasive sponge or dish rag.
Rinse clean and wash with hot soapy water.
Repeat as necessary.
If the oil build-up is severe, Barkeeper's Friend powder* may be used in place of baking soda.
Please use only the powdered Cleanser & Polish or Soft Cleanser. The Barkeeper's Friend® Cookware Cleaner is for stainless steel only – if used on a nonstick surface, it will cause scratches and abrasions. Do not use oven cleaner, Carbon-Off®, or other harsh chemicals, as these will degrade the nonstick surface.
Choosing appropriate cooking oil and washing your pan thoroughly with hot, soapy water each time you use it will prevent this problem.
SWISS DIAMOND VS LE CREUSET
Swiss Diamond is non-stick cookware known for its real diamond for excellent durability and thermal conductor while Le Creuset is French cookware known for its colorfully enameled cast iron cookware which provides even heat and moisture distribution for dishes.
Both cookware brands are PFOA-free for healthy meals and deliver fast heat performance.