Hey there! As an Amazon Associate, I earn from qualifying purchases. I greatly appreciate your support!
Having your superfood from the safe material gives you an assurance of healthy eating.
Most times, materials used in the manufacturing of dinnerware set that is used on regular basis are not safe for the health, and using that dinnerware for eating can cause a lot of health problems. That is why you need to pay attention to know if the material you have or want to purchase is safe for you and your household.
Is bamboo dinnerware safe? Bamboo is a free gift from nature and is also one of the most popular healthy and eco-environmental friendly raw materials used in bamboo products. For bamboo dinnerware products, they are lightweight, BPA-free, durable, and safe to use.
Keep reading there are more to it;
WHAT IS BAMBOO AND BENEFITS OF USING IT?
Bamboo is one of the fastest-growing plants in the world and is also an evergreen flowering plant in the subculture of grass families.
Bamboo is a natural, biodegradable environmentally friendly material that is grown without the use of chemical fertilizer making it durable, high tensile, strong, and stable.
Bamboo is mostly found growing in Southeast Asia, Africa, and Latin America, and in the southern region of the USA.
Bamboo is often used as raw material in most industries and also for clothing, kitchenware, homewares, and many more.
BENEFITS OF USING BAMBOO
SAFE: Bamboo is better and safe to use because it is eco-friendly and healthy for use. It is natural without bacterial properties and it also grows without pesticides. Nature bamboo wood dishes do not have Melamine- formaldehyde.
EASY TO CLEAN: Bamboo dishes do not absorb flour or odor. It is easy to clean with just dish soap and lukewarm water and allow to dry up.
DURABLE: Bamboo dinnerware sets are strong and able to withstand wear and pressure.
LIGHTWEIGHT: Bamboo dishes are easy to use and carry around as they do not add strain to muscle while carrying it.
DRY AND SCENT RESISTANT: Bamboo is dye aroma and water-resistant substance. Bamboo product does not ingross scents and they are comfortable to wash.
SMOOTH TEXTURE: Bamboo dishes have smooth texture and will not acquire an irregular or permeable surface later even after months of use.
BEAUTIFUL LOOK: Bamboo dishes add a diverse nature look to your kitchen. Bamboo dishes would create the idea; gift for marriages, bridal shower and housewarmings.
IS BAMBOO DINNERWARE SAFE?
Bamboo dinnerware is safe for eating, as long as it is 100 percent bamboo. Safe bamboo dinnerware does not contain Melamine that releases formaldehyde causes harm to the body.
BAMBOO DINNERWARE SET
Bamboo dinnerware sets include bowls, plates, or other dinner sets that are made from high-quality, durable material to suit everyday use.
Below are best bamboo dinnerware;
1 CLICK BAMBOO FIBER DINNERWARE SET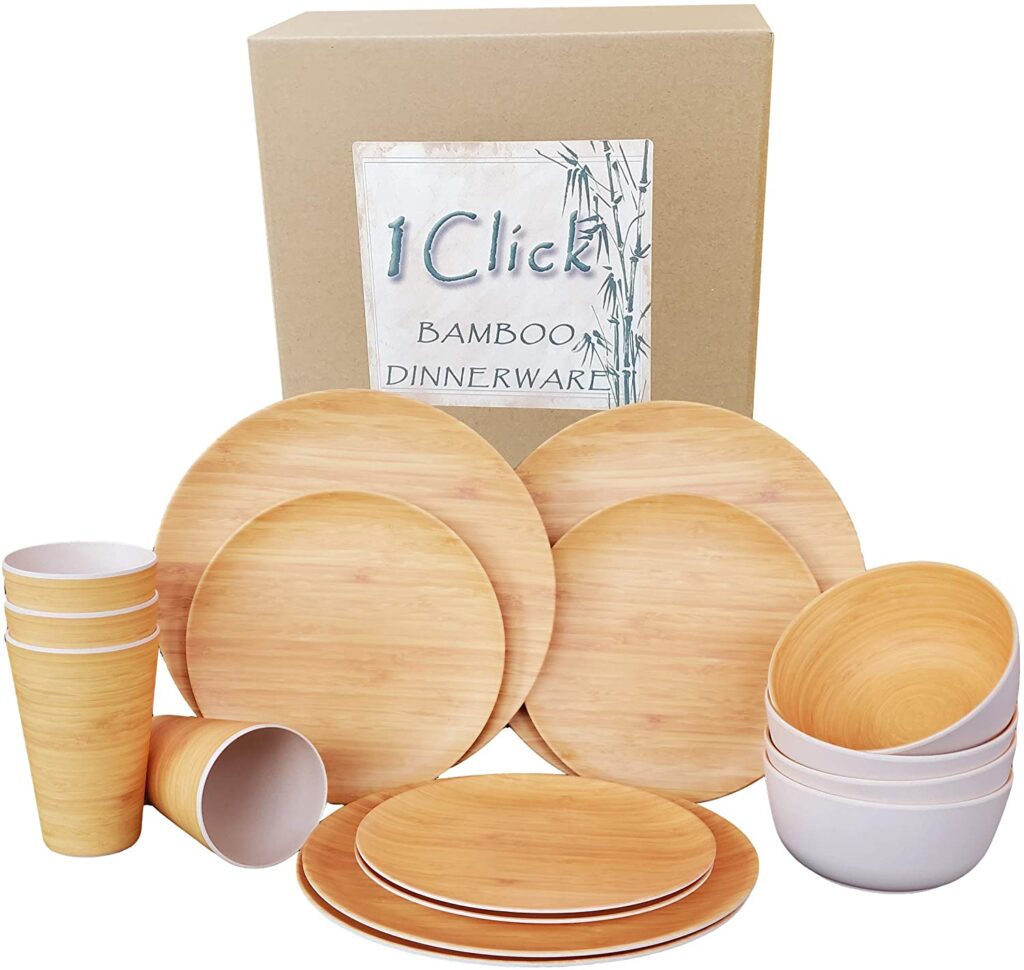 The bamboo fiber dinnerware is made up of bamboo fiber, wood fiber, corn powder, and bamboo. It is coated with a high-quality decal attached to high temperatures. They are reusable and a good choice for enjoying your food.
The set is very lightweight and stylish. You can use it to host a formal event or casual outdoor activities. It is also suitable for all ages.
This new Bamboo fiber dinnerware is mainly made up of bamboo powder. It is a stylish solution for people who want to have a modern lifestyle.
The set is made up of material that is dishwasher safe (recommended to put on top rack). Prevent putting the set into the microwave in order to avoid damaging bamboo fiber and prolong its life.
ROUND BAMBOO SERVING BOWL SET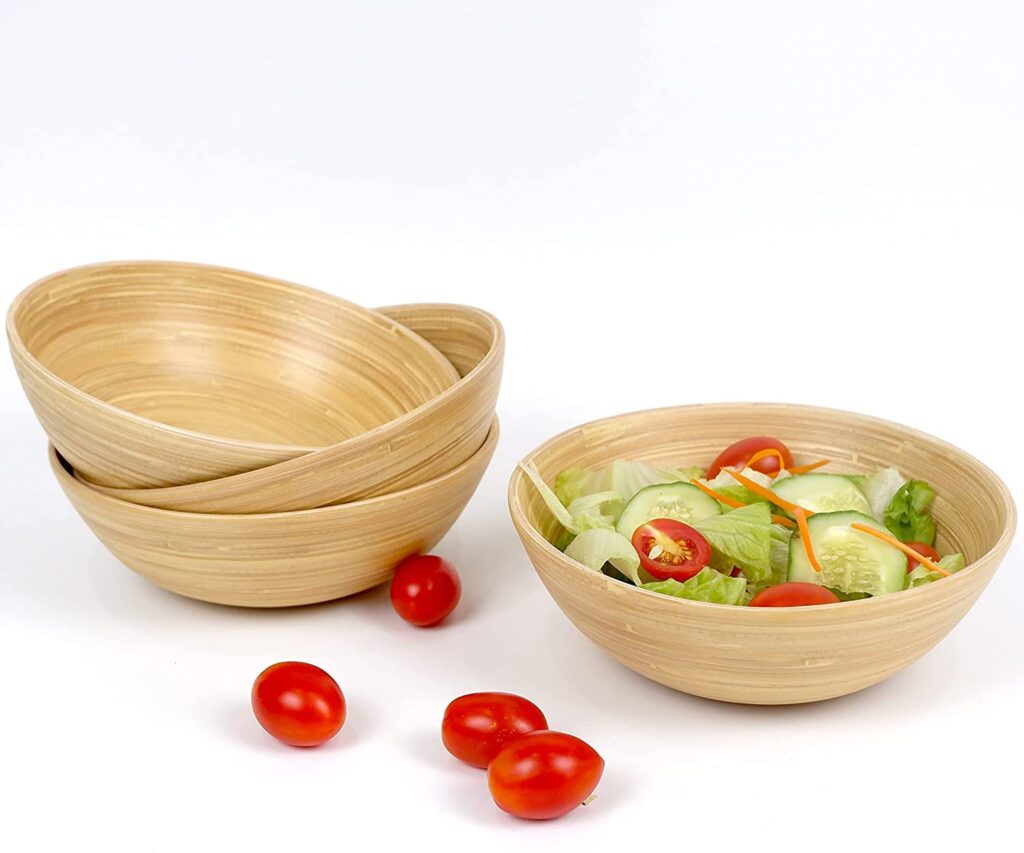 1. This Round Bamboo Serving Bowl, ABEL Craft Round Bamboo Serving Bowls are 100% all-natural pure bamboo.
2. Each ABEL Craft Round Bamboo Serving Bowl is made from durable bamboo and is perfect for casual, everyday dining. The materials for ABEL Craft Eco-friendly plates are sourced from sustainable bamboo forests.
3. These environmentally friendly ABEL Craft Round Bamboo Serving Bowls are a modern, minimalist addition to any table. Bamboo dinnerware sets bring a unique, natural aesthetic to your tablescape.
4. These bowls fit perfectly well into your kitchen decoration. No matter your taste.
BELARI 6″ BAMBOO PLATE SET 
1. Each piece of bamboo dinnerware is molded into a perfectly smooth, sculptured dish that is ideal for any form of dining. Belari wood plates are a stylish and functional addition to any table. Belari Bamboo plates are 100% all-natural pure bamboo. Bring a piece of nature into your kitchen with Belari round bamboo plates.
2. Each Belari wood plate is made from durable bamboo and is perfect for casual, everyday dining. The materials for Belari eco-friendly plates are sourced from sustainable bamboo forests.
3. These environmentally friendly Belari bamboo wooden plates are a modern, minimalist addition to any table. Bamboo dinnerware sets bring a unique, natural aesthetic to your tablescape.
4. The simple elegance of bamboo compliments your everyday dinnerware and adds a unique touch to homemade dishes.
5. To keep your Belari eco plates looking new, we recommend hand washing only. Belari Bamboo dinnerware is not recommended for use in the microwave.
6. These Eco-friendly plates also work well as wedding plates, bamboo kids plates, or party plates for special events.
BAMBOO PLATES, FORKS, KNIFES AND SPOONS FOR CAMPING, HIKING.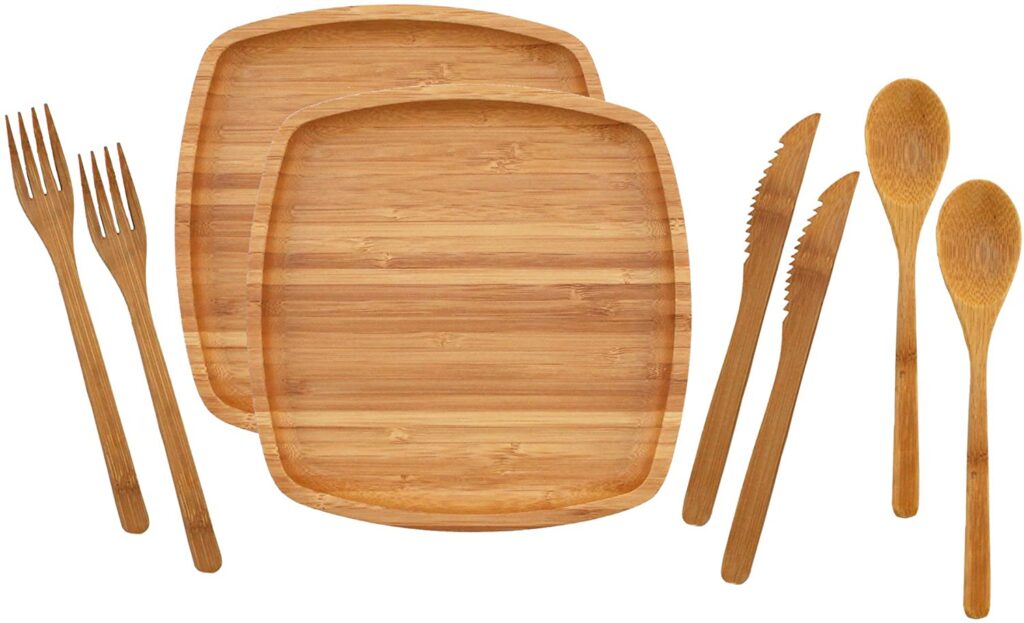 1. This set contains 2 eco ware bamboo plates (approx 8″x8″), 2 forks, 2 knives, and 2 spoons.
2. It is perfect and great for girl scouts and boy scouts, school camps, summer camps, family camping vacations, backpacking, hiking, romantic getaway picnic, or road trips.
3. This set will also add a natural and stylish addition to any kitchen.
4. This set is lightweight and sturdy, eco-friendly, all-natural, and made from 100% natural bamboo. No Chemicals are added to the production making it safe for use.
5. To get the most out of your bamboo plates and flatware set, hand wash only and dry immediately and thoroughly after each use
6. Get a bulk of these bamboo plates for any special occasion, a pack of 4 for everyday home usage. These bamboo plates are great for displaying your appetizers or desserts.
READ ALSO: CORELLE VS PORCELAIN
READ ALSO: ADAPTIVE PLATE FOR ELDERLY
ARE BAMBOO PLATES DISHWASHER SAFE?
Bamboo products made with natural gifted material are strong, durable, 100 percent biodegradable can be used in dishwashers safely.
Materials used for bamboo plates are dishwasher safe and also washable by hand for long-lasting use.
READ ALSO: IS OPALWARE SAFE FOR HEALTH
MELAMINE FREE BAMBOO DISHES
Bamboo which is a free gift from nature is used for various purposes especially in the industry to manufacture what we use on daily basis.
Melamine-free bamboo dishes are dishes that do not contain any percentage of melamine which means they are biodegradable, making them safe and perfect for both adults and children use.
Bamboo dishes that are free of melamine are 100% organic bamboo; they are quite different in production and appearance. They are also durable, dishwasher safe, and great for dinner and serving.
MOLDED BAMBOO DINNERWARE
Molded bamboo is created from 100 percent mature bamboo. It is made melamine-free, plastic-free, and BPA-free.
Molded bamboo dinnerware sets are safe for health because they contain no glaze, harmful chemicals, are non-toxic that can leach into the food.
Molded bamboo dinnerware is great, durable, dishwasher safe, and also a perfect alternative to plastic and melamine-BPA-free.
Molded bamboo dinnerware does not contain any of the harmful chemicals found in PVC, Polycarbonate, and other plastic.
Molded bamboo dinnerware sets are strong, versatile, and perfect additional dinnerware to your kitchenware.
ARE BAMBOO PLATES MICROWAVE SAFE?
Effectively no, bamboo plates made from natural fibers cannot tolerate the heat in the microwave or oven. Using bamboo plates in the microwave reduces the span of life of the plates.
Most time manufacturers use additional raw materials in the production of bamboo plates which is melamine. Some percentage of melamine added into the making of bamboo plates make them unsafe for microwave.
The combination of melamine and bamboo fiber can trigger stomach pain and irritation and also because melamine releases formaldehyde during the mixing, it makes it unsafe to use in the microwave.
Furthermore, when you put a bamboo plate that contains some percentages of melamine in the microwave, what happens during that process is that the high temperature inside the microwave causes melamine to release harmful chemicals or toxic substances into your superfood because melamine is not a candidate to withstand heat well.
In addition, plates and cups made of melamine are unsuitable for hot food, acidic food, and a hot drink.
ARE BAMBOO PLATES SAFE FOR BABIES?
Bamboo is natural and eco-friendly. Bamboo plates are a healthy choice when compare to plastic. Bamboo plates are safe for babies as it does not leak toxic chemical into babies' foods.
Bamboo-safe plates for babies are the perfect choice for parents who want to feed their babies healthy food. Bamboo plate for babies, toddlers is plastic free, BPA free, and PVC free.
Bamboo plates come in different designs, shapes, and sizes to make your kids have fun while eating.
They are sturdy, durable, lightweight, and do not retain stain and odor. They also don't crack even when push down by cute babies.
Example of bamboo safe plates for babies;
We have natural bamboo suction plates and bowls to make parent's life easier by preventing any unintentional wobbling. The powerful suction base grips the high chair, tray, or kiddie's table to prevent spills, flips, and throws.
Babies' suction plates or bowls do not contain any toxin, as it is genuinely natural.
Bamboo-safe babies plates are easy to clean with soap and a sponge and clean with neat water and leave it to air-dry or use a clean towel to dry up.
HOW LONG DO BAMBOO PLATES LAST
Bamboo plates which are durable, non-porous, lightweight are able to last for about 1.5 to 2 years.
READ ALSO: MELAMINE VS MOLDED BAMBOO