Hey there! As an Amazon Associate, I earn from qualifying purchases. I greatly appreciate your support!
Today, we are going to compare ceramic cookware vs stainless steel. Between the two, which is the safest and best to use in the kitchen for cooking healthy foods?
Making healthy food is very important and necessary for a home. Everyone wants healthy eating and healthy life but the cookware we use can be of danger to the health without knowing.
Do you want unique, safe, and useful cookware to purchase for your cooking? I have selected the best cookware for your kitchen.
Ceramic cookware and stainless steel are both unique and good in their use but they have their differences.
Read on, below you will find out more.
CERAMIC COOKWARE VS STAINLESS STEEL
Ceramic cookware and stainless steel are good and useful to use in the kitchen to prepare delicious meals but they have their differences.
They are made of different materials. Comparing this cookware, ceramic cookware is non-toxic than stainless steel.
READ ALSO: IS GRANITE COOKWARE SAFE
WHAT IS CERAMIC COOKWARE?
Ceramic cookware is used in the kitchen to prepare delicious and healthy food for a healthy environment. It ensures stability and strength with high heat conductivity.
If you want a replacement for your Teflon because of its PTOF and PTFE chemical which can cause harm to your health, then ceramic cookware is the best to use in place of it. It is known for its PTFE free, PTOF free, LEAD-free, and CADMIUM free.
When you talk about health and budget, ceramic cookware has maximized it all.
We have two types of ceramic cookware;
The 100% ceramic cookware which is purely ceramic with nothing else in it, eliminates all toxics.
2. The ceramic coated cookware.
No matter how careful you are with your non-stick coated cookware, it degrades with time, that is why you need to replace it every 2 years to minimize the negative effect.
ADVANTAGES OF CERAMIC COOKWARE
It is easy to clean.
2. It is dishwasher safe.
3. It is free of harmful chemicals that can cause harm to the body.
4. It is nonstick when you add little saturated oil to the pan.
5. Ceramic cookware gives you comfort and control of your food.
DISADVANTAGES OF CERAMIC COOKWARE
Not all ceramic cookware is exactly the same.
2. Not all ceramic is toxic-free.
READ ALSO: IS IT SAFE TO COOK WITH STAINLESS STEEL
READ ALSO: FRYING PANS WITH DETACHABLE HANDLES
WHAT IS STAINLESS STEEL?
Stainless steel is a metal made of quality alloy with a combination of metal of chromium, molybdenum, nitrogen, copper, silicon, nickel metal to increase strength and withstand hot temperature, and control heat.
Stainless steel is durable and easy to use; you can cook anything with it. It is also great for home chefs and professional chefs. Most stainless steels are easy to clean, maintain, use, oven and dishwasher safe.
Stainless steel is long-lasting, has a highly attractive appearance, and also has been in the market for a very long time. It is 100% recyclable to reduce the impact on the environment.
When using a stainless steel pan to fry an egg, make pancakes, and more, make sure that the pan is at a medium temperature. At high temperatures, it can lead to sticking and burning.
Stainless steel lacks a non-stick coating which most people prefer and are quite high in price but there are also cheap ones.
BEST STAINLESS STEEL TO USE
Stainless steel has been in the market for a long time because of its usefulness for safe cook. there are various types and sizes of stainless steel cookware to be used. If you want to purchase the best stainless steel cookware set for your cooking, these products below are highly recommended to suit your kitchen food.
CUISINART MULTICLAD PRO STAINLESS STEEL 12-PIECE COOKWARE SET
The Cuisinart multi-clad pro stainless steel cookware 12-piece set has everything your kitchen needs to perform perfectly.
It ensures maximum heat retention to reduce hot spots.
When this cookware reacts with food or flavor, its surface doesn't discolor. It is easy to lift and carry, and it is also dishwasher safe.
It is suitable for use with an induction cooktop. Every time you use this Cuisinart multi-clad pro stainless steel, there is always a flavorful result.
The rim tight-fitting cover seal is moistured every time you use it. It is designed to meet the need of every chef.
ALL-CLAD D3 STAINLESS COOKWARE SET
All-clad D3 stainless has high-quality performance, is well constructed, and is easy to use for anyone who loves to cook.
Each piece is made of quality material to hold and distribute heat throughout the pan.
Every item that bears an All-clad logo is regularly tested to offer a lifetime of performance. All-clad is manufactured in the United States of America.
It has low maintenance, convenient to use, and is dishwasher safe. It is preferred you use hand washing to keep your All-clad cooking ware looking new without a scratch.
It can also be used with all cooktops including induction, gas, electric, oven, and broiler safe.
It has a full lifetime warranty.
CALPHALON CLASSIC STAINLESS STEEL POTS AND PANS
Cooking with Calphalon classic makes your favorite food faster and your work stress-free. It is made to save you time in the kitchen so as to attend to other things.
Inside the stainless steel pot, there is a measurement marker to make cooking easier, faster, and convenient; you don't have to use your measurement cup. It also has pouring spouts and straining cover for effective cooking and also allows the pouring of liquid food from the pot to your plate.
The stainless steel long handle has a heat resistance that allows you to bring down your cooking pot or frying pan from the stovetop even when it is heated.
Calphalon classic stainless steel pots and pans are made of stainless steel but because of their heat resistance, it is bound with aluminum to distribute heat.
The aluminum used is located on the base, not on the cooking surface to ensure safe cooking and prevent harm to the body while eating food prepared with the Calphalon classic cookware.
It is used mostly with stovetops, including induction, gas, electric, and glass. It is oven safe up to a temperature of 450F.
It is easy to clean up with a dishwasher.
It has a full lifetime warranty.
CERAMIC POTS AND PANS
Ceramic pots and pans are designed perfectly to be used in the kitchen to prepare healthy food. Examples are:
KOCH SYSTEME CS NONSTICK PAN SETS
Koch Systeme CS non-stick frying pan sets utilize a ceramic coating that is 100% PFOA free. This pan contains non-toxic which means you can cook your favorite foods with less oil or butter.
The bottom of the pan provides rapid and uniform heat conduction for all stovetops to meet your different ways of cooking.
NOTE: The coating should be kept away from strongly acidic materials and do not use hard material to clean the pan. This skillet is dishwasher safe but hand washing with a mild detergent and warm water is more recommended.
The benefits of this pan are; scratch-resistant which enhances both durability and cooking performance, it is anti-wrapping and long-lasting without worry. The pan is used under low to medium heat with minimum oil or butter for a healthy diet. It is Oven-safe up to 450°F, which is perfect for searing fillets, steak, and poached eggs.
The 10" and 12"cookware sets are made of professional-grade aluminum alloy that conducts heat quickly and evenly with precise temperature control and no hot spot. The normal cooking temperature is 325-420 °F to avoid sticking and burning.
The nonstick pan is made with a long stainless steel handle that can resist high temperatures when cooking, which makes it stay cool and easy to carry after cooking.
GREENLIFE SOFT GRIP HEALTHY CERAMIC NONSTICK COOKWARE POTS AND PANS SET
The cookware set includes a 4'' mini frying pan, 7'' and 9.5'' frying pans, 1-quart saucepans with lids, 5-quart stockpot with lid, 2.5 quite saucepan with lid, 7 stainless steel steamer, and 4 kitchen utensils.
This cookware set is perfect for a college student who wants to start living alone and a home chef who needs good, cheap, safe, and healthy cookware to stock in the kitchen for easy cooking.
Greenlife's healthy ceramic nonstick is not stuck in the past, that is why the ceramic nonstick is derived from sand that is free of chemicals like PTAS, PFOA, lead, and cadmium for healthy and effortless cooking.
The cookware has thermal that enables it not to release toxic when it is overheated.
It has a lid glass to give your meal a natural look.
It comes in various colors to design your kitchen. It is easy to clean and dishwasher safe.
RACHAEL RAY NONSTICK COOKWARE
The nonstick pots and pans from Rachael Ray are crafted with durable aluminum and sturdy hard enamel porcelain exteriors to stand up to busy kitchens. The material used for the handles is stainless steel.
This cookware set is PFOA-free, nonstick for effortless cooking. It is also easy to clean up after use.
This cookware set is oven safe up to 400 degrees F, and suitable for all stovetops except induction.
CERAMIC STAINLESS STEEL COOKWARE
It simply means cookware that has both a combination of ceramic and stainless steel to give effortless cooking, we have below,
GOTHAM STEEL COOKWARE + BAKEWARE SET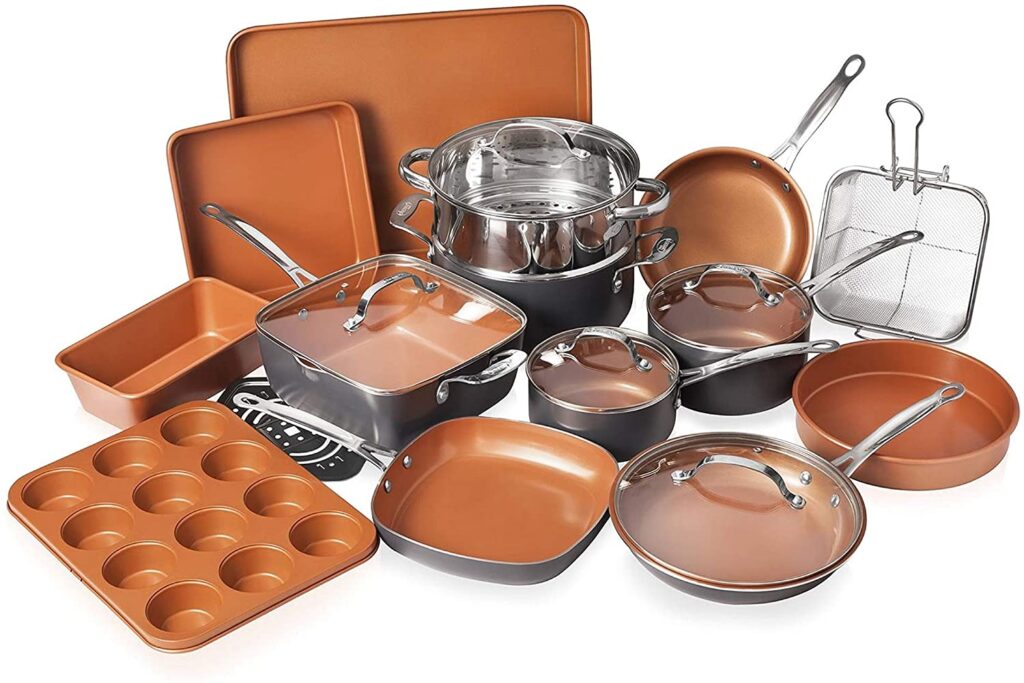 The Gotham steel 20 piece set is a complete kitchen in a box, to get you started with everything you need either baking or cooking the Gotham steel has it all.
The non-stick pan is used for baking cakes, cookies, and bread. when you want to use the pan, make use of a metal utensil on the pan because metal utensil is better and it causes no scratch on the pan.
The Gotham steel is designed to be lightweight to enable that is easy to carry around and also comfortable cooking.
with ceramic coating, it ensures the ultimate release of flavor. The pan is used without oil or butter because everything just slides right off the pan.
The pots and pans are suitable for all stovetops, except induction. It is oven-safe, up to a temperature of 500° F.
It is easy to clean up and dishwasher safe.
ENAMEL VS STAINLESS STEEL COOKWARE
Enamel and stainless steel are durable but each has its good and bad sides.
Enamel is made of iron, steel base, coated with porcelain enamel to give it a natural surface while stainless steel cookware is made of interior nickel for heat distribution rust-free and more.
BENEFIT OF ENAMEL COOKWARE
Enamel cookware is non-stick cookware which is a good choice for cooking; it is also environmentally friendly for a comfortable environment.
CONS
When it is overheated for a very long period it can lead to melting and cracking.
Examples of a good enamel are pots and pans
ENAMELED 2-IN-1 CAST IRON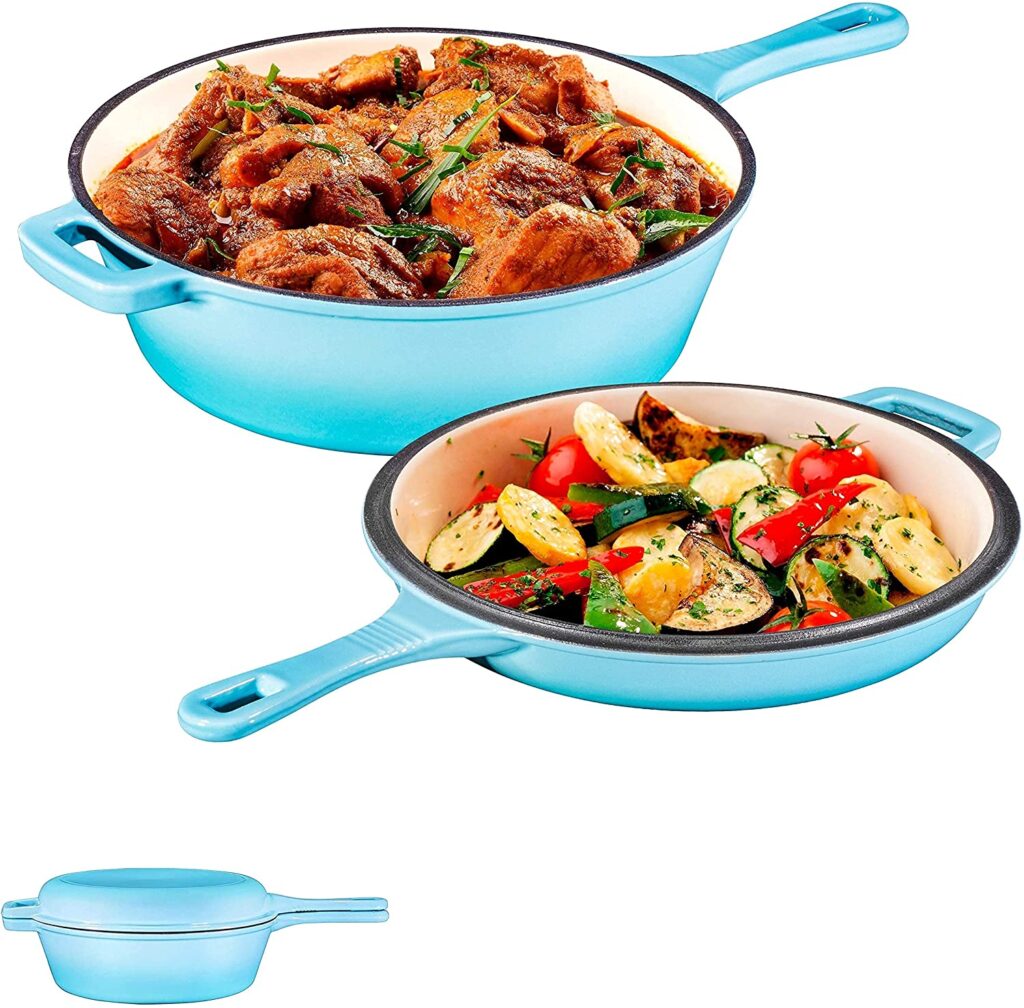 Enameled 2-in 1 cast iron is a Multi-Cooker set, to help you eat healthier and cook your food more efficiently than ever. It is free of chemicals for healthy eating.
It is extremely durable and can withstand high temperatures which makes it different from other cast iron cookware.
The enameled 2-in 1 surface has non-stick performance and it saves time.
The bruntmor pre-seasoned cast iron cookware is versatile on any heating source because of its heat distribution.
It is oven-free and can be used on any stove or even a campfire to deliver the best healthy meals.
It is affordable and can last longer when handled with care.
For a long-lasting and shining surface of the cookware, it has to be cared for and maintained.
Let's see how to care for your enameled cookware.
HOW TO CLEAN AND CARE FOR ENAMELED CAST-IRON COOKWARE:
Removing Stains from Enameled Cast iron is very easy and simple; you fill the cookware halfway with water and bring it to a boil. Allow boiling for a few minutes, and then turn off the burner and scrape cookware with a wooden spatula; pour off the water, let sit. The residue will start to flake off as the pan dries. Wash the cookware with hot water and dishwashing liquid, and dry.
Cleaning your enameled cookware after each use:
Before washing, allow cookware to completely cool before washing.
The dishwasher is safe but is preferable to use the hand wash with warm soapy water to retain the cookware's surface appearance
Always dry cookware thoroughly before storing it in a cool, dry place.
Maintain the tightness of all handles and knobs by checking and re-tightening them regularly.
STONEWARE VS STAINLESS COOKWARE
Stoneware is made from clay and is resistant to heat. It is known for its stone-like appearance.
Stoneware Vs stainless cookware is easy to use and clean. It is durable and has good heat retention. It is also resistant to corrosion.
Stainless cookware can be recycled while stoneware cannot be recycled.
LE CREUSET STONEWARE SET
Le Creuset stoneware is designed and crafted perfectly to make each piece unique and durable. It is made of stoneware material to maintain an even temperature and prevent scorching.
The Secure-fitting stoneware lid with round knob traps in heat and moisture .
It is safe to use in the microwave, refrigerator, and oven. It is oven safe up to a temperature of 500F.
Le Creuset resists odors, staining, chipping, and cracking. After use, cleaning up is not a problem because it is easy to clean with hand wash and dishwasher safe.
 Do not use on this pots direct on heat source. it has 10 year limited warranty.
CERAMIC VS TEFLON SAFETY
Ceramic is made of clay and feldspar. Ceramic is made of materials free of PTOF and PTFE which makes it safer to use. It is also resistant to scratching VS Teflon is a brand, which is made using PTOF and PTFE that can cause cancer to the body. When you used Teflon to cook under high temperatures it can release toxic chemicals into your food. That is why ceramic is a better option to use than Teflon for healthy eating and a healthy lifestyle.
Conclusion
Ceramic cookware vs stainless steel. The comparison of ceramic cookware vs stainless steel shows that both are excellent wares in cooking and eating healthy.
When comparing ceramic cookware vs stainless steel, you will find out both cookwares are good in the aspect of cooking performance, durability, versatility, and reliability to keep the kitchen in order.
In non-sticking performance when comparing ceramic cookware and stainless, it favors ceramic cookware more.