Hey there! As an Amazon Associate, I earn from qualifying purchases. I greatly appreciate your support!
In today's article, we are discussing the best blender to puree food for the elderly.
As you get older, changes in your body might make eating more difficult. Sometimes injuries and mental conditions can take away your ability to swallow, and this is dangerous for the elderly and can lead to malnutrition.
Blenders help prepare amazing quick and nutritious food for the elderly, older seniors, babies, and people who are not able to swallow regular food. Blender purees food for them.
Blenders are kitchen appliances designed to make our regular tasks easier.
Pureed food is not that much different from solid foods. Just cook many of your favorite meals as normal and enjoy them in a blended form.
WHY DO ELDERLY PEOPLE NEED PUREED FOOD
Elderly people need their food pureed mostly because of dysphagia. Dysphagia is a persistent difficulty in swallowing.
Dysphagia can cause the danger of malnutrition, dehydration, and loss of weight.
HOW DOES PUREED FOOD HELP PEOPLE WITH DYSPHAGIA
Pureed food is softer, thinner, and easier to swallow. Processing and blending the food until it is softer makes it easier to swallow.
Most foods can be pureed including meats, vegetables, fruits, and grains.
Ingredients that are already soft in their solid form are easier to puree. If they are not soft when raw, cook them first before you blend.
READ ALSO; CAN YOU SHRED CHICKEN IN A FOOD PROCESSOR
READ ALSO: CAN YOU PUT HOT LIQUID IN A BLENDER
BEST BLENDER TO PUREE FOOD FOR ELDERLY
Pureed food for the elderly is not that much different from solid foods, the only thing you have to do is just cook many of your favorite meals as normal and enjoy them in a blended form.
Apart from blenders that you can use to puree food for the elderly, there are other things that solve dining challenges like adaptive plates and cups that make eating and drinking less work and more enjoyable for elders
Below are the best blenders for smoothies and puree;
Hamilton Beach blender is used to puree, crush ice, and make shakes and smoothies for the elderly.
Magic bullet blender to puree food for the elderly.
Everus 4-in-1 multifunctional hand blender for the elderly.
Ninja personal blender for shakes, smoothies, and food prep.
HAMILTON BEACH BLENDER IS USED TO PUREE, CRUSH ICE, AND MAKE SHAKES AND SMOOTHIES FOR THE ELDERLY.
The 2 jars Included for versatile blending: a 40 oz. Glass blender jar and a 20 oz. Travel jars with to-go lids are included, making it easy to blend drinks for every occasion. A flip-top lid fits right on the personal blending jar, making it easy to blend and run.
For Full function controls, the crusher blenders have all the power and functionality you need to make smoothies, shakes, icy drinks, and more.
The buttons simply clearly indicate which function each is designed to perform.
This kitchen blender has a powerful 800 watts you need to masterfully mix, puree, dice, chop, grind, and crush the ice with smooth results.
It has a unique spout with a hinged cap that helps you pour your blended creation without messy drips.
The blender comes with 6 blending functions with a pulse to get the perfect consistency for whatever it is you're making. The functions of the 6 blendings include mix, milkshake, puree, smoothie, icy drink, and crush ice, with a plus pulse.
The stainless steel blades can handle everything from ice to bulky frozen fruits, making it the perfect blender for shakes and smoothies for the elderly.
The blades and jars are removable and dishwasher-safe.
MAGIC BULLET BLENDER TO PUREE FOOD FOR THE ELDERLY.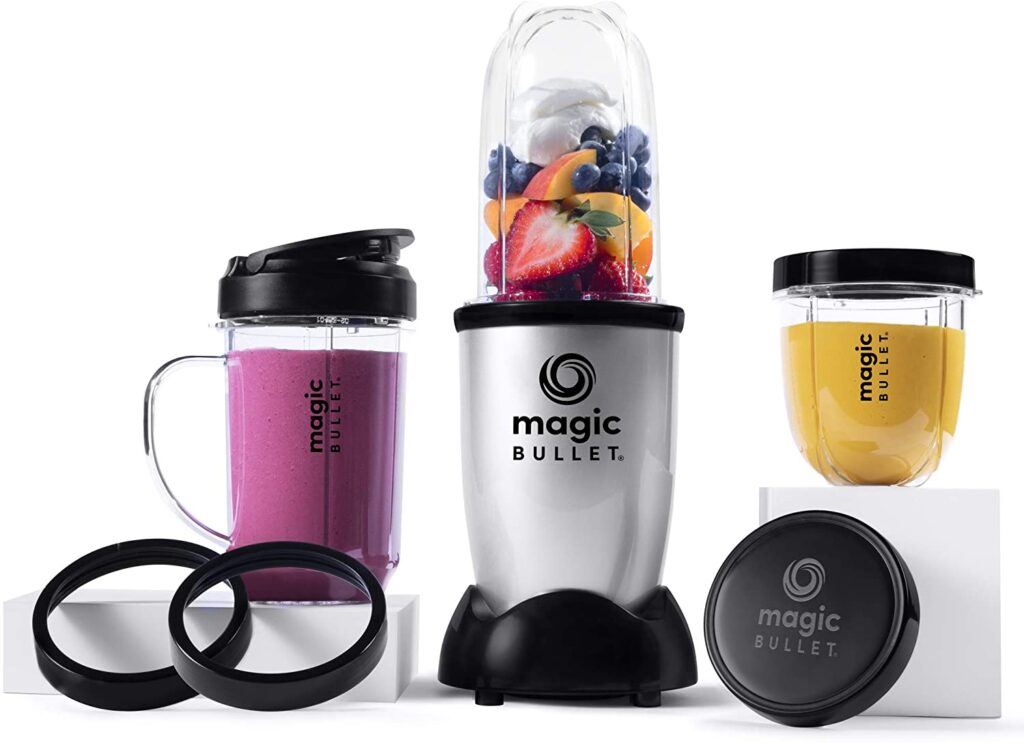 The Magic Bullet effortlessly creates your favorite meals. It is also able to puree food for the elderly to a delicious state.
Its 250 watts high-torque power base is capable of the following; chops, mixes, blends, whips, grinds, and more, all with a simple twist of the wrist.
It comes with a recipe to help you make quick, easy, and delicious dishes – from appetizers to desserts.
This magic bullet blender is easy to use. Just load your ingredients into the cup, twist on the blade, line up the tabs, and place them on the power base.
The cups are BPA-free, and perfect for use.
This 11-piece blender set includes a blender, additional blender cups, blades, a recipe book, and more.
READ ALSO: CAN YOU CRUSH ICE IN A NINJA BLENDER
VAVSEA 5-IN-1 MULTIFUNCTIONAL HAND BLENDER FOR THE ELDERLY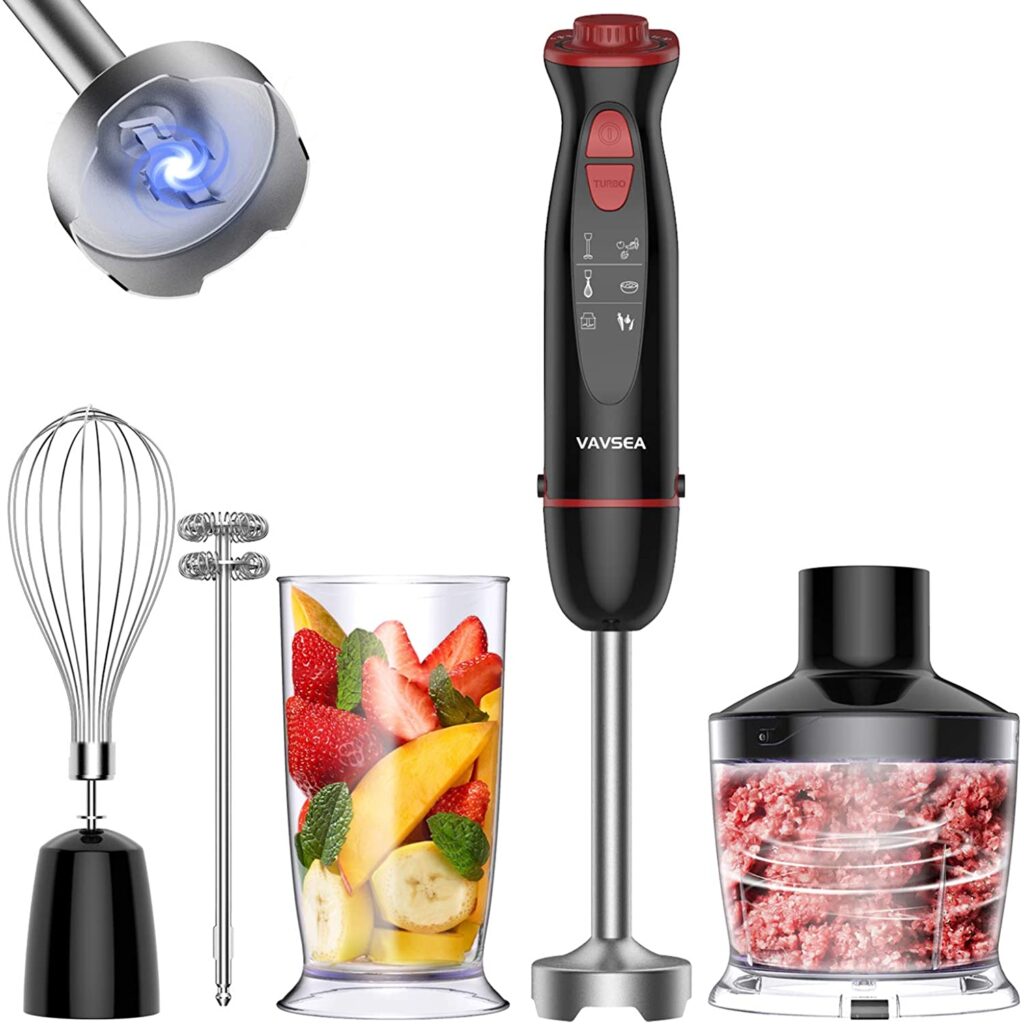 The EVERUS hand blender is a multifunctional hand blender that is designed to assist you during cooking preparation.
The new generation VAVSEA immersion blender with 12 adjustable speed settings can meet your various needs for mixing, chopping, egg-beating, pureeing, smoothie, and baby food. The handheld blender mixer brings your fruit, salad, vegetable juice, milkshake, smoothies, and baby food supplements in just a short time.
The immersion hand blender includes a 700ml chopper, 700ml beaker, stainless steel stick, and whisk. All parts are made of food-grade material, healthy and durable.
The 700ml chopper and beaker are larger than others' capacity; it prepares more food at a time, it is fast and convenient.
All attachments are easy to install and remove making them easy to clean and store. The 400W handheld blender can mix food in seconds.
The sharp blade combines with 8 speeds adjustable blender that can mix various foods at the most suitable speed, ensuring the taste the elder wants.
The VAVSSEA hand blender is perfect for helping you puree food for the elderly and also make healthy baby food. The hand blender is BPA-free and FDA-approved, safe, and healthy.
NINJA PERSONAL BLENDER FOR SHAKES, SMOOTHIES, AND FOOD PREP
The Ninja Fit combines multiple kitchen appliances in one easy-to-use, powerful, and compact kitchen tool. With Ninja Pulse Technology, it quickly creates smoothies, nutrient juices and so much more in two 16 oz. Nutri Ninja cups are perfect to take on the go.
With a light push down on the cup to let Ninja Pulse Technology blast through food and frozen ingredients, it can blend and make delicious smoothies for an elder.
The blade is able to break down tough ingredients and extract a drink containing vitamins and nutrients from fruits and vegetables for the healthy being of the elder.
This personal blender includes a 700-watt motor and two 16 oz. The Nutri Ninja cups have a lid that fits in most car cup holders.
Nutri Ninja cups, lids, and blade assembly are all dishwasher-safe.
It comes with a 50-Recipe Inspiration Guide to help you make more puree food for elderly ones.
READ ALSO: WHICH NUTRIBULLET CAN CRUSH ICE
READ ALSO: WHAT IS THE BEST JUICER BLENDER COMBO
HOW TO PUREE FOOD USING A BLENDER
Pureeing food with a blender takes a few steps to get the consistency you desired.
Below are steps on how to puree food using a blender:
Depending on what you want to puree, no matter what you want to do, the first thing you need to do is to properly wash it in a kitchen sink or inside a clean bowl.
If is a food that has a stem, the stem should be cut off, vegetables should be properly chopped up as small as possible. What about tomatoes you cut into sizeable bit? You won't want to put it in the blender like that because it is going to take a longer time to break down or it might tax your machine a little bit.
Boil firm food to make them soft enough for the blade to blend.
Apart from tomatoes that have liquid in them, add adequate liquid into the jar of the blender before you cover the chopped food.
After your ingredients are all set, put them into the blender of your choice to puree.
Hold your blender lid tight and push your blend button to get it started.
Put it at the speed you want and allow it to blend until the liquid and food are completely mixed together.
You can check to see the result, if it is completely blended to the desired consistency you want no problem but if not put the blender on and allow it to run a little longer.
The longer you let your blender run, the more liquid it is going to be.
Any solid chunks leftover in the puree are very hazardous for a person suffering from dysphagia.
READ ALSO: WHERE ARE BLENDTEC BLENDERS MADE OF
READ ALSO: BEST BLENDER FOR GRINDING RICE
BEST BLENDERS FOR PUREEING BABY FOOD
If your baby has just finished the weaning period and he or she is stepping up to eat regular food, investing in a baby food blender for baby food meal preparation is vital.
These blenders help to reduce parents' and guidance stress and give your baby the best dietary need for growth.
Below are blenders to make baby nutritious food and smoothies;
NUBY MIGHTY BABY FOOD MAKER SET
The Nuby Garden Fresh mighty blender contains all you need to get started with making, storing, and feeding fresh nutritious baby food at home, from perfect purees to chopped baby food.
Making your own baby food is safe and healthy because you are sure of what your baby is eating for healthy growth.
This blender helps you save up to 70% off your baby food bill by making fresh nutritious baby food at home, and the purees only take seconds to make.
It has two blades: one baby blade for blending and one for fine milling of porridge oats or cereals and also a large batch bowl for making quantities to store for later and a small short cup for making purees to feed straight away.
The Cookbook is full of recipes to make your baby foods.
MULTI-FUNCTION SELF-PUREE FOOD FOR BABIES.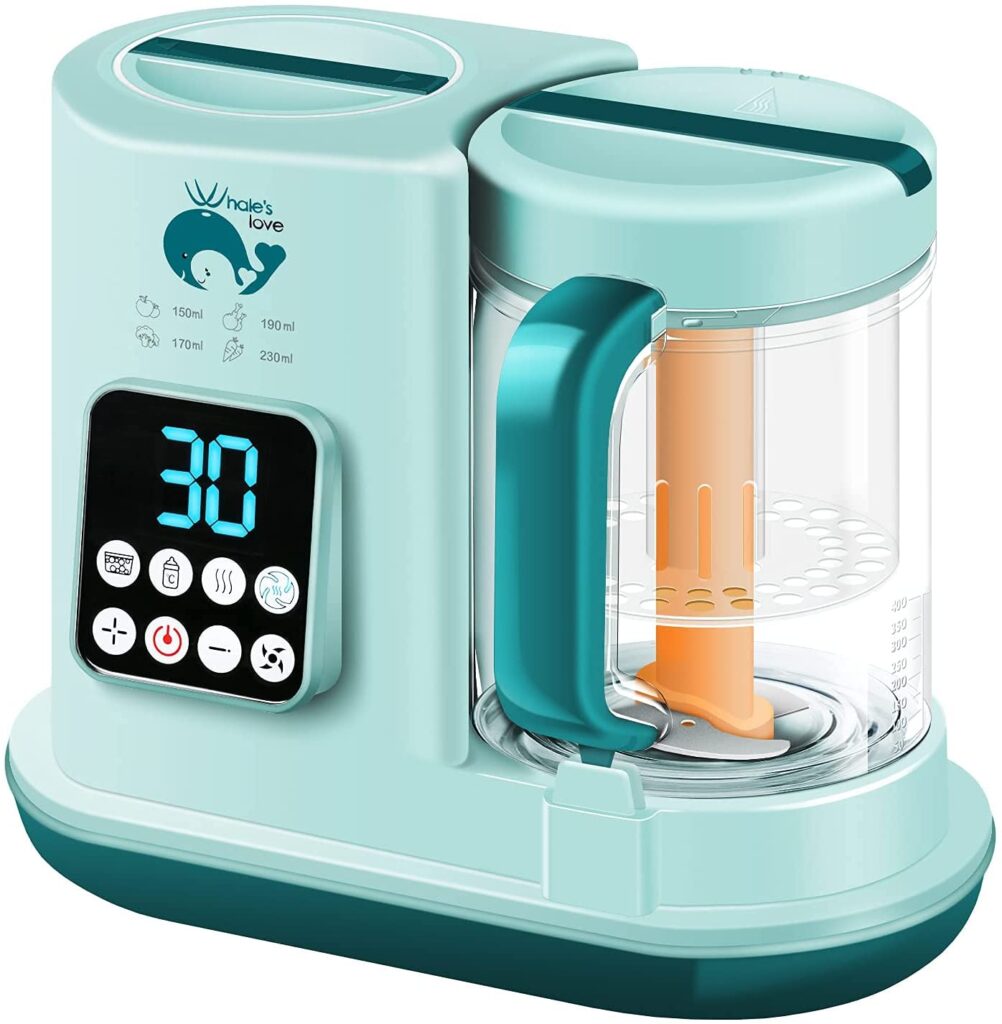 WHALELOVE Baby Food Processor has the function of steaming, blending, and highly efficient auto steam-blend. It's also equipped with fast heating, a milk warmer, and auto tank cleaning.
The baby food maker is made of safe materials, helping you make delicious and nutritious food for the baby in just a few minutes, meeting the baby's needs at different stages.
The Baby Food Blender is equipped with a high-speed motor running at 18000R per minute. The powerful stainless steel S blade can quickly mix and cut food, providing the baby with a soft puree with rich nutrients.
How to use it is by putting in food and pressing the function button, and then it makes puree food. The quick warming function is suitable for 99% of baby bottles, it not only heat milk to 104°F in 3-4 minutes but also quickly defrost and heat baby food.
The Baby Food Maker is made of 100% safe materials, with no BPA, no lead, and no smell. It has overheating protection and prevents dry burning, and will auto shut down after 5 minutes without working.
The baby food maker is made of 100% safe material, with no BPA, high-temperature resistance, no lead, and no smell, and is designed with dry burning prevention for safety protection. It's a must-have for new parents with babies to make life easier.
The baby food maker water tank with a diameter of 3.15 has an auto-cleaning function to quickly remove scales within 5 minutes.
The 304 stainless steel blade will not rust, and the bottom of the bowl is equipped with a seamless sealing ring, which is not easy to leak. All removable accessories are dishwasher safe.
It has a non-slip machine base, burned protection, safety lock, and intelligent auto power-off function. All components should be installed properly before starting the machine.
SAGE SPOONFUL PUREE AND BLEND BABY FOOD MAKER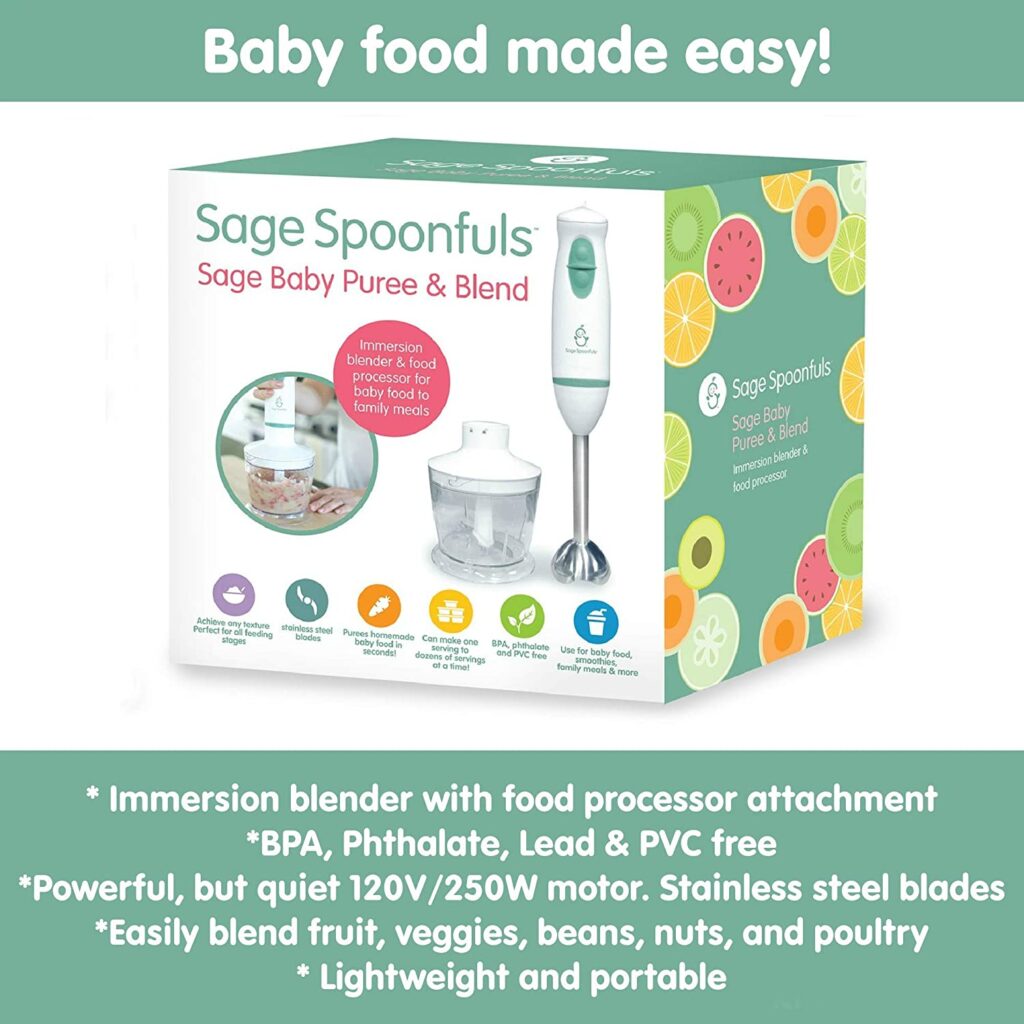 This is baby food made easy!
It easily prepares baby food in seconds with just a few quick pulses. The Sage Baby Puree and Blend by Sage Spoonfuls come with both an immersion blender and a food processor attachment. It can achieve different textures and consistencies for all feeding stages.
This lightweight and portable immersion blender and food processor can be used well beyond the baby food stage to make soups, smoothies, sauces, nuts milk, and more.
The Sage Baby Puree and Blend system come with dishwasher-safe attachments that make for hassle-free cleanup. For best results, blend for a maximum of 15-30 seconds continuously.
The food maker is safe for babies. It is made with food-safe plastic that's free of BPA, phthalate, lead, and PVC.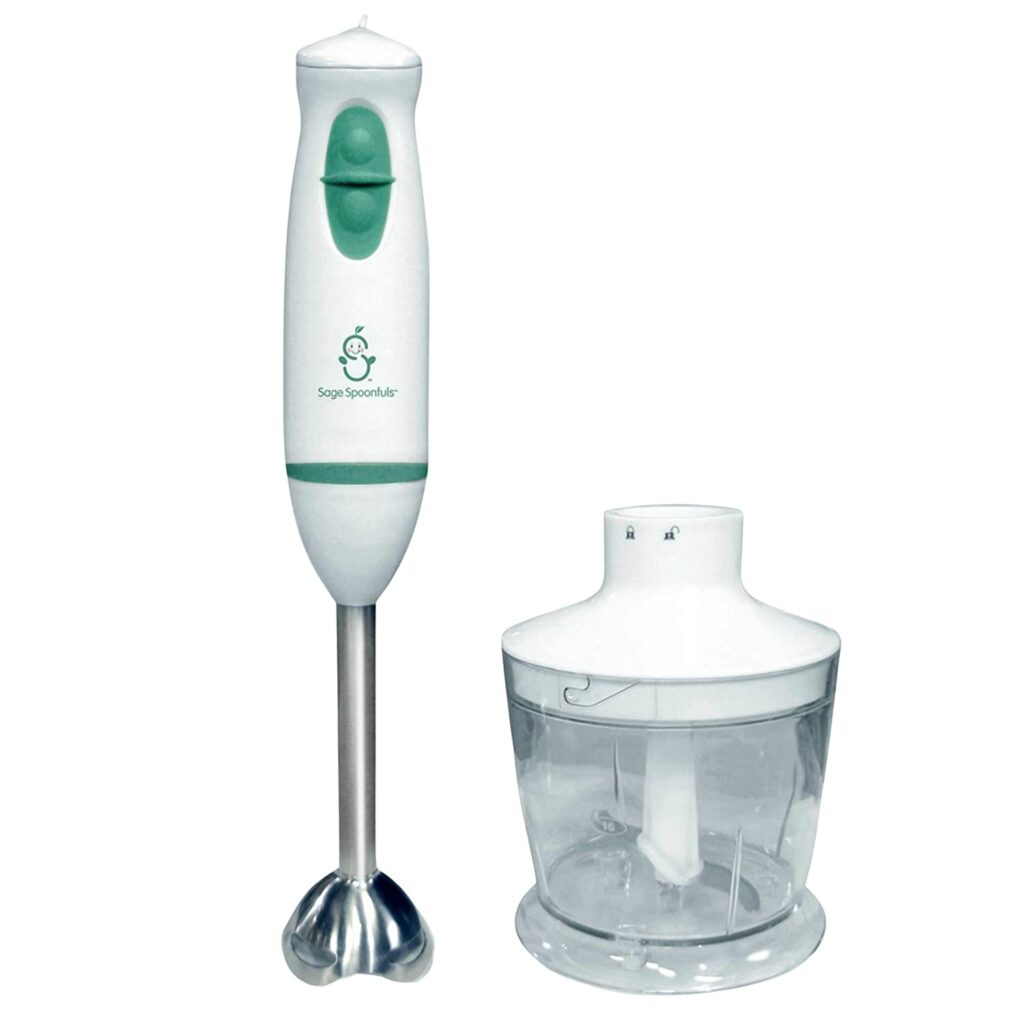 The Sage Baby Puree and Blend features both a food processor and an immersion blender. Blend any food in any texture and in any quantity you want – from single-serving veggies to pots full of soups and sauces.
The stainless steel mixing blades and a quiet 250W powerful motor can blend fruit, vegetables, beans, meat, and poultry with ease.
The Sage Baby Puree and Blend allow you to prepare delicious and nutritious baby food in bulk. You can safely store baby meals in the fridge or freezer for future use.
The stainless steel blades are both durable and dishwasher-safe.
BABY FOOD MAKER CHOPPER GRINDER AND STEAMER 8 IN 1 PROCESSOR FOR TODDLERS
This Cute Baby Food Processor 8 in-1 fits any kitchen interior with style. It's the perfect time-saver for moms to be with their families. It can cook just about anything with its three multi-sized steaming baskets which are capable of steaming vegetables, fruits, meats, and much more.
It is easy to use. All you need to prepare healthy and safe food for your baby are as follows- Simply press one button to steam the food and then press another button to chop it. Baby Food Maker does all that with ease.
It has all you require from a food processor for babies. A 3-tier basket design allows you to cook 3 separate meals at once.
It is compatible with a 110V power network ONLY.
The Stainless steel blade is removable for easy cleaning and the stirring cup is dishwasher safe.
BEST FOOD PUREE MACHINE FOR ADULTS
Below is the best puree machine for adults to use;
NINJA BL770 MEGA KITCHEN SYSTEM
Ninja 72-ounce and 2 horsepower total crushing pitcher pulverize ice to snow in seconds for creamy frozen drinks and smoothies.
The food processor bowl provides perfect, even chopping and makes up to 2 pounds of dough in 30 seconds.
1500-watt base with 4 dedicated blending speeds puts the power and control in your hands.
The two 16 ounces Nutri Ninja cups with lids are perfect for creating personalized, nutrient-rich drinks to take on the go.
What is in the box Includes 1500-Watt Motor Base, 72-Oz. Total Crushing Pitcher, 8 Cup Food Processor Bowl, Dough Blade, (2) 16-Oz. Nutri Ninja Cups with To-Go-Lids.
It is dishwasher safe and has BPA-free parts. Hand-wash the containers, lids, and blade assemblies, in warm, soapy water.
NOTE: When washing the blade assemblies and blade discs, use the provided cleaning brush or a dishwashing utensil with a handle to avoid direct hand contact with the blades. Handle blade assemblies with care to avoid contact with sharp edges. Rinse and air-dry thoroughly.
BEST BLENDER FOR PUREEING MEAT
Blender for pureeing meat helps you puree meat with ease.
An example of a good blender for pureeing meat can be found below;
HAMILTON BEACH FOOD PROCESSOR, CHOPPER, AND PUREEING MEAT.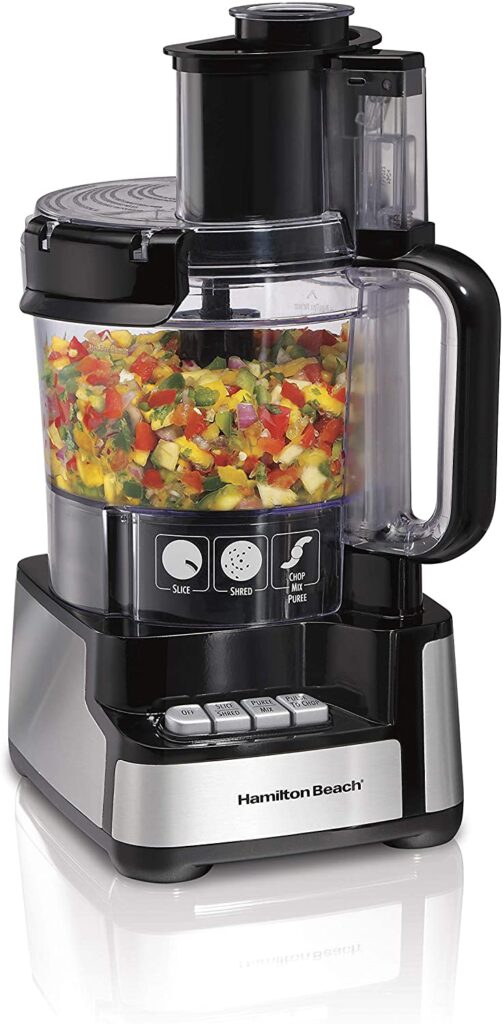 The best blender for pureeing meat has a powerful 450-watt motor and 2 speeds plus pulse control. Prepare the freshest ingredients to save you time and money.
It is built with a simple function guide printed on the food processor for ease of use. The simple function guide shows you which blade to use and which button to press.
 This large food processor comes with a 12-cup sealed bowl with a pour spout to eliminate leaks and prevent spills when pouring ingredients.
The stainless steel S- blades and reversible slice-and-shred disc can chop, slice, shred, mix, and puree just about anything.
The Bigmouth feed chute fits whole foods for quick, easy processing and less prep time.
All parts are BPA-free and all detachable parts are dishwasher safe.
BEST FOOD PROCESSOR FOR PUREEING
An example of the best food processor for puréeing is;
HAMILTON BEACH FOOD PROCESSOR FOR PUREE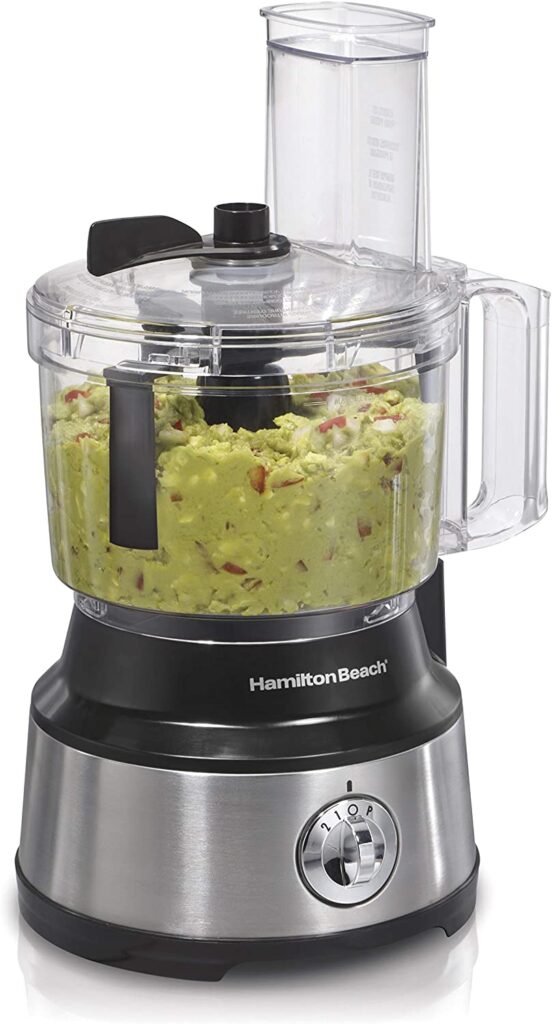 The special attachment scrapes the sides of the bowl to keep ingredients close to the blades for more even results and to save you time when chopping or pureeing — no need to stop and remove the lid to use a spatula.
The generous 10-cup bowl can handle large volumes of food without having to stop to empty it
Use the stainless steel blade for chopping nuts, meats, garlic, onions, peppers, celery, herbs, bread (for crumbs), and crackers. Also, use it to mince/puree vegetables and fruits, mix salad dressings, puree soups or sauces, and grated cheese.
Use the slicing disc to slice cucumbers, apples, mushrooms, carrots, potatoes, cabbage, tomatoes, pepperoni, peppers, radishes, and firm cheeses for quick, easy processing and less prep time.
The Food processor's low and high speeds plus pulse and 459 watts power gives you the control you need for a variety of recipes.
The BPA-Free bowl, lid, and blade are all dishwasher safe.
READ ALSO: BEST BLENDER FOR ELDERLY