Hey there! As an Amazon Associate, I earn from qualifying purchases. I greatly appreciate your support!
In my last article, I discussed adaptive plates for elderly. Today, I am going to be discussing drinking cups for elderly.
Drinking cups are very important and they are used for various purposes like water, drinks, tea, and many more.
Most elders with disabilities find it difficult to use regular cups but with the right tools, it is possible for them to drink with confidence.
Drinking cups for the elderly are designed to help especially senior citizens to promote good hydration by making drinking extremely easy, increasing independence and social confidence, help gives them more control and comfort to easily carry the cups around.
NON-SPILL DRINKING CUPS FOR ELDERLY
Non-spill drinking cups are great for kids, the elderly, disabled, hand tremors, arthritis, etc who are prone to spilling or need to drink while lying down.
Below are good examples of non-spill drinking cups.
CONTIGO SPILL-PROOF TUMBLER WITH STRAW
This Contigo tumbler features a straw with a spill-proof valve to capture liquid and keep it from spilling out, so you don't have to be worried even when it is upside down.
A no-spill valve in the straw makes it impossible to spill, and a silicon seal around the straw offers extra protection against leaks which means no more messes.
The soft grip bottom pad helps prevent this brightly patterned tumbler from slipping and tipping over on the dinner table and it also fits most car cup holders, making it the perfect companion.
The material used for this spill-proof tumbler with straw is 100% BPA-free for a safe drink. It is dishwasher safe and not for use in the microwave. Twist apart the straw for easy cleaning.
It is perfect for individuals who need help to drink independently without the help of a caregiver, such as the elderly, handicapped, and disabled, and is also great for kids up to 3 years of age and above to help drink without spilling.
KIRIMON FLOW CONTROL SPILL PROOF CUP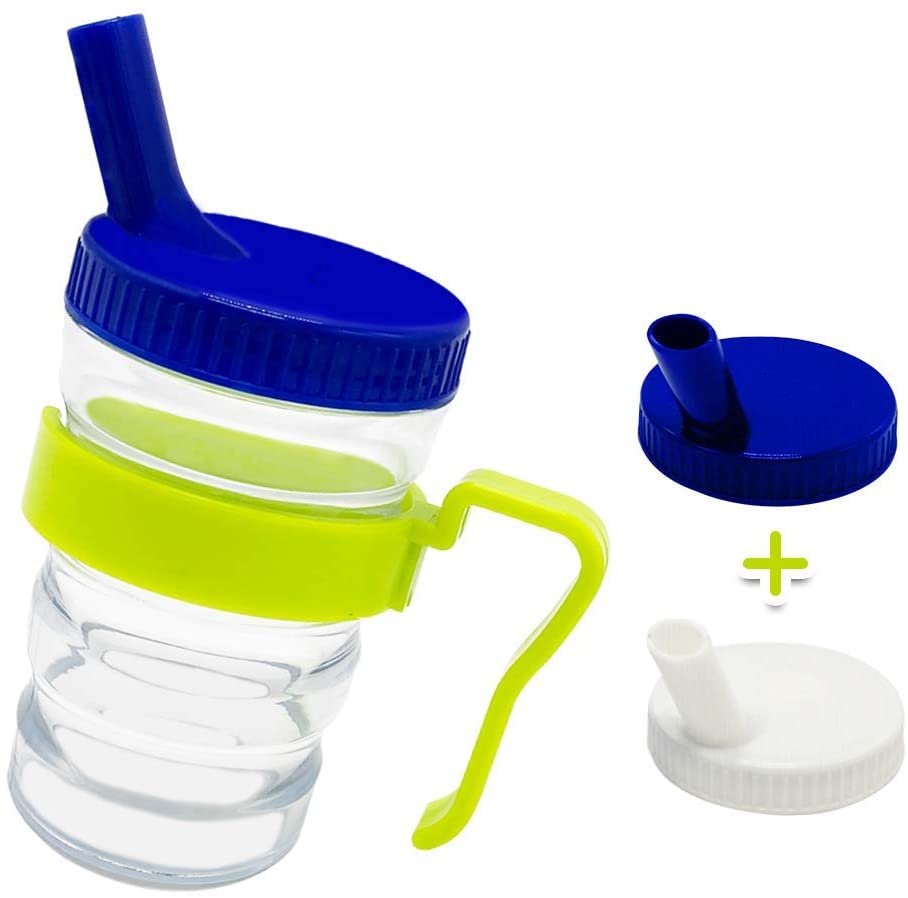 The cup is specially designed with lids, suitable for all ages to allow its user to control the flow of fluids even when lying down and without the need to raise the head.
It promotes independent drinking, reduces the need for caregiver assistance, enables the user to drink while lying down, and reduces the risk of choking.
It is durable, made of high-quality Latex Free, Polycarbonate, BPA free. Ideal for adults, children, elderly, disabled, and handicapped to use for hot or cold fluids without spilling. It is dishwasher and freezer safe.
This cup features ergonomic, easy to hold handles, and is also very convenient for outdoor travel and camping. The unique lid enables flow control and prevents spills if the cup is tipped over.
It has one conventional feeding spout and another anti-splash lid that helps reduce swallowing air.
DRINKING CUPS FOR ELDERLY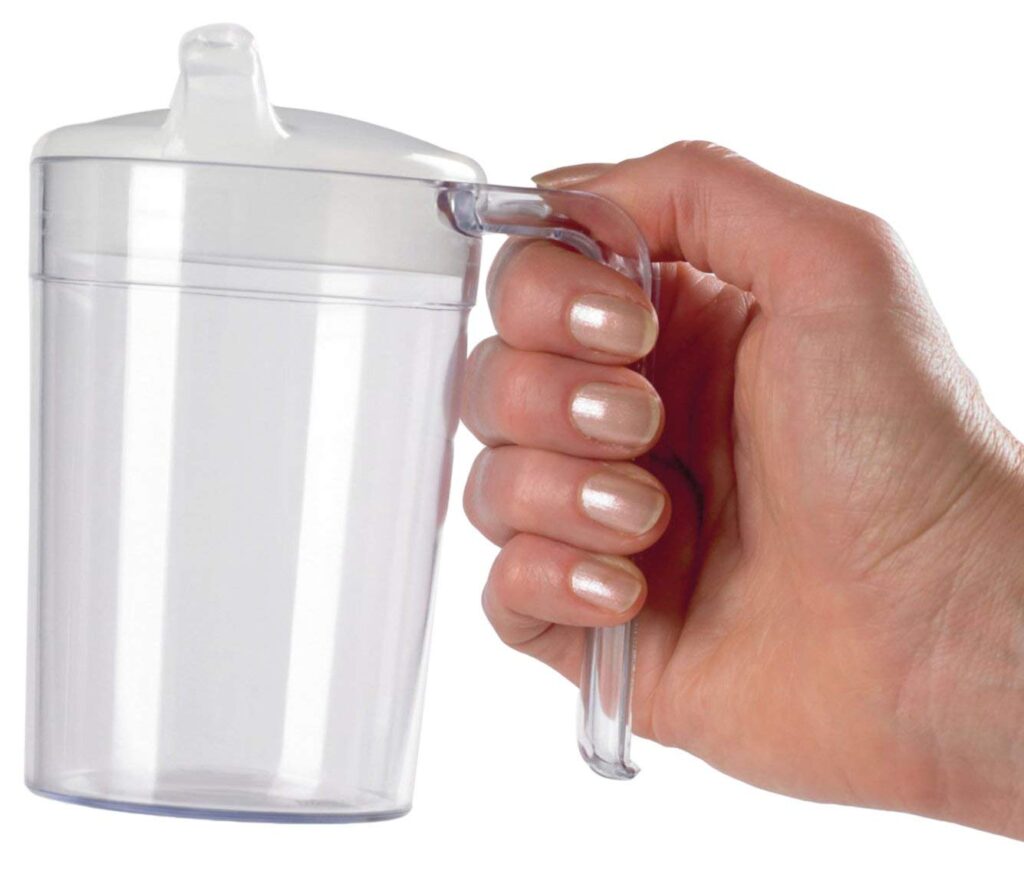 Drinking cups for the elderly is very good due to their ability to prevent spilling and flowing out while drinking with it. It is made in such a way as to offer comfortability and confidence for the elderly even while lying down and drinking with it.
Below are the common examples of some drinking cups for the elderly;
NOSEY CUPS FOR ELDERLY

The nosey cup has an opening for the nose that allows drinking without lifting the head. They feature a smooth, molded drinking surface and a transparent design.
The nosey cup comes in 3 piece sets that include 4 oz., 8 oz., and 12 oz. sizes to hold your drink. It is dishwasher safe.
This nosey cup helps people that have difficulty in swallowing to enable drinking with ease without tilting the head back to prevent choking.
READ ALSO DOES ANCHOR HOCKING CONTAIN LEAD
READ ALSO : LUMINARC VS CORELLE
SP ABLEWARE MADDAK FLO-TROL CONVALESCENT TRANSPARENT FEEDING CUP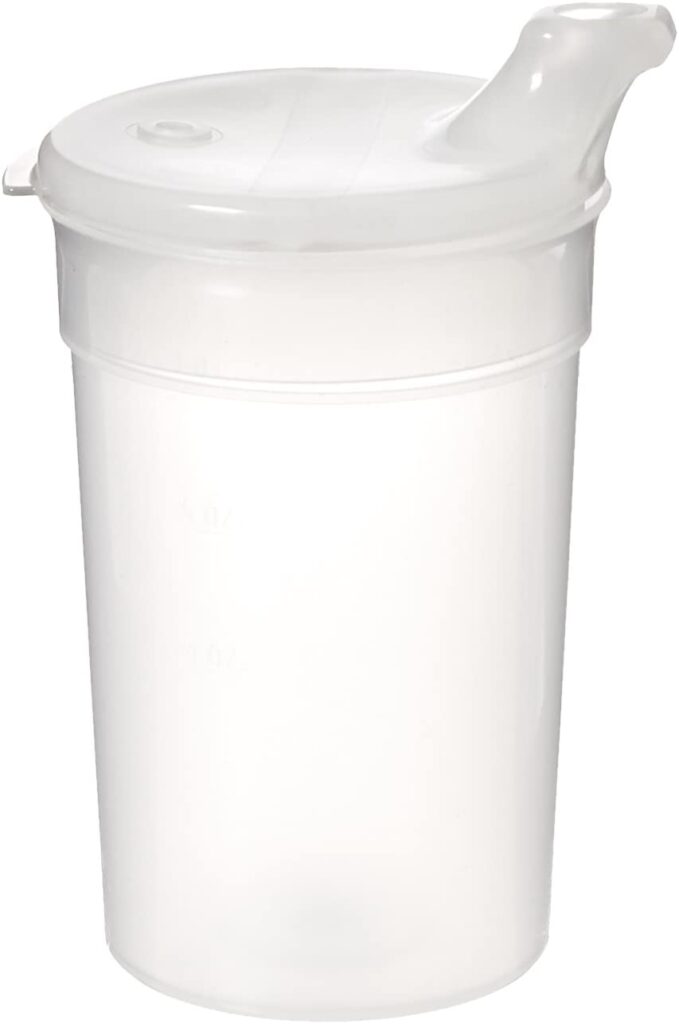 The Maddak Flo-Trol Convalescent Vacuum Feeding Cup is specially designed to eliminate the need to raise the head while drinking. This cup enables the person to drink even while lying down.
The cup works by placing a finger over the vent hole in the cap to control the flow of liquid through the mouthpiece. If you want to use the cup with a straw the hole in the mouthpiece is large enough for a straw.
 Maddak manufacture products that increase mobility, maximize independence, and enable people to live more rewarding, dignified, and enriched lives.
DISABLED DRINKING CUP WITH STRAW
Disabled drinking cup with straw is made especially for the use and comfortability of the disabled who cannot handle drinking liquids by himself or herself.
below are good examples of disabled drinking with straw;
READ ALSO: IS LIBBEY GLASSWARE LEAD-FREE
READ ALSO: STONEWARE VS PORCELAIN MUGS
CONVALESCENT FEEDING CUP FOR DISABLED WITH STRAW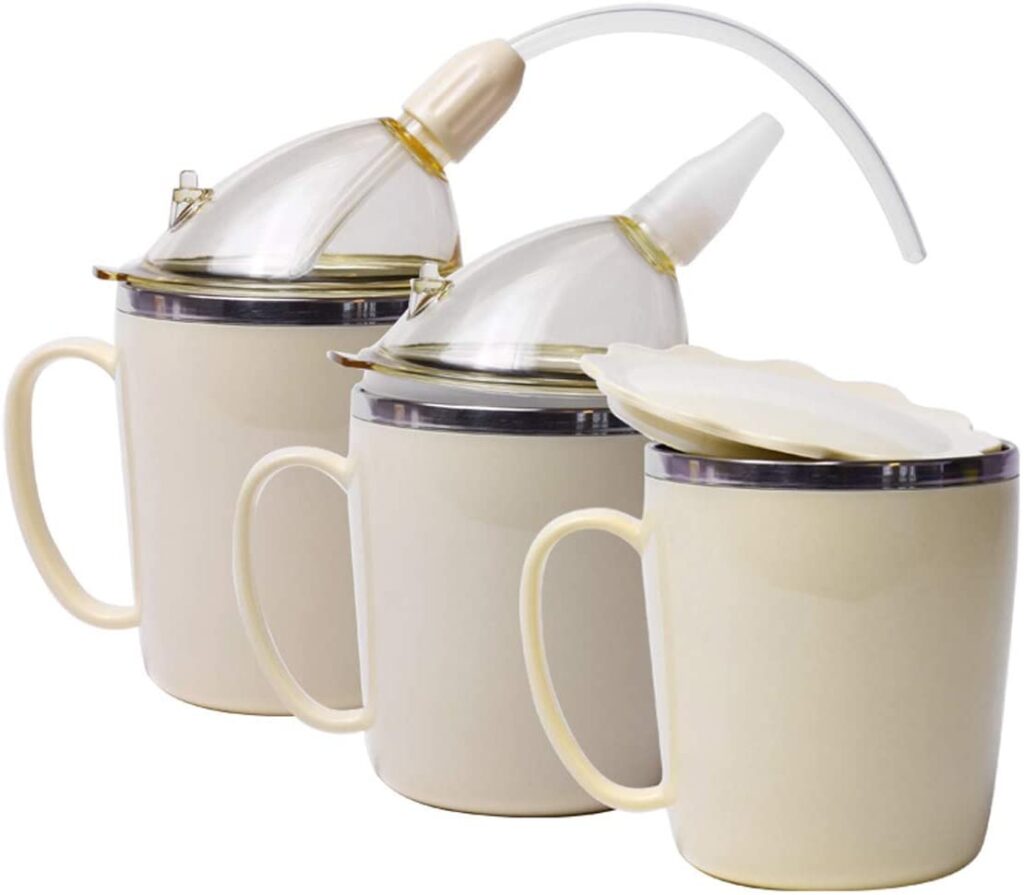 The inside of the adult sipping cup is well-made and delicate. It is made from 304 Stainless Steel, food-grade Tritan material, and non-toxic materials for disabled safe use.
The drinking cup with straw for disabled patients can realize two forms of care: care for yourself and others for you. Either way, you just need to hold it in your hands.
The sipping cup is helpful for the elderly, babies, people with limited mobility to help them improve the convenience of life.
The capacity of the feeding cup is 335ml, which is just an appropriate volume for drinking. The heat-resistance temperature is -20-120℃, so you can heat it or freeze it.
The plastic mug handle is portable and light, easy to carry, and can be put directly in your bag without feeling it as a burden.
KIKIGOAL DRINKING CUP WITH STRAW FOR DISABLED PATIENT
KIKIGOAL feeding cup is also an adult sippy cup with a straw for liquid food, soup, water, etc. It is great for People with a weak grip that need care, spill-proof, drinking aids.
It is made of 304 Stainless Steel food grade PP and silicone, eco-friendly, non-toxic materials.
The Double-wall vacuum design helps keep water warm longer.
The spout lid is rotatable for different angle use, easy to use and care for.
The food-grade 304 stainless steel liners are designed to prevent dirt.
It has a capacity of 350ml to resist a heat temperature of 20-120 Celsus.
This drinking cup with a straw is very helpful for the elderly, incontinence people to drink water, soup, and more without choking.
Note: When you don't use it, you can put a straw in the straw dustproof to prevent dust.
LIGHTWEIGHT CUPS FOR ELDERLY
Lightweight cups are easy to lift and carry about and they are designed to help the elderly so as not to put a strain on their muscles. Lightweight cusps are safe for senior citizens' health.
Examples of lightweight cups for the elderly;
MARUSYA NO-SLIP EASY GRIP CUP
Marusya's no-slip grip cup is lightweight and has indentations to easily hold. This helps to remove weight and pressure from fingers and hands.
MARUSYA, an ergonomically-conscious No-Slip Easy Grip Cup can be held with one hand and as few as two fingers. The cup is designed for easy pick-up and slip-free control making it perfect for young and old hands alike.
Marusya's Easy Grip cup is a 12-ounce BPA-free polypropylene cup featuring textured, slip-resistant secure grips. Its ergonomic design is meant to be suitable for all hands. Dishwasher and microwave safe. It comes in mist, green tourmaline, ruby red, and golden. It is made in the USA.
Marusyar products are light, well balanced, and easy to grip, designed for users with reduced strength, limited mobility, and swollen or painful joints associated with various hand conditions
KENNEDY CUPS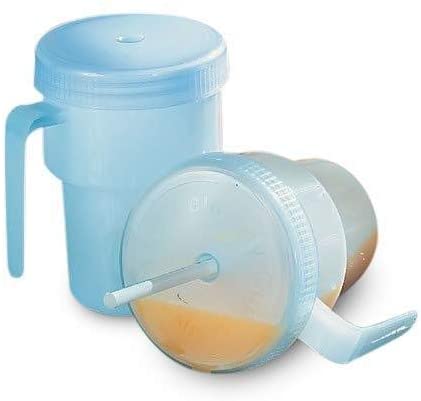 1. The KENNEDY CUP is a lightweight spill-proof drinking cup that is used with a straw and is ideal for people of all ages
2. The KCup's patented design allows the cup to be easily filled with up to 7 ounces of warm or cold liquid.
3. Once the KCup lid is screwed on the liquid, it will not spill out even if the cup is turned completely upside down!
4. It is dishwasher safe, made in the U.S.A. with Latex and BPA free
5. It is great for use at the table while traveling, or in bed – The KCup can be used with any style of straw.
SPILL PROOF DRINKING CUPS FOR ADULT
Spill-proof drinking cups for adults assist older adults to cope and drink with ease without spilling the liquid around.
JOYMERIT ADULT SIPPY CUP
1. The JOYMERIT adult sippy cup is attractive and functional and can be used as a universal cup or Spout mouth cup.
2. It is great for anyone with decreased hand strength or dexterity.
3. The spout lid is rotatable for different angle use.
4. It is very helpful for the elderly, incontinence people to drink water, porridge, soup, and more.
5. It is made with stainless and has a capacity of 350ml.
NON-SPILL MUGS FOR DISABLED
Non-spill mugs for disabled help disabled to enjoy and have control over their beverage and coffee.
SAMMONS PRESTON SMALL CUP WITH BUILT-IN STRAW.
Sammons Preston Cup with Built-In Straw is designed with a built-in straw that eliminates the need to keep track of extra straws and prevent spilling for easy consumption of liquids.
The cup is suitable for adults as well as children who need to drink using a straw to allow for more convenient cleaning and storage.
To prevent air ingestion, the straw has access to liquid at the bottom of the cup and is easy to suck through.
The colorful and fun-shaped straw allows for easy consumption of liquids for those who have to drink through a straw. The cup is BPA and Phthalates free for safe use.
A spill-proof mug with a fun straw is good for kids, elderly, disabled, and handicapped.
READ ALSO: IS OPALWARE SAFE FOR HEALTH
INDEPENDENCE 2-HANDLE PLASTIC MUG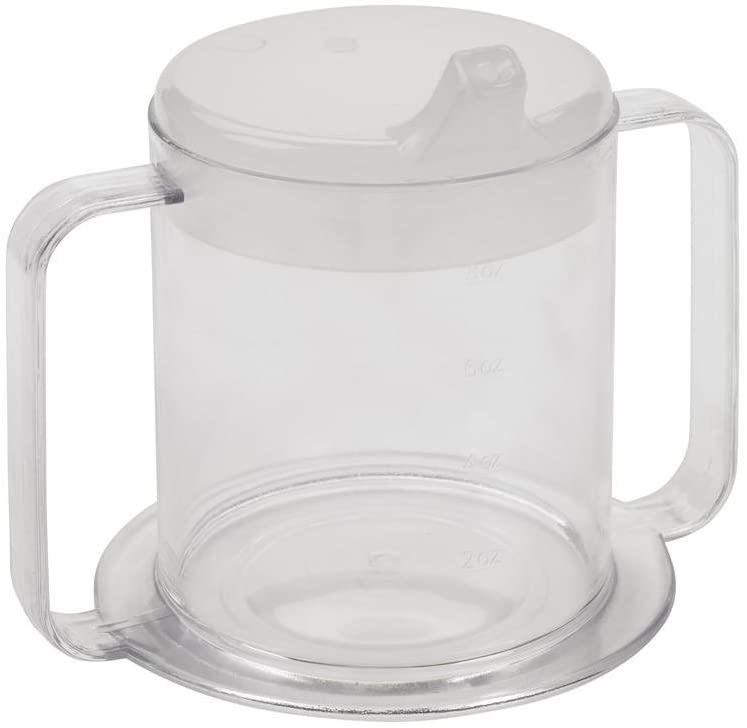 This attractive mug is crystal clear and exceptionally strong. The handles are easy to hold and the large base adds stability to help prevent spills.
It comes with 2 lids: one with a spout and one anti-splash, both usable with a straw. Made in the U.S.A. and free of BPA, Phthalate, and Latex.
These independent mugs are able to hold 10 oz of warm or cold liquid and are dishwasher safe.
Inside the box comes with 3 plastic independence cups that have 2 large handles. The lids have a solid grip on the cup and will not fall off.
These mugs are really perfect for senior citizens who have tremors, stroke, weak muscle, arthritic hands that need stabilizing cups.
This mug helps senior citizens and disabled to have control over their drinks without much spillage by holding on to the handles.
DIGNITY MUG BY GRANNY JO
Helping and taking care of the elderly is a good thing to do because there is a blessing attached to it.
Granny Jo has designed this mug in 2005 for those that have trouble holding a mug with one hand. This mug is helpful to elderly, senior citizens, arthritis hand, aged parents finding it difficult to hold the cup with one hand to enjoy their beverage, coffee, and tea.
The double handles make it easy for a steady hold and allow its user to easily drink coffee with control and dignity to prevent spills.
The mugs can hold 8 ounces which prevents the mug from getting too heavy to pick and use.
This dignity mug allows you to experience drinking tea and coffee without additional taste apart from your tea and coffee taste.
READ ALSO: NON SPILL CUPS