Hey there! As an Amazon Associate, I earn from qualifying purchases. I greatly appreciate your support!
In shredding chicken, you need a blender that has the ability to shred without pureeing the chicken.
In this article, we are discussing mostly asked questions; can you shred chicken in a food processor?
A food processor is one of the most durable and versatile tools in the kitchen.
Furthermore, a food processor is a kitchen appliance that assists you in the preparation of a variety of foods. They are great for chopping vegetables, shredding cheese, grinding meats, making dips, dressing, butter, and more.
Let dive's in to find out more benefits of the food processors as it has to do with shredding chicken.
HOW TO SHRED CHICKEN BREAST IN A FOOD PROCESSOR
For you to perfectly shred chicken in a food processor there are some things you have to do, to enable you to get the desired result;
Make sure the chicken breast is boneless and skinless.
You season the chicken breast and once you are done with that, you simmer or boil the chicken to be tender. Check the chicken and remove it once it reaches this temperature (165 degrees).
Remove the chicken from the skillet and place the chicken on a cutting board to cool down (warm stage).
Get your food processor and put it together according to the manufacturer's description. Note: in every food processor there is a difference, just make sure you have your shedder attachment.
You cut the cooked chicken breast into sizable piece so that it will go down easily.
You plug the food into an electric outlet and remove the lid cover and turn it on.
You take the sizeable piece and put it into the chute and pulse and watch the chicken breast shred by the shredding blade.
Once you are done, stop the food processor and pour out the shredded chicken breast into a bowl.
CAN YOU SHRED CHICKEN IN A FOOD PROCESSOR?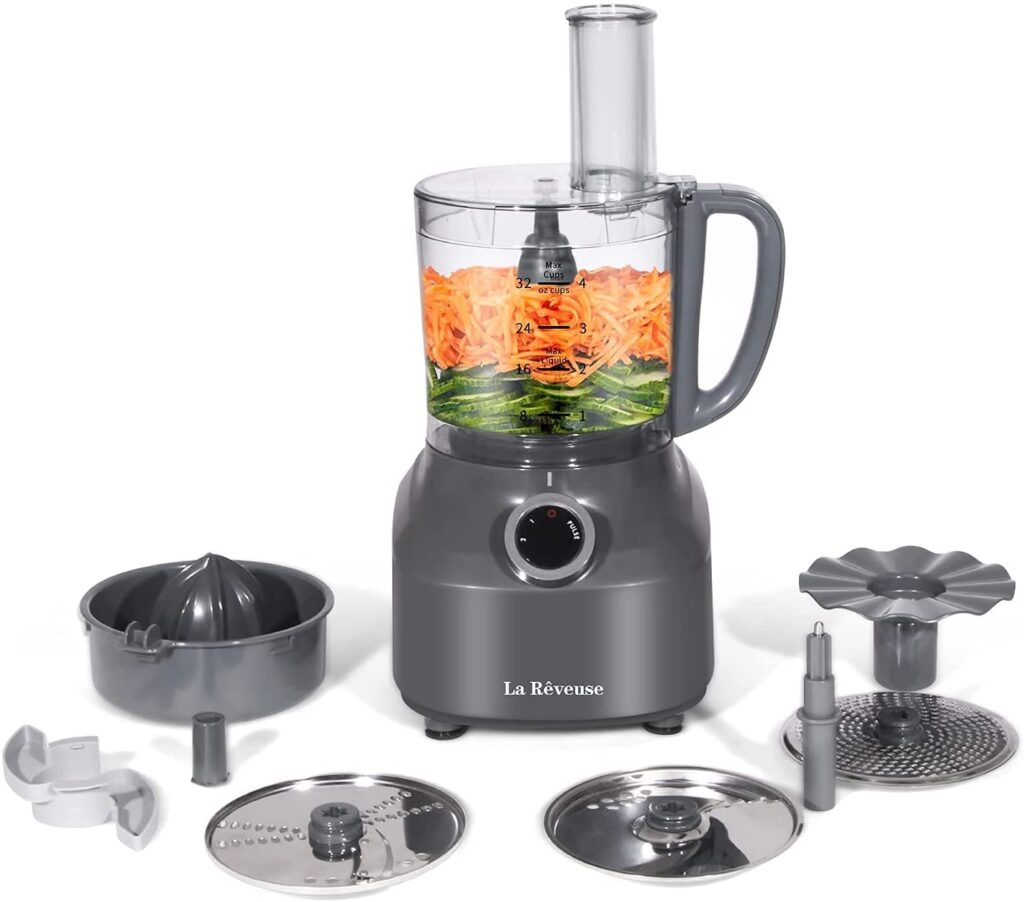 Yes, you can shred chicken in a food processor because the food processor has a shredder attachment that allows you to shred successfully.
A food processor is one of the faster ways to shred the chicken. It also saves time, energy and is convenient.
Below are examples of food processors you can use;
HAMILTON BEACH FOOD PROCESSOR AND VEGETABLE CHOPPER FOR SLICING, SHREDDING, MINCING, AND PUREE.
Prepare an endless variety of food fast with the Hamilton Beach 8 Cup Food Processor.
This food processor makes quick, easy work; less waste of time in common kitchen prep work like shredding chicken, shredding cheese, slicing veggies, and pureeing pestos and dips.
The 8 cup bowl is large enough to handle most jobs but small enough for easy storage.
The large feed chute can fit large foods like a whole block of cheese for quick, easy processing and less prep time.
It has a reversible disc that is able to slice and shreds, while the stainless steel s-blade chops, mixes, and purees.
The 2 speeds plus pulse and 450 watts of power of this Food processor feature low and high speeds plus pulse for the control you need for a variety of recipes.
It is BPA-free in food zones and also handwashing and dishwasher-safe. Blades, bowl, and lid make cleanup easy.
After use, the lid can be flipped over and nested within the bowl for compact storage.
FOOD PROCESSOR FOR SHREDDING, CHOPPING, PUREEING, MIXING, AND SLICING.
This processor meets all your needs for recipes: mixing, chopping, mincing, pureeing, cutting, slicing, and coarse/fine shredding.
This food processor is versatile and easy to chop beef and make dough. The 7 cup food processor bowl is suitable for most households and large enough to handle various tasks like shredding cheese, slicing veggies, and pureeing pestos and dips.
This food processor features 650-watt power with 2 speeds and pulse operation, is ideal for daily use – whether you want to save time on food preparation eat healthier, or just be more creative.
The food processor has three modes; just press the control button to start working, with a 2 variable speed control mechanism, "MIN" speed is very suitable for vegetables and fruits.
With 4 suckers at the bottom, the product can be fixed to the table and it will not slide off onto the floor during food processing. Food processing has become safer with it.
The food processor has dual lock protection, it will work only when the bowl locks with the base and the top lid locks with the bowl. If you want to add food during working, add from the large feed chute.
It has cutting/slicing/shredding discs, chopping blades, and dough blades to meet your particular need.
This food processor will only work when the bowl is installed properly in the LOCK place to avoid unnecessary accidents.
For easy clean-up, Just blend warm water and a drop of dish soap at your machine's highest speed, and watch it self-clean in 60 seconds—no disassembly required and it is dishwasher safe. It is also BPA-free.
Its detachable structure makes assembling and cleaning simple and easy. Use this versatile machine to easily prepare ingredients for all your favorite recipes.
KOGNITA MULTI-FUNCTION FOOD PROCESSOR FOR SHREDDING CHICKEN
This 8 in 1 Food Processor is perfect for chopping, kneading, emulsifying, slicing, shredding, blending, and grinding functions. You can also enjoy freshly ground coffee at home. This Kognita multifunction food processor adds a little helper to your cooking, so you can save more money, save time and enjoy cooking.
There are 1-2 speed gears from slow to fast on the control panel and a pulse gear on the rotary switch. The pulse function and the shredder blade help get the chicken to the consistency you want.
The Food Chute with Pusher helps guide food towards the slicing or shredding disk while the processor is going, for consistent results. The anti-slip silicone foot is designed to enhance stability.
The variable speeds help you to control the blade and to limit the risk of over-processing, achieving perfect results every time.
This food processor is easy to clean by simply adding some warm water and 1–2 small drops of dish soap to clean the bowl and blades quickly. All parts are BPA-free and dishwasher safe. Safety Interlocking System for the blades operates only when the lid is securely attached to the bowl.
MAGICCOS 7-IN-1 MULTIFUNCTIONAL FOOD PROCESSOR.
With the 750Watts powerful copper motor, Magiccos food processor FP415 is easy to shred chicken, chop beef and make dough.
Whether shredding chicken, processing vegetables, fruits, or meat, the 8 cup capacity is an ideal state obtained after scientific investigation, which can satisfy the cooking needs of most families to eat healthily, eat conveniently and fit in your kitchen. The 8 Cup Capacity is also ideal for preparing a banquet for friends.
This food is equipped with 5 variable speed choices and an additional pulse function to shred chicken. Our food processor allows you to control the blade to avoid the risk of over-processing.
The All-in-One 7 Multifunction Processor accessories are included for chopping, wave cutting, slicing, fine/coarse grating, emulsifying, and juicing. This kitchen food processor is cost-effective enough to work through almost all ingredients quickly and evenly. You can use it to prepare any meal.
For easy control, this food processor works by Just turning the knob to switch to any speed mode from 0-5 or pressing the pulse button, and then the food processor will reach its ideal speed in an instant. Make the food preparation process easier and deliver you a unique culinary experience.
The overheating protection thermostat is specially designed for Magiccos food processor FP415 to prevent the motor from running for too long and causing excessive temperature. When working for more than 3 minutes, the overheat protection thermostat will automatically shut down the machine to protect you and prolong the service life of the motor. In that case, you just cool the machine and plug in the plug again to restore normal use.
NOTE: Before opening this electric food chopper, please make sure that it is double locked. One lock is on the right side of the base, the other one is on the handle. Ensure your safety is much more important during operation. Please also understand the importance and complexity of the double-locking design.
Speed 1: egg, milk, banana
– Speed 2-3: tomato, peppers, onion
– Speed 4-5: meet, potato, carrot, cauliflower
– Pulse Mode: Press the knob to reach the speed quickly
READ ALSO: CAN YOU PUT HOT LIQUID IN A BLENDER
READ ALSO: BEST BLENDER FOR GRINDING RICE
CAN YOU SHRED WITH A MIXER?
You might or may be wondering can a mixer shred chicken and the answer is absolutely yes. The KitchenAid mixer can shred chicken.
Put your cooked sizeable chicken breasts into the KitchenAid mixer. Make sure your chicken is warm and use your paddle attachment connection and with the chicken into the bowls of the mixer, turn it onto low first, once the chicken is broken up a bit, you can then turn it onto a higher speed.
Secondly, you use a wider bowl so that the chicken doesn't jump out.
READ ALSO: WHICH NUTRIBULLET IS BEST FOR FROZEN FRUIT
CAN YOU SHRED CHICKEN WITH A CHEESE GRATER?
Yes, you can shred chicken with a cheese grater.
This cheese grater is great; with minimal effort, you can perfectly shred chicken, slice cheese, and vegetables.
This product is effective and durable, it has various shapes and sizes that grate cheese and soft foods easy and it also allows for a greater holding capacity.
Apart from a food processor, this cheese grater is a convenient tool that perfects multi-functional tasks with a comfortable handle that gives you total control of coarse grating, medium grating, fine grating, and even slicing and shredding.
The sharp stainless steel blades get done quickly and faster.
Note: When using any of the sizes, please watch your fingers so that you don't shred or slice them together with your superfood.
EASY WAY TO SHRED CHICKEN WITHOUT A MIXER
In the absence of a mixer, or you don't want to shred chicken with a mixer; you can use your hands for shredding. Hand shredding is one of the easiest ways to shred chicken without a mixer.
While using your hands to shred chicken, make sure the chicken is not hot so that you can be able to hold the chicken properly and pull or shred it apart.
HOW TO SHRED CHICKEN WITH FORKS
Apart from using a food processor or a blender, you can shred chicken with forks and also get the desired size for your recipe, but before you shred, there are things you need to do;
Firstly, you cook your chicken to make it soft and tender, once the chicken is cooked to a certain temperature.
Secondly, you place the chicken on a chopping board to cool down and make sure to remove the bone from the chicken before shredding.
Thirdly, you get your two forks; hold one in your left hand and the other in your right hand.
Fourthly, use one hand to hold down the chicken and the other hand to pull or shred the chicken apart to the size you need.
CAN YOU SHRED CHICKEN IN A NINJA BLENDER?
Yes, you can shred chicken in a ninja blender that has a shredding attachment and a pulse function.
NINJA BN601 PROFESSIONAL PLUS FOOD PROCESSOR.
This most powerful kitchen food processor features a 1000-peak-watt motor that can process the toughest ingredients with ease.
The dedicated blades and discs deliver worthy results by precisely chopping, consistently slicing, and evenly mixing all in one appliance.
This blender is perfect and fast for shredding chicken, cheese, and even slices veggies in no time.
It has 4 Auto-IQ intelligent preset programs to make food preparation easier with 3 speeds – low, high, and pulse. Chop veggies, shred cheese, and make smooth sauces and quick pizza dough or cookie dough from scratch—all at the touch of a button.
The 72-oz processing bowl delivers consistent results whether you're chopping a small batch or an entire bowlful of ingredients for large families and entertaining guests.
You don't need to worry because this blender quickly and consistently chops ingredients without worrying about liquefying them or leaving large, unprocessed chunks on top.
This blender comes with a 20-recipe Inspiration Guide to help create and make more delicious meals for any occasion.
All parts are BPA-free and dishwasher safe. For quick cleans, simply pulse some warm water and 1–2 small drops of dish soap to quickly clean the bowl and blades.
CAN YOU SHRED CHICKEN IN A NUTRIBULLET?
Nutribullet is a great blender, you can use Nutribullet for your smoothies, ice crushing, and pureeing, but when it has to do with shredding chicken Nutribullet is not best for it.
Though it has a pulse function, the desired consistency you need, when you use the pulse function for shredding you will not get it with a Nutribullet.
Nutriibullet is good at crushing ice, frozen fruits, mixing, and more.
CAN YOU SHRED RAW CHICKEN?
Raw chicken does not shred well, so it is best you have your chicken cooked and allow it to cool down before shredding so that it comes out perfectly well.
CAN YOU SHRED CHICKEN IN A BLENDER?
Well, blenders are good for liquids or when you want to create something smooth and uniformly pureed.
Blender has power motors usually duller blades, stainless steel blades, and tall containers when you add ingredients, fruits to a blender and turn it on, it creates a sort of vortex, pulling ingredients in towards the center and causing them to blend together to give you the consistency you need.
When it has to do with shredding chicken, not all blenders can shred chicken, before you use any blender to shred chicken, make sure the blender has a shredder attachment and also check the blades if it is suitable for shredding.
READ ALSO: HOW TO MAKE SHREDDED MEAT