Hey there! As an Amazon Associate, I earn from qualifying purchases. I greatly appreciate your support!
Ninja blenders are known for their powerful motor and the ability to crush ice quickly and easily. In this article, we are going to answer the question most people often ask Can you crush ice in a ninja blender?
The answer is yes!
The Ninja blender is designed with sharp blades and a powerful motor that can easily crush ice into small pieces, perfect for making smoothies, frozen drinks, or even snow cones. However, it's important to note that not all Ninja blenders are created equal.
Keep reading to find out the best ninja blender that can crush ice;
WHAT IS A NINJA BLENDER?
Ninja blenders are popular kitchen appliances designed to help home cooks and professional chefs alike take their blending experiences to the next level.
A Ninja blender is a high-powered blender that is designed for blending, chopping, and pureeing ingredients for various recipes. It is manufactured by the Ninja Kitchen company, to make kitchen work easy and fast.
The Ninja blender features a powerful motor and sharp blades that are capable of blending ingredients quickly and efficiently. It also has multiple speed settings and different blending modes, allowing you to customize your blending experience depending on the recipe you're making.
It will interest you to know that some models of Ninja blenders also come with additional accessories, such as blending cups, food processor attachments, and spiralizer blades, making it a versatile kitchen tool for various cooking needs.
CAN YOU CRUSH ICE IN A NINJA BLENDER?
Yes! You can crush ice in a ninja blender. Ninja blender is a fast and easy solution for ice and is capable of crushing ice and making nutrient-packed smoothies.
We have various Ninja Blenders that can crush the ice with different powerful motor watts, blending capacity, and a good twist blade to break down ingredients. Examples are,
The Ninja brand is known for its powerful and durable blenders designed to handle a wide range of blending tasks.
NINJA PROFESSIONAL BLENDER FOR ICE CRUSH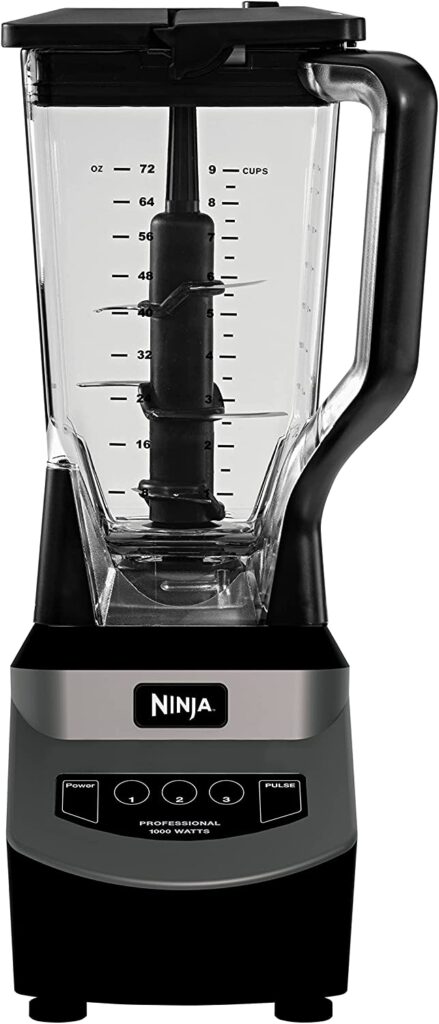 The Ninja Professional Blender is a true powerhouse for any kitchen style. With its 1000-Watt motor and large 72 oz Total Crushing Pitcher, this blender is a reliable and efficient tool to create delicious smoothies, shakes, frozen drinks, and ice crushing.
One feature of this Ninja blender is its powerful 1000-Watt motor. This blender effortlessly crushes through the ice, frozen fruits, and tough ingredients, making it perfect for creating smooth and creamy beverages. The motor is quiet, which is good for early mornings or late-night cravings, you can use it without waking up any of your household.
The 72 oz Total Crushing Pitcher is a game-changer. Its size allows you to make large batches of smoothies for you and your family or when hosting guests. The pitcher is made of durable and BPA-free materials, and its dishwasher-safe, making clean-up a breeze.
The Ninja professional blender also features multiple speed settings, including a pulse function, which gives you precise control over the blending process. The blender also comes with a tamper, which is useful for pushing down ingredients and ensuring everything is blended perfectly.
The Ninja professional blender delivers exceptional results. It has the capability to create smooth and creamy smoothies with no chunks or unblended ingredients. It can also make frozen cocktails and milkshakes with ease.
This blender produces consistent smooth and delicious results every time. The blender can crush ice with ease so you to enjoy your cold drink.
NINJA BL770 MEGA KITCHEN SYSTEM
The Ninja BL770 Mega Kitchen System is a powerful and versatile kitchen appliance that offers a wide range of functions for smoothies, processing, dough, drinks, and more. With its 1500W motor, this kitchen system is designed to handle various tasks with ease, making it a valuable and essential addition to any kitchen.
The powerful 1500W motor can easily crush ice, blend fruits and vegetables, and process food items, making it a versatile kitchen tool for you to use.
The to-go cups are also a convenient feature, allowing you to blend your favorite drinks and take them on the go with the included lids.
This blender comes with a 72-oz. blender pitcher, a 64-oz. processor bowl, two 16-oz. to-go cups, and two lids, which provide space for large batches of smoothies, dough, or other recipes, which makes it perfect for families or gatherings where you need to prepare food or drinks for multiple people.
The design of the Ninja BL770 is sleek and modern, with a black color that complements any kitchen decor.
The controls are easy to use, with clearly labeled buttons and a control panel that provides options for different functions and speeds.
This blender is easy to assemble and disassemble, making it easy to clean after use.
NINJA BN401 NUTRI PRO COMPACT PERSONAL BLENDER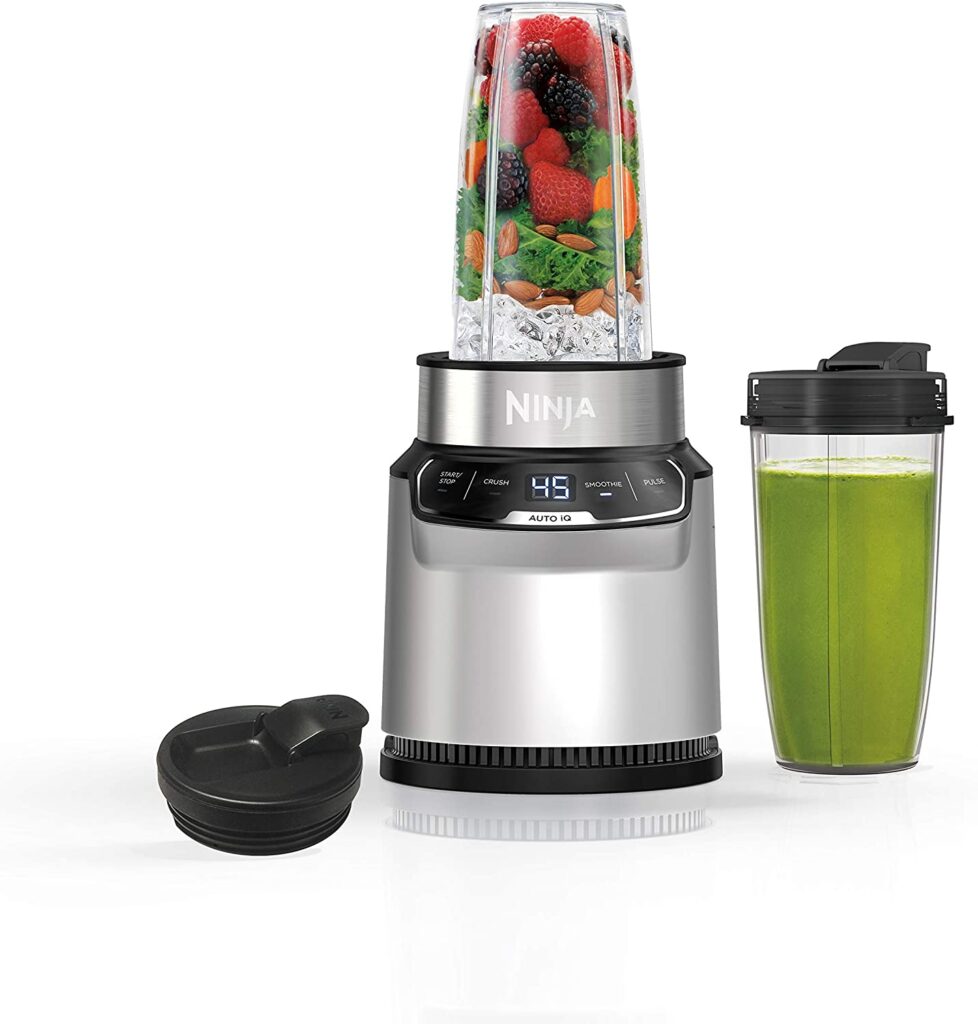 The Ninja BN401 Nutri Pro Compact Personal Blender is a powerful and versatile kitchen appliance designed for blending frozen drinks, crushing ice, smoothies, sauces, and more.
With its Auto-iQ Technology, 1100-peak-watt motor, and convenient to-go cups, this blender offers a convenient and efficient way to create nutritious and delicious beverages.
The 1100-peak-watt motor of the Ninja BN401 Nutri Pro Compact Blender is impressively powerful, allowing it to easily handle frozen fruits, vegetables, and ice. The blender crushes ice perfectly
The Ninja BN401 Nutri Pro Compact Blender is not just limited to making smoothies and ice-crushing. It's also great for blending sauces, dressings, purees, and even grinding coffee beans and nuts with ease.
The Ninja BN401 Nutri Pro Compact Blender comes with two 24-oz. to-go cups and spout lids, making it easy to blend your favorite beverages and take them on the go.
The cups are made of durable materials and are BPA-free, making your drinks safe to consume.
The spout lids make it convenient to drink directly from the cups without having to transfer the liquid to another container.
This is perfect for busy mornings when you need to make a quick smoothie or take your favorite sauce for lunch at work.
READ ALSO: WHERE ARE BLENDTEC BLENDERS MADE OF?
NINJA ICE BLENDER
The Ninja Ice Blender is a high-performance blender that is specially engineered to crush ice with ease. Its powerful motor and unique blade system are designed to break down ice cubes into snow-like textures, creating smooth and creamy frozen drinks. Unlike most traditional blenders that wrestle with crushing ice, the Ninja Ice Blender's advanced technology ensures that your ice is thoroughly crushed, resulting in perfectly blended drinks every time.
BEST ICE CRUSHING BLENDER UNDER $100
Do you love icy cold beverages or smoothies, or Do you enjoy adding crushing ice to add the perfect crunch to your drinks? If so, you need a reliable blender that can handle the task.
Below you will the best ice-crushing blending under $100
NINJA BL610 PROFESSIONAL BLENDER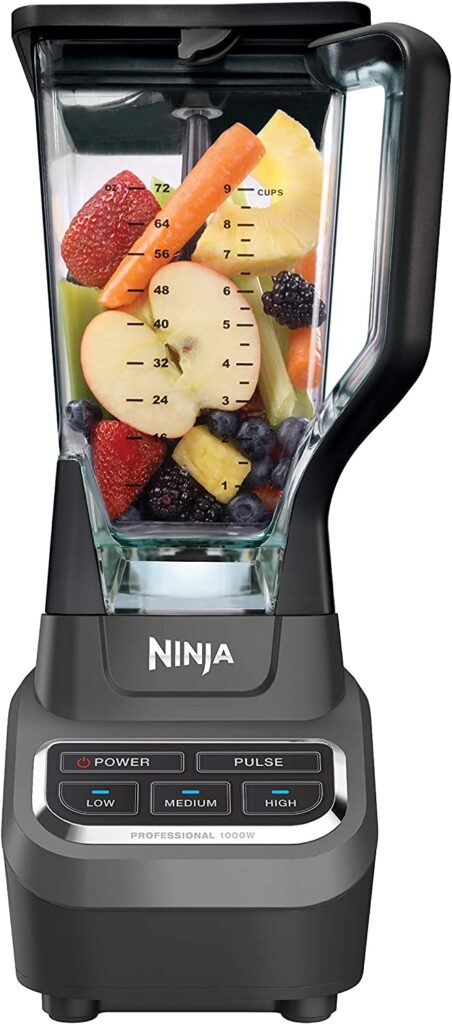 The Ninja Professional Blender is a versatile and powerful blender that can crush ice with ease. With its 1000-watt motor, it can blend through tough ingredients, including ice, to create smooth and creamy drinks.
The blender comes with a 72-ounce pitcher, perfect for making large batches of frozen drinks or smoothies.
It also includes two Nutri Ninja cups with to-go lids, so you can take your drinks on the go.
Total Crushing Technology delivers unbeatable power with blades that pulverize and crush through ice, whole fruits, and vegetables in seconds.
The blender has three-speed settings and a pulse function, giving you full control over your blending process.
The Ninja Professional Blender is an excellent option for those looking for a powerful and affordable blender for ice-crushing.
The Pitcher is BPA-free and dishwasher safe, making cleanup just as simple and easy as using the blender.
OSTER BLENDER PRO 1200 WITH GLASS JAR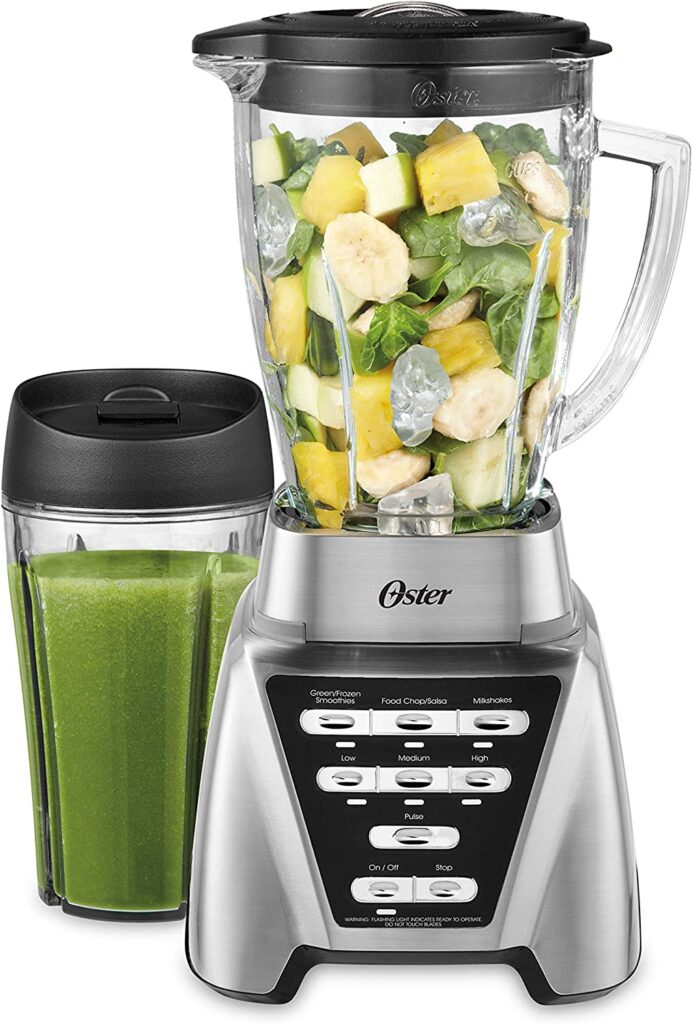 The Oster Blender Pro 1200 is a powerful blender that can crush ice and blend ingredients effortlessly.
It features a 1200-watt motor and a dual-direction blade technology that blends in both forward and reverse motion for better blending results.
The blender comes with a 6-cup Boroclass glass jar, which is dishwasher safe and resistant to thermal shock, making it a durable and long-lasting jar.
The Oster Blender Pro 1200 also includes a 24-ounce smoothie cup with a to-go lid, perfect for on-the-go convenience use.
The blender has seven-speed settings, including three pre-programmed settings for smoothies, salsas, and milkshakes, and a pulse function for precise blending control.
The Oster Blender Pro 1200 is a reliable and versatile blender that offers excellent ice-crushing performance at an affordable price.
Dimensions: 14.25 inches x 7.25 inches x 8 inches, cord length:16 inches
BLACK+DECKER POWER CRUSH DIGITAL BLENDER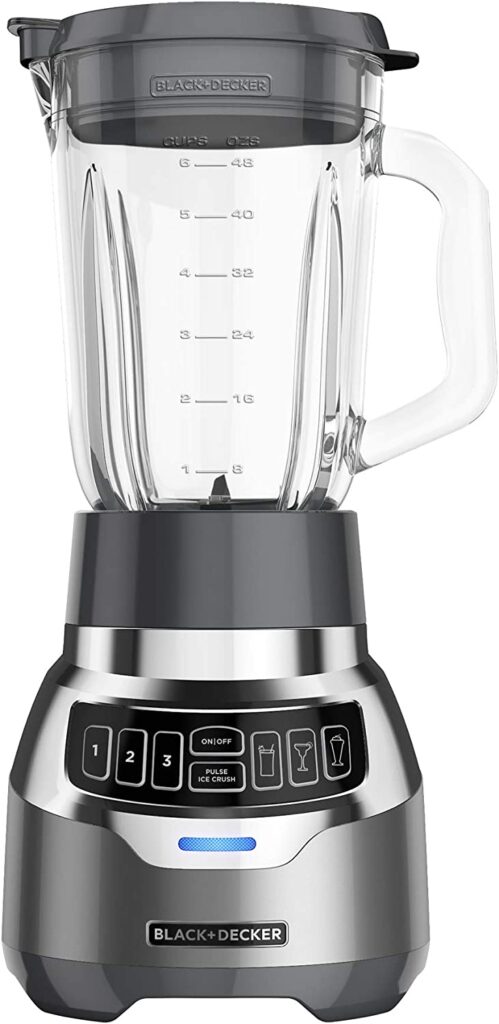 The BLACK+DECKER Power Crush Digital Blender with Quiet Technology is a powerful kitchen appliance that brings convenience and efficiency to your blending tasks.
This blender is designed with innovative features that make blending a breeze while ensuring a quiet operation that won't disrupt your kitchen peace.
Its sleek stainless steel construction adds a touch of elegance to your kitchen counter, making it a stylish addition to any kitchen.
The BLACK+DECKER Power Crush Digital Blender features a powerful motor.
With its 900-watt motor and four-tip stainless steel blade, this blender can easily handle a variety of blending tasks, from crushing ice to blending fruits and vegetables into smoothies, soups, sauces, and more.
The blender also features digital controls with multiple speed settings, allowing you to easily adjust the blending speed to achieve your desired consistency.
The quiet technology of this blender is a game-changer. It uses a unique design that dampens noise and reduces vibrations, resulting in a much quieter blending experience compared to traditional blenders.
This makes it perfect for early-morning smoothie-making or late-night snack prep without disturbing family members or neighbors.
Cleaning the BLACK+DECKER Power Crush Digital Blender is also a breeze.
The blender jar, lid, and blades are all dishwasher-safe, making cleanup quick and easy.
The stainless steel construction is also durable and resistant to stains and odors, ensuring that your blender remains looking new even after repeated use.
It comes with a personal blending jar with a to-go lid. This allows you to blend your favorite smoothie or shake directly in the personal jar and take it on the go, making it perfect for busy mornings or for enjoying a nutritious drink during your workout.
HOW POWERFUL DOES A BLENDER NEED TO BE TO CRUSH ICE?
Blenders are important kitchen appliances, suitable for a wide range of tasks, from blending smoothies to crushing ice.
The power of a blender is a necessary factor to consider when it comes to crushing ice. Blenders with higher wattage motors are generally more powerful and can handle tougher tasks more easily. A blender with 900 watts and above is considered powerful enough to crush ice. some blenders with lower-wattage motors can also crush ice, but not as better as the high-watt blender.
Aside from the power of the motor, the design and quality of the blades also play a significant role in crushing ice. Blades made of durable and sturdy materials like stainless steel can handle the impact of crushing ice without bending or breaking.
BEST BLENDER FOR ICE AND FROZEN FRUIT
Apart from the ninja blenders, there are also good and qualified blender
Vitamix Professional Series 750 Blender,
HAMILTON BEACH PROFESSIONAL QUITE SHIELD BLENDER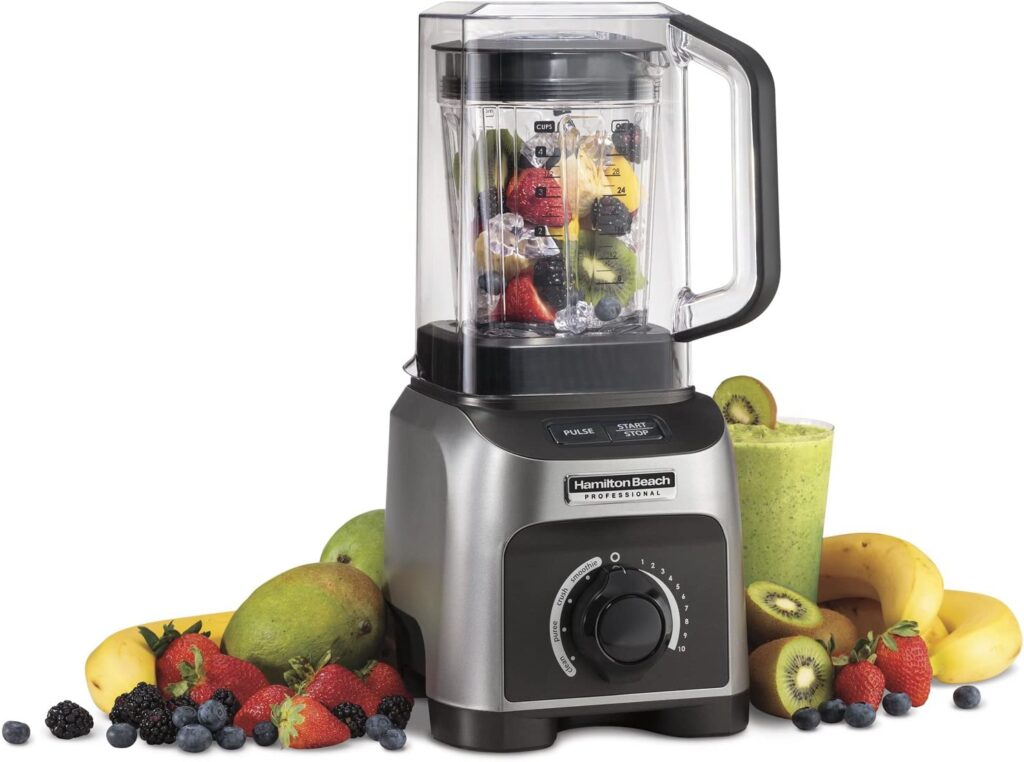 The Hamilton blender has a Powerful 1500 Watts with a 2.0 peak horsepower motor that crushes ice and frozen ingredients in seconds. It is needed for restaurant-quality results.
It has an easy removable quiet shield that reduces noise during the blending process. You can as well have a peaceful conversation while blending.
The hardened, stainless steel blades rotate at speeds over 105 mph to blast through tough ingredients.
By turning the dial with a touch to press start, the four pre-programmed settings are used for Smoothie, Ice Crush, Puree, and more.
It has a variable use for mixing and chopping to achieve the ideal texture for restaurant-quality results.
It is easy to clean by using warm water, dish detergent in the blender jar, and use the pre-programmed clean setting for quick cleaning. The blender jar, lid, and tamper are all dishwasher safe as well, it's 32 oz. the jar is BPA-free.
With the help of the tample, you can blend frozen fruit, and thick mixtures like nut butter for better consistency.
It has a speed dial that offers effortless blending control.
ICE BLENDER HEAVY DUTY
An ice blender heavy duty is a powerful kitchen appliance designed to crush and blend ice effectively. It features a motor, strong blades, and sturdy construction to handle the tough task of crushing ice cubes into smooth, consistent results.
These blenders are built to withstand the stress of blending large quantities of ice without overheating or wearing out, making them ideal for both home and commercial use.
Features of an Ice Blender Heavy Duty
When it comes to heavy-duty ice blenders, there are important key factors to know;
Powerful Motor: The motor is the strength of any blender, and a heavy-duty ice blender is equipped with a high-performance motor that can deliver the power needed to crush ice effectively. The motors come with a wattage ranging from 1000 to 2000 watts for easy use.
Durable Blades: The blades of an ice blender heavy duty are made from strong materials such as stainless steel or hardened stainless steel, which are designed to withstand the force of blending ice. The blades are sharp allowing you to crush ice cubes into fine snow-like consistency in seconds.
Sturdy Construction: Heavy-duty ice blenders are built to last longer. They feature durable, heavy-duty housing made from materials such as stainless steel that can withstand the stress of daily use.
Large Capacity: Ice blender heavy-duty models often come with large blending jars, ranging from 48 to 64 ounces or more, allowing you to blend large amounts of ice and other ingredients at once. This is particularly useful when making multiple servings or entertaining guests.
Multiple Speeds and Programs: Most heavy-duty ice blenders come with multiple speed settings or pre-programmed blending programs that allow you to adjust the blending speed and time based on your desired consistency or recipe. This gives you greater control over the blending process and ensures that you achieve the perfect results every time.
IS IT OK TO CRUSH ICE IN A BLENDER?
Yes! You can crush ice in a blender. First, you have to note this; not all blenders are manufactured equally some models may not be equipped with the necessary power or blade design to handle the ice.
So, using a blender that is not designed for ice-crushing can result in damage to the motor or blades.
Moving forward is better to consult the manufacturer's instructions or check the blender's specifications to ensure it is capable of crushing ice.
Ice is a hard and dense substance that can place a significant strain on the blender's motor and blades.
To prevent overloading the motor, it is good to use small ice cubes rather than large chunks or whole ice cubes.
In addition, we recommend you add only a small amount of ice at a time to allow the blender to process efficiently and to avoid overheating.
READ ALSO: HOW TO CRUSH ICE IN A BLENDER