Hey there! As an Amazon Associate, I earn from qualifying purchases. I greatly appreciate your support!
Are you in the market for a new dinnerware set for your kitchen or restaurant and you are confused, do not panic! I need that feeling.
Sometimes it can be challenging to choose the best material for your dinnerware because there are a variety of materials in the market and these materials have their advantages, feature, disadvantages, and qualities.
In this article, we are discussing which is better Melamine or Ceramic.
If you want to know which is better for your kitchen, superfood, and restaurant keep reading to find out more?
WHAT IS MELAMINE?
Melamine is a chemical that is combined with Formaldehyde and other agents to produce Melamine Formaldehyde.
Melamine formaldehyde is treated by heating before it is used to manufacture plastic plates, bowls, cups, and utensils.
IS MELAMINE GOOD FOR DINNERWARE?
Melamine dinnerware sets are perfect for family dinner, patio parties, camping trips,s and entertaining.
Plates and bowl sets made of melamine are safe, BPA-free, sturdy, dishwasher safe, and lightweight, stackable. The only drawback is that melamine is not to be in the microwave or oven.
WHICH IS BETTER MELAMINE OR CERAMIC?
Melamine and ceramic have what make them special and unique, not only that they also have pros and cons. Below you will find out which is better Melamine or ceramic;
Durability
When we talk of durability, you will not want dinnerware that will not last for you. In the field of ceramic dinnerware sets, they have their strength and are often resistant to chips.
Melamine dinnerware has a strengthened resin that makes it shatterproof, durable, and scratch-resistant.
If your child always breaks your dinnerware and you are tired of replacing them. Melamine dinnerware have you covered with its durability. It is also an ideal dish for restaurant owners.
Affordability
One distinct feature of melamine dishes is that it is cheaper to purchase than ceramic dishes.
Usability
Melamine is stylish and economical but can withstand the harshness of commercial use than ceramic options.
Appearance
Melamine and ceramic dinnerware have a unique appearance that will always brightness your kitchen and makes your food present special either occasion, entreating guests, or family dinner.
Cleaning
Both are easy to clean, Melamine is easy to clean by hand or with a dishwasher. Ceramic dishes require cleaning by hand because not all Ceramic dinnerware sets are safe to use in a dishwasher.
Melamine contains heat-resistant properties; this means that the dinnerware is likely to dry much quicker than ceramic dishes after it has been washed. So if you want your dinnerware to be dry immediately after washing, you can use a neat dry cloth to dry it off.
Microwave
Melamine is not suitable for use in the microwave and oven. Ceramic dishes may be used in the microwave.
Symbol
Melamine dinnerware has a stamp at the bottom of the dinnerware that bears its name Melamine for clear identification.
MELAMINE PLATES
The melamine plate is elegant in style, colorful, and very affordable.
Below are melamine high-quality dishes to eat from;
MELAMINE BREAK RESISTANT WHITE DINNER PLATES
This dish set includes 6pieces, sizes are 10inch, the white color is durable, easy to use, and BPA -free.
It is made of melamine, lightweight, and Break-resistant. It is suitable for indoor and outdoor use, perfect for family dinner, party, camping, and banquets and entertaining.
This dinnerware set is easy for hand washing, also dishwasher safe for your convenience, allowing you to spend more time enjoying your guests.
Due to the materials used for this dinnerware set, you do not need to worry about breaking even if a child uses it because it is strong.
With its crisp, white-like appearance, the stackable dishes offer a simple, beautiful way to present food and let culinary creations shine.
This dinnerware set is easy to stack to save space, great for everyday meals, appetizers, dessert, brunch, bread, salad, sandwich, sushi, fruit, steak, ribs and chicken wings, etc.
This dinner plates set are perfect for household gift to your friends, partners, and family.
This dinner set is not suited for microwaves.
One interesting aspect about this dinner set is the free replacement. If you received a damaged or defective item or during using the plates. You can feel free to contact the number on the package.
AMAZON COMMERCIAL WHITE MELAMINE OVAL PLATE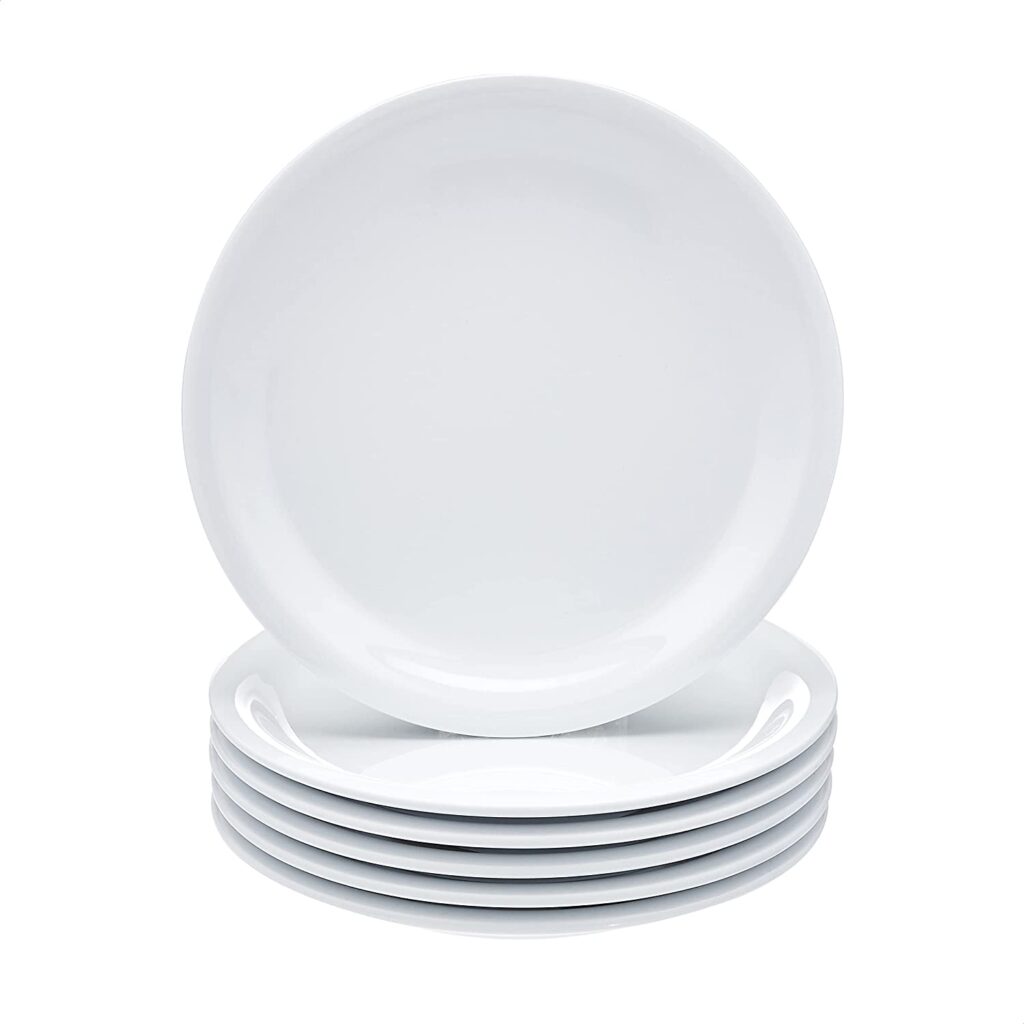 This dinnerware set is made with durable melamine, and offers a break- and crack-resistant construction that's ideal for catering, food service, or everyday use.
It is food-safe, BPA-free, and stain-resistant, the melamine dinnerware is a good choice for reusable service in both indoor and outdoor environments.
With its crisp, white-like appearance, the stackable dishes offer a simple, beautiful way to present food.
It is safe to wash by hand or place in the dishwasher on the upper rack. These serving dishes are heat resistant up to 212° Fahrenheit.
It offers long-lasting but not microwave-safe to use.
CERAMIC PLATES
Below are good Ceramic plates for daily use;
MORA CERAMIC DINNER PLATES SET
It is time to hit pause and eat. Mora is Latin for "Pause", Every time you use a Mora plate it is a reminder to hit pause, give yourself some me time, and practice mindful eating.
Maro plates are safe to use for healthy eating. The glazes are lead-free, meaning you will never have to worry about lead leaching into your system and making you sick. The glaze is extra strong to prevent scratches from your knives and forks.
Since our glaze is all-natural, it tends to change color depending on the lighting. The color maybe a tad different from what you see on your screen.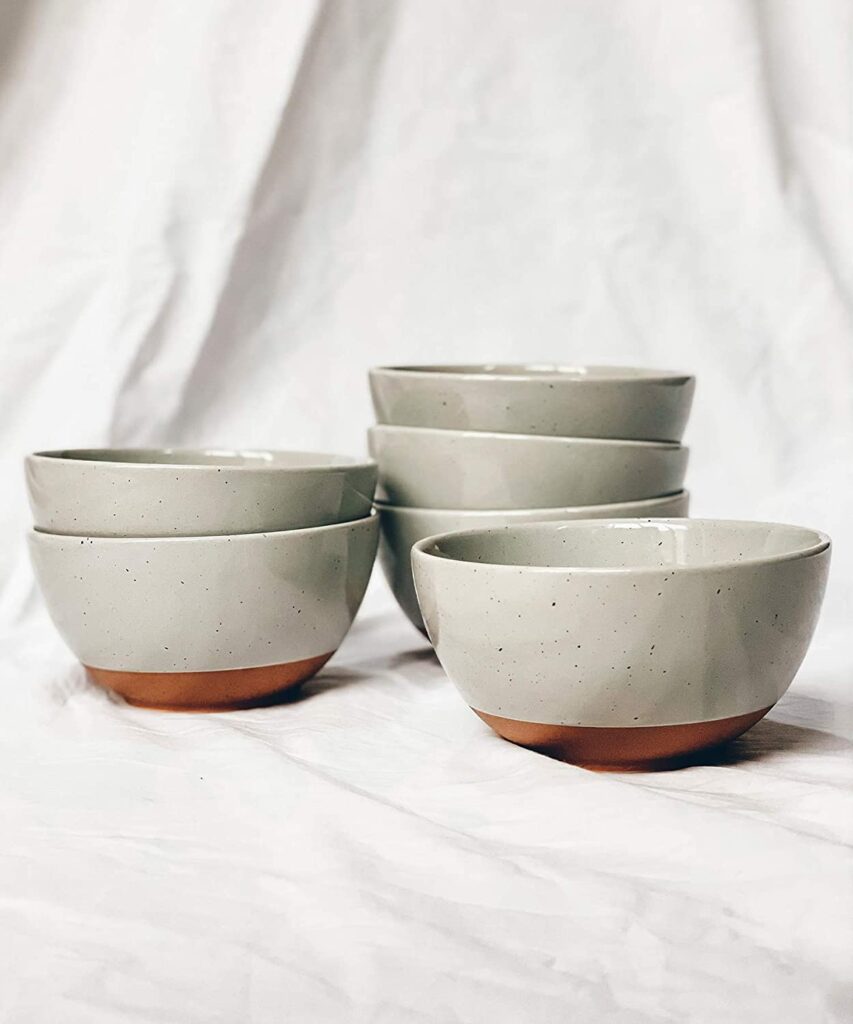 Maro plates are durable, nicely refined, and fired with the user in mind. The shape was designed to stack and nestle nicely in your cupboard or shelves, help your food look even more delicious, and make you happy every day. These plates are microwavable and also freezer, stackable, oven, and dishwasher safe.
According to Maro, We provide a free refund or replacement for any defective products, anytime. Just let us know what happened.
AWHOME 12 PIECES SIMPLE DESIGN CERAMIC TABLEWARE SET
AWHOME tableware 12 pieces for 4 people, contains 3 pieces each. It is Simple and it has a stylish design that can fit in your kitchen for perfect use.
It is made of high-quality ceramic, and not only does it brings a pleasant dining experience, but it is also the perfect decoration for your kitchen, living room and is elegant for use at parties.
It is healthy and safe for your meals, Microwave, oven, freezer, and dishwasher safe.
CERAMIC 6-PIECE WHITE DINNER PLATE SET
This Set of six 10.5-inch dinner plates made of durable AB-grade is elegant to complement the existing kitchen with its white finish smooth surface.
It is safe in your microwave, oven, and freezer as well as dishwasher-safe.
These Plates can withstand up to 572 degrees maximum and 5 degrees minimum (Fahrenheit).
READ ALSO: CORELLE VS PORCELAIN
IS MELAMINE PLASTIC OR GLASS?
Melamine is hard plastic, made of organic chemical compounds. It is created by combining Melamine and treated resin for the production of melamine dishes making them durable and break-resistant plastic.
MELAMINE VS BONE CHINA
MELAMINE
BONE CHINA
Melamine is an organic-based, nitrogen-rich compound used to manufacture cooking utensils, plates, plastic products, and more.
Bone china is a type of clay that is made by combining bone ashes, feldspar, kaolin, clay, quartz, and other ingredients at a degree of 1200 Celsius.

Bone china is normally made in a similar way to Porcelain but there is a unique ingredient which is cow bones and because of the added cow bones ash much time bone china is put in a kiln at a slightly lower temperature.
Melamine dinnerware set is durable, break-resistant
Bone china is considered to be the higher quality ceramic used for tableware and is perfect for both everyday use and special occasion due to the fact that it is strong, durable, chip-resistant, and beautiful.
Melamine products are nearly impossible to break.
Bone china is a little difficult to keep up with; a little carelessness and Bone china breaks.
IS MELAMINE DANGEROUS?
Melamine is durable and safe dinnerware to use as long as you don't use it in the microwave. According to the Food and Drugs Administration (FDA), Melamine dinnerware is not safe in the microwave because of the leftover chemical that can leak into the food during microwaving.
Melamine microwave food and drink cause a lot of dangers to the body, dangers like kidney stones, kidney infection, high blood pressure.
DISADVANTAGES OF MELAMINE
Most products have their good and bad, so do Melamine. Melamine has its advantages and disadvantages. Let's look into the disadvantages below;
Excessive Intakes of melamine leads to health issues: as I explained above .Melamine and formaldehyde can leak into your food through microwaving and long time use of melamine to high temperature can risk kidney failure, kidney stone and bladder problems.
Hard to use: Melamine plates are non biodegradable because of its solidarity.
If the porcelain proof is damage, it is good to replace the tableware.
MELAMINE VS STONEWARE
| | |
| --- | --- |
| MELAMINE | STONEWARE |
| Melamine is sturdy, elegant, and durable. | Stoneware is a part of the Ceramic family, is fired at a high temperature, and usually has vitreous glass added to it for strength. |
| Melamine is not suitable for microwaves. | Stoneware is more opaque |
| Melamine is stronger than stoneware | Stoneware is fired at a high temperature to be strong, hard, and non-porous. |
MELAMINE VS PORCELAIN
| | |
| --- | --- |
| MELAMINE | PORCELAIN |
| Melamine is an organic compound created by combining melamine resin and strengthened materials. | Porcelain is a ceramic material that is made by heating kaolin, clays, feldspar, and silica in a kiln to a very high temperature from 2,200 and 2,600 degrees Fahrenheit. |
| Melamine is durable and the strengthened resin makes it easy to withstand dropping, resistant to scratches and breaks. | Porcelain is vitrified pottery with a white, fine-grained body that is usually translucent, as distinguished from earthenware, which is porous, opaque, and coarser. |
| Melamine is lightweight | Porcelain is heavier than Melamine. |
Melamine and porcelain dinner sets are durable and can be clean in the dishwasher.
Melamine and porcelain are used for eating.
CAN I PUT MELAMINE IN THE DISHWASHER?
Absolutely no, Melamine dinnerware cannot be used in the microwave because when you microwave dinnerware the leftover melamine resin in the dish can sneak into your superfood which is not healthy for the body when you eat from it.
IS MELAMINE BREAKABLE?
Melamine produced by strengthened resin material makes melamine impressively breakproof and chip resistant.
WHICH CORELLE DISHES CONTAIN LEAD?
Let's look into two aspects to answer the above question.
The Vintage Corelle dishes normally have decorations on them, and one of the materials used for the decoration has lead that is why Corelle has advised people to stop using Vintage Corelle for eating but can be used for decorative purposes.
Corelle pre- 2005 dishes
To avoid lead the pure white Corelle is best to use.
READ ALSO: WHICH CORELLE DISHES CONTAIN LEAD
WHICH DINNERWARE SET MATERIAL IS BEST FOR HEALTH?
Most brands have manufactured various dinnerware set for use but it is good to know the best dinnerware material that is safe for health.
It is easy to use any dinnerware set but if it contains harmful toxins that mean the dinnerware is not safe for health and toxins materials can leak into the food resulting in health problems.
Secondly, highly colored dinnerware sets are not safe for food but for decoration.
The best dinnerware set material for your health is the plain white bone china because it has no decoration glaze on it which makes you can use this dinnerware set without lead and cadmium leaking into your food.
Bone china dinnerware sets are durable, dishwasher safe, and microwave safe.
Note: Not all bone china products can be used in the dishwasher or microwave.
Corelle plain white dinnerware set.
Opalware dinnerware set.
Bamboo dinnerware set.
Anchor hocking dinnerware set.