Hey there! As an Amazon Associate, I earn from qualifying purchases. I greatly appreciate your support!
Most people are very cautious when it has to do with their blender and they often ask this question "Can you put hot liquid in a blender".
Without a doubt, everyone knows that a blender is an important kitchen appliance that helps take cooking to the next level.
Blender is equipped with powerful motor watts, blades, hard jars, and with its capacity, you can put hot liquid in it. But you have to know that not all blenders can handle hot liquid.
Most blenders jars are plastic and they can melt easily with hot liquid.
There are other things you need to know and consider before putting hot liquid in a blender. In this article, we will discuss various blenders that you can use to put hot liquid or various blenders that can handle hot liquid.
Let dive in;
CAN YOU BLEND HOT LIQUID IN A NINJA?
Ninja blenders are great blenders that add or bring great performance into your kitchen or cooking lifestyle.
Ninja blenders are designed to make smoothies, cocktails, blend frozen drinks, ice crushing, and more. They are easy to use, easy to clean, and long-lasting when handled with care.
Back to the question can you blend hot liquid in a Ninja?
Yes, the Ninja Foodi cold and hot HB 100 series blender can blend hot liquid as it is designed with an in-built heat iq combined with a high-speed blade ready to crush and blend with precision.
This Ninja Foodi blender can go beyond crushing ice, blending frozen fruit into smoothies just with the push of a button to perfectly unlock natural flavors with ease.
This Ninja blender help assists you in getting the right consistency you desire every time.
You don't need to worry, all attachments are BPA-free and also dishwasher safe. Not only that you can clean the blender at the touch of the cleaning program setting button making cleaning easy and perfect.
NOTE: When using your ninja blender to blend hot liquid you need to be careful because you are dealing with hot liquid and also do not fill the jar to the brim. It is best to stop half-line in the jar.
Not all ninja blenders can blend hot liquid.
CAN YOU PUT HOT LIQUID IN A BLENDER?
Yes, you can put hot liquid in a blender but there are things you need to pay attention to 1. The manufacturers' description 2. Features of the blender.
Below are blenders that can blend hot liquids;
BLENDTEC TOTAL CLASSIC ORIGINAL BLENDER FOR HOT LIQUID.
The Blendtec total classic original blender is a high-quality blender you can put your hot liquid. It can also be used for smoothies, shakes, cocktail drinks, soups, crushed ice (snow cones, margaritas), juicer, ice cream maker, mixer.
This Blendtec is good. No tamper or plunger is needed due to the patented technology which automatically pulls ingredients toward the blade, instead of spinning around in a circle.
The blades are 10x stronger and can handle hot liquid.
It is BPA-free. The four-sided jar is a 75-ounce volume jar with a 32-ounce blending capacity for wet or dry ingredients.
Blendtec blenders can heat soups and drinks through blade friction heat. Enjoy a warm meal or beverage in 6 minutes or less. Not only can Blendtec blenders heat your food, they can also make ice cream. Actual ice cream can be made with the exact same blender that makes soup.
INSTANT POT ACE NOVA COOKING BLENDER, (HOT AND COLD).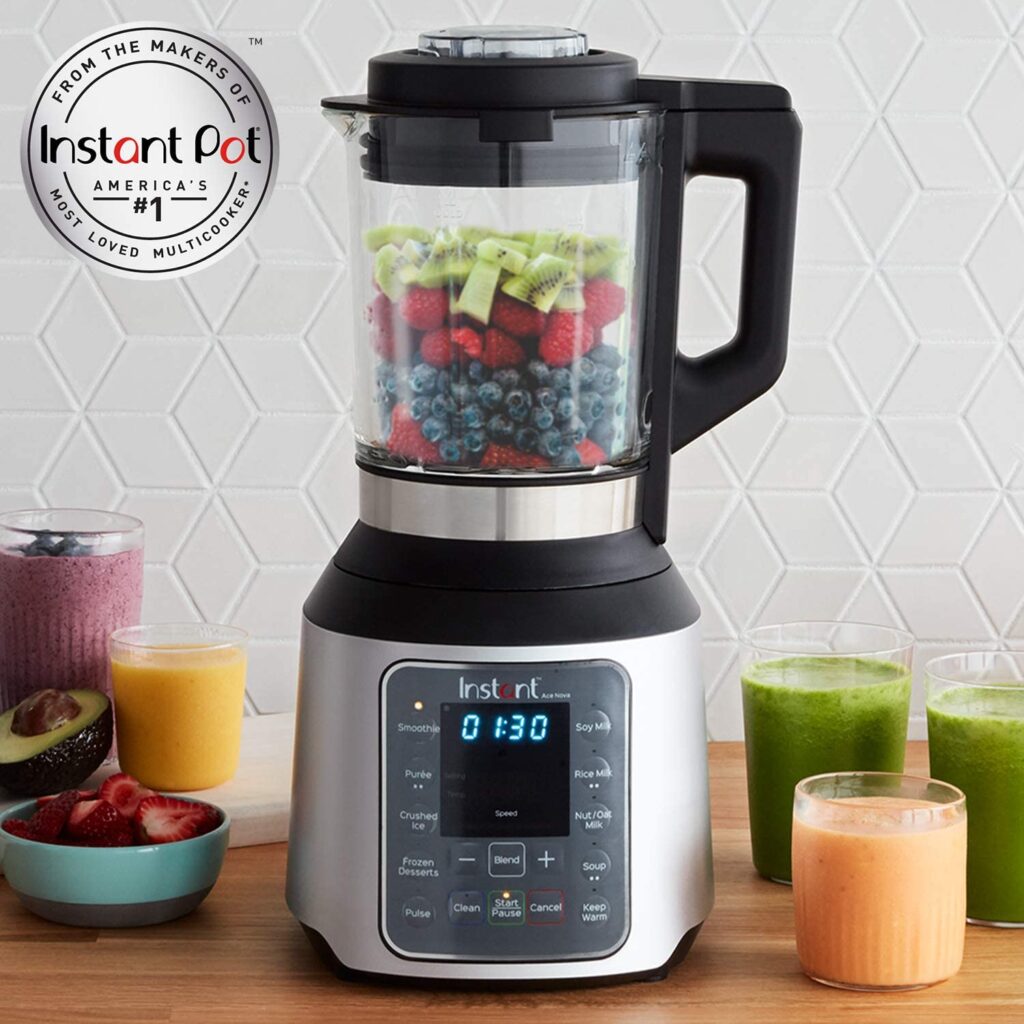 The Instant pot is a durable and versatile blender to make meal preparation a breeze. With 8 smart, one-touch programs and 3 manual speed settings, you can quickly crush, grind and blend ingredients to prepare all your favorites.
Easily and quickly make smoothies, icy treats, frozen desserts, oat milk, soy milk, and rice milk, or customize the cooking temperature for full control when cooking soups, purees, sauces, dips, and even baby food.
It has 4 hot-blending programs, that turn fresh ingredients into chunky soups, smooth purees, sauces, and more in no time. 4 cold-blending programs make it easy to whip up tasty dips, milkshakes, smoothies, and other cold beverages.
The instant Ace Nova has a concealed heating element so it can cook soups without having to puree them.
The smart program for cleaning removes most food and residue from the pitcher and blades in under 60 seconds. Any leftover mess is easily scrubbed away with the included cleaning brush.
HAMILTON BEACH PROFESSIONAL QUIET SHIELD BLENDER FOR HOT LIQUID.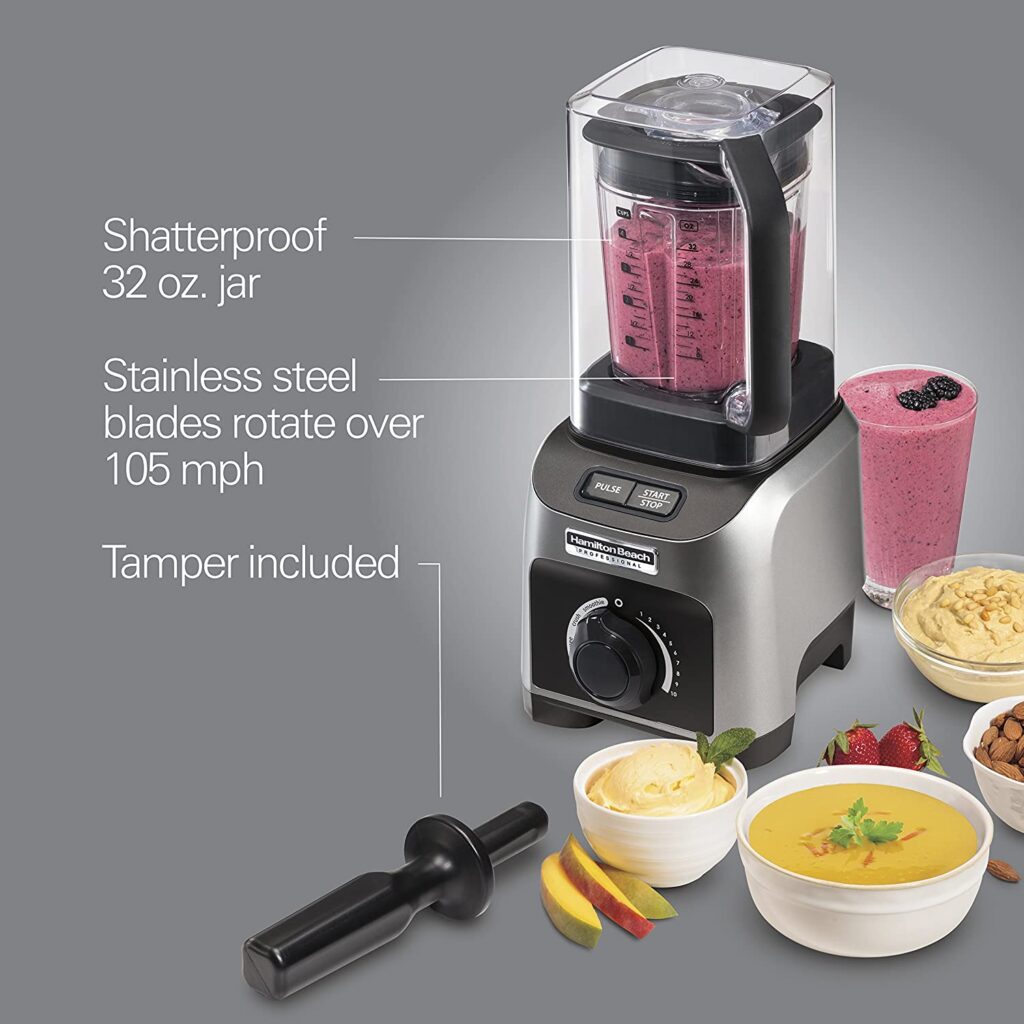 The Hamilton Beach Professional Quiet Blender has 1500 watts of power and a 2.0 peak horsepower motor that can handle hot liquid and is also able to deliver the performance you need for quality results.
The quiet shield reduces the amount of noise from your blender when placed over the jar, plus it doubles as a serving pitcher. It's also perfect for carrying ice from the freezer to the blender. Airflow around the motor and rubber-mounted components also helps to dampen noise during blending.
This blender's stainless-steel blades are hard and capable to rotate 105 mph to power through ice and tough ingredients in seconds.
Whether you're whipping cream or chopping up ingredients for fresh salsa, the variable speed dial gives you ultimate control over the blending process. The pulse function can be used at any speed for mixing, crushing ice, and chopping without over-processing to achieve the ideal texture.
The Four pre-programmed settings eliminate guesswork and offer one-touch convenience. For a smoothie, ice crush, and puree, simply add ingredients; choose the program by turning the dial, and press start. Use the clean setting for a quick wash. The blender automatically stops at the end of the program.
READ ALSO: WHICH NUTRIBULLET IS BEST FOR FROZEN FRUIT
READ ALSO: BEST BLENDER TO PUREE FOOD FOR ELDERLY
WHY CAN'T YOU BLEND HOT LIQUIDS?
There are reasons why you can't blend hot liquid;
Depending on the blender: If the manufactures manual indicates that the blender cannot be used for hot liquids, please do not blend hot liquid in it because it will damage the blender.
The motor: Some manufactures have a warning label against blending hot foods due to overheating the motor.
The blades: How well can the blades handle the heat. If you overload the blades with hot liquids, it might not blend the liquid properly well, meaning the desire consistency you want will not be there. Also, if the blades are not strong enough it will not withstand the heat.
Very important, if you know you are going to fill the jar to the brim, please do not blend because in the process of blending the hot liquid, it might slash on your face and cause severe burn.
CAN YOU BLEND HOT SOUP WITH A HAND BLENDER?
An immersion blender or hand blender is a kitchen tool used to blend fruits, soup, and ingredients into a fine texture.
An immersion blender is not like a regular or traditional blender. The hand blender which is known as a hand-held device has a motor at one end and blades at the other that move into the liquid.
Can you blend hot soup with a hand blender? Yes, you can but there are things that should be considered when blending hot food.
We have found out that when you constantly use hand blender to blend hot soup, the heat coming from the hot bowl along with the motor spinning can heat up the motor, which may lead to damage.
Before using hand blender to blend your soup, it is better to let it cool down a bit to avoid injury from splatter coming from the hot soup.
The immersion or hand blender bowl can break or crack over the time so it is best to use bowl that is heat proof.
When using hand blender to blend soup it is important to be careful how quick you use it.
CAN YOU BLEND HOT SOUP IN A NUTRIBULLET?
Yes, you can blend hot soup in a Nutribullet. The Nutribullet can extract, chop, puree, and also blend hot soup but not all Nutibullet can blend hot soup.
An example of a Nutribullet that can blend hot soup is Nutribullet RX.
Nutribullet RX has a 1700-watt motor that can break down the toughest ingredients for the silkiest smoothies, soup, and more.
It is designed with an in-built heating cycle for soup and sauces.
CAN YOU BLEND HOT LIQUID IN GLASS BLENDER?
Using a glass pitcher to blend hot liquid is safe because glass is one of the safest materials that do not leach chemicals to drink or food.
Glass pitchers will not melt easily unlike plastic pitchers.
CAN YOU PUT FOOD IN FOOD PROCESSOR?
Yes, a food processor is a kitchen appliance designed to assist in food preparation. The food processor can be used to chop, slice, shred, dice, blend, and more to ensure a fast and easy meal.
HAMILTON BEACH FOOD PROCESSOR
Hamilton Beach Food Processor is designed to make your kitchen life easier and also to deliver the best solution to your everyday needs.
The Hamilton Beach Food Processor has 450 watts and 2 speeds pulse that offer power and control for everyday variety of recipes.
Hamilton Beach Food Processor is designed to help you spend less time in food preparation and more time with your family.
The 8-cup bowl is large enough to handle most jobs and small enough for easy storage.
It has reversible disc slices, shreds, and stainless-steel blades which are strong to chop, mix, and puree.
The large feed chute can fit large food like a whole block of cheese for quick, easy processing and less preparation time.
CAN YOU BLEND HOT LIQUID IN VITAMIX?
Yes, you can confidently blend hot liquid in Vitamix. Vitamix blender is a great, durable blender that can confidently blend hot liquid.
Vitamix blenders are great products for food, beverages, and frozen fruits. They are also high performances blenders that meet your budget and fit your cooking style.
Vitamix blenders assist in making healthier meals for you and your household.
Examples of Vitamix blenders that can blend hot liquid;
THE VITAMIX PROFESSIONAL 750 SERIES BLENDER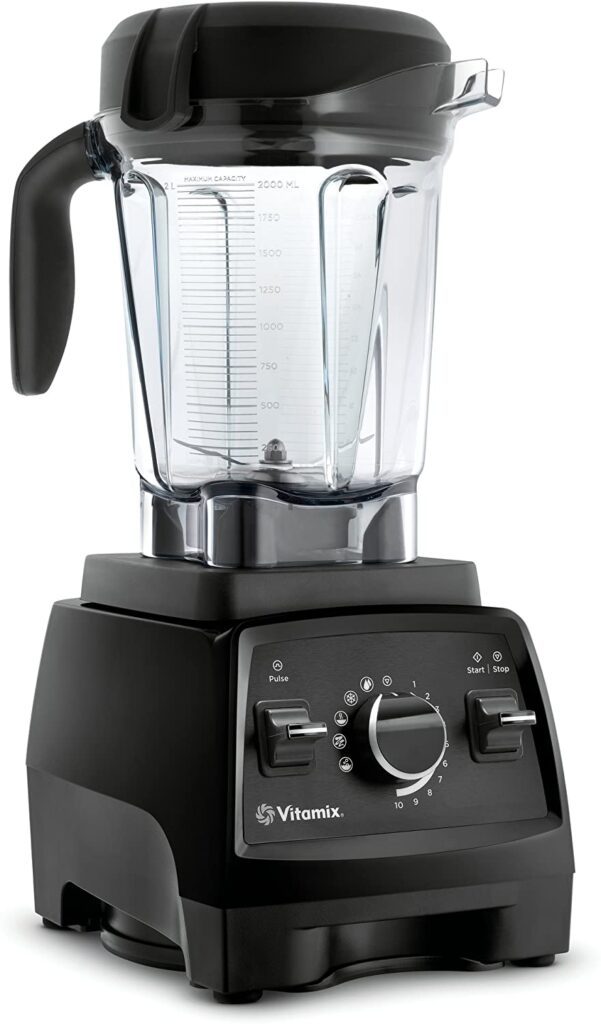 The Vitamix Professional 750 series is an automated blending blender that has five pre-programmed settings that ensure convenience, and consistent results for soup, smoothie, frozen dessert, and purée recipes.
The variable speed control and pulse feature let you manually fine-tune the texture of any recipe with you in control.
It has a Low-Profile 64-ounce container perfect for family meals and entertaining, and it can fit comfortably under most kitchen cabinets.
The Stainless-Steel Blades in charge of this blender is hard and they are designed to handle the toughest ingredients, so from the first blend to the last, you get the same quality results. The blades reach speeds fast enough to create friction heat, bringing cold ingredients to steaming hot in about six minutes.
It is self-cleaning, with a drop of dish soap and warm water, your Vitamix machine can clean itself in 30 to 60 seconds.
VITAMIX 5300 BLENDER
This Vitamix 5300 has a powerful 2.2 HP motor that propels blades through tough ingredients to create the highest-quality blends.
The dial can be rotated at any point during the blend, so you're in complete control to achieve a variety of textures.
With the Pulse feature, layer course chops over smooth purees for heartier recipes, such as chunky salsas or thick vegetable soups.
The 64-ounce Low-Profile Container is perfect to fit family meals and ceremonies. This Vitamix blender can handle hot liquid.
The 64-ounce Low-Profile Container is perfect to fit family meals and ceremonies. This Vitamix blender can handle hot liquid.
BLENDING HOT LIQUID IN NINJA
Ninja is a useful kitchen tool that can blend hot liquids. Not only that, Ninja is good at making your favorite drinks, crushing ice, and pulverizing tough ingredients. Not all Ninja blenders can blend hot liquid.
Another good Ninja blender that can confidently blend hot liquid is the Ninja nutria pro compact personal blender.
CAN YOU PUT HOT LIQUID IN A PLASTIC BLENDER?
Honestly, plastic is not an option when it has to do with our health, especially the water you drink, and the food you eat. Using plastic for either of the above is not that good. It is best to use glass or stainless bottles or cups for drinking and eating.
Back to the question can you put hot liquid in a plastic blender?
When it has to do with putting hot liquid in a plastic blender, you have to be very careful. Note this;
Some plastic pitcher contains BPA (Bisphenol A), can you imagine using an unsafe plastic pitcher for hot liquid, what do you think, it will leach chemicals into your liquid.
If you want to use a plastic pitcher for smoothies, use the one that is BPA-free.
We recommend glass pitches for hot liquid since it is safe and will not leach chemicals into your liquid.
READ ALSO: CAN YOU PUT HOT LIQUID IN THE MAGIC BULLET