Hey there! As an Amazon Associate, I earn from qualifying purchases. I greatly appreciate your support!
There are various blenders available and they come with different watts from various trusted brands to make your kitchen life easier and also improve your overall health.
For you to blend frozen fruits, you will need a blender with higher watts of power in order to get the actual result or the consistency you desired, now the question is; ''How many watts do you need to blend frozen fruits?''.
Frozen fruits in their state have gone through a process (freezer), in their frozen state you don't need lower watts of power to get the work done because it might not give you what you really want and this, the blender will not last long.
Actually, lower watts of power can blend fruits that are not frozen.
In this article, we are going to show you the right watts you need to get your frozen fruits blended perfectly and tips to help maintain the blender for long-lasting.
Let's dive in
HOW MANY WATTS TO BLEND FROZEN FRUITS?
Fruits are very essential and important to the body. They are good in minerals, vitamins, and antioxidants.
If you want to improve your overall health, the high-performance motor watts range from 1000 watts and above are able to blend frozen fruits in a simple, easy, and convenient way to get your health drinks ready to perform their nutritious duties.
Not only frozen fruits, but the above watt is also capable of crushing ice and blending hard ingredients.
HOW MANY WATTS DOES A BLENDER USE?
Blenders are important kitchen tools that go a long way in getting everyday kitchen recipes done in a simpler way.
Blenders are useful and manufactured in different designs, models, motor watts, and have the capability to perform several functions and create something smooth and uniformly pureed. Blenders come in different watts according to your kitchen needs.
Now the answer ''Depending on what you are blending and how you use the blender will determine the watts the blender will use''.
If you will use your blender occasionally like whipping up dips, blending soft fruits, or making milkshakes, a blender with less than 600 watts will work for you.
If you will be using the blender frequently, maybe making smoothies, blending vegetables, frozen fruits, and ice, you will value the power of a blender with 1000 watts and above.
If you will be blending regularly and appreciate a silky smooth consistency, you will go for a blender with 1300 watts or higher.
HOW MANY WATTS DO YOU NEED TO BLEND FROZEN FRUITS?
For you to successfully blend frozen fruits in an easy, simple, quick, and convenient way, you need higher watts of 800 watts and above. The higher the watts, the better and quicker the blender will blend frozen fruits into the consistency you need.
BEST BLENDER FOR FROZEN FRUIT
Below are the best blenders that can perfectly blende frozen fruit in an easy and fast way;
NINJA PERSONAL BLENDER FOR SHAKES, SMOOTHIES, FOOD PREP, AND FROZEN BLENDING.
NINJI PROFESSIONAL 1000-WATT BASE AND TOTAL CRUSHING TECHNOLOGY FOR SMOOTHIES, ICE, AND FROZEN FRUIT.
OSTER BLENDER | PRO 1200 WITH GLASS JAR, 24-OUNCE SMOOTHIE CUP FOR FROZEN FRUIT
BIOLOMIX HEAVY-DUTY PROFESSIONAL BLENDER, PEAK 2200 WATT FOR FROZEN FRUIT.
BLENDTEC TOTAL CLASSIC ORIGINAL BLENDER
Below are explanation of the above;
NINJA PERSONAL BLENDER FOR SHAKES, SMOOTHIES, FOOD PREP, AND FROZEN BLENDING.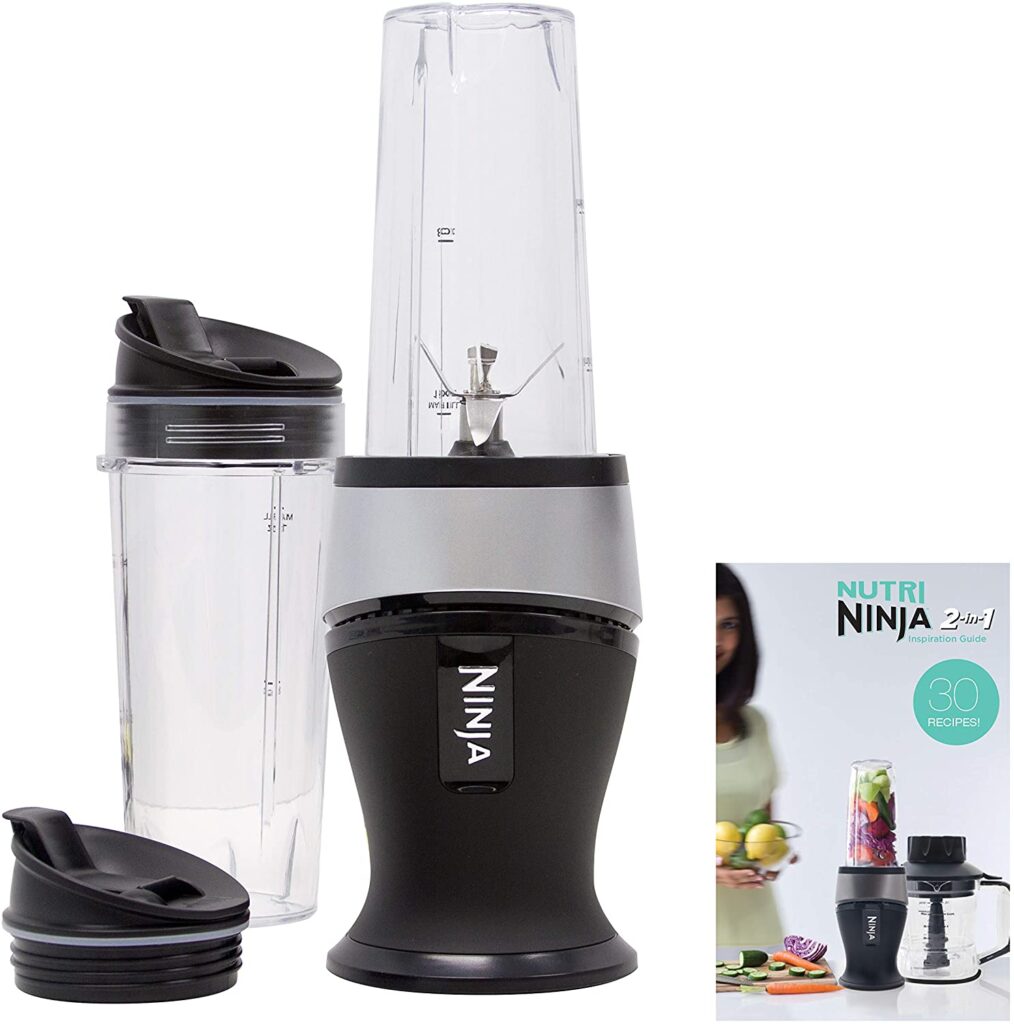 This blender is designed to fit your lifestyle. With a 700-watt motor, the Ninja Fit Personal Blender pack is capable of enough power to break down whole fruits, and tough ingredients like leafy greens, nuts, and seeds create nutrient extractions, you can take on the go.
This Ninja blender can crush ice and frozen fruit for cold drinks and smoothies
This personal blender includes a 700-watt motor and two 16 oz, Nutri Ninja cups with to-go lids that fit in most car cup holders.
Nutri Ninja cups, lids, and blade assembly are all BPA-free and also dishwasher safe.
This blender comes with a 50 recipes inspiration guide to help you experience other dishes and healthy drinks.
NINJI PROFESSIONAL 1000-WATT BASE AND TOTAL CRUSHING TECHNOLOGY FOR SMOOTHIES, ICE, AND FROZEN FRUIT.
This 1000 watt of professional power can crush ice frozen fruits and break down any tough ingredient.
The 72 oz professional blender pitcher is excellent for making frozen drinks and creamy smoothies for the entire family, 64 oz. max liquid capacity
The Total Crushing Technology delivers unbeatable power with blades that pulverize and crush through ice, whole fruits, and vegetables in seconds.
This 1000w can blast ice into snow in seconds and blend your favorite ingredients into delicious resort-style frozen drinks.
This 1000 watts power blender comes with a recipe guide to provide and inspire you in making fresh drinks and dishes.
The Pitcher is BPA-free and dishwasher safe, making cleanup just as simple and easy as using the blender.
OSTER BLENDER | PRO 1200 WITH GLASS JAR, 24-OUNCE SMOOTHIE CUP
Blending just got better with the Oster Pro 1200 Plus. You can make everything fresh and delicious with this blender's versatility and performance.
The powerful motor impresses any chef as it blends through the ice, greens, frozen ingredients, and more into the consistency you need.
This Oster Pro 1200 Blender plus Smoothie Cup has a powerful motor that consistently crushes ice, pulverizes greens, and turns frozen fruit into sorbet.
The wide base allows foods to flow freely down to the blade for faster and smoother results, and the dual-direction technology spins the Crush Pro 6 Blade forward and reverses motion, optimizing the blade's power to chop, grind and blend all types of foods with precision.
The dual direction blade technology helps for extra blending power to chop and grind with precision extra.
The smart settings are conveniently programmed to blend the perfect smoothies, salsas, and milkshakes in just one touch.
The 6 cup dishwasher-safe Boroclass glass jar can withstand the thermal shock blend in the included 24 oz. smoothie cup, and then take it with you to work, on your walk, and more.
It has10 a year's warranty.
BIOLOMIX HEAVY DUTY PROFESSIONAL BLENDER, PEAK 2200 WATT.
The peak 2200W (rated 1500W) commercial-grade motor with hardened 6 stainless steel can easily break ice cubes and frozen fruits into better consistency, and the whole food nutrition work thoroughly pulverizing the fruits, vegetables, seeds, nuts, and much more.
The variable speeds allow you to handle a variety of ingredients, use the 6-speed control knob to go between low and high speeds, even while mid-blend. Tap or hold down the switch to pulse foods like ice cubes, chunky salads, nuts, and grains.
Easily adjust the speed during blending to deliver smooth results for your favorite blends. The Pulse function helps blend on maximum speed and efficiency.
The 70 oz/2L food safety plastic Pitcher is convenient, lightweight which is free from the potentially harmful Bisphenol A, and is also extremely durable and hard-wearing.
The jar is also conically shaped which helps food to be drawn down into the blades more effectively creating a smoother and finer result.
For cleaning, no need to remove the blades or disassemble the blender, with a drop of dish soap and warm water at the highest speed, your BioloMix can clean itself in 30 to 60 seconds. The non-slip base and noise reduction rubber cushion make it much quieter than those in the market
It comes with an extended 7-Year warranty for the motor and a 1-Year warranty for all parts and accessories.
BLENDTEC TOTAL CLASSIC ORIGINAL BLENDER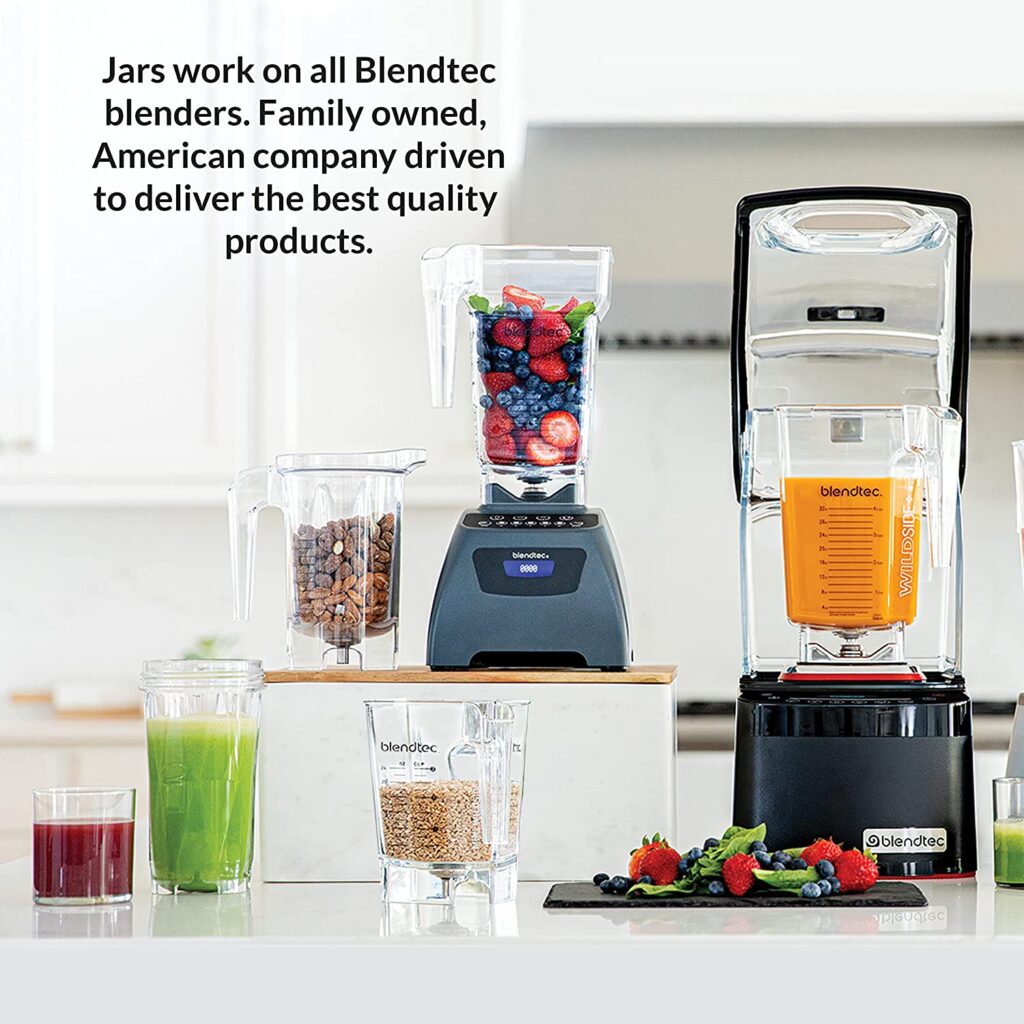 Blendtec blenders significantly are high-quality blenders that reduce meal prep time and cleanup.
The Blendtec technology advanced blender and jar design create a vortex, which pulls food towards the blade instead of pushing it to the sides of the jar
With Blendtec jars, you won't waste time tending your blends with a tamper to get all the ingredients down into the blades, and no tamper means one less thing to clean when you're done.
Blendtec blenders can also heat your food during the blend cycle. For instance, if you want soup for dinner, a Blendtec blender can blend it up and heat it up at the same time so it's ready to serve straight from the blender jar. No need to heat your soup in a pan.
Not only can Blendtec blenders heat your food, but they can also make ice cream. Actual ice cream can be made with the exact same blender that makes soup.
Drinks, appetizers, main courses, and desserts can all be made with the same blender using the same jar. The time it takes to make each course could be measured in seconds, not minutes or hours.
Self-cleaning: With the addition of a little soap and water, your jar can clean itself in less than 1 minute.
READ ALSO: BEST BLENDER FOR GRINDING RICE
READ ALSO: MEAT GRINDER VS BLENDER
READ ALSO: WHICH NUTRIBULLET IS BEST FOR FROZEN FRUIT
READ ALSO: WHAT IS THE BEST JUICER BLENDER COMBO
POWER WATTS VS BLENDING WATTS
Power watts: is the measurement of energy flow to generate power. The power of the blender is measured in watts.
For a blender, the power watts determine how powerful and effective the blender work and also the things the blender can handle. A power watt is what helps the blender work conveniently.
While blending watts is the wattage the blender requires or needs for use.
BLENDING FROZEN FRUITS
Blending frozen fruit requires an excellent blender that can confidently blend frozen fruit perfectly and blenders that are suitable with higher watts for blending frozen fruit.
As you might know if you put frozen fruit into the jar of the blender and put the lid on when you start the blender it creates a sort of vertex pulling down ingredients towards the blades and causing them to blend together.
In order to get a perfect texture and also keep the blender safe, it is best to allow the frozen fruit to thaw a bit after you bring the fruit out from the freezer.
Always remember that there is a mark on the jar of the blender, do not exceed it, when putting ingredients so that the blender can breathe, and feel comfortable while blending.
BLENDER WATTAGE FOR SMOOTHIES
We have various blenders that can do a great and perfect job for smoothies. Below are some examples of blenders for smoothies with watt:
| | |
| --- | --- |
| BEST BLENDERS FOR SMOOTHIES | WATTS |
| Magic Bullet Personal Size BlenderFor Shakes Smoothies and Sauces. | 250 Watts |
| Personal Blender, REDMOND Powerful Smoothie Blender | 300 watts. |
| Nutribullet Blender Combo for smoothies, Sauces, Shakes, nut butter, and Soup. | 1200 Watts |
| Hamilton Beach Blender for Smoothies, Puree, shakes, and ice crushing | 700 Watts |
| Ninja Nutri Pro kitchen Blender for ice cubes, smoothies, and veggies. | 1100 Watts |
| Professional Blender for smoothies, frozen fruit, veggies, shakes, and soup. | 2200 Watts |
| Foodi Power blender for smoothies, frozen fruits, dough, and processor system | 1400 Watts |
BLENDER WATTAGE GUIDE
Wattage is important when it comes to blenders. Wattage is the power or strength of a blender.
For you to know how powerful the blender work is through the wattage. So do not ignore blender wattage but pay attention to the power wattage when you want to purchase a blender because is what you need to conveniently and easily blend your stuff.
Furthermore, the wattage in a blender has the work it can handle. For instance, a 1000 wattage can crush ice, grind rice, blend frozen fruits and hard ingredients while 250 watts cannot handle the above.
IS 1200 WATTS A GOOD BLENDER FOR FROZEN FRUITS?
Yes, 1200 watts is a good candidate blender for frozen fruits. A 1200 watts is a good blender that pulls down whole frozen fruits into the spinning blades to get a better consistency.
IS 250 WATTS GOOD FOR BLENDER?
A 250 watts is good for a blender. A 250 watts of blender can blend your favorite soft fruits, not frozen fruit. You can also make smoothies, shakes, baby food, and morning protein drinks in a convenient and easy way with a 250 watts blender.
HOW MANY WATTS DOES A BLENDER NEED TO CRUSH ICE?
For you to confidently crush ice in a blender to enjoy your cold drink, you will need a blender with a powerful motor watts and blade type.
A watt that ranges from 600 watts to higher watts can handle and crush ice smoothly.
READ ALSO: SMOOTHIE BLENDER