Hey there! As an Amazon Associate, I earn from qualifying purchases. I greatly appreciate your support!
Every home has a space where cooking is being carried out because cooking is a vital activity of our daily life.
Various cookware sets have been manufactured for use in homes as well as commercial purpose and Circulon is one of them.
Circulon is a brand known for its raised circles on the surface of the cookware. Most people often ask this question "is Circulon cookware safe? Can it be used to prepare healthier meals?
Keeping reading to find out answers to most questions concerning Circulon cookware;
CIRCULON COOKWARE REVIEW
The Circulon Cookware set was created by Meyer Corporation in 1984 as one of the first hard-anodized non-stick cookware for high-rank safe non-stick performance. One distinct feature of the Circulon Cookware set is the raised circle on the surface for cooking with little or no oil.
Circulon non-stick coatings have undergone a production process and are formulated to resist peeling or chipping with normal use. However, even if accidentally peel and eaten, the non-stick particle will not be absorbed because Circulon Total non-stick system is non-toxic.
All Circulon Cookware sets have passed through Regulatory agencies worldwide to make sure that each piece is safe and has been concluded that PTFE non-stick manufacture without the use of the PFOA is not a risk to consumers.
Only the Circulon line has the patented food-release system and trademark ridged coil at the bottom.
Circulon rubberized cast stainless steel handles provide a comfortable grasp. It distributes heat evenly without hot spots.
The Circulon Cookware comes in various collections like; Symmetry, Elementum, Momentum, premium, and Radiance.
The Circulon cookware comes in saucepan design, induction, non-stick casserole, pan, and cookware set with lid.
IS CIRCULON COOKWARE SAFE?
The Circulon Cookware is perfectly safe and non-toxic for effectively cooking. Regulatory agencies worldwide have concluded that PTFE non-stick manufacture without the use of the PFOA is not a risk to consumers. Circulon has a circle pattern that helps in the non-stick process.
Circulon is a brand known for its raised circles on the surface of the cookware. The raised circles on the surface reduce abrasion, increase durability, and non-stick capability for metal utensils safe, easy food release, and breeze clean up.
WHAT IS CIRCULON MADE OF?
The complete Circulon ware is made of non-anodized aluminum with a dark grey brushed finish.
You might be worried why aluminum may be because of what you have heard or read about aluminum leaches and reacting with acidic foods. Let me give you a clear understanding.
Aluminum is a good heat conductor and can be cured with two options, either a non-stick layer or anodization.
Anodized aluminum is treated with an electrochemical process that completely reduced aluminum reaction with the food.
READ ALSO: WHERE IS VIKING COOKWARE MADE
READ ALSO: CAN YOU TEFAL INDUCTION PANS ON A GAS HOB
IS CIRCULON HARD ANODIZED COOKWARE SAFE?
Circulon uses hard anodized for their cookware and you might have heard that hard anodized cookware is twice as hard as stainless steel cookware.
For over 30 years Circulon has refined its hard anodized cookware to ensure they offer superior cooking performance.
Hard anodized cookware is safe because the cookware is PFOA-free, non-toxic, and has been coated in a process that seals it and doesn't allow the metal to leach into food or react to acidic foods.
Circulon hard anodized cookware is durable and highly resistant to resistant scratches, abrasion, and corrosion to ensure the best out of every kitchen.
Hard anodized skillets are excellent heat conductors. Due to the material's thicker gauge, heat is conducted evenly with no hot spots and spreads evenly over the skillet to ensure perfectly cooked meals at all times.
When it comes to using hard-anodized cookware for cooking, do not use cooking sprays that contain chemical propellants.
Hard-anodized cookware is best to be clean by hand washing using dish soap and warm water.
READ ALSO: IS IT SAFE TO COOK WITH STAINLESS STEEL
READ ALSO: CAN I PUT MY PUT MY SWISS DIAMOND PAN IN THE OVEN
CIRCULON RADIANCE HARD ANODIZED NONSTICK COOKWARE
This Cookware set has all the elements for great cooking and is constructed from super-tough, hard-anodized aluminum for even heating with maximum durability
Pots and pans feature a total Nonstick System of raised circles and triple-layer, PFOA-free, metal utensil safe nonstick for natural food release and easy cleanup that lasts ten times longer than normal nonstick.
The dual riveted stainless steel handles with silicone grips ensure comfortable to hold and the shatter-resistant tempered glass lids seal in heat and moisture, straining lids act as a built-in colander.
It distributes heat evenly with no hot spot. Oven safe up to 400 degrees Fahrenheit.
1-Quart Straining Saucepan with Lid
2-Quart Straining Saucepan with Lid
6-Quart Stockpot with Lid, 3-Quart Saucé Pan with Lid,
10-Inch Frying Pan,
8.5-Inch Frying Pan
CIRCULON SYMMETRY DISHWASHER SAFE HARD ANODIZED NONSTICK POTS AND PANS SET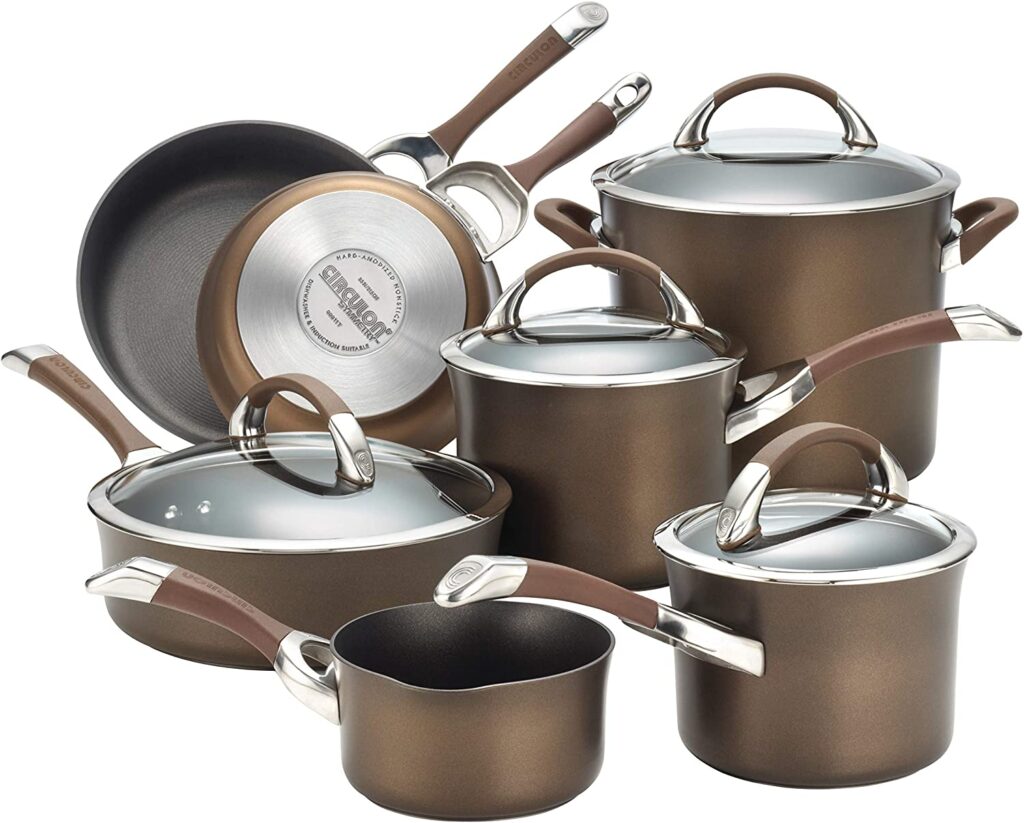 POTS AND PANS SET INCLUDES: 1-quart Pouring Saucepan, 2-quart and 3-quart Covered Saucepans, 8-quart Covered Stockpot, and 8-1/2-Inch and 10-Inch French Skillets, 3-quart Covered Sauté.
Enjoy the results of cooking healthy, delicious foods with this versatile, stylish Circulon Symmetry Chocolate Hard-Anodized Nonstick 11-Piece Cookware Set.
The induction-suitable cookware's heavy-duty hard-anodized construction is twice as hard as stainless steel for long-lasting performance that's also dishwasher safe.
The cast stainless steel handles are enhanced with rubber to provide a comfortable grasp and shatter-resistant glass lids have wide stainless steel rims to seal in heat and moisture.
It is PFOA Free, Oven safe up to 400°F. The cookware is fitted with impact-bonded stainless steel bases which make it compatible with all stovetops, including induction, and is 10 times longer than ordinary nonstick.
Finally, this dishwasher-safe cookware set complements many other items in the Circulon collections.
CIRCULON SYMMETRY HARD ANODIZED NONSTICK FRYING PAN SET
SET INCLUDES: 9-Inch and 11-Inch Nonstick Frying Pans are induction-suitable
The pan is constructed with heavy-duty hard-anodized aluminum for fast, even heat and it offers lasting durability.
It is PFOA free, easy to use, and clean. These pans can be used for eggs without the egg sticking to the surface.
The raised circle helps food released easily and fast. The: Rubberized stainless steel handles offer a comfortable grasp to touch.
This Circulon frying pan nonstick is an advanced technology that adds joy while cooking. For proper use, it lasts 10 times longer than ordinary nonstick.
CIRCULON RADIANCE DEEP HARD ANODIZED NONSTICK FRYING PAN
The Circulon durable Radiance deep fry pan features hard-anodized aluminum construction for long-lasting durability and fast, even heating without hot spots.
The Deep frying pan is versatile, durable, and dishwasher safe for fast and easy cleanup.
This Deep skillet is sturdy, with a dual-riveted stainless steel handle and shatter-resistant glass lid for kitchen use.
It is oven safe to 400 degrees Fahrenheit and can go from stove to oven.
It comes with a lifetime warranty.
CIRCULON HARMONY UTENSIL KITCHEN COOKING TOOLS SET
These Circulon kitchen utensils have what it takes to give you a complete kitchen and are perfect for all your cooking and baking needs.
This five-piece utensil set includes a slotted turner, solid spoon, slotted spoon, ladle, and small cleaning brush. It is perfect for stirring, flipping, serving, and strain resistance.
The Turners, spoons, and ladle are ideal tools for cooking with every kind of nonstick or stainless steel cookware and bakeware.
The Rubberized handles are perfectly made to offer a soft, confident grip when turning, stirring, and serving when cooking with these kitchen utensils.
It is designed to stay organized for space-saving storage by hanging it.
These Kitchen tools are dishwasher safe for a quick clean when you are done using them.
CIRCULON MOMENTUM STAINLESS STEEL NONSTICK COOKWARE SET
The cookware has raised circles that make food release easy and cleanup effortless. It is PFOA-free and metal utensil safe.
This high-performance Circulon nonstick Momentum Stainless Steel pot and pan set has what it takes for all-range cooking performance with its nonstick technology. It is also dishwasher-safe convenience.
The Fully-encapsulated stainless steel base conducts heat quickly throughout the cookware for quick cook and the exteriors mirror-polished are easy to clean.
This set is versatile, durable and Oven safe to 400 degrees F. the shatter-resistant glass lids and dual-riveted silicone-enhanced stainless steel handles are also oven safe.
Note: when using your cookware in the oven use a potholder or oven glove.
It has a full Free Lifetime Guarantee.
This set Includes 1-qt Pouring Saucepan, 2-qt Saucepan with Lid, 3-Quart Sauté Pan with Lid, 6-qt Stockpot with Lid, 10-in Frying Pan with Lid, 8-in and 11.5-in Frying Pans.
CIRCULON SYMMETRY HARD ANODIZED NONSTICK COOKWARE UTENSIL AND RECIPE BOOKLET SET
Inside the box contains: 8.5-inch frying pan, 5.5-quart casserole with locking colander lid, 12-inch essential pan with lid, 13.25-inch nylon slotted turner, 13.25-inch nylon solid spoon, 28-page recipe booklet
This kitchen cookware and cooking utensil set feature durable hard-anodized aluminum construction with impact-bonded stainless steel bases for ultra-tough performance on any cooktop, including induction.
Circulon nonstick technology is so advanced with its nonstick raised circles and triples layer quality for long-lasting food release and easy cleanup. It lasts 10 times longer than ordinary nonstick to give you a perfect cooking experience.
The recipe booklet helps you create and try more meals. It is PFOA-free for healthy superfoods.
This Nonstick cookware set has sleek, rubberized cast stainless steel comfortable handles that you can hold for cooking. The tempered glass lids with wide stainless steel rims are sealed in heat and flavor while you watch foods cook.
This set of Circulon hard-anodized nonstick cookware is dishwasher safe for easy cleanup and oven safe to 400 degrees F.
READ ALSO: CAN I USE LE CREUSET PAN ON INDUCTION HOB
READ ALSO: IS SCANPAN REALLY SAFE
HOW LONG DOES CIRCULON PAN LAST?
As pioneers of Circulon non-stick products, we guarantee our products will last you a lifetime. But there are important steps to follow to ensure your pan lasts a lifetime.
HOW TO USE AND CARE FOR CIRCULON COOKWARE?
One striking feature of the Circulon pan is that you can use it to cook food without a drop of oil and anything stuck on the surface. But before you start cooking, it is a good idea to season your pan.
For a long-lasting of your pan use wooden or silicone utensils.
Avoid sprays that contain lecithin, an emulsifier that builds upon the surface of your pan and can become impossible to remove, instead dip a paper towel into your cooking oil of choice and rub it over the cold surface of the pan prior to cooking.
Circulon pans don't need as much heat because they are even. So, it is best to use a low or medium setting for cooking to prolong the life of your pans.
Circulon pans are dishwasher safe. To keep your cookware lasting a lifetime we do recommend hand washing for best results.
CIRCULON TOTAL NON-STICK SYSTEM
Circulon Total non-stick system is the advanced technology with triple-layer non-stick which provides exceptional food release and is suitable for all hobs including induction.
IS CERAMIC COOKWARE SAFE?
Ceramic cookware is safe, non-toxic, and does not leach or emit potentially harmful fumes. 100% Xtreme cookware is the best ceramic cookware that ensures healthy meals.
WHAT IS THE SAFEST COOKWARE FOR YOUR HEALTH?
Safest cookwares are cookware that will not leach any harmful metal or substance into your superfood. It ensures safe and healthy meals.
Glass cookware.
Stainless steel.
Lead-free ceramic cookware.
Cast iron.
Graniteware.