Hey there! As an Amazon Associate, I earn from qualifying purchases. I greatly appreciate your support!
Every home has dinnerware that is used for serving and eating. A dinnerware set is a must to have because is very important to humans.
For most people that love using dinnerware for reheating and microwaving food, it is important to know if the products can be used in the microwave.
In this article today, we are discussing melamine dinnerware often question that has been asked: Can melamine dinnerware be used in the microwave"?
Melamine dinnerware is durable, lightweight, break-resistant, easy to store, and dishwasher safe but microwave is not an option for it.
Let's read below to see more interesting facts about melamine dinnerware;
WHAT IS MELAMINE?
Melamine is a chemical that is combined with formaldehyde and other agents to produce melamine formaldehyde.
Melamine formaldehyde is treated by heating before it is used to manufacture plastic plates, bowls, cups, and utensils.
Melamine is made in various colors and styles making it a versatile product.
CAN MELAMINE DINNERWARE BE USED IN THE MICROWAVE?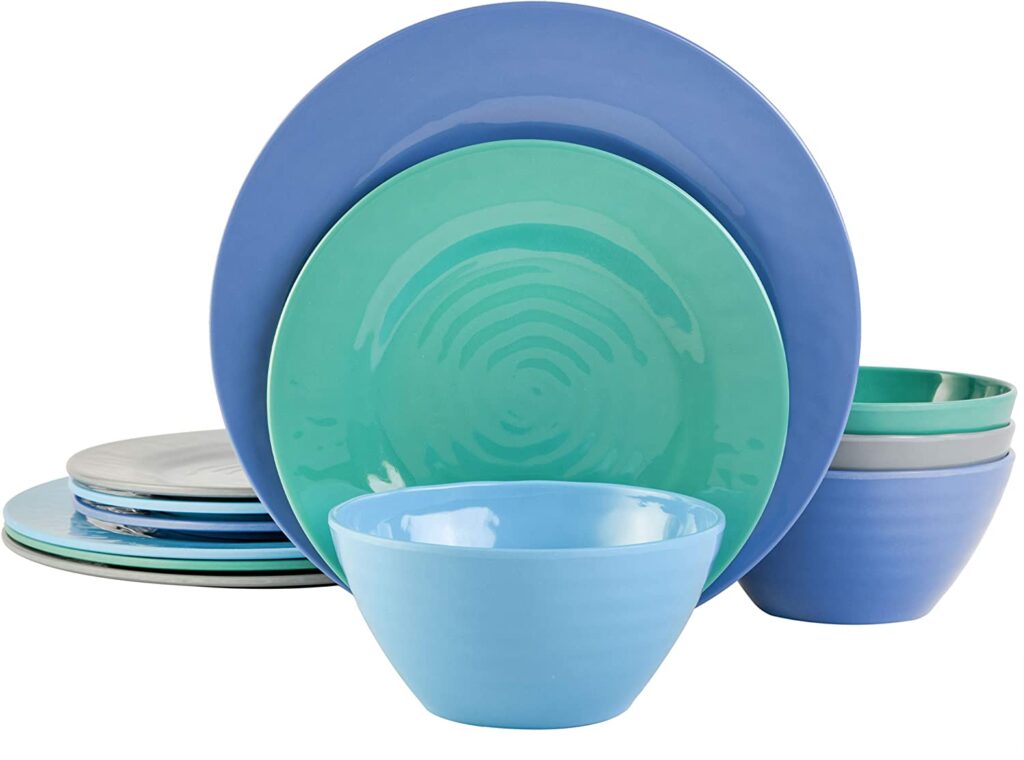 Absolutely no. Melamine dinnerware cannot be used in the microwave because when you microwave food with Melamine dinnerware the leftover melamine resin in the dish can sneak into your food which is not healthy for the body when you eat from it.
IS MELAMINE TOXIC?
Melamine dinnerware is safe to use. Melamine can be toxic to the body when you take in microwave food. It is best you put aside Melamine products from a high-temperature oven and microwave.
CAN YOU PUT MELAMINE IN THE DISHWASHER?
Melamine dinnerware is safe to put in the dishwasher. Melamine dinnerware is break-resistant making it safe in the dishwasher without worries.
MELAMINE MICROWAVE DANGERS
Melamine is a durable and safe dinnerware to use. According to the Food and Drugs Administration (FDA), melamine dinnerware is not safe in the microwave because of the leftover chemical that can leak into the food during microwaving.
Melamine microwave food and drink can cause a lot of dangers to the body.
Dangers like kidney stones, high blood pressure, kidney failure, and kidney infection.
MICROWAVE SAFE PLATES
Microwave safe plates are plates that indicate use in the microwave. If you need a microwave-safe plate, below are recommended plates;
UNBREAKABLE MICROWAVE-SAFE DINNER PLATE.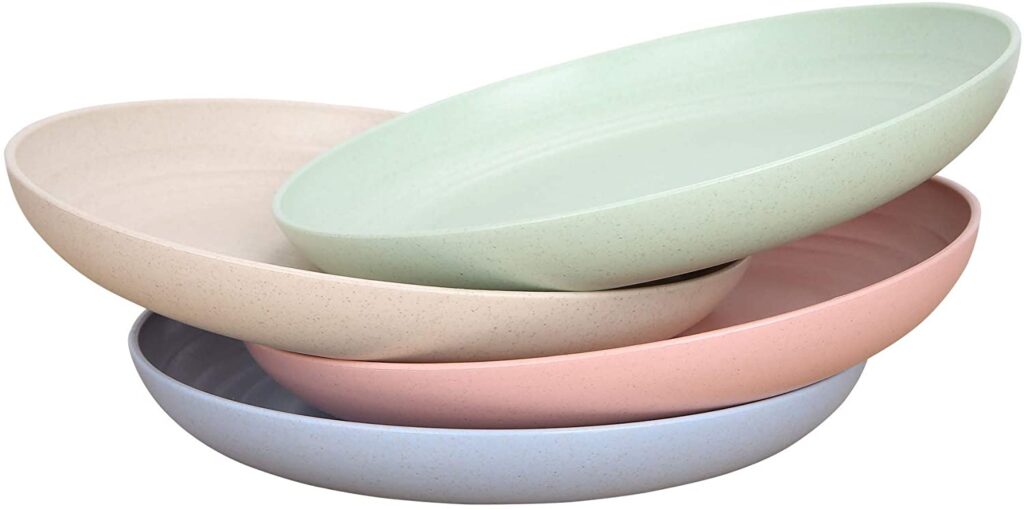 These dinner plates are lightweight, chip-resistant, scratch-proof, and ultra-durable wheat straw plates. You can throw, push, and knock this dinnerware around without a break because they are unbreakable.
These wheat straw table wares are environmentally friendly, renewable as well as sustainable, making them non-toxic, BPA-free, phthalate-free, PVC-free, lead-free, cadmium-free.
These plates are easy to clean, dishwasher and microwave safe.
This unbreakable wheat straw dinnerware set fits perfectly well into any kitchen decor. No matter your taste, their styles look great in every environment. They're also stackable, making storage easy.
They are perfect for all occasions including picnics, parties, gifts, camping, outdoors, and kitchen table.
GONIOA 10 INCHES UNBREAKABLE WHEAT STRAW PLATES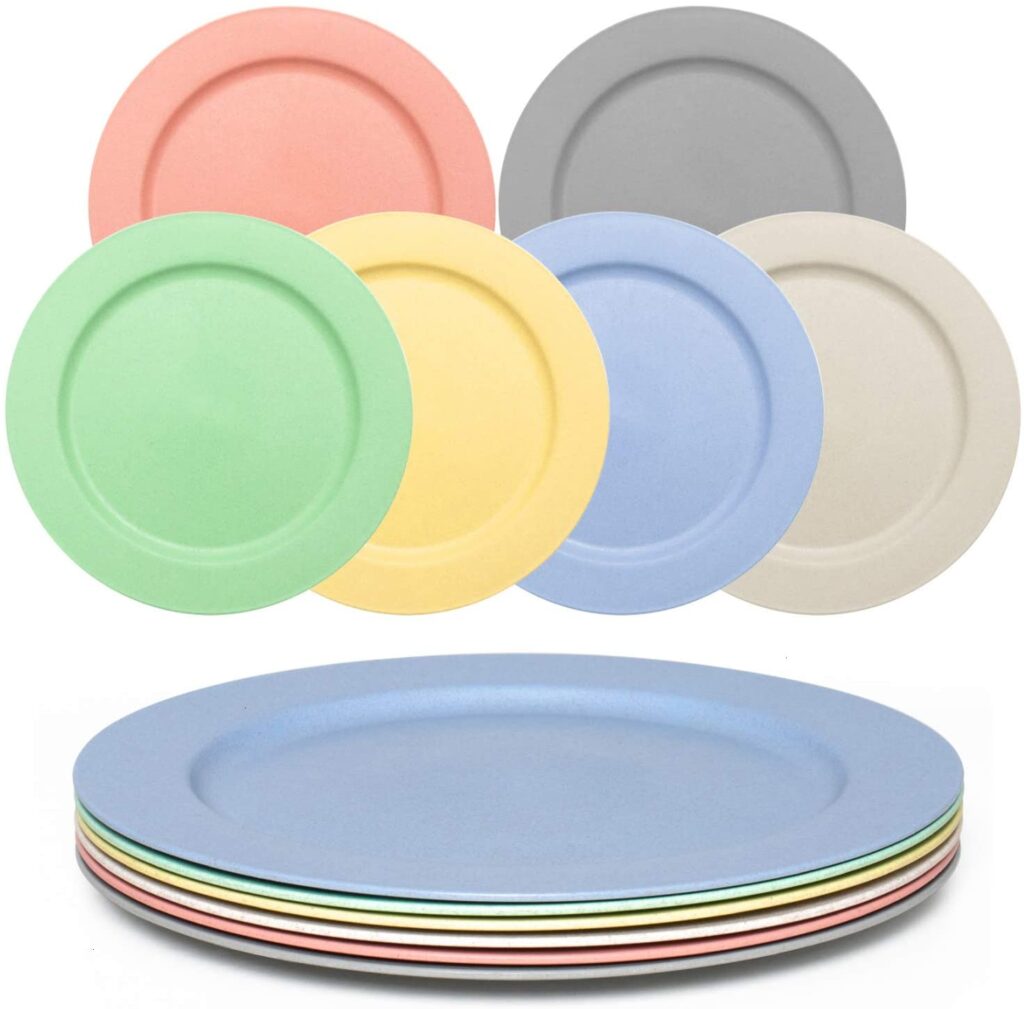 This Gonioa microwave plate is made from natural wheat straw. It is food-safe and BPA-free. It contains no heavy metals making it safe and healthy for your family
These dishes are easy to clean, easy to handle, durable, and unbreakable. They are a great replacement for Paper plates.
The plates are the perfect set for sandwiches, bread, and butter, dessert, salad, appetizer, etc. The design, color, and appearance fit any kitchen style.
The 10 Inches are designed with space-saving style without occupying much space in your kitchen cabinet.
It is safe for use in the dishwasher and microwave. Note that the temperature of the microwave oven should not exceed 120 ℃.
CORELLE WINTER FROST WHITE LUNCH PLATES SET
This set features simple and elegant all-white pieces, perfect for complementing your existing dinnerware.
All pieces are made of Corelle triple-layer strong glass, which is break and chip resistant, lightweight, and easily stackable for space-saving.
They are Ultra-hygienic, dishwasher safe, and easy to handle.
This non-porous and versatile dinnerware can be used in the microwave and oven.
SWEESE PORCELAIN DINNER PLATES
The unique square shape design makes an amazing presentation on your table, and the assorted colors add a stylistic touch and brighten up your life. They are perfect for pasta, salad, sandwiches, and steak.
These plates are stackable and do not take up a lot of space in your cupboard. They are easy to clean, you can wash them with soap and hot water or place them into your dishwasher.
These Sweese plates are made of durable porcelain, a type of premium LEAD-FREE ceramic, chip-resistant, and sturdier than stoneware
These plates are safe for dishwasher, microwave, oven, and freezer.
READ ALSO: IS OPALWARE SAFE FOR HEALTH
READ ALSO: WHICH CORELLE DISHES HAVE LEAD
MELAMINE DINNERWARE SETS
Below are Melamine dinnerware sets but not to be used in the microwave;
CERTIFIED INTERNATIONAL TALAVERA MELAMINE 12 PIECES DINNERWARE SET
Certified International is a brand that manufactures tableware. All products are attractive, functional, and value-priced allowing you to create a stylish table setting.
They are high quality, heavy and durable melamine, perfect for indoor and outdoor use.
It is dishwasher safe but not to be used in the microwave.
MELAMINE INDOOR AND OUTDOOR DINNERWARE SET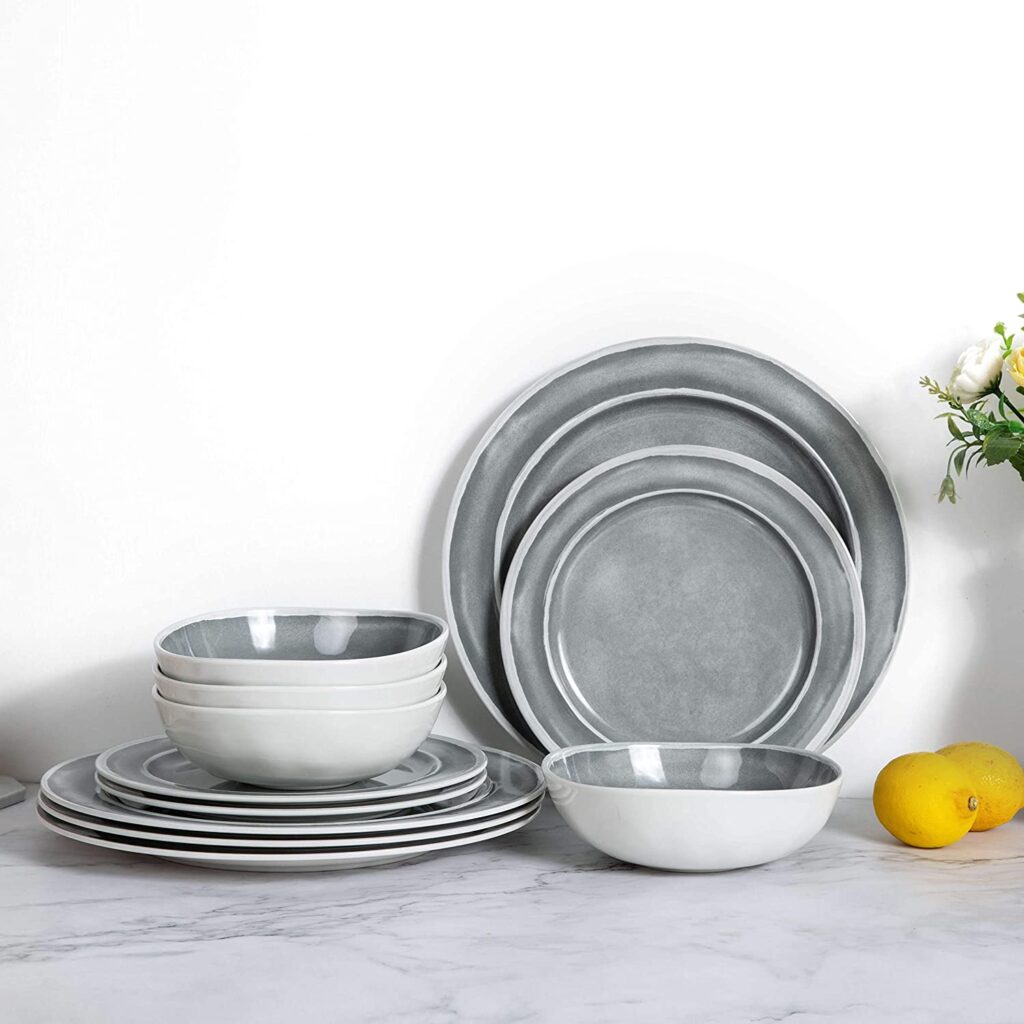 This complete 12 pieces dinnerware set for 4 include dinner plates, salad or dessert plates, and bowls.
This Melamine dinnerware set is recommended for easy hand cleaning and is also dishwasher safe but NOT SUIT FOR MICROWAVE.
These plates and bowls set made of Melamine. They are break-resistant, dishwasher safe and BPA free, sturdy, and lightweight for use.
Melamine dinnerware sets are perfect for family dinner and patio parties, camping trips, and entertaining.
Not all plate and bowl sets give you the convenience of indoor and outdoor use; this melamine plastic dish set is intended for both! You can use them to enjoy a happy hour with your friends and family.
This dinnerware set is easy to stack to save space, great for everyday meals, appetizers, dessert, brunch, bread, salad, sandwich, sushi, fruit, steak, ribs and chicken wings, etc.
READ ALSO: STONEWARE VS PORCELAIN MUGS
MELAMINE DINNER PLATES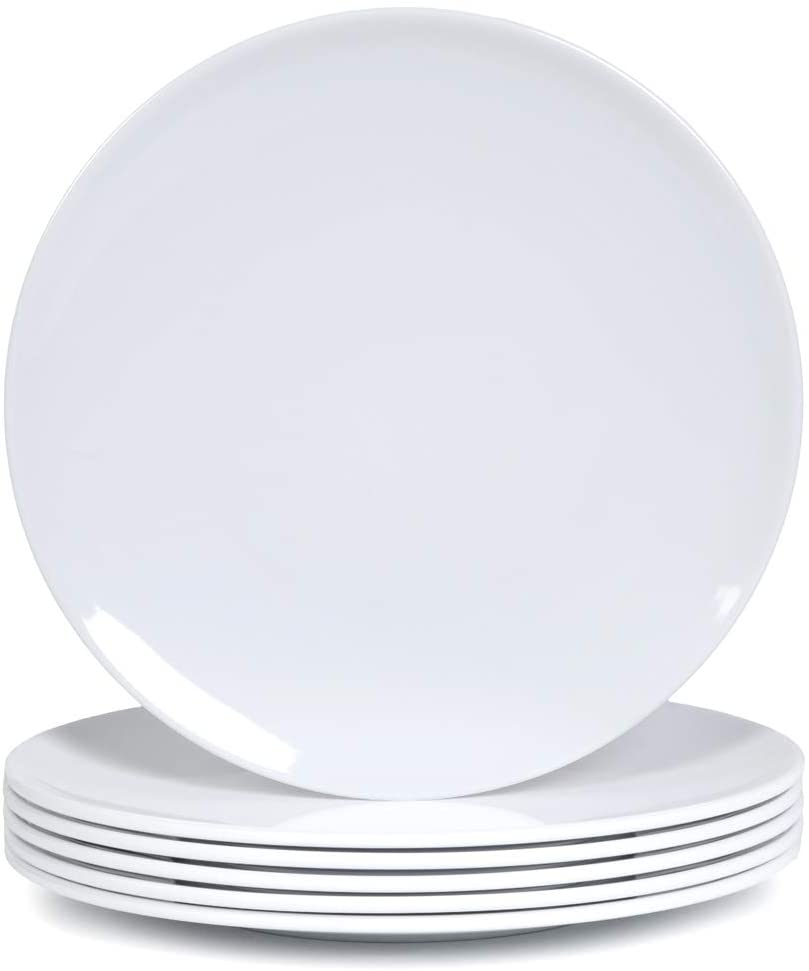 This dish set includes 6 pieces, size is 10.5 inches, white color, easy for hand clean, dishwasher safe but not suit for microwave.
This dinner plate is made of Melamine; it is lightweight and break-resistant. It is suitable for indoor and outdoor use, perfect for family dinner, parties, camping, and entertaining.
They are easy to stack to save space, great for everyday meals, appetizers, dessert, brunch, bread, sandwich, salad, sushi, fruit, steak, ribs, chicken wings, etc.
This dinner plate set must be the best household gift to your friends, partners, and family.
MELAMINE MULTICOLOR PLATES SET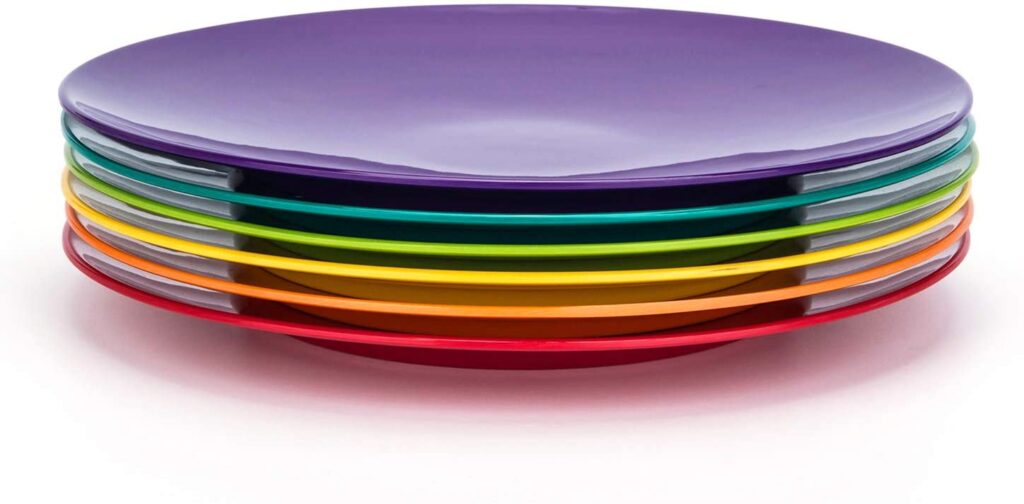 This Colorful set includes six (6) 10-inches dinner plates set for your everyday use, to meet your need for any food.
Perfect for any type of snack, food, or meal- lunch or dinner- indoors or outdoor- at home, in the park, camping, at school, and even field trips
These Melamine plates are Non-Toxic and 100% BPA Free making them safe to use, easy to clean, and store.
They are dishwasher friendly but Not for use in the microwave oven.
They are 100% melamine, made of treated materials. You don't need to worry about it even when dropped on the floor because these dinner plates are break-resistant and also lightweight.
IS MELAMINE PLASTIC OR CERAMIC
Melamine specifically is hard plastic made of organic chemical compound created by combining Melamine resin which is fired and heated for the manufacturing of plastic making Melamine dishes durable and break-resistant plastic.
MICROWAVE SAFE PLASTIC PLATES
Microwave-safe plastic plates are safe to be used in the microwave without worries.
Below are examples;
YOUNGEVER MICROWAVE PLASTIC PLATES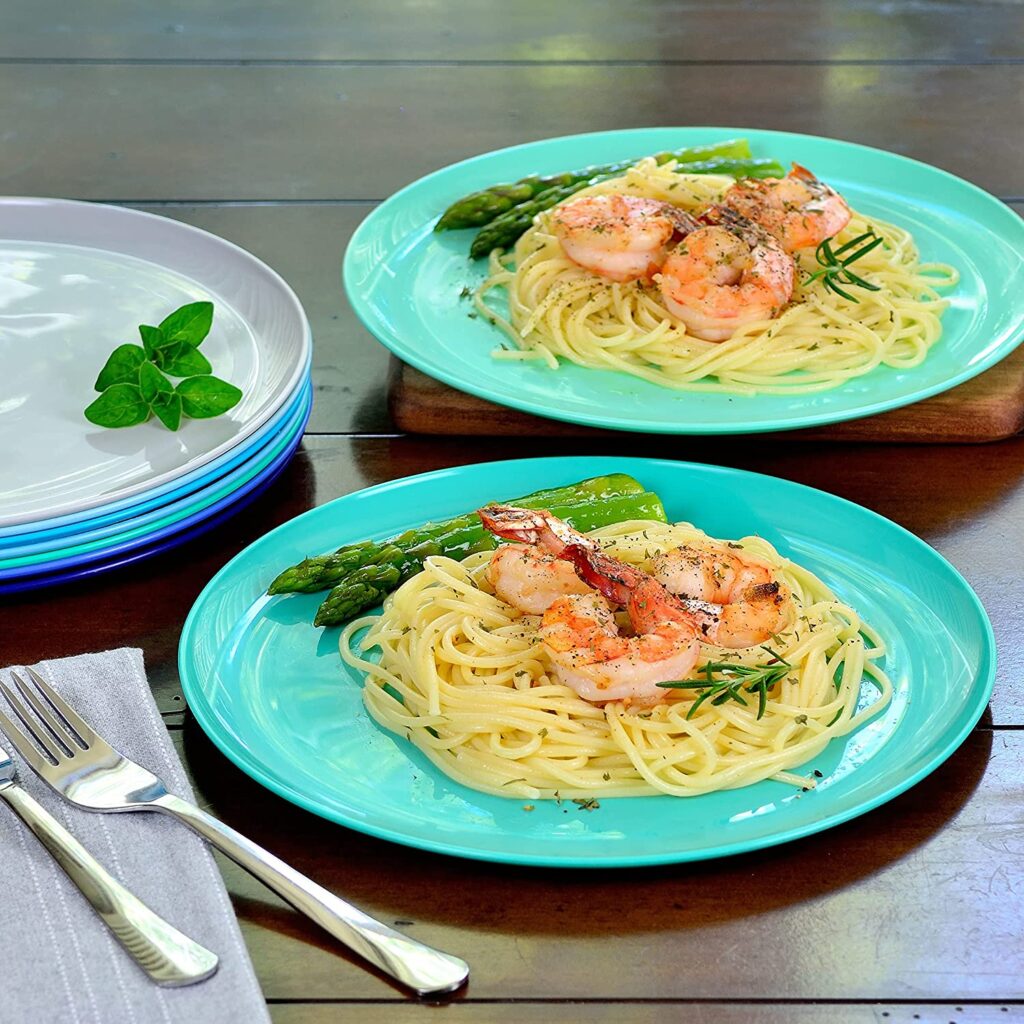 These Plastic Plates: Set of 9 plastic 10″ plates in 9 coastal colors is great for Cafe, Restaurant, Self-service areas, Party, Home, Event, Patio, Poolside, Picnic, and other outdoor use.
They are made of quality safe material making them break-resistant for microwave and dishwasher-safe.
This younger plastic plate is lead and BPA-free for safe use and for eating.
BAMBOO FIBER MICROWAVE PLASTIC PLATES SET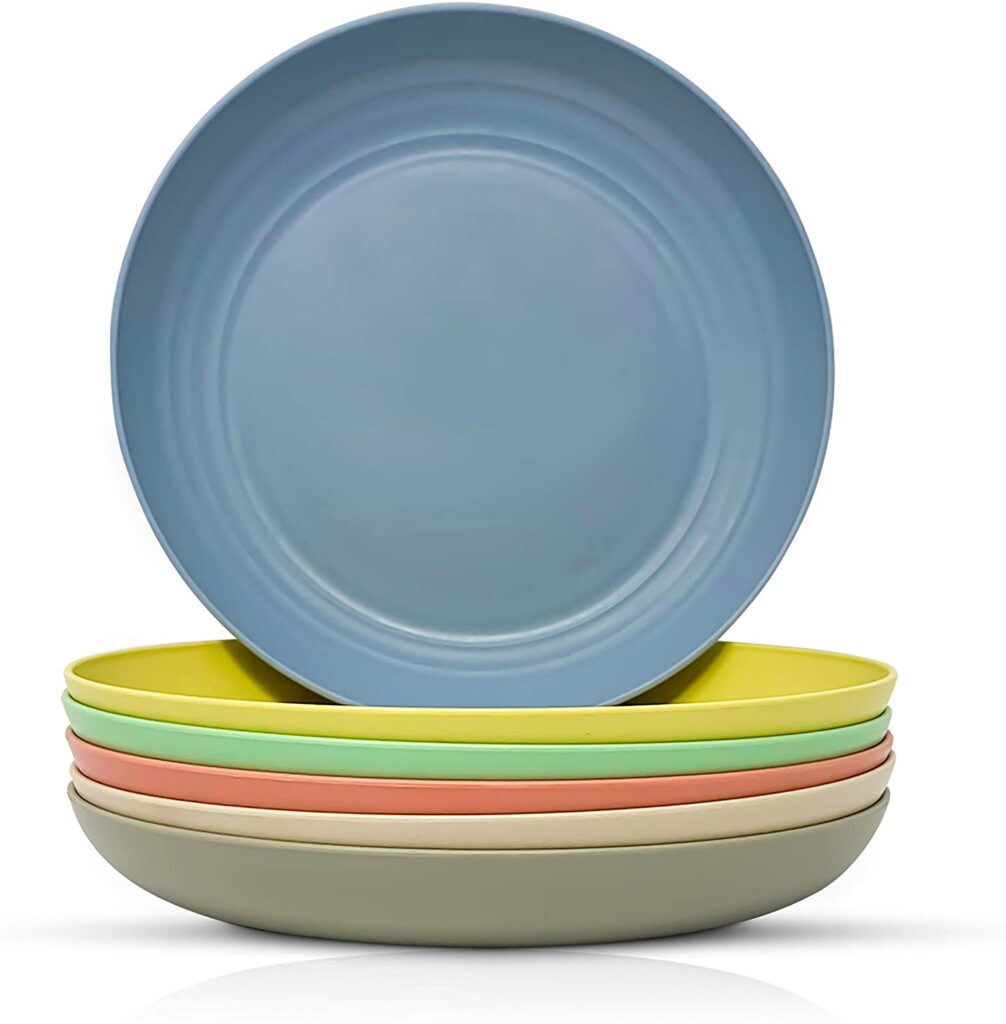 Enjoy quality dishes without being worried about their fragility. These plates are made of natural bamboo fiber and food-safe grade PP. Premium and BPA-free, making them tough and unbreakable. They won't break, crack, or chip easily, even if they accidentally fall off the table.
They're safe to use in the microwave anytime and they add charm and elegance to your dining tables whenever you use them or host dinner parties with them.

Apart from the durability they offer, these bamboo dinner plates are also convenient to use. These cute plates have raised edges designed to keep food inside. You won't have to worry about sauce spilling out.
This 6-piece set boasts a lovely assortment of colors that will look gorgeous on your tables. This makes it perfect for serving appetizers, salads, snacks, and sweets at parties, birthday celebrations.
This lightweight modern dinnerware set for 6 is dishwasher-safe so they're easy to clean after your meals. The bamboo dinner plates are also stackable for ease.
BPA-FREE MICROWAVE PLASTIC PLATES
These plastic plates are of great value and environmentally friendly, 100% recyclable, easy to clean, made of durable, strong safe material for restaurant quality.
These plates are extremely safe for kids, adults, and seniors because all the products are non-toxic and 100% BPA Free and they are also easy to use, clean, and store.
They are dishwasher safe, fully stackable for space-saving, and microwave safe (Reheat only).
They are perfect for any type of snack, food, or meal- lunch or dinner- indoors or outdoor- at home, in the park, camping, picnic, at school, and even field trips.
READ ALSO: HOW TO CARE FOR MELAMINE DINNERWARE