Hey there! As an Amazon Associate, I earn from qualifying purchases. I greatly appreciate your support!
Bone china and porcelain are durable, high-quality, non-porous materials that have been around for decades. They are used for manufacturing tableware, mug for both indoor and outdoor dining.
Which is better, we cannot just say out of the two that bone china is better than porcelain or porcelain is better than bone china but before you finish reading this article which is better will be made clear to you depending on the user's preference and what they intend to use it for.
Now the question, "Is bone china better than porcelain?"
Most times a lot of people describe porcelain as china, we understand that most products come from China.
The production of bone china is similar to porcelain, except that more care is needed because of its lower plasticity and verification range. The traditional formulation for bone china is 25% kaolin, 25% Cornish stone, and 50% bone china.
Porcelain is made in a similar way but fired at high temperatures.
Let's dive in;
IS BONE CHINA BETTER THAN PORCELAIN?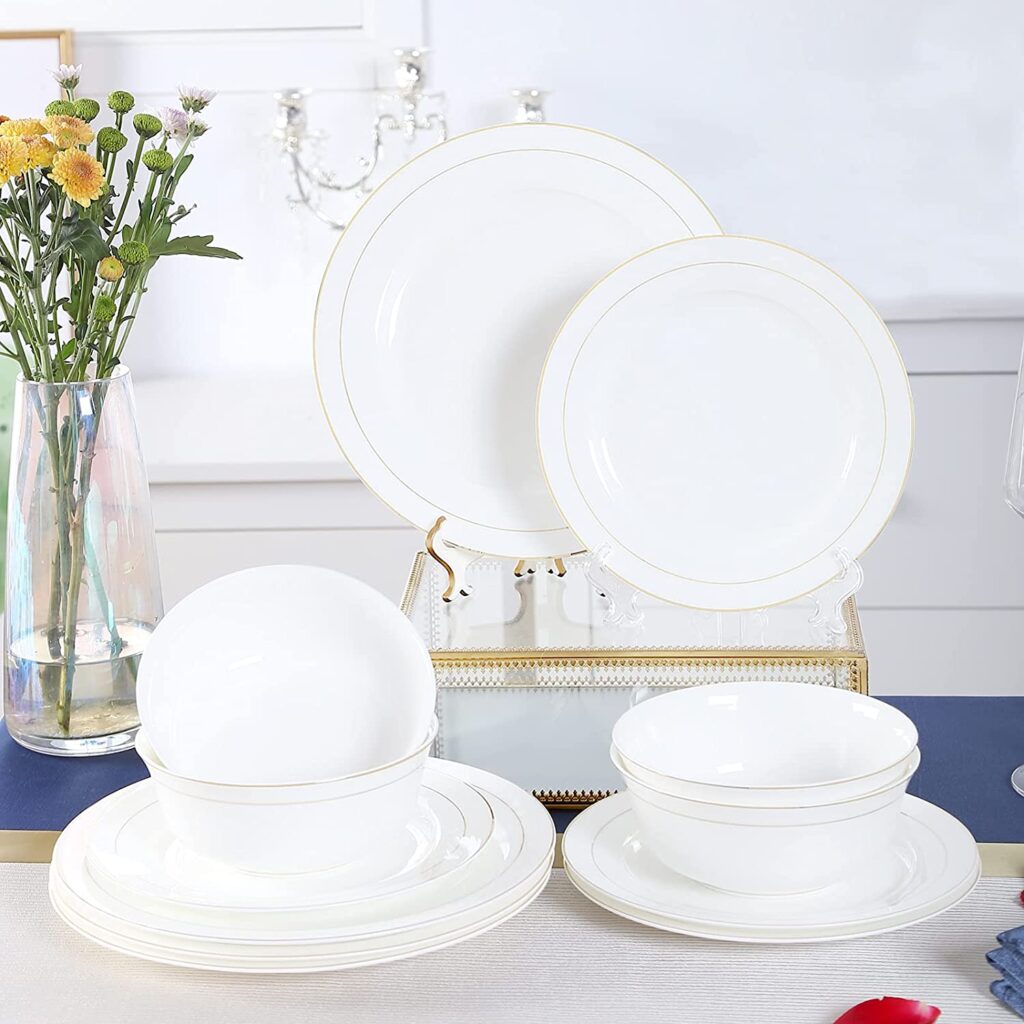 Before we answer the above question, let's see the differences between bone china and porcelain.
1. Bone china is a type of porcelain that is made of feldspathic material, kaolin, and a unique ingredient added and because of this added bone ash; bone china is put in a kiln at a slightly lower temperature. While
Porcelain is made of feldspar, quartz, and kaolin and fired at a high temperature above 2300 degrees Fahrenheit.
2. Bone ash added in bone china make the tableware stronger by making it softer, less brittle, and resistant to break than porcelain.
3. Porcelain is generally thicker than bone china products, due to its high temperature.
4. Bone china is made with a special ingredient making it thinner, smoother, giving it a creamy, white color and opaqueness while Porcelain has a smooth, hard texture and shiny appearance once it is fired.
5. Bone china has a more elegant perception at the dining table than porcelain due to its delicate milky texture. Bone china is marked on the bottom of a piece of bone china.
6. Both bone china and porcelain are used in the microwave, oven, and dishwasher.
HOW TO IDENTIFY BONE CHINA
Bone china is translucent, if you lift the tableware item up to the light and put your hand behind the plate, bowl or mug and can see your hand through the tableware, then it is bone china and if you cannot it is likely Porcelain.
BONE CHINA DINNERWARE
Bone China is one of the most durable materials used to produce dinnerware. Ash is added during the mixing process to give strength and that special feeling of luxury known to bone china. Bone China is considered the top of the class because of this unique combination of elegance and strength.
Below are the bone china dinnerware set;
BONE CHINA CHIP RESISTANT DINNERWARE SET
This 16 piece dinnerware set includes 4 each of 11-inch dinner plate, 9 –inch salad plate, 5-3/4 inch cereal bowl, and 13-ounce mug.
It is made of crisp white bone china.
Service for four is perfect for everyday use; can be dressed up and down for all occasions.
This bone china dinnerware set is oven, dishwasher, microwave, and freezer safe and also chip resistant.
STONE LATIN BONE CHINA BASKET WEAVE EMBOSSED ROUND
This 16- piece dinnerware set of bone china sets with white basketweave design includes: round dinner plates, salad plates, bowls, and handled mugs.
Dinnerware Service for 4- complete sets excellent for hosting elegant dinner parties. These home essentials are the ideal kitchen dishes.
It comes with Basketweave Designed Plates, Bowls, Mugs- 11 dinner plates, 8 salad plates, 6.25 bowls, and 12 oz. the mug has a basket weave pattern on the rim.
This set has a classic and graceful design. Gorgeous set of plates, bowls, and cups to set your table and a perfect gift for wedding and housewarming.
Each plate, bowl, and cup is 100% dishwasher and microwave safe and it is made of high-quality bone china.
WHAT IS BONE ASH IN BONE CHINA?
Bone ash is a white material produced by the calcination of bones. Bone ash consists of about 55.82% calcium oxide, 42.39% phosphorous pentoxide, and 1.79% water.
Bone ash used in bone china is made from animal bones (usually cow bone), mixed into the ceramic material. The added cow bone into the mixture gives bone china a unique, creamy, soft, and smooth color.
IS FINE CHINA VEGAN?
Yes, most other forms of tableware and ceramics like porcelain, stoneware, earthenware are vegan-friendly. In fact, many products sold as bone china, are actually made without the bone.
The best way to differentiate between bone china and regular vegan-friendly china is to hold the piece against torchlight in a dark room or put your hand behind the piece of china you are holding if light can pass through and you can see the silhouette of your hand, it is real bone china.
EURO CERAMIC ESSENTIAL COLLECTION PORCELAIN DINNERWARE AND SERVEWARE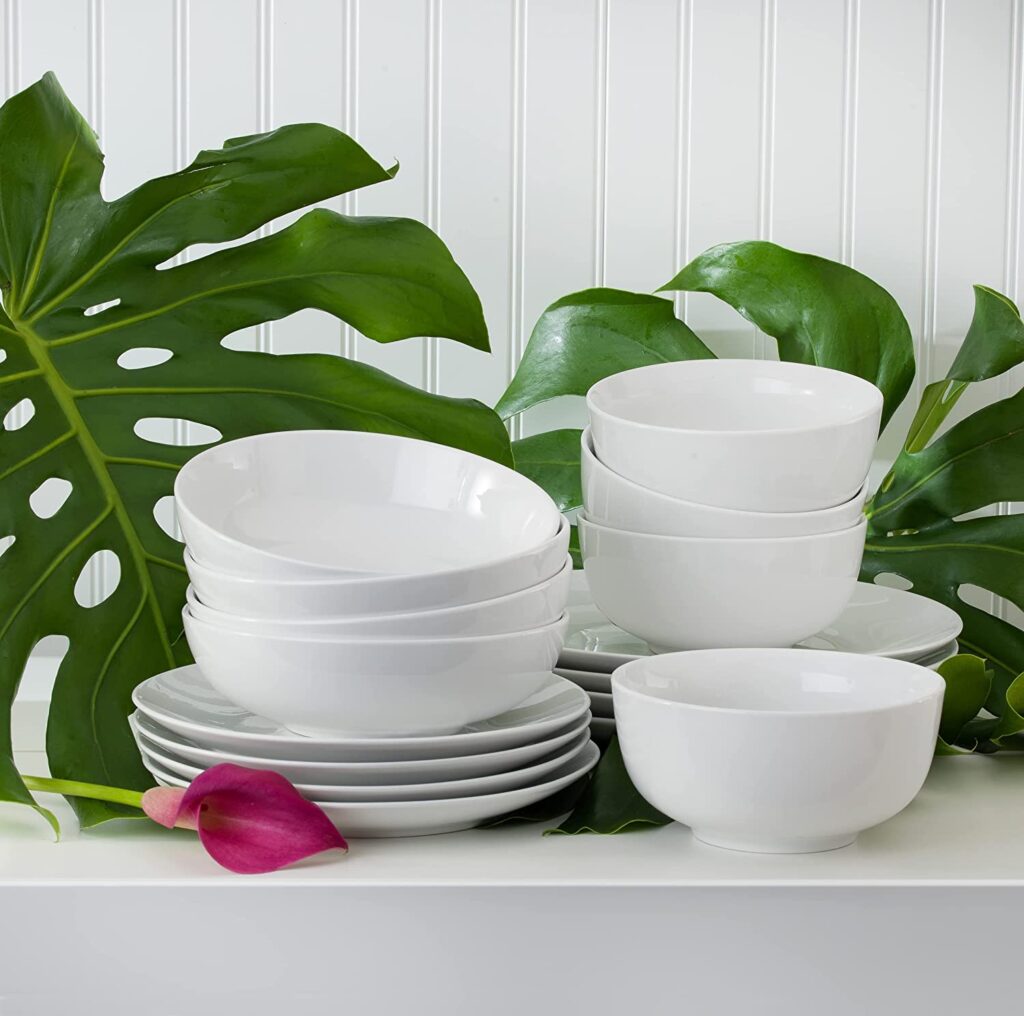 This porcelain dinnerware is refined for both casual and formal dining.
Service for 4 includes for each: dinner plate, salad plate, cereal bowl, and soup bowl. This white essential porcelain has a sleek finish which makes it resistant to scratch and fade.
Oven-to-table: Microwave, Freezer, and dishwasher safe.
BONE CHINA VS CERAMIC
| | |
| --- | --- |
| BONE CHINA | CERAMIC |
| The bone china is finely ground into bone ash, and it is then mixed with feldspar, ball clay, quartz, and kaolin. | Ceramic is made primarily from a nonmetallic mineral, such as clay, fired at a high temperature. |
| Bone china is a high-quality material used in tableware. | Ceramic is generally made by taking mixtures of clay, earthen elements, powders, and water and shaping them into the desired form. |
| Bone china is known for its translucency, chip resistance, and high-level levels of whiteness. | Ceramicware is made to be thick to retain hotness inside. |
| Bone china is the strongest of the porcelain or china ceramic, having very high mechanical and physical strength. | Ceramic products are brittle, hard, strong, and resistant to heat and corrosion. |
o
IS BONE CHINA OR PORCELAIN MORE DURABLE?
If you hold the china up to the light, you will see that bone china has a translucent quality compared to fine china. Porcelain is much more durable and is harder than either type of china.
READ ALSO: CORELLE VS PORCELAIN
FINE CHINA VS BONE CHINA
As we mentioned earlier, bone china is made of bone ash and the ash is made from animal bone and mixed into ceramic material to get a unique, cream, and smooth color while
Fine china is made without the content of bone ash added to the mixture.
Bone is translucent and allows light to pass through while fine china will completely block any light coming through.
BONE CHINA VS PORCELAIN VS STONEWARE
| | | |
| --- | --- | --- |
| BONE CHINA | PORCELAIN | STONEWARE |
| Bone China is a very popular type of china that is made from cow bone. The bone is finely ground into bone ash, and it is then mixed with feldspar material, quartz, and kaolin. | Porcelain is a category of ceramic incredibly durable resulting from the high fired temperature of above 2300 degrees Fahrenheit. | Stoneware is a type of non-porous ceramic made from stone-like clay that has been fired at a temperature between 2150 and 2330 degrees Fahrenheit. |
| Bone China is thinner, delicate, and durable. | Porcelain has a smooth, hard texture and shiny appearance once it is fired. | Stoneware is clay that when fired becomes a sturdy, chip-resistant material suitable for cooking, baking, storing liquid, and serving. |
| Bone china is durable, strong, and has a creamy white color. | Porcelain is heavy than bone china. Porcelain dinnerware sets are less thick, less dusky than stoneware dishes. | Stoneware is strong, hard, durable, and non-porous which means bacteria is away. Stoneware is heavier than porcelain and bone china. |
IS BONE CHINA GOOD FOR HEALTH?
Bone china is one of the unique and safest materials because it added bone ash that is used in manufacturing tableware for healthy use. It does not contain any lead, cadmium, or harmful chemical that can cause a health risk.
DOES BONE CHINA BREAK EASILY
Bone china is unique, in that it can withstand being fired in the kiln, which is the oven used for firing ceramic.
Bone china like other tableware is breakable. But when handled when care is not easy to break and also follows manufacturers' description.
BONE CHINA VS PORCELAIN VS CERAMIC
| | | |
| --- | --- | --- |
| BONE CHINA | PORCELAIN | CERAMIC |
| Bone china is strong, does not chip easily, and has a white translucency appearance | Porcelain is also from the ceramic family. Porcelain is made up of Kaolin, Feldspar, Quartz, and Clay. | Ceramic is hard, brittle, heat resistant, and corrosion-resistant materials made by shape clay and then fired at a high temperature ranging from 1800 to 3000 degrees Fahrenheit. |
| Bone china is known for its great strength and resistance to chipping which results from a high firing temperature. | Porcelain is a subset of the ceramic family. Porcelain is strong, translucent, and vitreous but when compared to other types of ceramics, tends to have lesser weight and density. | Ceramic products are used every day as cookware, tableware, roof tile, pipes, bricks, and more. |
| Bone china is a fragile dinnerware, so you need to handle it with carefulness. | Porcelain was first made in China and is traditionally made from two ingredients: Kaolin and Pentunse.   | Ceramic material is an inorganic, non-metallic oxide, nitride, or carbide material. |
IS PORCELAIN HEAVIER THAN BONE CHINA?
Yes, Porcelain is heavier than Bone china when you hold it in your hand.
DOES PORCELAIN BREAK EASILY?
Porcelain can break easily like most other ceramics especially if you don't handle it with carefulness.
Porcelain dishes are known to be durable but they are also prone to crack, chips, and break, that is why you need to follow the manufacturer's order so that your porcelain can last.
DOES PORCELAIN CONTAIN BONE ASH?
The basic difference between porcelain and bone china is that porcelain does not contain any bone ash.
DOES PORCELAIN RETAIN HEAT?
Porcelain retains heat because it has a high level of thermal conductivity that helps retain heat for a long time.
IS BONE CHINA GOOD FOR EVERYDAY USE?
Bone china is considered to be the highest quality ceramic used for tables and is perfect for both everyday use and special occasions due to the fact that it is strong, durable, mostly chip-resistant, and beautiful.
IS BONE CHINA HIGH QUALITY?
Yes. High-quality bone china contains at least 30% bone ash, enabling thin, walled pieces to be made with a more delicate appearance and translucency.
IS BONE CHINA SAFE TO EAT W?
Bone china is non-porous and does not absorb food odor, stain, or flavor. Bone china is safe to eat with as it does not leak harmful substances into your superfood.
WHY IS BONE CHINA EXPENSIVE?
Bone china is more expensive than other china and you don't have to blame them that much, because the manufacturing process and material are unique to give you the best and safe tableware.
Note: Not all bone china is created equal. If you are in the market for the best, aim for at least a 30% percentage of bone.
CAN BONE CHINA GO IN THE MICROWAVE?
Unless it has metallic banding, most bone china is dishwasher safe, oven safe, and can go in the microwave.
DOES BONE CHINA GET HOT IN THE MICROWAVE?
No, stoneware porcelain and bone china don't heat up inside the microwave oven. Instead heat up food inside due to conductor.
HOW DO YOU KNOW IF A MUG IS MICROWAVE SAFE?
Microwave the dish or cup for one minute, if the dish or container is warm or hot after heating, then the dish or container is not microwave safe.
If the dish or cup is cool and the water is hot, the dish or mug is microwave safe.
HOW TO WASH BONE CHINA
Wash dishes straight away to remove any acidic or sticky food residue.
When handwashing, wash each dish separately using a mild liquid detergent, clean water, and a neat cloth to dry up.
If using a dishwasher, take care not to overload the rack and keep the metal items away from fine bone china. Avoid contact when loading it.
WHICH IS MORE EXPENSIVE PORCELAIN OR BONE CHINA?
Bone china is usually more expensive than porcelain thanks to pricier materials.
READ ALSO: THE DIFFERENCES BETWEEN FINE BONE CHINA, PORCELAIN