Hey there! As an Amazon Associate, I earn from qualifying purchases. I greatly appreciate your support!
For safe, easy, and healthy meals most brands have manufactured good cookware and the Circulon brand is one of them. Now the question, Is Circulon a good brand? "
Circulon is a revolutionary brand that contributes to the expansion of kitchens through their innovation. It was introduced in 1985 as the first hard-anodized non-stick cookware for superior safe nonstick performance for the use of every home and professional chef.
Circulon is a brand known for its raised circles on the surface of the cookware. The raised circles on the surface reduce abrasion, increase durability, and non-stick capability for metal utensils safe, easy food release, and clean up.
WHERE IS CIRCULON MADE FROM?
Circulon was developed and created by Meyer Corporation in 1984. Meyer Corporation distributes kitchen products under the brand names of Anolon, Circulon, Farberware cookware, Bonjour, Ayesha Curry, Ruffoni, Silverstone, Earth pan, Paula Deen and Rachael Ray. The product that we sell is manufactured by Meyer-affiliated companies in the USA, Thailand, Italy, and China.
IS CIRCULON A GOOD BRAND?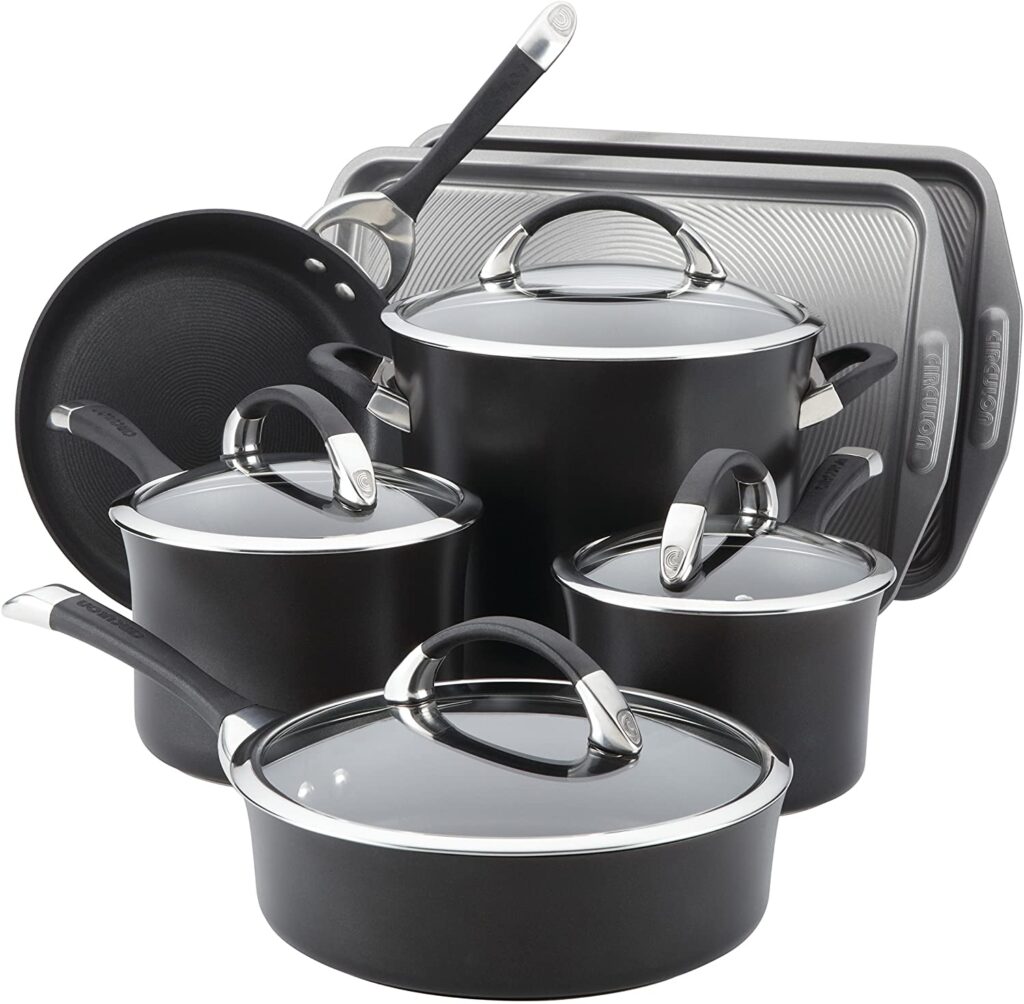 Yes, Circulon is a good brand that manufactures high-quality and safest nonstick cookware for use. They are great for oven-safe, hard-anodized, heat distribution, and lifetime warranty.
Circulon also promotes a healthy lifestyle by delivering high-performance food release and reducing the need for oils and fats for a healthy meal.
CIRCULON MOMENTUM REVIEWS
The Momentum is a collection from the Circulon cookware brand that is durable and versatile to meet all your cooking needs.
It is designed for home and professional chefs because of its good performance, good weight, oil-free cooking, non-stick capability, impervious to scratching, and perfectly easy to clean.
The momentum innovative cookware base features an aluminum core fully encapsulated with magnetic stainless steel for exceptional heating and cooking on all stoves, including induction, and is oven safe up to 400°F.
The Circulon set non-stick cookware is dishwasher and metal utensil safe. It is also PFOA-free and sustained.
It is oven safe to 400 degrees F, with shatter-resistant glass lids and the handles are dual-riveted made of stainless with a silicone-enhanced design for better heat insulation.
The Circulon momentum features a raised circle surface on the interior and exterior for exceptional food release and effortless cleanup.
The momentum cookware set is resistant to abrasion and designed for long-lasting use.
CIRCULON COOKWARE
Circulon cookware is great cookware made of anodized aluminum for heat conducts and fast cook. They are designed in different sizes to ensure you have everything you need to cook a delicious healthy meal.
Circulon cookware sets are PFOA-free, Lead-free, and Cadmium free for super-safe food.
Circulon has various collections to suit your everyday cooking recipes.
Below are the best Circulon cookware set;
CIRCULON ELEMENTUM HARD ANODIZED NONSTICK COOKWARE
The Circulon Elementum cookware has an elegant oyster gray color which makes it look classy. These cookware sets have all the elements for great cooking and are constructed from super-tough, hard-anodized aluminum for even heating with maximum durability.
This interior uses of Circulon feature a total nonstick system of raised circles and triple layer, which is PFOA-free, metal utensil safe nonstick for natural food release and easy cleanup that lasts ten times longer than normal nonstick.
The dual riveted stainless steel handles with silicone grips are comfortable to hold and confident maneuvering in the kitchen.
The lids are made of tempered glass that is shatter-resistant. The 3 and 6-quart pan has innovative lid-straining lids that act as a built-in colander that you can use to remove water from the pan without opening the lid.
CIRCULON SYMMETRY SAFE HARD ANODIZED NONSTICK COOKWARE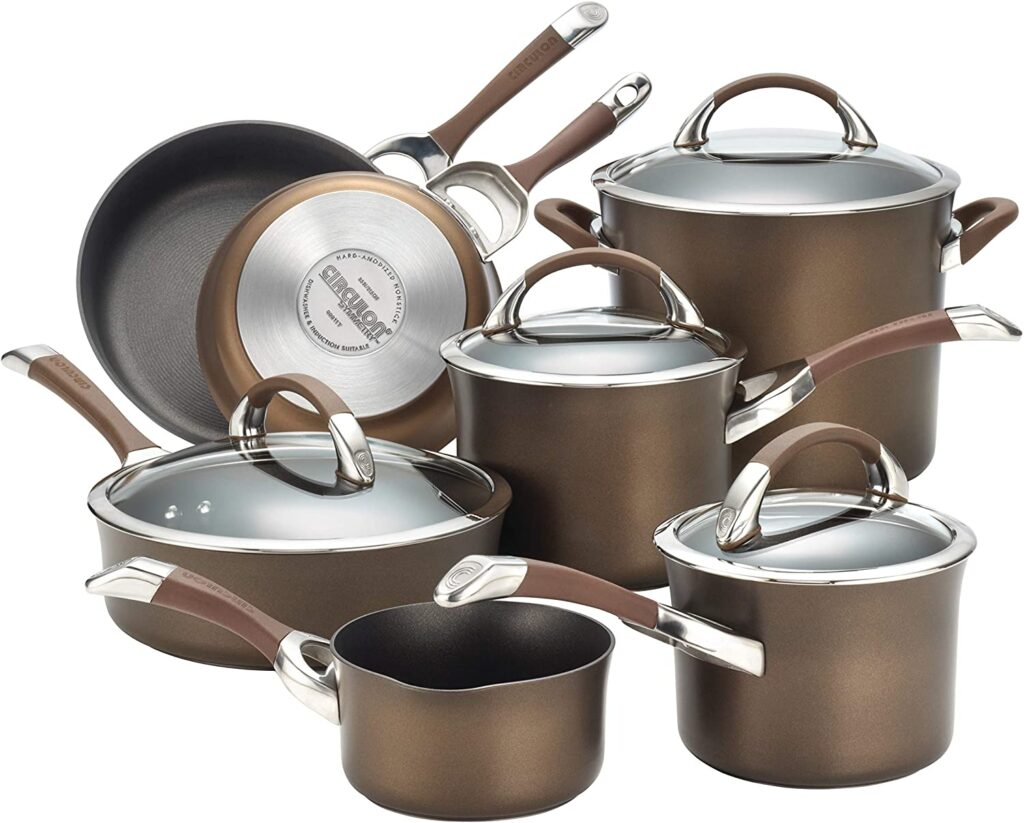 This cookware set includes 1-Quart Pouring Saucepan, 2-Quart and 3-Quart Covered Saucepans, 8-Quart Covered Stockpot, 8-1/2-Inch, and 10-Inch French Skillets, 3-Quart Covered Sauté.
Circulon is an advanced, nonstick technology; it lasts 10 times longer than ordinary nonstick. It is made of hard-anodized aluminum. It also has an impact-bonded stainless steel base that makes it compatible with all stovetops.
This collection handle is Solid, rubberized cast stainless steel handles that provide a comfortable grasp that stays cool. The shatter-resistant glass lids feature wide stainless steel rims to seal in heat and flavor.
The Circulon Symmetry cookware set is PFOA-free, metal utensil safe, and has a nonstick surface for long-lasting food release and easy cleanup.
This cookware is oven safe to 400 degrees F and induction-suitable, the dishwasher safe cookware set complements other items in Circulon collections.
CIRCULON STAINLESS STEEL COOKWARE SET WITH STEELSHIELD HYBRID STAINLESS
Circulon stainless steel cookware set with steel shields is a great quality nonstick cookware innovated for creating delicious memories. This cookware is crafted beautifully for every kitchen style.
Circulon SteelShield means no more scratched pans. No more scrubbing steel. And no more flaking and nonstick.
WHAT IS STEEL SHIELD?: Circulon SteelShield pots and pans are the first to feature stainless steel circles raised above a nonstick finish for the most versatile and durable cookware surface yet.
This cookware guarantees any use of a kitchen spoon or spatula on hand to flip, fry, and even scrape the innovative SteelShield rings. To prove it, a metal spatula was included in the set.
BENEFITS OF STEEL SHIELD: Why stainless steel rings, the elevated rings are there to protect the nonstick from scratches but also deliver amazing searing to provide you with versatility and support you on any recipe you want to make
The nonstick helps you with all kinds of recipes released, once the foods have been evenly seared on the stainless steel rings.
With an extra-thick induction base and stainless steel construction, Circulon SteelShield means no more worry about hot spots, temperature swings, or warped pans the pots and pans are easy enough to hand wash.
The handles are designed to stay cool, down to the steel rings.
CIRCULON SYMMETRY HARD ANODIZED NONSTICK FRYING PAN SET
1. This set includes 10-Inch and 12-Inch Frying Pans.
2. The TOTAL Nonstick System of raised circles and triple layer, premium quality, metal utensil safe nonstick for long-lasting food release and easy cleanup.
3. The Rubberized stainless steel handles on the Frying Pans offer a comfortable grasp.
4. The induction-compatible frying pans are also dishwasher safe and the frying pans are oven safe to 400°F.
CIRCULON PREMIER PROFESSIONAL
The Circulon Premier Professional cookware set comprises a 13 piece cooking vessel. This Vessel is crafted from bronze heavy-duty hard-anodized aluminum,
The Circulon Premier Professional has Shatter-resistant glass lids seal in heat and moisture. The handles are reliable and comfortable, dual-riveted, stay-cool silicone overcast stainless steel handles that stay cool when used.
This skillet has a wide range of cooking options like the Straining saucepans feature pour spouts and straining lids; the pan is nonstick for a healthy meal without oil or butter
The Circulon Premier Professional set is suitable for all stove-tops, including induction, and oven safe to 400 degrees Fahrenheit. It is also dishwasher safe.
This cookware is PFOA-free with a premier non-stick surface that makes food release very easy.
READ ALSO: MARBLE COOKWARE PROS AND CONS
READ ALSO: IS IT SAFE TO COOK WITH STAINLESS STEEL
IS CALPHALON THE SAME AS THE CIRCULON
Most people often ask this question, Is Calphalon the same as the Circulon?". The answer is NO. Even though they have Lon at the end of their name Calphalon and Circulon are both two different brands that offer great cookware services to every home user.
Both brands have made a name through their performances and strength.
Below you will find out the similarities and differences between Calphalon and Circulon;
CIRCULON VS CALPHALON
Circulon is made of non-stick anodized aluminum with a classic brushed finish while Calphalon is known for its hard-anodized aluminum non-stick pots and pans.
Circulon cookware brand is oven safe up to 400 degrees Fahrenheit while Calphalon cookware brand is oven safe up to 500 degrees Celsius.
Circulon has a raised circle on the surface of the cookware while Calphalon's nonstick surfaces are flat and smooth with no raised patterns.
The Circulon handles are silicon, which makes them comfortable to hold while Calphalon handles are stainless steel.
Circulon stainless steel cookware is induction compatible while all Calphalon stainless steel cookware is induction but its nonstick cookware is not.
Circulon cookware comes in various colors while Calphalon's cookware is either black or stainless.
All Circulon cookware is metal utensils while in the Calphalon collection you can't get much of it.
All Circulon cookware is nonstick which is suitable for many recipes while Calphalon offers three cooking surfaces: nonstick, stainless steel, and cast iron.
Circulon brands offer a lifetime warranty for their products while some of Calphalon products have a lifetime warranty, and others have a 10-year warranty.
Circulon and Calphalon brands have the ability for easy food release and easy cleanup.
The Circulon and Calphalon cookware are free of PFOA, PTFE, and harmful chemicals for safe everyday cooking recipes.
The Circulon and Calphalon cookware are safe in the dishwasher. But dishwashing of non-stick cookware can reduce the longevity of the skillet. We always recommend hand washing non-stick cookware.
The exterior and interior cookware surfaces of both brands are praised for their strength and durability.
HOW LONG DO CIRCULON PAN LAST?
As pioneers of Circulon non-stick products, we guarantee our products will last you a lifetime. But there are important steps to follow to ensure your pan lasts a lifetime.
Tips
One striking feature about Circulon pan is that you can use it to cook food without a drop of oil and anything stuck on the surface. But before you start cooking, it is a good idea to season your pan.
For long lasting of your pan use wooden or silicon utensils.
Avoid sprays that contain lecithin, an emulsifier which builds up on the surface of your pan and can become impossible to remove, instead dip a paper towel into your cooking oil of choice and rub it over the cold surface of the pan prior to cooking.
Circulon pans don't need as much heat because they are evenly. So, it is best to use a low or medium setting for cooking to prolong the life of your pans.
Circulon pans are dishwasher safe. To keep your cookware lasting a lifetime we do recommend hand washing for best results.
ANOLON VS CIRCULON
Anolon cookware has heavy-duty hard-anodized construction that provides efficient and even heat distribution while Circulon cookware is made of non-stick anodized aluminum.
Anolon SureGrip handles are Sturdy, dual-riveted which offer a solid, comfortable grasp and are dual riveted for strength while Circulon handles are double riveted steel that offers ultimate durability.
Anolon has shatter-resistant glass lids that retain heat and moisture during cooking.
Anolon and Circulon have Premium-quality nonstick cookware surfaces that feature high quality, metal utensil-safe nonstick durability for superior food release and easy cleanup.
IS CIRCULON NONSTICK COOKWARE SAFE?
The Circulon total non-stick is completely safe and non-toxic for everyday use. The nonstick coating is free of PFOA, Lead, Cadmium, and harmful chemical.
Circulon cookware has undergone tests under regulatory agencies worldwide, has concluded that PTFE manufactured without the use of PFOA component in the materials prone no rise to consumers.
The manufacturer of the non-stick coating on Circulon only uses non-stick technologies to make PTFE non-stick without PFOA making each cooking safe and healthy meal.
Circulon total nonstick coatings are built to resist peeling and chipping for normal use and it has been in the market for over 7 decades with consumer safety in mind.
CIRCULON VS TEFAL
Circulon brand was created by Meyer Corporation in 1984.
Tefal is French cookware, owned by Groupe SEB (a globe manufacturer of cookware) since 1968. In the United States, Tefal is marketed as T-Fal. The T-Fal brand is also used in Canada and Japan.
Tefal cookware comes both with and without Thermo-spot technology. Should your pan have a heat indicator, this will tell you when the pan has reached the optimum cooking temperature.
When the whole spot turns sole red, this shows that the pans are perfected preheated and ready to begin cooking. What you have to do is reduce the heat to maintain a normal temperature, if not the pan on high heat will result in the pan and the non-stick surface will become overheated.
Both brands' handles are designed for comfort and safety; Vented tempered glass lids maintain visibility while trapping enough heat and moisture for perfect results for every meal.
Circulon cookware is suitable for all stovetops including induction hob while Tefal is suitable for all stovetops. Not all Tefal cookware is suitable for induction hob.
Circulon and Tefal cookware sets are ovens safe, up to 400 degrees Fahrenheit (lids up to 350 degrees Fahrenheit). Always use oven gloves when moving your cookware into or out of the oven.
Not all Tefal cookware is dishwasher safe, please check the labels on the packaging. If your cookware is dishwasher safe, washing by hand is recommended because it helps the cookware last longer. But if dishwashing, use less caustic dishwasher detergents such as pure liquid, gel, or powder rather than the combination tablets as these can be very corrosive.
Tefal cookware is PFOA, lead, and cadmium free; Lifetime limited warranty.
Circulon cookware is PTFE, Lead, and Cadmium free; Lifetime warranty.
READ ALSO: CIRCULON STEEL SHIELD