Hey there! As an Amazon Associate, I earn from qualifying purchases. I greatly appreciate your support!
Do you love taking cold fruit or do you have frozen fruit in your freezer and you are in search of a Nutribullet that can blend frozen fruit from a smoothie to drinks? Then this article is for you.
Today, I will be discussing which Nutribullet is best for frozen fruit.
I have listed and also explained various Nutribullet that is best for frozen fruit. Let's dive in;
WHAT IS NUTRIBULLET?
Ntribullets are great kitchen appliances that can be used for various purposes. They are also designed in different shapes, sizes, and capacities in order to carry out their tasks like helping to blend frozen fruit.
WHICH NUTRIBULLET IS BEST FOR FROZEN FRUIT?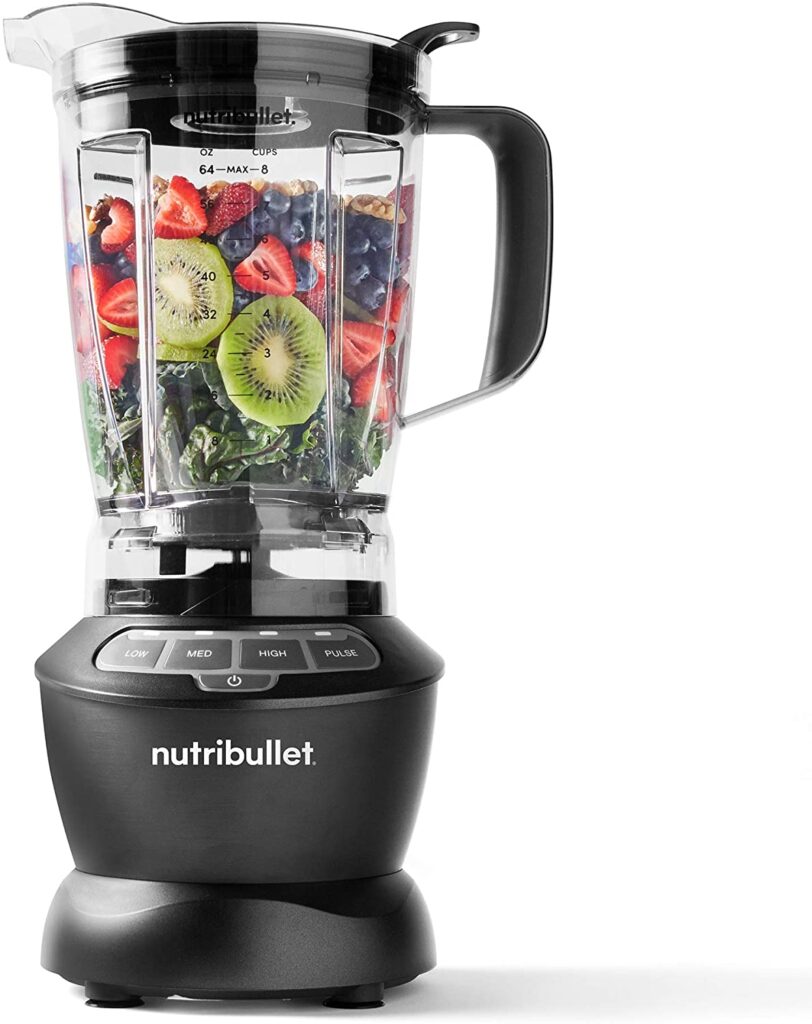 Fruits are very important and necessary when it has to do with health because they are an excellent source of vitamins, minerals, and fibers to provide a wide range of health-boosting antioxidants.
Fruits have so many benefits and it is very important to take fruit because, they help to reduce some health problems like heart disease, cancer, inflammation, and diabetes and also help in weight loss.
There are various kinds of fruit, either fresh or frozen whatever you choose, it is your goal to get more fruit into every meal for the benefit of your mind and body.
Nutribullet, on the other hand, is one of the fastest, easiest solutions for making nutrient-packed smoothies. With its powerful motor watt and twist blade, you can blend your frozen fruit for a drink.
Before I proceed, whichever Nutribullet you choose to purchase, it is important you note this;
Nutribullet comes with a user guide to help direct you on how to use it, make sure you go through the instructions.
The Nutribullet cup is BPA free which means is safe to take your healthy drink but do not put hot liquid in the Nutribullet cup, it will damage the cup.
The Nutribullet motor base does not need to be washed in water, just clean it with a dry cloth.
The Nutribullet blade is best to wash by hand than dishwasher so that you can remove all the pieces of particles so that it does accumulate and affect the next smoothies which can be unhealthy to the body.
There is a marked line on the jar, do not exceed it when putting your whole ingredients to be ground.
Before putting the frozen fruit into the jar, allow it to melt a little and also slice the fruit into small pieces like banana, apple, etc.
To get a perfect consistency, add water or milk and do not overload the jar because it will affect the blade and the blade will not be able to give you the consistency you desire, and also it can damage the motor.
Below are the best-recommended Nutribullets for frozen fruit?
NUTRIBULLET BLENDER COMBO 1200 WATT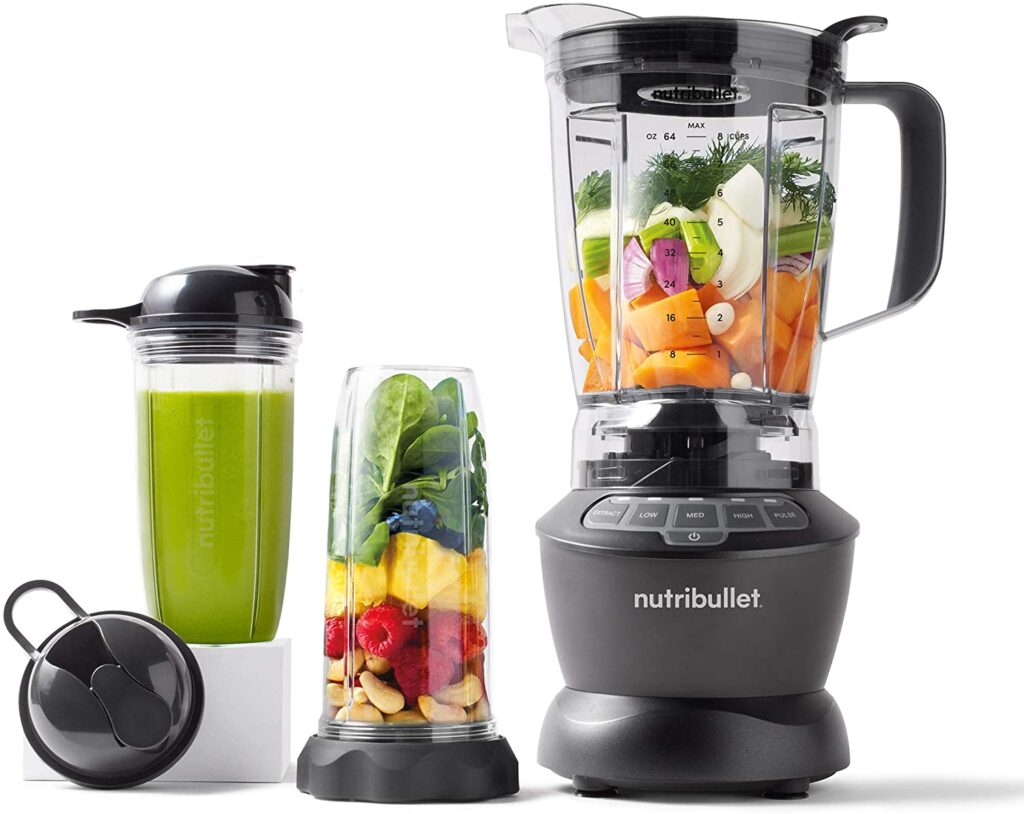 The NutriBullet blender combo is designed to take your nutrition extraction to the next level with the versatility of both a multi-serving pitcher and a single-serve cup.
This Nutribullet blender combo has three precision speeds, a 1200 watts powerful motor to let you make an endless array of smoothies, soups, sauces, nut butter, and beyond.
Nutribullet Blender combo is equipped with multiple speeds, a pulse function, and extraction capabilities for endless delicious possibilities.
It is built with a safety function that makes it a safer and user-friendly extract program to offer full control at the press of a button to start automatically.
The easy-twist extractor blade is made of powerful stainless steel and designed with cyclonic action to blend frozen fruit into smoothies in just a second.
The Nutribullet Blender combo has instruction user menus and a recipe guide to assist you to make varieties of smoothies, soup, dip, sauces, and more. As you go through it, you will see more.
All parts are super-durable and BPA-free. Pitchers and cups are made of high-performance plastic.
It is easy to assemble and disassemble. For clean-up simply place pitchers and cups in the dishwasher and rinse the easy twist extractor blades with soap and water.
The Nutribullet blender combo comes with (1) 1200W motor base, (1) 64 oz blender with lid and vented lid cap, (1) Tamper, (1) 32 oz cup, (1) 24 oz cup, (2) to-go lids, (1) easy-twist Extractor blade, and recipe book.
NUTRIBULLET SINGLE SERVE BLENDER
The NutriBullet Nutrient Extractors are specifically engineered to break down the cell walls of whole foods to create the most nutrient-dense smoothies possible.
The 1200W powerful motor and unique stainless extractor blade enable you to crush and blend everything with precision and ease. Just give the speed button a press down, it only takes 60 seconds to finish your tasks.
The 32 oz, 24 oz, and to-go lid allow you to take your drink anywhere. The jar is designed for superior performance and is stackable in the cabinets or cupboard.
The pulse button Provides the right consistency for chunky textures for your frozen fruit, salsas, etc.
The jars are BPA free, no need to worry.
All parts are easy to clean, simply rinse the blade with soap and water, and the cups are top-rack dishwasher safe
Inside the box Include (1) 1200W Motor Base, (1) Extractor Blade, (1) 32 OZ Cup, (1) 24 OZ Cup, (2) To-Go Lid, (2) Lip Ring and Recipe Book.
NUTRIBULLET RX 1700W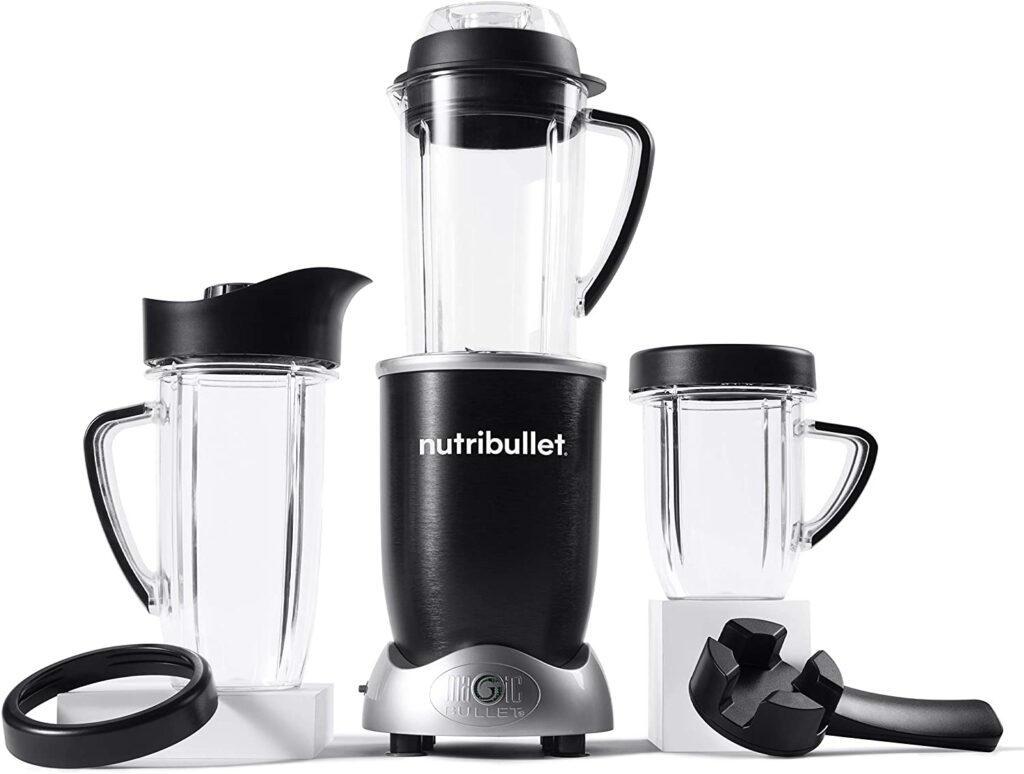 The NutriBullet RX is an advanced NutriBullet designed to break fruits, vegetables, nuts, seeds, and other superfoods down into silky-smooth beverages, unlocking the full range of nutrients they have to offer.
The most powerful Nutrition Extractor offers the highest nutrient extraction ratio so you get the most out of the foods you are eating.
This Nutribullet RX has a 2.3 Horsepower Motor and 1700 watts which break down the toughest ingredients and also makes balanced meals with perfect nutrition for busy lifestyles in seconds.
The NutriBullet RX also features an all-new 7-minute heating cycle to make hot soups, sauces, and warm beverages.
The Nutribullet RX Includes in its system the natural prescription for optimum health book, which teaches you how to customize recipes to address your specific health needs.
This Nutribullet has single serving and family-sized serving and also heating cycles for soups and sauces.
All parts are BPA-free and are easy to clean up. Rinse the blade with soap and water, and the cups are top-rack dishwasher safe.
This product is manufactured in compliance with US and Canadian Electrical Standards.
READ ALSO: BEST BLENDER TO PUREE FOOD FOR ELDERLY
READ ALSO: BEST BLENDER FOR GRINDING RICE
CAN NUTRIBULLET 900 WATTS BLEND FROZEN FRUIT?
Yes, Nutribullet 900W can blend frozen fruit fast, conveniently, and confidently. Just load your whole food and the 900W power will blend it to the desired result you want.
The optimized 900 watts motor and the refined nutrient extraction blade is capable of breaking down the whole frozen fruit and extracting the nutrient for a healthier lifestyle.
This Nutribullet 900 watt comes in different colors that will suit your kitchen.
BEST PERSONAL BLENDER FOR FROZEN FRUIT
Apart from Nutribullet, there are other personal blenders that have the capability of blending frozen fruit to the desired consistency you want.
We consider features, consumer reports, manufacturers' reputation, and value for money, in order for you to have the best purchase product for frozen fruit.
Below are good personal blenders for frozen fruit;
BLENDTEC TOTAL CLASSIC ORIGINAL BLENDER
This Blendtec total classic original blender is one of the best blenders for frozen fruit; it is a high-quality blender for smoothies, shakes, cocktail drinks, soups, crushed ice (snow cones, margaritas), juicer, ice cream maker, mixer, and more.
The advanced technology jar is designed to create a vortex, which pulls food towards the blade instead of pushing it to the sides of the jar like our competitors. With Blendtec jars, you won't waste time tending your blends with a tamper to get all the ingredients down into the blades, and no tamper means one less thing to clean when you're done.
The blade is a thick stainless-steel forged blade with wings for amazingly smooth blends; it is 10 xs stronger than other blender blades.
Blendtec blenders can also heat your food during the blend cycle. For instance, if you want soup for dinner, a Blendtec blender can blend it up and heat it up at the same time so it's ready to serve straight from the blender jar. No need to heat your soup in a pan.
Not only can Blendtec blenders heat your food, but they can also make ice cream. Actual ice cream can be made with the exact same blender that makes soup.
It is self-cleaning, just add a little soap and water into the jar and simply push the pre-programmed button for the jar to clean itself in less than 1 minute.
NINJA BL610 PROFESSIONAL 72OZ. BLENDER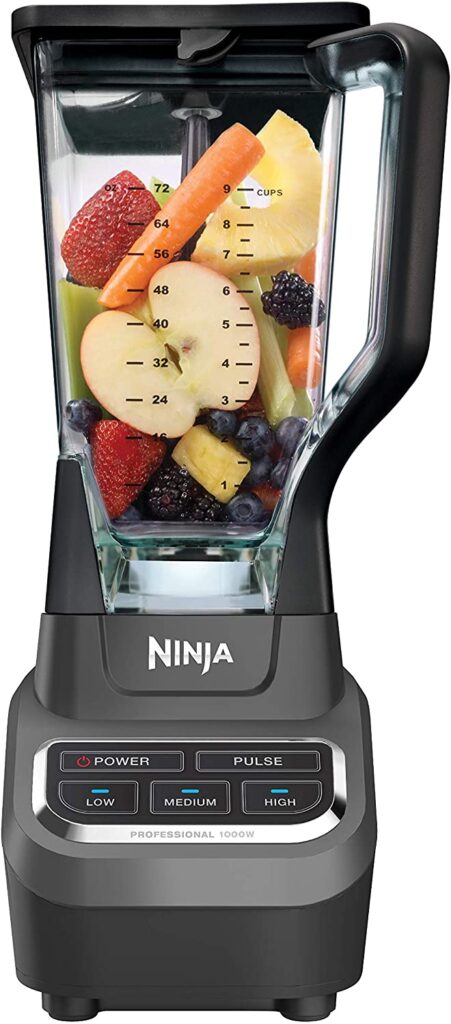 PROFESSIONAL POWER: the professional power of 1000 watts can crush ice and break down any tough ingredient.
XL CAPACITY: The 72 oz professional blender pitcher is excellent for making frozen drinks and creamy smoothies for the entire family. 64 oz. max liquid capacity
INTELLIGENT TECHNOLOGY: Total crushing technology delivers unbeatable power with blades that pulverize and crush through ice, whole fruits, and vegetables in seconds.
ICE CRUSHING: Blast ice into snow in seconds and blend your favorite ingredients into delicious resort-style frozen drinks.
The six-blade assembly allows you to crush ice and blend frozen fruit and other ingredients smoothly.
RECIPE INSPIRATION: The included recipe guide provides drink and dish-making inspiration.
FOR EASY CLEANUP: The Pitcher is BPA-free and dishwasher safe, making cleanup just as simple and easy as using the blender. To clean the motor base, use a clean cloth to wipe it.
WHAT'S INCLUDED: 1000 Watt Motor Base Professional Blender & 72 oz Total Crushing Pitcher with Lid.
VITAMIX PROFESSIONAL SERIES 750 BLENDER
Vitamix blenders are an investment built to last to create healthy, delicious food every day, from mealtime to snack time making healthier choices, or enjoying restaurant-quality smoothies at home—explore new ingredients, create classics, never get bored.
The Vitamix machine is dependable and it works together, creating faster, smoother blends packed with flavor.
The five pre-programmed settings ensure convenience and consistent results for smoothie, frozen fruits, soup, and purée recipes and simple cleaning so you can spend more time with the ones you love.
The Vitamix machine makes smoothies & juices, hot soups, flours & dough, nut butter, frozen desserts, batters, dressings & sauces, non-dairy milk, and more.
You're in control of the variable speed to achieve a variety of textures and the pulse feature lets you manually fine-tune the texture of any recipe.
The 64-ounce container is the perfect size for creating family meals and entertaining, and it fits comfortably under most kitchen cabinets.
Every Vitamix blender comes with a tamper design to help process thick and stubborn ingredients down the cortex.
The stainless steel blades are designed to handle the toughest ingredients, so from the first blend to the last; you get the same quality results.
For easy clean-up: Just blend warm water and a drop of dish soap at your machine's highest speed, and watch it self-clean in 30 to 60 seconds or less – no disassembly required.
What's in the Box: motor base, low-profile 64 oz. container, cookbook, low-profile tamper.HP: 2.2-peak
OSTER PRO 1200 BLENDER
Oster pro-1200 blender is a personal blender that makes everything fresh and delicious for you and your family.
This Oster blender and food processor feature 7 speeds, including 3 pre-programmed settings for creating smoothies and shakes.
The powerful motor 1200 watts consistently crushes ice, pulverizes green, and turns frozen fruit into smooth sorbet.
It has an extra-wide 3.5 jar that allows ingredients to reach the blade easier for faster and smoother results.
It comes with a 5 cup food processor with a slicing and shredding blade, the food chopper makes salsa, guacamole, or your favorite dip with ease.
CAN MAGIC BULLET BLEND FROZEN FRUIT?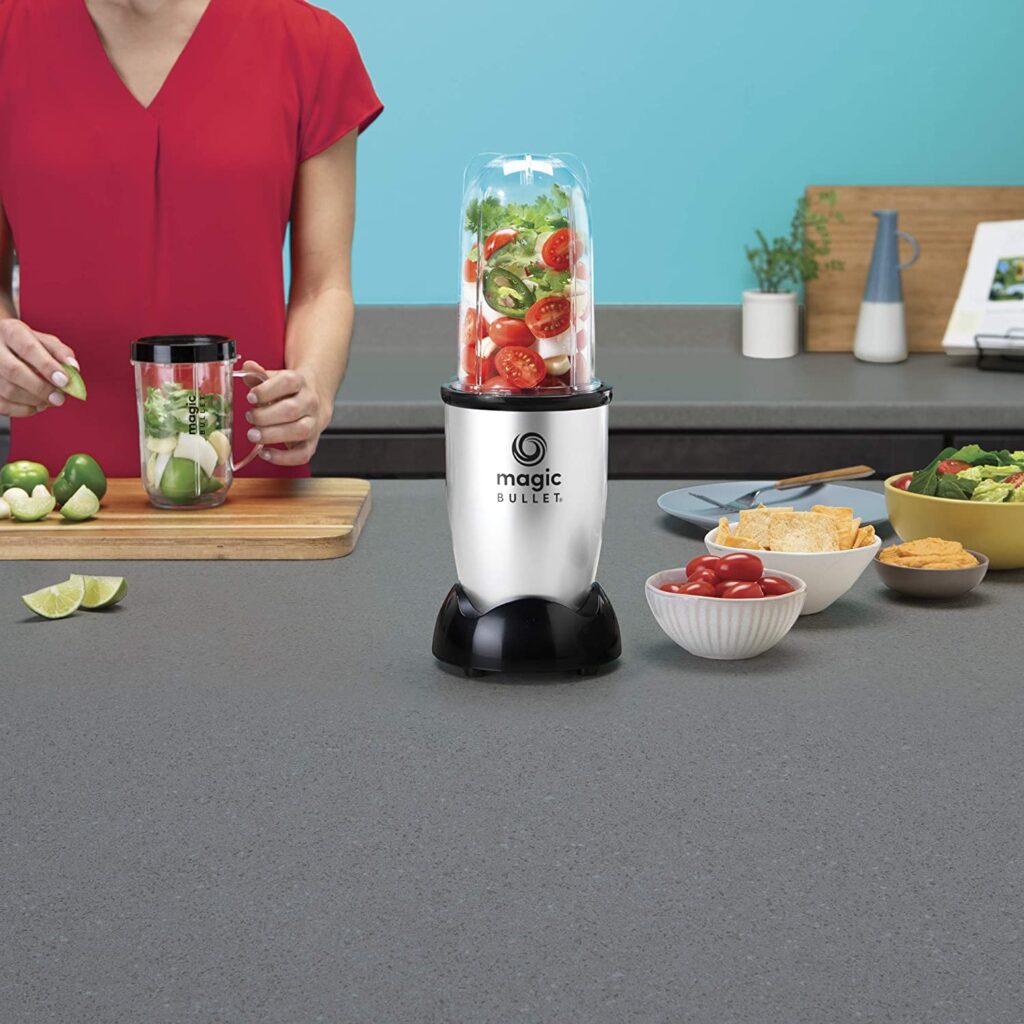 A magic bullet can blend frozen fruit but will not give the correct result because Magic Bullet Blender doesn't have the necessary power, wattage, and blade to fully pulverize frozen fruit.
In order to get a result, kindly add a little liquid to thaw your frozen fruits a bit before blending.
However, this 250 watts NutriBullet Blender can extract nutrients and blend whole foods into liquid fuel for your body in few minutes.
This 250 watts NutriBullet is capable of making nutrient-packed smoothies like nuts, berries, spinach, celery juice, etc. All you need do is, simply push twist and blend your way to a healthier lifestyle.
NUTRIBULLET 900 VS 1200
Nutribullet 1200 has multiple speeds that you can use to blend your whole food while nutribullet 900 does not come with multiple speeds.
Nutribullet 1200 comes with a 64 oz insulated cup capacity vessel grip that keeps smoothie while Nutribullet 900 comes with a 32 oz cup.
Nutribullet 1200 has more blending power that allows you to make the perfect texture than 900.
Nutribullet 1200 has a pulse control while Nutribullet does not have any pulse control.
Nutribullet 1200 is less noisy than 900.
Nutribullet 1200 and 900 material is BPA-free plastic.
Nutribullet 1200 and 900 come with a recipe book to make various nutritious drinks for a healthier lifestyle.
READ ALSO: NUTRIBULLET ICE