Hey there! As an Amazon Associate, I earn from qualifying purchases. I greatly appreciate your support!
Everyone needs a dinnerware set that is good in quality, durable, resistant to break and chip, dinnerware set that does not leach harmful chemicals into your delicious meal.
We know that sometimes, it can be difficult to decide on the right dinnerware that suits your home for healthy eating due to the variety of materials in the market these days.
In this article today, we are discussing Corelle VS Porcelain.
Corelle vs porcelain are both good materials that are manufactured by brands for various purposes. These materials Corelle vs porcelain has their strength, feature, similarities, and differences.
Let dive in to compare Corelle vs porcelain to see how they function.
IS CORELLE CERAMIC OR PORCELAIN?
In short, Corelle is not ceramic or porcelain. The material used for Corelle is different from that of ceramic and porcelain.
Porcelain is made of clay, they are in the family of ceramic.
ARE CORELLE DISHES PORCELAIN?
Corelle dishes are not porcelain. Corelle plates and bowls are made of Vitrelle glass and the mug that comes with some Corelle dinnerware sets is made of porcelain or stoneware.
CORELLE VS PORCELAIN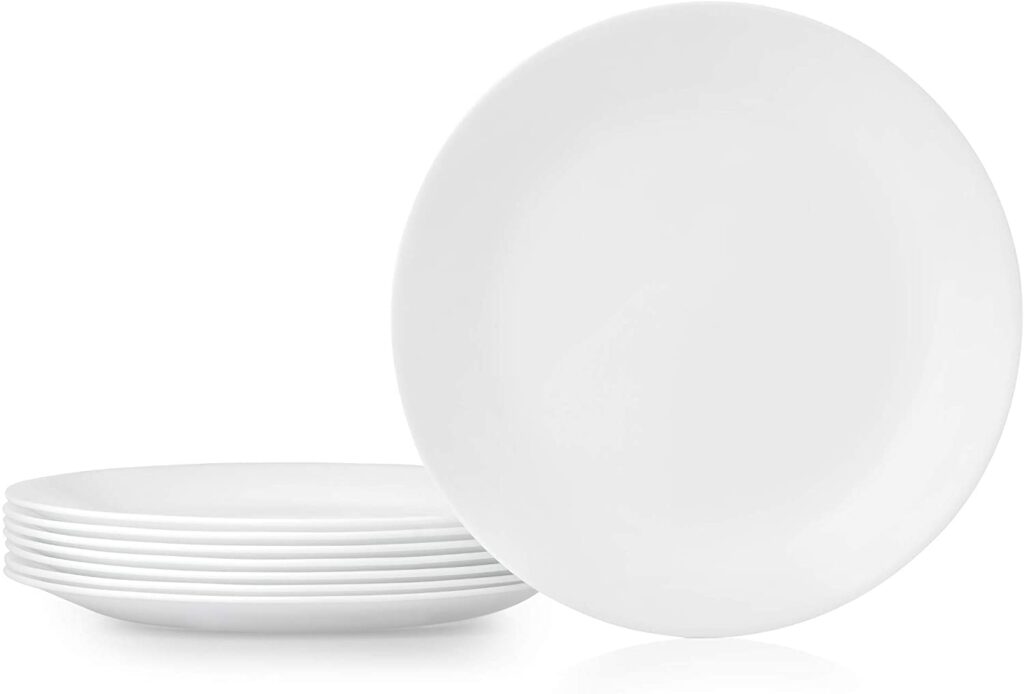 Corelle dinner sets are made of triple-layer laminated Vitrelle glass.
While porcelain was first made in China and traditionally made from two unique ingredients kaolin also called china clay a silicate mineral that gives porcelain its structure and petunse which gives the ceramic its translucency and hardness.
Corelle is a super adorable dinnerware material invested in the United States in the early 1970s.
Porcelain was first known in Jingdezhen between 206 and 220 A.D, the birthplace of porcelain, where the making and processing were first carried out.
Corelle dinner sets are made from a unique glass material, that is why, it is resistant to break, chip, and crack, making them perfect for outdoor and indoor dining.
While porcelain within the family of clay is made from kaolin, feldspar, silica, and quartz, it is glazed and fired at a very high temperature of 2,650 degrees Fahrenheit.
Corelle dinner sets are mostly translucent and white in color while porcelain is known for its whiteness, fineness, and translucency.
Corelle dinner sets are thin, lightweight, and stackable while porcelain within the ceramic family is strong, translucent, and vitreous, and tends to have lesser weight and density.
Corelle dinnerware is thinner than the porcelain dinnerware sets.
Corelle plates and bowls are light, sturdy, durable, and attractive for everyday use while porcelain is fancy and durable.
Corelle dinnerware is non-porous, providing a safe and hygienic surface for food while porcelain vitrifies during firing so the surface will be non-absorbent making way for light to see through.
Both Corelle and porcelain are considered to be tough, hard, resonance, and highly resistant to chemical attack and shock.
READ ALSO: ARE WHITE CORELLE DISHES LEAD-FREE
READ ALSO: IS LIBBEY GLASSWARE LEAD-FREE
READ ALSO: ADAPTIVE PLATES FOR ELDERLY
BEST MATERIAL FOR DINNERWARE
The best material for dinnerware is dinnerware material that is free of lead and cadmium. Dinnerware material made from the safest material will not release harmful chemicals to contaminate your food.
Furthermore, dinnerware made of high-grade non-toxic materials contains no glaze that can leak into your meal.
There are safe dinnerware sets that are durable, and non-porous which means that no microorganism will get stuck in it for safe and everyday healthy eating, also they can go in the microwave, oven, dishwasher, and freezer.
Dinnerware set material made from tempered opal glass is safe and using it also creates an atmosphere filled with love, peace, and calmness.
Another best material for dinnerware is the plain white Corelle dinnerware set that is ultra-hygienic and bone china made from added bone ash which not only is best and safe but also stronger than most dinnerware sets used on a daily basis.
A melamine dinnerware set is also safe for food as far as you will not put hot food or carry melamine dinnerware into the microwave or oven.
PORCELAIN VS TEMPERED GLASS DINNERWARE
Porcelain and tempered glass dinnerware sets are both durable but tempered glass dinnerware sets are extremely resistant to porcelain.
Porcelain and tempered glass dinnerware can withstand whatever you dish in, stronger than you imagine.
READ ALSO: TEMPERED OPAL GLASS VS STONEWARE
PORCELAIN DINNERWARE
Porcelain which is also known as china is a material used for various purposes, especially dinnerware and mugs.
Porcelain material can also be referred to as durable and translucent because of its nature.
Below are good examples of porcelain dinnerware for safe use;
SWEESE PORCELAIN ROUND DINNER PLATES
These Sweese plates are made of durable porcelain, a type of premium LEAD-FREE ceramic, chip-resistant, and sturdier than stoneware.
Each plate is stackable and doesn't take up a lot of space in your cupboard. They are also easy to clean; you can wash them with soap and hot water or place them in your dishwasher.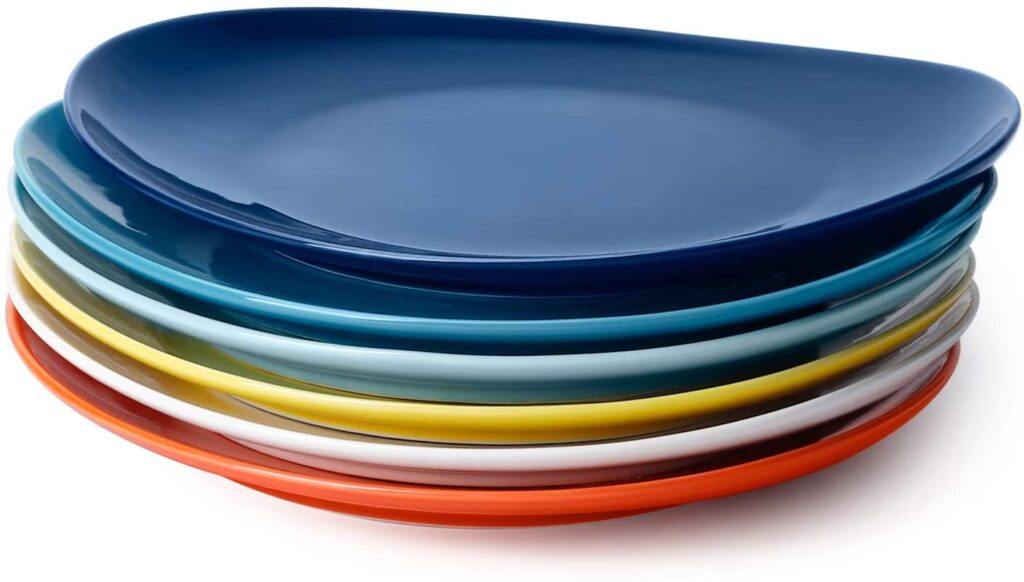 These colorful and stylish dinner plates look fantastic on the table and the gradient color adds a stylistic touch and brightens up your home. These dinner plates have a lip all around the edge to prevent food runaway.
They are safe in the dishwasher, microwave, oven, and freezer and perfect for sandwiches, pasta, pizza, steak, and even foods with soup.
DANMERS PORCELAIN DINNER PLATES
This Large and wide dinner plates have small sides groove in order to prevent meals from flowing out.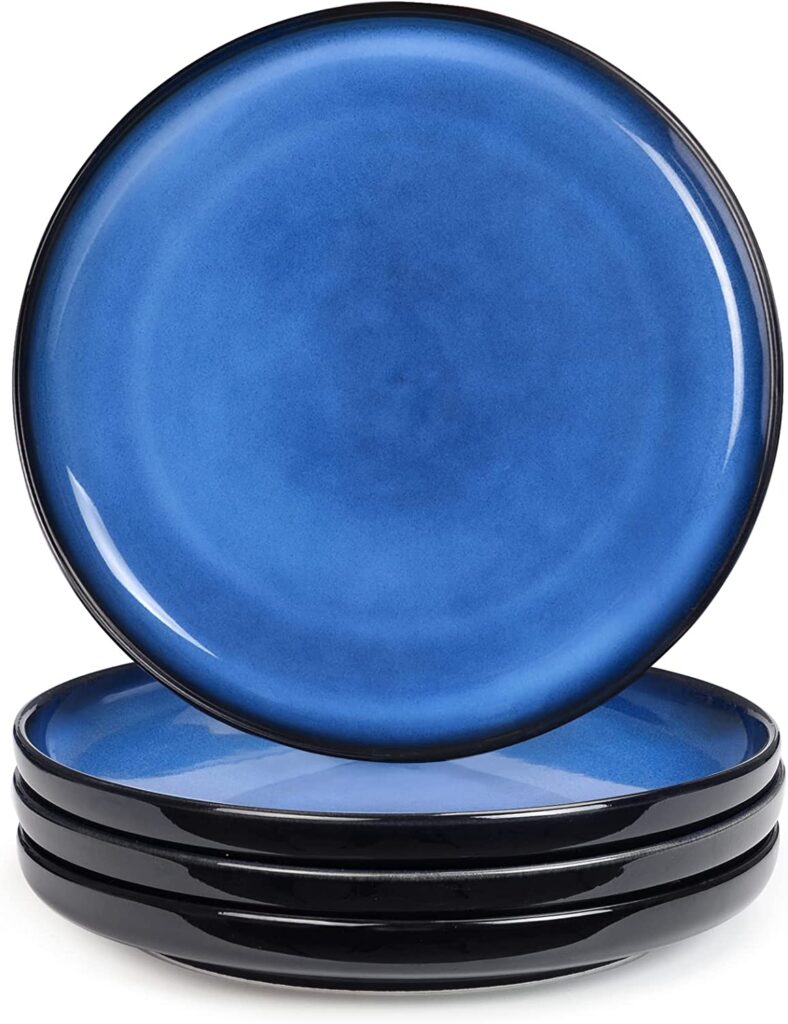 These dishes plate sets are made of lead-free and non-toxic ceramic so you don't need to worry about fading or harmful residue into your food. It has a stylish look, bringing you a gorgeous feeling in your kitchen.
These plates are sturdy and safe in your microwave, freezer, and dishwasher. Also easy to clean by hand if needed.
They are chip-resistant, easy to stack, and save your kitchen space. These dinner plates set suitable for pasta, noodle, steak, dessert, appetizers, and more.
You can gift these wonderful plates to your friends and family.
EURO CERAMICA ESSENTIAL COLLECTION PORCELAIN DINNERWARE AND SERVEWARE
These 16 pieces of set service for 4 include four each: dinner plate, salad plate, cereal bowl, and soup bowl.
The White essential collection is made of durable true-white porcelain, which is oven-to-table, microwave safe, and dishwasher safe.
The sleek, glossy true-white finishing on the dishes will not scratch or fade and is designed to bring the best presentation from any food.
These dinnerware sets are classic and casually refined for both casual and formal dining. They are also resistant to scratch and fade.
Note: Never put a hot dish directly on a bare surface.
READ ALSO: IS OPALWARE SAFE FOR HEALTH
OPALWARE VS CERAMIC
Opalware is a high-quality material, made from toughened glass while ceramic is made by a mixture of clays, earthen elements, powders, water and shaping them into desired forms. When the ceramic has been shaped, it is fired in a kiln at a very high temperature.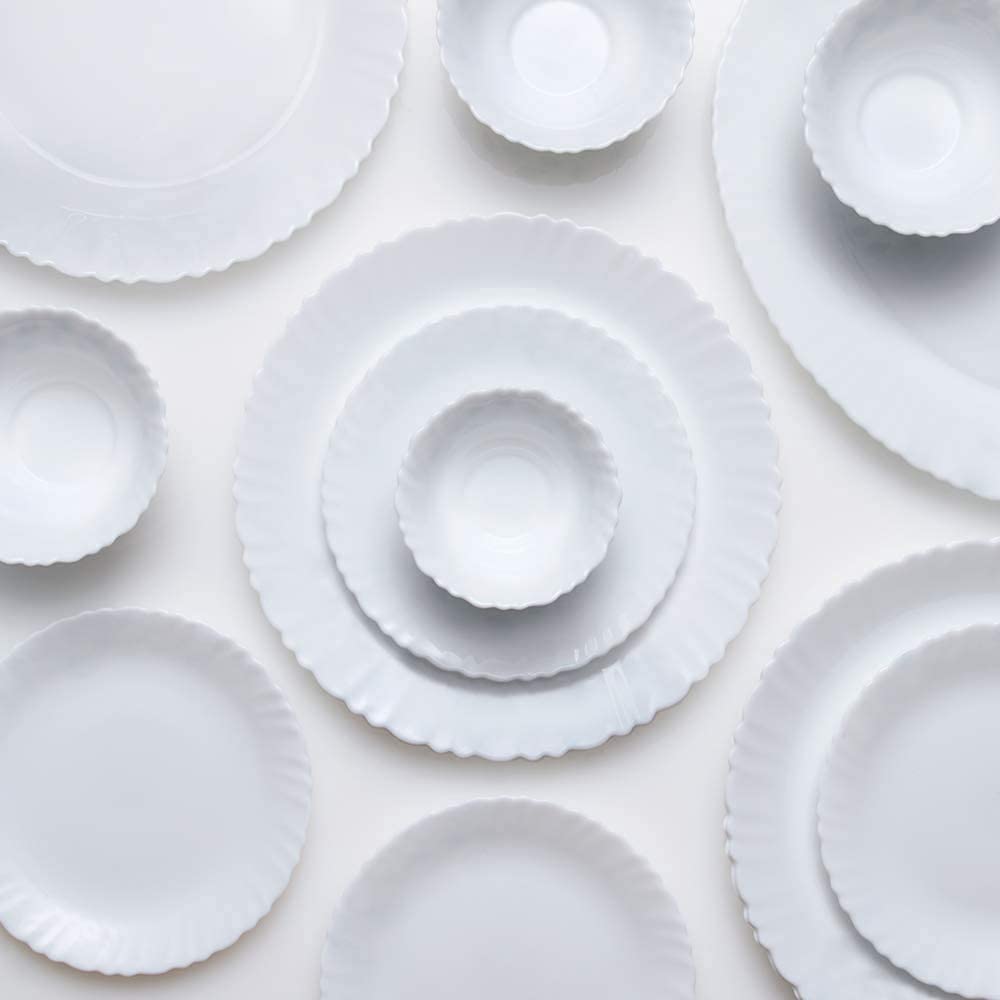 Opalware dinner set is lightweight, highly durable, and will last for a long time when handled properly.
While ceramic is generally durable and can resist scratches and some damage due to the molecular structure.
Opalware dinner set is known for its milky white glass which is either opaque or translucent.
Ceramic is a hard, brittle, heat-resistant, and corrosion material made by shaping and then firing. Most often, fired ceramics are either vitrified or semi-vitrified as is the case with earthenware, stoneware, and porcelain.
Opalware has the ability to withstand wear and tear and also retain its shining, brightness, and especially their design while ceramic dinnerware sets are thick, and because of the thickness, it has the ability to retain heat inside.
Opalware is chip, break, and scratch-resistant. Designed for daily use, Opalware is easy to clean, dishwasher, microwave safe, and also stackable.
Ceramic materials are convenient and are now included for use in various products like tableware, pottery products, domestic, industrials, building, bricks, floor tiles, roof tiles, and many more.
Opalware generally is hygienic making it safe for your family's use, 100% vegetarian, bone ash-free, and made of green material that is thermal resistant.
While ceramics can withstand chemical erosion that occurs in other materials subjected to acidic or caustic environments.
READ ALSO: OPALWARE VS CORELLE
READ ALSO: CAN CORELLE DINNERWARE GO IN THE MICROWAVE
ARCOPAL VS CORELLE
Arcopal tableware made from tempered glass gives its genuine resistance to thermal shocks even with temperature differences up to 135 degrees Celsius while Corelle is made in the USA with a warranty of 3 years.
Arcopal ware made of tempered glass gets its exclusive thermal treatment that gives it mechanical resistance of up to three times more than other tableware.
While Corelle set is made with Vitrelle glass which makes it resistant to breaking, cracking, and scratch.
Arcopal is known for its milky white opaque look with a material that is durable, resistant, and strong while Corelle is lightweight and thinner than most dinnerware sets.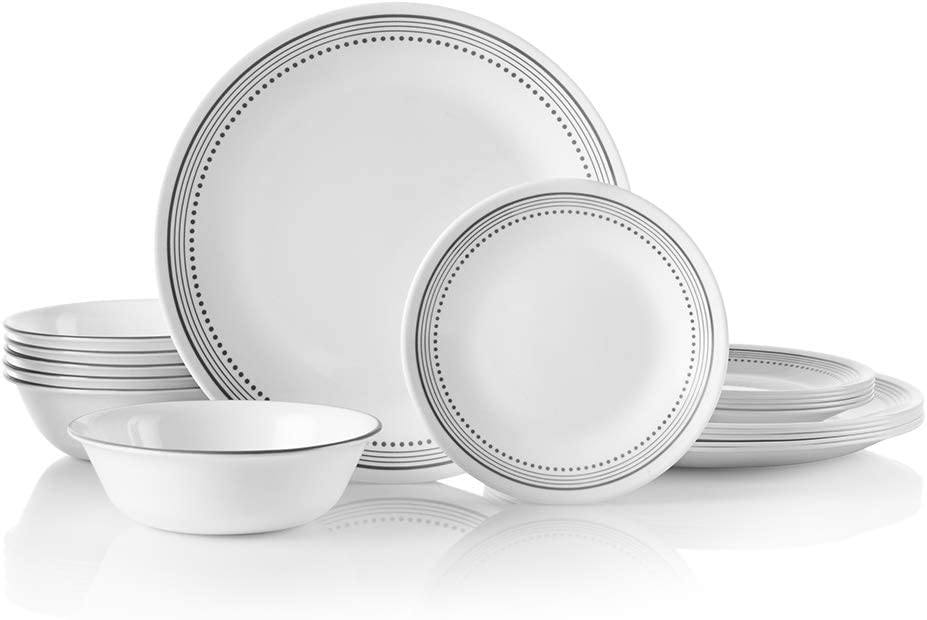 Arcopal dinner sets are opal glass and known to make childhood memories while Corelle set gives a touch of elegance experience to outdoor dining.
Arcopal and Corelle dinner sets are non-toxic, 100% hygienic, good quality and does not absorb food particle.
Arcopal and Corelle dinner sets are made from the safest material making them extremely safe to use for everyday use.
Arcopal and Corelle dinner sets are lightweight to handle, dishwasher, microwave, and oven safe.
BONE CHINA VS PORCELAIN
Let's look into the differences between bone china and porcelain. Sometimes you hear a lot of people describing porcelain as china.
Before I proceed let me drop this, china is often used generally to describe a lot of tableware items because most items are manufactured in china.
In the aspect of bone china vs porcelain there are a lot of differences, let's see them;
Porcelain is made of feldspar, quartz, and kaolin and mixed together and put at a temperature up to 1400 degrees centigrade.
While bone china is normally made in a similar way to porcelain but there is a unique ingredient and that is, cow bone, because of this added bone ash, a lot of time bone china is put in a kiln at a slightly lower temperature.
The second difference is the color. The bone ash added to bone china gives it the creamy, soft, and unique color that it is known for.
While porcelain without the bone ash added often has a starker brighter white tone.
Thirdly, if you lift bone china tableware up and put your hand behind it, you will find out that you can see your hand through the tableware while in porcelain you might not see through.
Fourthly, in bone china, due to the added bone ash, is a lot stronger, and resistant to chip and break than porcelain.
The only complaint is that bone china is expensive and it is due to its manufacturing process and materials being used.
Lastly, bone china is developed by an English potter Josiah Spoda. Bone china is known for its high levels of whiteness and translucency and also very high mechanical strength and chip resistance. Its high strength allows it to be produced in thinner cross-sections than other types of porcelain.
LUMINARC VS CORELLE
Luminarc brand was first introduced in 1958 as a brand for glassware made of annealed glass, before then it expanded to manufacturing tableware with multiples glass materials ( opal, tempered glass, zenix).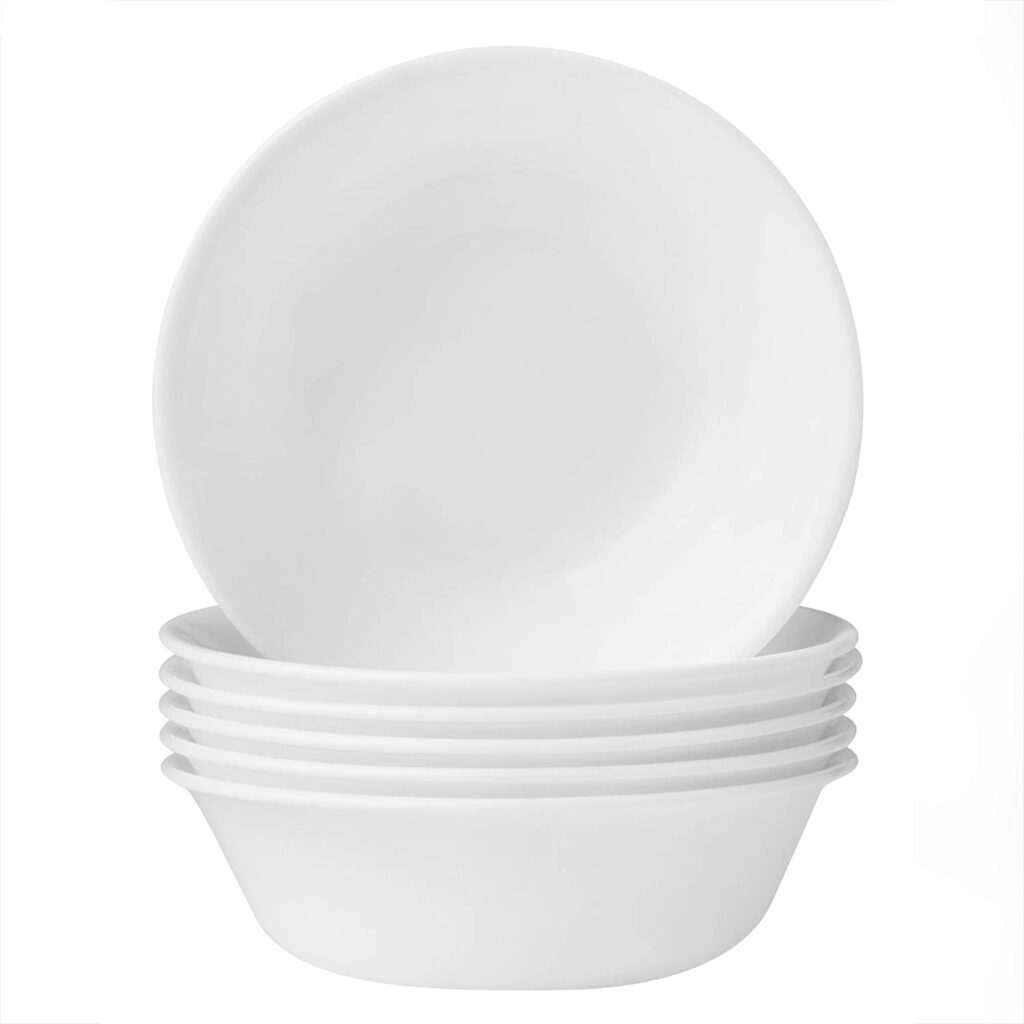 While Corelle is a brand of glassware and tableware, it was introduced by corning glass work in 1970 but is now manufactured by Corelle. Corelle products are made in the USA from a unique tempered glass material called Vitrelle. Vitrelle glass makes Corelle thin and translucent as fine china, yet stronger.
Luminarc dinnerware sets are made to complement every dining while Corelle dinnerware sets are perfect for outdoor and indoor dining, bringing beauty to the environment.
Luminarc is made in France while Corelle is American Corelle.
Luminarc dinnerware sets are perfectly made to bring beauty and functionality to your home while Corelle dinnerware is chip and break-resistant.
Not all Corelle dishes are free of lead and cadmium so it is better to stick only to the white Corelle dishes.
The only way to detect lead and cadmium in any dinnerware is to use the simple method which is the lead test kit for dinnerware. Using a Corelle dish that is safe for health is very important.
READ ALSO: CAN FIESTA DINNERWARE GO IN THE OVEN
FELDSPAR PORCELAIN VS PORCELAIN
Feldspar porcelain and porcelain have durable materials. Feldspar porcelain and porcelain are both manufactured in similar methods.
Here are some things to know about feldspar porcelain vs porcelain;
Feldspar porcelain is a family of porcelain, which was produced in the early 1700s in Europe while porcelain is a type of clay among the categories of the ceramic family.
Feldspar porcelain is white with a slightly greyish-blue tone and also is slightly translucent.
Feldspar porcelain and porcelain are fired at a very high temperature.
READ ALSO: STONEWARE VS PORCELAIN MUGS
DOES PORCELAIN BREAK EASILY
Porcelain can break easily like most other ceramics especially if you don't handle it with carefulness.
Porcelain is known to be durable but don't forget that they are also prone to crack, chip, and break that is why you need to follow the manufacturer's order so your porcelain dishes can last for you.
Another thing to know is that it is best to hand-wash your dishes or wash in a dishwasher, only if it indicated that it is dishwasher safe.
CORELLE VS BONE CHINA
Corelle dinnerware sets are manufactured in Corning, New York while bone china is made from cow bone. The bone is finely ground into bone ash, and it is then mixed with feldspar, ball clay, quartz, and kaolin.
Corelle is a non-porous, durable microwave, and oven safe while bone china is known for its great strength and resistance to chipping which results from a high firing temperature.
DOES PORCELAIN RETAIN HEAT?
Porcelain retains heat because it has a high level of thermal conductivity that helps it retain heat for a long time.
IS CORELLE EASILY BREAKABLE?
Corelle which is made from Vitrelle glass can easily break when dropped on a hard surface such as floor tile and also if you handle the dishes improperly.
READ ALSO: ARE CORELLE DISHES PORCELAIN