Hey there! As an Amazon Associate, I earn from qualifying purchases. I greatly appreciate your support!
Modern kitchens would not be complete without a microwave because it offers a fast and convenient way to cook and reheat food. It can be challenging to choose the right size microwave for your family as there are various sizes available in the market. In this article, we will answer the question "What is a good size microwave for a family? The size of a microwave is determined by its capacity, which is measured in cubic feet. When selecting the right microwave size for your family, several factors need to be considered such as the size of your family, the amount of food, kitchen space, and many more. Let's dive in;
BEST WATTAGE FOR MICROWAVE
For effective use, the best wattage for microwaves is 1000 watts. Is not that 900 watts are not great but with the range of 1000 watts the cooking and reheating time is lesser and they can thaw, auto, and defrost foods faster. It is also ideal for home, office, etc.
WHAT IS A GOOD SIZE MICROWAVE FOR A FAMILY?
A good size microwave for a family should have a capacity of 1.0 cubic feet, and above which can comfortably accommodate a dinner plate and a few bowls or cups.
However, families with more members or those who cook larger meals may prefer a microwave with a larger capacity, such as 1.6 to 2.2 cubic feet.
It is also important to note the space in the kitchen and ensure that the microwave fits comfortably on the counter or in the designated space.
Below are examples of microwaves for families;
COMMERCIAL CHEF 900 WATT COUNTERTOP MICROWAVE OVEN
With this white countertop microwave oven, you don't need to hit the bank. It has all the functions you need to heat and reheat your meal. It fits in anyone's budget if you want a microwave oven in your kitchen.
Great for a small kitchen or dorm room, this unit provides the benefit of convenient features you would find on a larger microwave without taking up too much counter space.
These preset options prepare these common foods with just one touch of a button like popcorn, baked potato, pizza, beverage, reheat, and frozen dinners.
The digital clock/timer and LED display make this microwave one of your most useful kitchen tools and the child safety lock so you don't need to worry.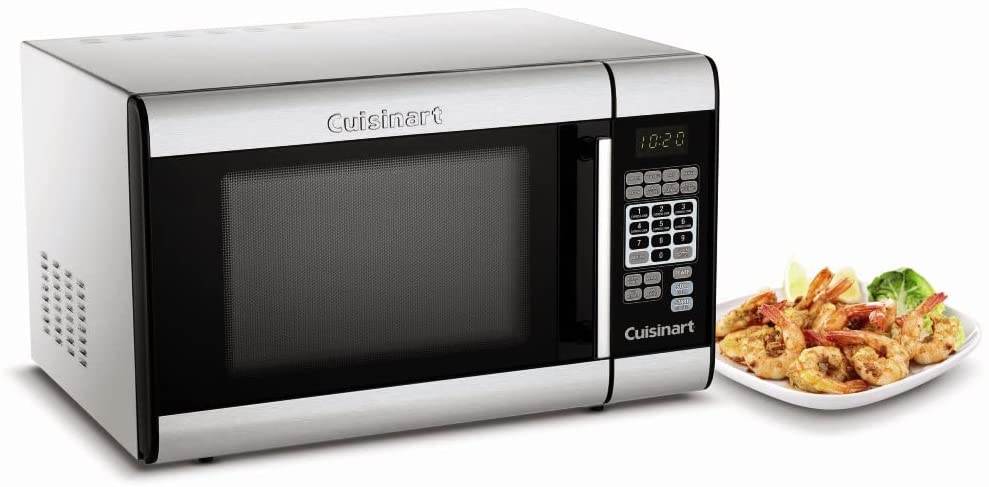 The Cuisinart 1 cubic foot stainless steel microwave oven is a great microwave for a family with a smaller kitchen and also great for a dorm or college room.
Cuisinart 1 cubic foot has the capacity to cook and reheat food.
The microwave offers 8 Presets, including Popcorn, Beverage, Rice, Reheat, Fresh Vegetables, Frozen Vegetables, Baked Potato & Bacon.
This 1.0 cubic feet stainless steel interior will not absorb odor and is easy to clean, making it microwave-good on the outside and inside.
microwave Mid-size
Size: 1 to 1.5 cubic feet
Best for families of 2-4 people
BLACK+DECKER DIGITAL MICROWAVE OVEN
The Black+ Decker microwave oven is suitable for 2-4 people.
The Pre-programmed buttons are for popcorn, potato, pizza, frozen vegetable, beverages, and dinner plate
It has a durable 12.4" glass turntable that allows fitting dishes of all sizes, from small bows to your family's dinner plates
It has a capacity of 1.4 cubic feet which is sufficient to handle a large meal at once.
The Dimensions (W x D X H): 20.4 x 16.9 x 12.4, Internal dimensions: 13.82 x 15.98 x 9.80 (WxDxH)
PANASONIC MICROWAVE OVEN STAINLESS STEEL
This Panasonic Microwave 1200 Watt high power, 1.2 cubic foot capacity stainless steel countertop/built-in microwave delivers a seamless stream of cooking power for even cooking and delicious flavor.
It delivers consistent, evenly prepared food without overcooking.
This countertop microwave with a 13.4-inch turntable is lighter and more efficient, allowing fitting dishes of all sizes
Internal dimensions (H x W x D): 9 15/16 inch x 13 15/16 inch x 14 3/8 inch
The microwave oven also has 14 preset menu items, a quick minute timer, a start button, and a child safety lock
This inverter microwave keeps soups, gravies, or desserts warm and fresh until ready to serve
Full-size microwave
Size 1.6 to 2 cubic feet
Best for families of 4-6 people
TOSHIBA Countertop Microwave Oven: This 1200-watt high-power countertop microwave has 10 power levels and includes a pre-programmed sensor menu for optimum heating of popular foods like pizza, potato, vegetable,s and more
1.6 cu. ft. capacity; 13.6″ turntable; fitting a 13-inch pizza; with one touch popcorn button as a kitchen essential for 4-6 people.
External dimension (WxDxH): 21.77″x17.91″x12.87″, internal dimension (WxDxH): 15.51″x17.05″x10.24,
Panasonic Microwave oven: This 1250 Watt high power, 2.2 cubic foot capacity stainless steel countertop/built-in microwave delivers a seamless stream of cooking power for even cooking and delicious flavor.
This microwave oven is good for large families, the turntable can fit in any kitchen place.
it is easy to use and operate.
The Panasonic microwave oven can cook and reheat leftover food faster.
it saves you time so that you can attend to other activities of the day.
WHAT SIZE MICROWAVE DO I NEED TO FIT A DINNER PLATE?
What size microwave do I need to fit a dinner plate? A microwave that is large enough to fit a standard dinner plate should have an interior that measures at least 10 inches in height and at least 16 inches in width and depth.
Below are recommended microwave ovens;
Panasonic compact microwave oven is a Microwave cooking made easy and space-saving, equip with 1. 2 Cu. Ft. 1200W stainless steel countertop oven with 11 power levels, smart controls, and LED, 3-level popcorn button, 13. 4-inch glass turntable.
A farberware countertop microwave oven is ideal anywhere you need it. Is a Countertop microwave solution for home or office use? Full-sized cooking that fits in a compact space.
READ ALSO: WHAT SIZE MICROWAVE WILL FIT A DINNER PLATE
READ ALSO: BEST FRIDGE FOR VAN LIFE
STANDARD MICROWAVE SIZE IN LITRE
The most common microwave sizes are between 20 and 30 liters. A 20-litre microwave is a compact size that is suitable for smaller kitchens or for individuals or couples who don't need a large capacity. It is also a good option if you are on a budget because is less expensive than larger models. A 20-litre microwave is typically big enough to fit a dinner plate, and it usually has a power output of 700-800 watts.
A 25-litre microwave is a mid-sized option that is suitable for most households. It is big enough to fit larger plates and dishes and is also suitable for cooking or heating larger quantities of food. A 25-litre microwave usually has a power output of around 800-900 watts, which means it can cook food faster than a smaller microwave.
A 30-litre microwave is the largest size option, if you have more space. the size is suitable for families who need to cook or heat large quantities of food. A 30-litre microwave usually has a power output of around 900-1000 watts, which means it can cook food quickly and evenly.
BEST WATTAGE FOR MICROWAVE POPCORN
The wattage of a microwave can affect the popping of popcorn. If the wattage is too high, the popcorn may pop too quickly and could potentially burn. On the other hand, if the wattage is too low, it may take longer to pop the kernels.
The ideal wattage for microwave popcorn is between 800 and 1200 watts. This range provides enough power to efficiently pop the kernels without the risk of burning them.
If your microwave has a wattage above 1200, it's recommended to use a lower power setting or reduce the cooking time to avoid burning the popcorn. For microwaves with wattage below 800, it may take longer to pop the popcorn, so you may need to adjust the cooking time accordingly.
An example of the best microwave for popcorn is the sharp 1000 watts microwave oven.
Note: it is important to monitor the popping process to avoid burning the popcorn.
WHAT TO LOOK FOR IN A MICROWAVE OVER THE RANGE?
When it comes to choosing a microwave over the range, there are several factors to consider to ensure that you end up with the right appliance for your needs. The following are some key features to look for when shopping for a microwave over the range.
Size and Capacity: Microwaves over the range come in various sizes, and it's essential to choose one that fits your kitchen space. Measure the area where you plan to install the microwave and ensure the appliance you want fits within those dimensions. Also, ensure that the microwave's capacity is sufficient for your family's needs. The most common dimensions are 30 inches long by 16 inches wide by 17 inches high.
Ventilation: One of the main benefits of installing a microwave over the range is that it doubles as a range hood, removing cooking odors and smoke. Use a microwave with adequate ventilation power to ensure it effectively removes smoke and steam from your kitchen.
Wattage and Power Levels: The microwave's wattage determines how quickly it can cook food, and a higher wattage typically means faster cooking times. The optimal wattage for an over-the-range microwave oven is between 900 and 1000 watts. A lower wattage may make the microwave struggle to heat food evenly. More powerful over- the- rang microwaves will 1100 and 1200 watts will heat food faster and more evenly.
Controls: Choose a microwave with controls that are easy to use and understand. On most over-the-range microwaves, the control is at the right of the door, but some modes position the controls as part of the microwave aesthetic. Other microwave models have a control panel along the bottom of the door, making it more accessible for short family members. Others go with a more streamlined look by placing the controls inside the door.
Lighting: The microwave should have adequate lighting to illuminate the cooktop area below. Microwave model with bright and energy-efficient LED lights that provide ample visibility when cooking.
Brand and Warranty: A brand with a reliable warranty that covers parts and labor in case of defects or malfunction. A good warranty can provide peace of mind and save you money in the long run.
HOW DO I KNOW WHAT SIZE MICROWAVE TO BUY?
When you're in the market for a new microwave, choosing the right size can be a challenging task. With so many options available, it can be difficult to determine what size will best fit your needs.
Here are some key factors that will help.
First, the types of food you do cook or reheat in the microwave. If you primarily use your microwave to reheat leftovers or make popcorn, a smaller microwave will do, and if you frequently cook meals in the microwave or need to heat up large dishes, you may want to consider a larger size.
Secondly, the size of your kitchen and countertop space. If you have limited counter space, a smaller microwave will ok. On the other hand, if you have ample room and frequently cook large meals, a larger microwave is suitable for your kitchen.
Thirdly, family size and how much food you do cook or reheat at once. A larger family may require a microwave of 1.7 cubic feet to accommodate their needs.
WHAT SIZE MICROWAVE IS GOOD FOR A FAMILY OF 3?
TOSHIBA 3-in-1 Countertop Microwave Oven
This Toshiba 1. 5 cu. Ft. 1000 watts microwave oven with a Stainless Steel finish is a good microwave for a family of 3.
The Pre-programmed sensor menu is optimum for popular foods like frozen pizza, potatoes, vegetables, and more
The Warm Hold function is used to keep prepared dishes warm for up to 99 minutes at a ready-to-serve temperature, enabling your family to enjoy optimum cooking results anytime.
This Toshiba microwave oven has many user-friendly features, equipped with 1.5 u. feet large capacity that will easily satisfy dinner plates for a family of 3.
The 1.5 cubic feet microwave has the capacity to cook and reheat food regularly for a household of 3 people.
This microwave is easy to operate and clean
IS AN 800-WATT MICROWAVE POWERFUL ENOUGH?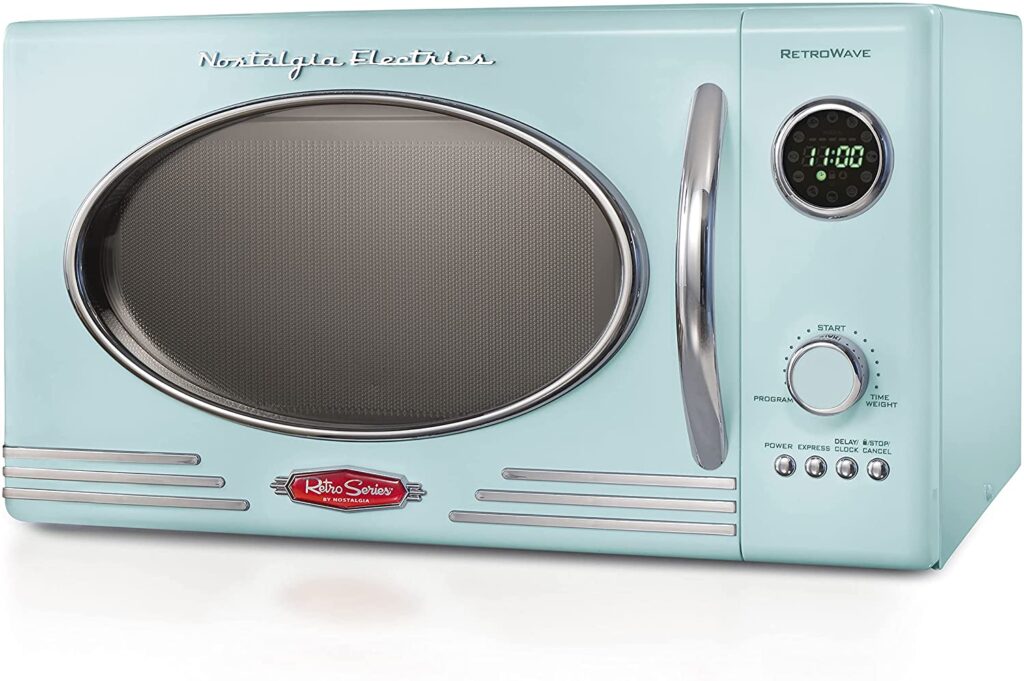 A 800w microwave oven is efficient enough to take care of pizza, frozen vegetables, and popcorn, reheat leftover meals and even cook raw food. A good example of 800-watt microwave is the Nostalgia microwave.
The Nostalgia 800 watts microwave oven countertop is beautifully designed to suit any kitchen style.
The 800-watt microwave has 12 pre-programmed cooking settings with a delay timer for optimal heating of popular foods like popcorn, pizza, potatoes, veggies, frozen entrees, beef, chicken, and more
The capacity of this microwave is 0.9 cubic feet, this microwave provides the cooking power needed to quickly cook and reheat foods.
The Nostalgia 800-watt microwave size can easily fit your standard plate. The Rotating glass carousel helps cook food evenly.
This compact countertop microwave has a Simple turn-and-push dial program dial.
STANDARD MICROWAVE SIZE CM
The standard microwave sizes can vary depending on the brand and model. However, most microwaves fall within a standard size range. The dimensions for a microwave are between 40 and 60 centimeters in width, 30 and 45 centimeters in height, and 30 and 40 centimeters in depth.
Microwaves with a width of 40 centimeters or less are considered compact or small microwaves. They are suitable if you have limited counter space or live in a small apartment. These microwaves usually have a capacity of less than 0.5 cubic feet.
Mid-sized microwaves range from 40 to 55 centimeters in width and have a capacity of 0.5 to 0.8 cubic feet. They are a good choice for moderate counter space and they are capable of heating larger food items.
Large microwaves are typically 55 to 60 centimeters in width and have a capacity of over 0.8 cubic feet. They are ideal for larger families or chefs that cook large meals in their microwaves.
HOW TO MEASURE MICROWAVE PLATE SIZE?
The easiest way to determine the size of a microwave plate is to use a measuring tape and take the measurement from one end to the other end to determine the number of inches of the glass turntable.
READ ALSO: WHAT IS A GOOD SIZE MICROWAVE FOR A FAMILY IN INDIA