Hey there! As an Amazon Associate, I earn from qualifying purchases. I greatly appreciate your support!
Whether you are adding to your collection or starting from scratch, drinking from glassware that is safe and does not contaminate your drink is good and healthy.
Luminarc is a French brand created in 1948 under the family of ARC international that specializes in the design and manufacturing of tableware and glassware for daily use.
The Arc holding is known to distribute its collection among 5 good brands and they are Luminarc, Arcopal, Cristad d' Arques paries, Arcoroc, and Chef & Sommelier.
Is Luminarc glassware safe? Luminarc glassware is glassware getting from the safest materials which will not absorb particles from bacterial formation making it safe.
IS LUMINARC GLASS OR PLASTIC?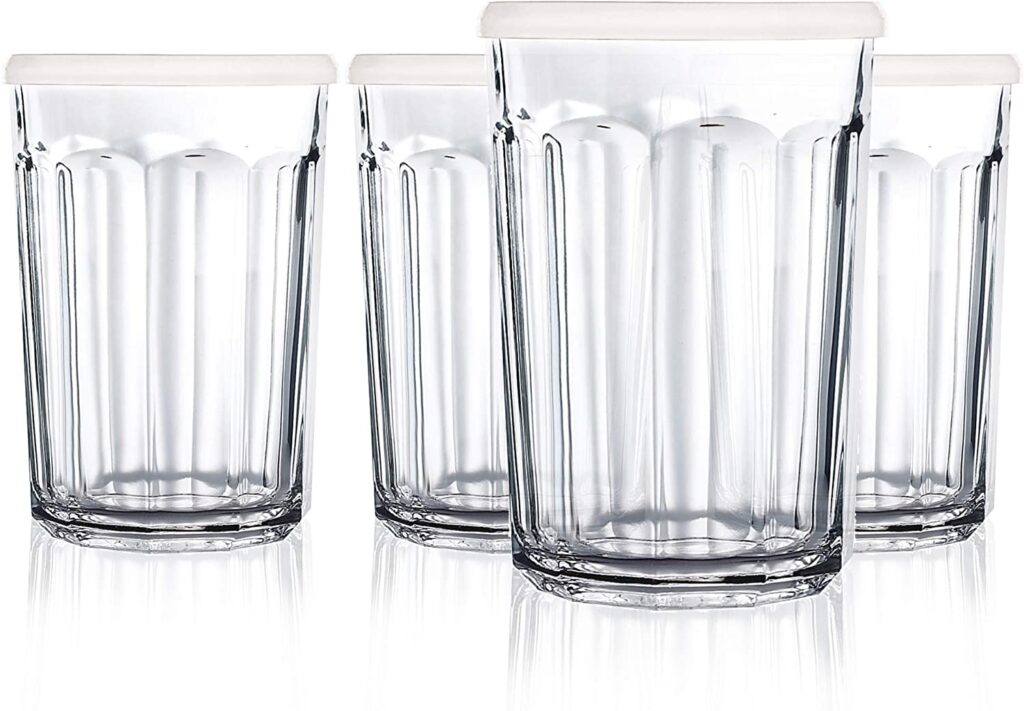 Luminarc products are glass; they are made of tempered glass that is durable and resistant to thermal shock, break, and also chip.
 Just for you to know, glass is one of the safest materials, it is a non-porous material, as compared to other tableware materials, and therefore does not retain any micro-organisms which could lead to bacterial contamination.
IS LUMINARC GLASSWARE OVEN-SAFE?
Luminarc withstands temperature changes up to 135 degrees centigrade, which makes it safe to use in the microwave oven.
The Luminarc new Pure Box Active Container Food Storage is made of tempered glass which is extra resistant. It is BPA Free and microwave safe.
IS LUMINARC GLASSWARE SAFE?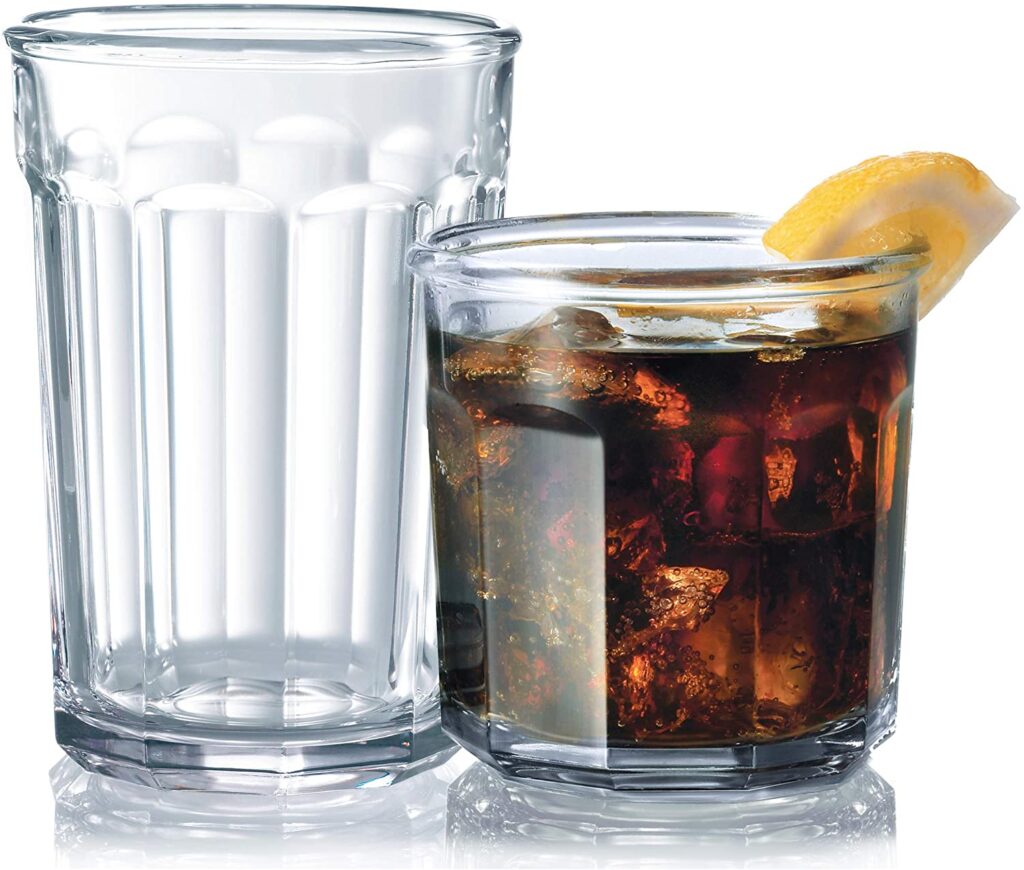 Lumuinarc glassware is made of glass that is lead-free, a naturally non-porous material that makes it 100% healthy and hygienic for safe use. Luminarc is sturdy, durable, resistant, and thermo-resistant.
LUMINARC VS DURALEX
Luminarc is a part of ARC holding that manufactures glassware and tableware.
While Duralex was created in1938, it has been manufacturing glassware and tabletop products in La Chapelle- saint Mesmim in French.
Luminarc is thermo-resistant while Duralex is manufactured to withstand temperature extremes from -4 degrees Fahrenheit to 212 degrees Fahrenheit and is also suitable for hot and cold liquid.
Luminarc products are lightweight, durable, and strong.
Duralex product is 2.5 times more resistant than a fired product of equal thickness.
Luminarc and Duralex are very hygienic, non-porous, and do not absorb liquids, colors, or flavors.
Luminarc and Duralex are made of tempered glass, conveniently stackable, dishwasher, and microwave safe.
READ ALSO: DOES BORMIOLI ROCCO GLASS CONTAIN LEAD
READ ALSO: DOES BOROSILICATE GLASS CONTAIN LEAD
IS LUMINARC BREAKAGE-FREE?
Luminarc's fully tempered products offer longer durability and increase resistance to shocks and heat as well as added safety in case of breakage.
This fully tempered glassware technology is durable high- strength resistant to break and chip.
LUMINARC VS CORELLE
Luminarc brand was first introduced in 1958 as a brand for glassware made of annealed glass before it then expanded and has manufacturing tableware with multiple glass materials (opal, tempered glass, Zenix).
While Corelle sets are made in the USA, from a unique glass material called Vitrelle. The unique 3 layered Vitrelle glass makes Corelle thin and translucent as fine china, and yet stronger.
Luminarc sets are made to complement every dining while Corelle sets are perfect for outdoor and indoor dining bringing beauty.
Luminarc sets are part of the ARC international French brand while Corelle sets are manufactured in Corning, New York.
Luminarc and Corelle are both made of glass, durable, lightweight, safe to use, dishwasher and microwave safe.
READ ALSO: LUMINARC VS CORELLE
READ ALSO: DRINKING CUPS FOR ELDERLY
HOW DO YOU KNOW IF DRINKING GLASSES ARE LEAD-FREE?
It is important to ensure that the drinking glass you are using is free of lead to avoid health problems.
How to know if drinking glasses are lead-free
Firstly, using a fork to gently tap the edge of the glass if it makes a ringing sound, is a way of telling you that the glass does not have lead content but if it makes a duller sound, there is lead.
Secondly, glasses without lead are lighter while glasses with lead are heavier when you compare them both.
Thirdly, lead is used for beauty and coloration. A glass that is lead-free is 100% pure glass.
Fourthly, when you shine light through a lead-free glass, you will notice that there is no prism window.
Lastly, if you also want to check your dishes to determine if there is lead in it or not, the easier way is to use home lead test kits.
A home lead test kit will help in determining the level of lead in dishes.
WHAT IS THE SAFEST GLASS TO DRINK FROM?
Apart from Luminarc glass that is safe, there are other safe and lead-free drinking glasses manufactured under safety and accordance with the health guide.
Below are examples;
Anchor Hocking lead-free and safe glass
Borosilicate safe glass
Libbey lead-free and safe glass
Duralex lead and cadmium free and also safe glass
Highball safe glass
Arcoroc safe glass for drinking
GODINGER HIGHBALL SAFE GLASSES
1. These 14 oz lead-free tall highball glasses will complete any barware collection.
2. Thick base adds stability and keeps the glass from shattering while the cylindrical shape is designed for a comfortable grasp and easy use.
3. They are designed for comfortable and convenient use and can be used safely in the dishwasher or hand wash for easy cleanup.
4. The Hall ball safe glass is a perfect gift set for holiday, birthday, wedding, or housewarming gifts.
SIMPLY DOUBLE-WALL INSULATED BOROSILICATE GLASS MUGS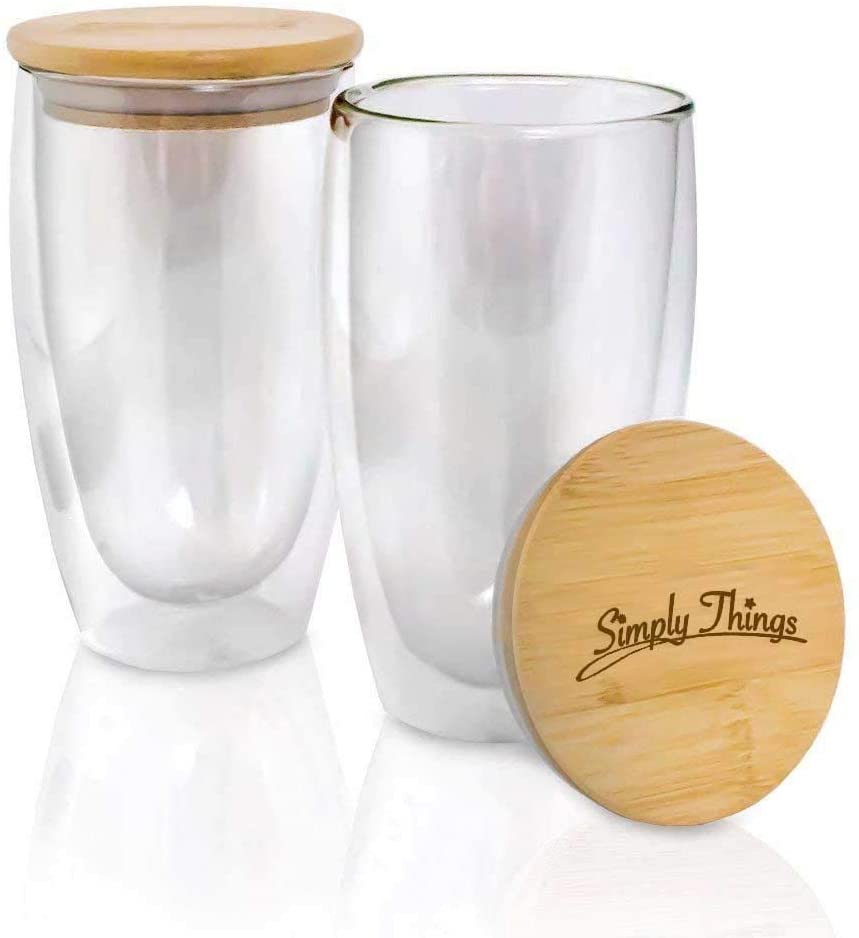 1. Enjoy your favorite hot or cold beverages with these unique and elegant borosilicate-safe glass mugs.
2. These durable glass mugs are lead-free and made to ensure your coffee stays heated. The manual-blown glasses are made of sturdy glass designed to resist cold and hot beverages.

3. The double-wall design lets you hold your mug without the need to protect your hands from hot or cold beverages. Also makes your beverage look like its floating
4. The natural bamboo lid is a very classy balance of glass and wood! The lid helps keep your beverage from spilling and the bugs out.
5. These mugs are heat resistant, easy to clean, and also come with a bamboo lid. – We recommend simply hand washing.
READ ALSO: STONEWARE VS PORCELAIN MUGS
IS ARCORCO GLASS LEAD-FREE?
Arcoroc is a brand part of Arc international. Arcoroc glass is made out of opal glass and is also non-porous where micro-organisms cannot come in contact with drink or food.
Arcoroc glassware is able to withstand changes in temperature up to 135 degrees Centigrade.
Arcoroc products manufactured in French have also been tested in an independent French laboratory and they showed zero bacterial risk on the surface after cleaning the surface.
Under the observation, Arcoroc glass under the level of 90 parts per million (ppm) lead is considered lead-free and safe for use. If it is more than 90ppm level it is unsafe.
IS VINTAGE GLASSWARE SAFE
Vintage glassware is antique. Most glassware and tableware manufactured in the 80s do contain lead and it is not safe to use.
You might like antique products but vintage glassware is not safe to drink from. Vintage glassware does contain glaze or decoration and is a sign that Lead is part of it. You can use it for decoration if you love antiques or vintage glassware but not for drinking purposes.
Vintage crystal is unsafe and most manufacturers do not have any interest in making leaded crystal because of its lead contain.
IS LUMINARC GLASS MICROWAVE SAFE?
Luminarc products made of tempered glass can withstand temperature differences making them safe in the microwave.
IS LUMINARC LIKE CORELLE?
Luminarc and Corelle are manufactured by two different brands but they have a lot in common.
Luminarc and Corelle both share awesome designs and are also lightweight to hold and carry. They are resistant, and also dishwasher and microwave safe.
READ ALSO: IS CORELLE SAFE FOR HEALTH
DOES LUMINARC SHATTER
Luminarc products can shatter when not properly or when they fall to a tile.
READ ALSO: IS LUMINARC SAFE