Hey there! As an Amazon Associate, I earn from qualifying purchases. I greatly appreciate your support!
In the market today, we have various types of cookware for cooking but using cookware that does not leach dangerous chemicals and heavy metals into your delicious meals is very important, safe, and healthy. "Most people often ask is it safe to cook with stainless steel?".
Stainless steels are generally considered not to be dangerous to human health and are used in applications where safety and hygiene are considered to be of the utmost importance, such as kitchenware.
Stainless steel cookware is a designed beautiful cookware used on regular basis by most home chefs or professionals. It is durable, easy to cook with, and easy to clean.
Stainless steel cooking surface does not react with food or alter food flavors. It is great for classic cooking techniques like sautéing, frying, and browning, searing and slowly simmering delicious sauces.
WHAT IS STAINLESS STEEL?
Stainless steel is a ferrous alloy that has 11% chromium at a minimum. It prevents the iron from rusting and also provides resistance to heat. The elements of different types of stainless steel include Molybdenum, nickel, iron, copper, and titanium.
Let see two important aspects that have to do with stainless steel
Chromium
Nickel
Chromium is used to harden steel, manufacture stainless steel that won't rust, and produce several alloys.
Chromium is also an essential trace of mineral that human needs very little quantities for metabolism. Excessive intake of chromium is not good it could lead to poison.
Chromium is important in stainless steel cookware because it helps prevent oxidation to a great extent.
Nickel on the other hand is mainly used in making alloys such as stainless steel. Nickel content in stainless steel makes it more resistant to corrosion.
Corrosion is the process of decay on a material (stainless steel) caused by a chemical with its environment. It reacts due to the presence of oxidation. That is why chromium and nickel are important when we discuss stainless steel cookware.
One of the ways to determine the quality of stainless steel is by checking the percentage of chromium and Nickel.
Whenever we talk about stainless steel, we talk about grade classification. It is the classification of grade that shows the type of stainless steel you need to cook with.
STAINLESS STEEL GRADE CLASSIFICATION:
The qualities of chromium and nickel determine the quality of stainless steel. In the stainless steel grade we have;
Alloy SS316
The stainless steel grade of Alloy 316 (18/10 stainless steel) means 18% of Chromium and 10% of Nickel.
Alloy SS304:
The stainless steel grade of Alloy 306(18/8 stainless steel) means 18% of Chromium and 8% of Nickel.
Alloy SS430
The stainless steel grade of Alloy 430(18/0 stainless steel) means 18% of Chromium and nil Nickel.
The 18/10 stainless steel grade is durable, better resistant to chemical and corrosion, and is also resistant to rust, acids, salts, and chlorides.
The greater resistance oxidation makes the (18/8) to be used for outdoor electrical equipment, refinery equipment, and more.
The 18/10 stainless might be a little expensive than the other grade but is better to be used for cooking.
There are many 18/10 stainless steel codes used in identifying these stainless steel curled according to the society of Automotive Engineers. The stainless steel chart includes 302, 302B, 303, 303se, 304. Etc.
The 18/0 stainless steel is not that safe because is more prone to corrosion, rust, and toxicity which is not safe for use.
IS IT SAFE TO COOK WITH STAINLESS STEEL?
Is it safe to cook with stainless steel? Yes, stainless steel cooking does not contain harmful chemicals (PTFE and PFOA) that can cause health problems when it comes in contact with food.
According to the FDA ( Food and drug administration) stated that any stainless steel which has at most 16% chromium is considered to be safe for food contact.
The percentage of Chromium and Nickel in stainless steel also prevents corrosion and oxidation making it safe to cook with.
BEST STAINLESS STEEL COOKWARE
Best stainless steel cookware is cookware that is perfectly made for use and does not leach harmful chemicals into the food.
Below are recommended stainless steel cookware sets;
CUISINART MCP-12N MULTICLAD PRO STAINLESS STEEL 12-PIECE COOKWARE SET
12-piece cookware set.
The set consists of 1-1/2- and 3-quart covered saucepans; 8- and 10-inch open skillets; 3-1/2-quart covered sauté pan; 8-quart covered stockpot; steamer insert with lid.
The Cuisinart Multiclad Pro Stainless Steel cookware is designed to meet the culinary needs of the most demanding chefs.
Its triply-ply construction facilitate gives effortless cooking and perfect result.
The Cuisinart Multiclad pro stainless steel has a pure aluminum core that provides even heat distribution, and a stainless steel interior, for optimal performance.
This stainless steel cooking surface is polished and does not discolor, react with food, or alter flavors.
The handle is comfortable and cool grip, allowing you to move the pots safely,
It is dishwasher safe and oven safe up to 550F.
T-FAL C836SD ULTIMATE STAINLESS STEEL
This set includes: 8 inches fry pan, 10.5 inches fry pan, 12 inches fry pan with lid, 1-quart saucepan with lid, 2 quarts; Saucepan with lid, 3 quarts; Saucepan with lid, 5 quarts; Dutch oven with lid and stainless steel steamer.
It is made with multiple layers of copper, stainless steel, and aluminum for fast and even heat. It is durable 18/10 stainless steel which means is good for use.
The stainless steel interior won't react to acidic food.
The visible copper bottom helps channel heat from the center outward
The Riveted stainless steel handles are secure and ergonomically designed for comfort; tempered glass lids trap in heat and moisture.
The vented hole in the lid lets a little steam escape to maintain visibility and help prevent boiling over.
This T- Fal stainless steel is dishwasher safe for easy clean-up.
COOK N HOME 12-PIECE STAINLESS STEEL COOKWARE SET, SILVER.
Includes: 1.5 qt saucepan, 1.5, 2, and 3 qt saucepot casseroles, 5.5 qt stockpot, and a 10-inch sauté fry pan with lids.
It is made of mirror polished 18/10 stainless steel with an aluminum disc bottom between steel layers for even and quick heat distribution.
The Reflective finish appearance on the inside and outside of the cookware makes it easy for cleaning. Its Stackable and flat base appearance helps for easy storage and to sit evenly on cooktops.
Tempered glass lids with steam vent to view food. The riveted stainless steel handles are durable, comfortable, wide, and deep for grip.
Induction compatible and works on: gas, electric, glass, ceramic, halogen, etc.
It is oven safe to 500F, lids to 350F, and dishwasher safe.
ALL-CLAD BRUSHED D5 STAINLESS COOKWARE SET.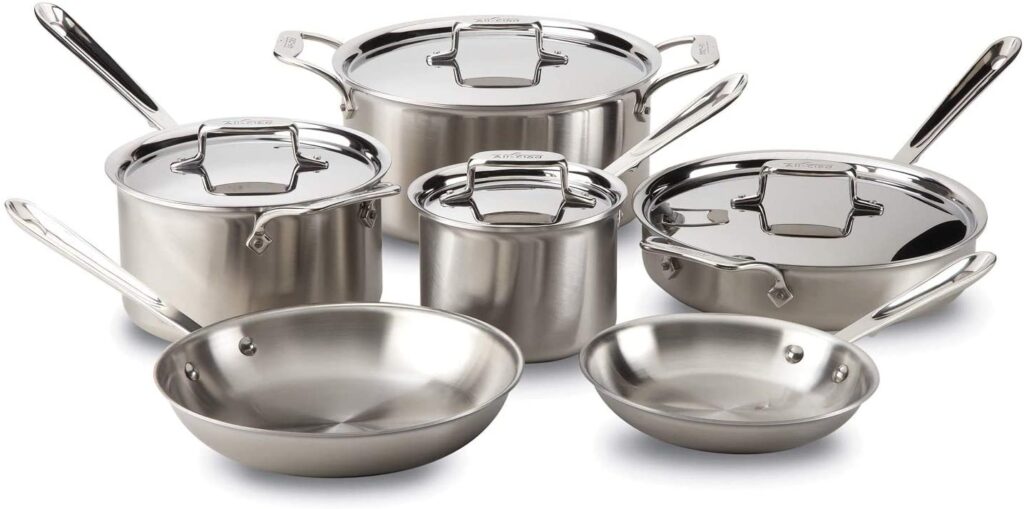 This cookware set includes an 8 and 10-inch fry pan, a 1.5 and 3-quart saucepan with a lid, 3-quart sauté pan, and a 5.5-quart Dutch oven with a lid.
It is made in the USA with ultra-durable materials that will not warp or tarnish but last a lifetime and never go out of style.
The D5 Cookware is made using a 5-ply construction that takes your cooking to the next level. It is bonded with 3 layers of stainless steel and 2 layers of aluminum to distribute heat more evenly and slowly or eliminate hotspots, making every bite identically delicious.
For an added touch of refinement, it features a beautiful and easy to maintain.
This high-quality stainless steel cookware is compatible with all cooktops and optimized performance for induction tops. You can even put it in the oven or broiler (up to 600°F).
The heat-resistant stainless-steel handles, are designed with a comfortable grip and permanently secured with stainless-steel rivets, and flared rims for drip-free pouring.
To keep your All-Clad looking brand new, we recommend washing your cookware with soap and a sponge instead of the dishwasher.
ALL-CLAD D3 STAINLESS STEEL FRY LID, 10 INCH PAN.
It is constructed with Classic tri-ply to made a responsive aluminum core bonded together with 2 layers of durable for the stainless steel all the way around for maximum durability and fast, and even heat distribution.
The riveted stainless-steel handle is secured to ensure a safe grip and to add a bit of style with a stainless-steel lid to match.
It is compatible with all cooktops including induction. It is oven and boiler-safe up to 600°F.
10-Inch covered fry pan with a wide flat base and versatile low-profile shape.
A highly polished cooking surface with a starburst finish offers stick resistance and easy maintenance, plus won't react with food.
READ ALSO: IS ANOLON COOKWARE HEALTHY
WHAT IS THE SAFEST COOKWARE?
The safest cookware is cookware that is non-toxic and does not react with food while cooking.
Safest cookware gives you assurance of healthy food without harmful chemicals in it that could lead to health problems.
IS STAINLESS STEEL TOXIC WHEN HEATED?
Stainless steel is constructed to resist heat and is also very stable and does not emit any toxic fumes when heated.
STAINLESS STEEL HEALTH RISKS
Stainless steel is made with different metals and most of them might produce health effects like iron, nickel, and chromium. Small qualities of chromium and iron are good for health, but a higher dose can affect your health.
If the stainless is not properly constructed little amount of nickel can leach into food. That is why we recommended high-quality stainless steel that is resistant to heat and will not leach harmful chemicals into food.
IS 18/10 STAINLESS STEEL SAFE FOR COOKING?
When it comes to stainless we have various standards based on the quality value. For instance, we have 18/8 stainless steel, 18/10 stainless steel, 18/0 stainless steel, 13/0 stainless steel, and many more.
18/10 means the percentage of chromium in stainless steel is 18 while the percentage of Nickel in stainless steel is 10.
There are also other elements that make up stainless steel apart from Chromium and Nickel; there are copper, selenium, and molybdenum.
The presence of chromium and nickel makes the18/10 stainless steel resistant to corrosion and prevents oxidation making the 18/10 stainless steel safe for cooking.
The quantity of the chromium and nickel element in the stainless steel determines the quality of the stainless steel. It is the percentage that determines the rate of safety and prevention of oxidation and corrosion.
BEST COOKING MATERIAL FOR HEALTH
We have various materials for cooking, but using the best cooking material for your favorite meals is essential for health to avoid some health issues.
We have;
Pure ceramic ( Xtrema is a good brand that manufactures pure ceramic for use)
High-quality stainless steel (18/8 stainless steel cookware is good for health)
Cast iron
T- Fal
All-clad copper without aluminum.
READ ALSO: HOW TO COOK WITH STAINLESS STEEL