Hey there! As an Amazon Associate, I earn from qualifying purchases. I greatly appreciate your support!
In this article today, we are going to discuss the best fridge for van life.
For you to enjoy trips with your van, you will need a good fridge to keep food fresh and cold drinks or beverages.
A good fridge for your van life is perfect because you don't have to fuss about a cooler full of ice all the time.
Best fridge for van life will save you the stress of looking for where to buy cold drinks and time also.
The fridge might be expensive but there are perfect cheap fridges that you can buy to enjoy life in your van.
Keep reading! Below we have listed and also explain various fridges that will suit your van life.
HOW TO CHOOSE THE RIGHT FRIDGE FOR VAN LIFE
Efficiency and power needed: For your Van life, you need to ensure that your van can handle the power of the fridge.
Capacity: This is very important, there are a lot of fridges to choose from, if you are going to put a lot of drinks and beverages, you do need a large capacity fridge to fit in all your drinks.
Budget: Van life needs a very good fridge, but they are normally expensive because all of the materials that your van needs are not to be stressed out.
Style: There are three different styles of van life fridge: chest, upright, and drawer. Generally, the chest fridge is preferred by van lifers.
AC OR DC: When on the road, you will much exclusively run on DC. However, having the ability to run AC if you plug it into shore power or want to take your fridge indoors is a nice perk. It will interest you to know that most fridges have AC and DC capacities.
Warranty: A good fridge with a lengthy warranty is worth purchasing for van life.
BEST FRIDGE FOR VAN LIFE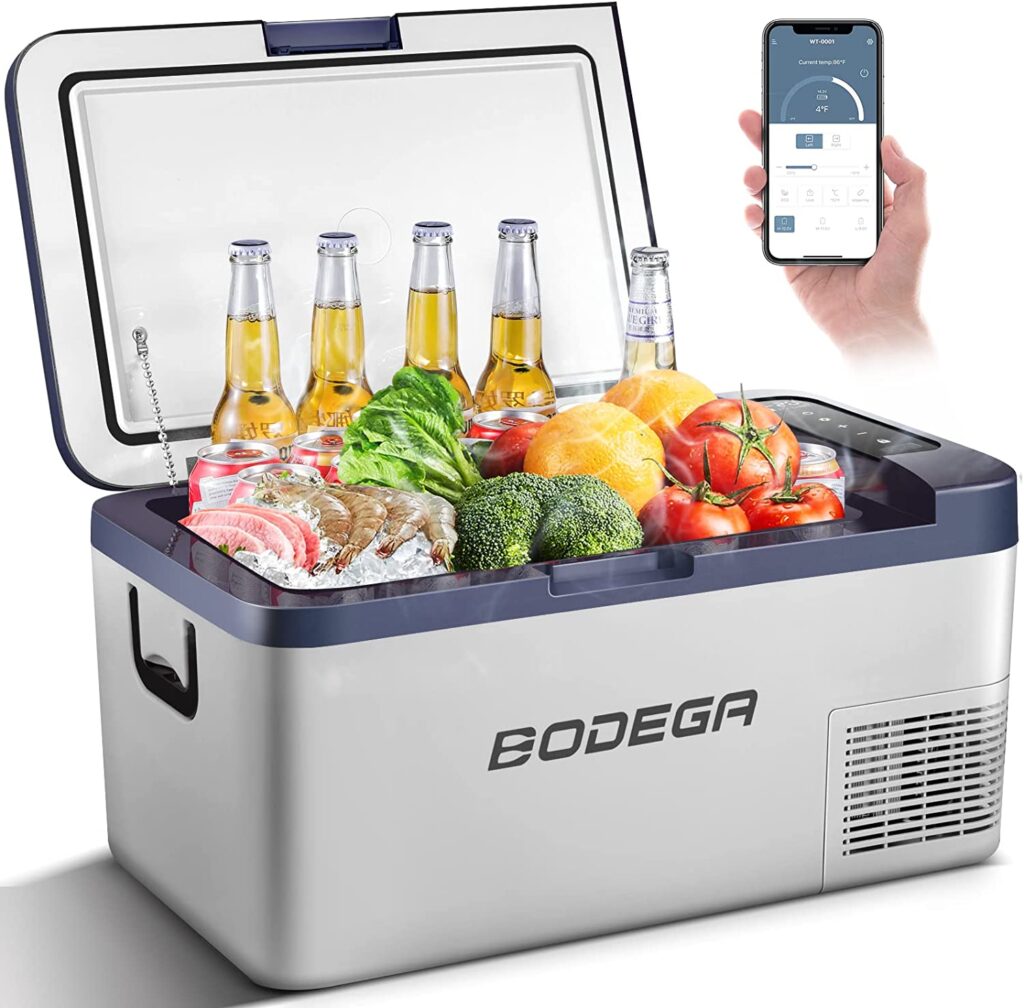 Apart from microwave, small blender, and electric kettle, fridges are very important for van life to be made easier.
Below are the best-recommended fridge suitable for van life;
ASTROAI 12 v fridge for van life.
EUHOMY portable refrigerator for van life.
JOYTUTUS 12 volt, 26 quart / 25l portable refrigerator freezer.
ARB fridge for van life.
SETPOWER AJ30 portable freezer fridge for van life.
VBENLEM 12 volt fridge for van life.
ASTROAI 12 V FRIDGE FOR VAN LIFE
This fridge has a capacity of 15L which is large enough to keep food fresh and drinks cold on the journey. The interior dimension is 13.8(L) x 9.6(W) x 7.1(H).
It can serve as a fridge or freezer to keep your stuff cool at varying temperatures, such as Beverages, Fruits, Ice Cream, Vegetables, Seafood, Meats, Skin Care, and Breast Milk.
ASTROAI fridge is best for van, Picnic, Barbecue, Camping, Home Party, and Travel.
One striking feature is once the power reaches the battery protection level setting (H, M, L), it will automatically stop cooling to avoid your car from running out.
High efficient compressor enhances the cooling function of the fridge – it can reach as low as -4℉. It still works in a tough environment, which is even a 45° slope.
With 12/24V DC and 100V to 240V AC adapter, you can cool stuff with this fridge at home or in your car. You even can use it outdoors with a portable power bank.
EUHOMY PORTABLE REFRIGERATOR FOR VAN LIFE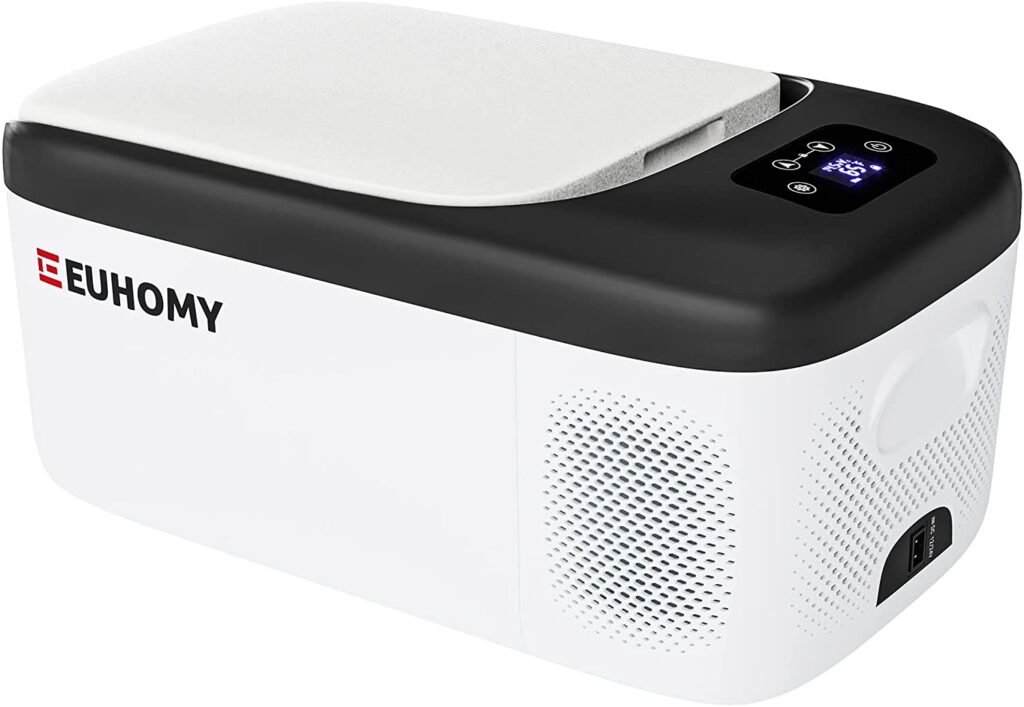 The car refrigerator is compact and portable, with a large capacity of 15L; it is easy to use anywhere. It can be a refrigerator or freezer, allows you to store a variety of foods while keeping fresh
This Euhomy car refrigerator is fully designed to meet RV1 / truck drivers, boat owners, and campers to store seafood, snacks, meat, and beverages, travel, boating, and camping needs, giving you a better journey experience.
Euhomy 12 volt freezer adopts advanced 3D refrigeration technology and is equipped with a powerful compressor for fast cooling.
This car's portable fridge's average energy consumption is only 45W, which is equivalent to the power consumption of a car navigator. It is portable, quiet, convenient, and saves money.
This is a compressor refrigerator that can use both AC and DC power. The RV refrigerator provides three (low, medium, and high) battery protection functions at different levels.
 This design can prevent the car power supply from being overloaded or short-circuited, so you don't have to worry about running out of car power when using the 12-volt fridge. All this is for you to enjoy the journey.
This portable van refrigerator allows you to enjoy iced drinks in stable and quiet during the trip.
The LED panel allows you to directly see the operation of the 12v refrigerator for the car and adjust the temperature range at any time. The car refrigerator has a lock screen function to prevent children from accidentally pressing the screen while traveling.
Euhomy car refrigerator has a unique drainage plug design. There is a hole at the bottom that drains the water out quickly, making it convenient for cleaning.
This fridge is not noisy, it takes up little space, and it is very easy to use. I highly recommend this refrigerator.
JOYTUTUS 12 VOLT, 26 QUART / 25L PORTABLE REFRIGERATOR FREEZER
The JOYTUTUS portable refrigerator is an ideal fridge for van life as its compact size and capacity are all for space-saving. This fridge is able to keep your food fresh without spoiling and your drinks cold the whole journey. It saves you money and time from buying ice.
JOYTUTUS 12V refrigerator will impress you with how quiet it is. This van fridge is almost silent that you won't notice it at all during your driving. This fridge saves the stress of dragging heavy refrigerators to the camping glass land or beach because it is lightweight.
JOYTUTUS portable refrigerator is fast in cooling and easy to adjust between -7.6℉ to 50℉ahrenheit.
The Weight: 24.9lb. External dimension: 22.4 * 12.6 * 13.8 inches. Internal size: 13.8 * 9.8 * 10.7 inches.
It is a perfect size for going out to join outdoor parties, picnics, camping, or road trips with your friends or family.
JOYTUTUS fridge freezer rated power of MAX MODE is 45W while ECO MODE is 36W. The compressor will work about 16 hours per day and the consumption for MAX MODE is about 0.72 kWh per day.
The portable fridge for a car can set the starting voltage by adjusting the H/M/L gear control. When the car battery power is low, it will stop running to protect the car battery. JOYTUTUS 12v fridge can keep away from draining the car battery efficiently.
ARB FRIDGE FOR VAN LIFE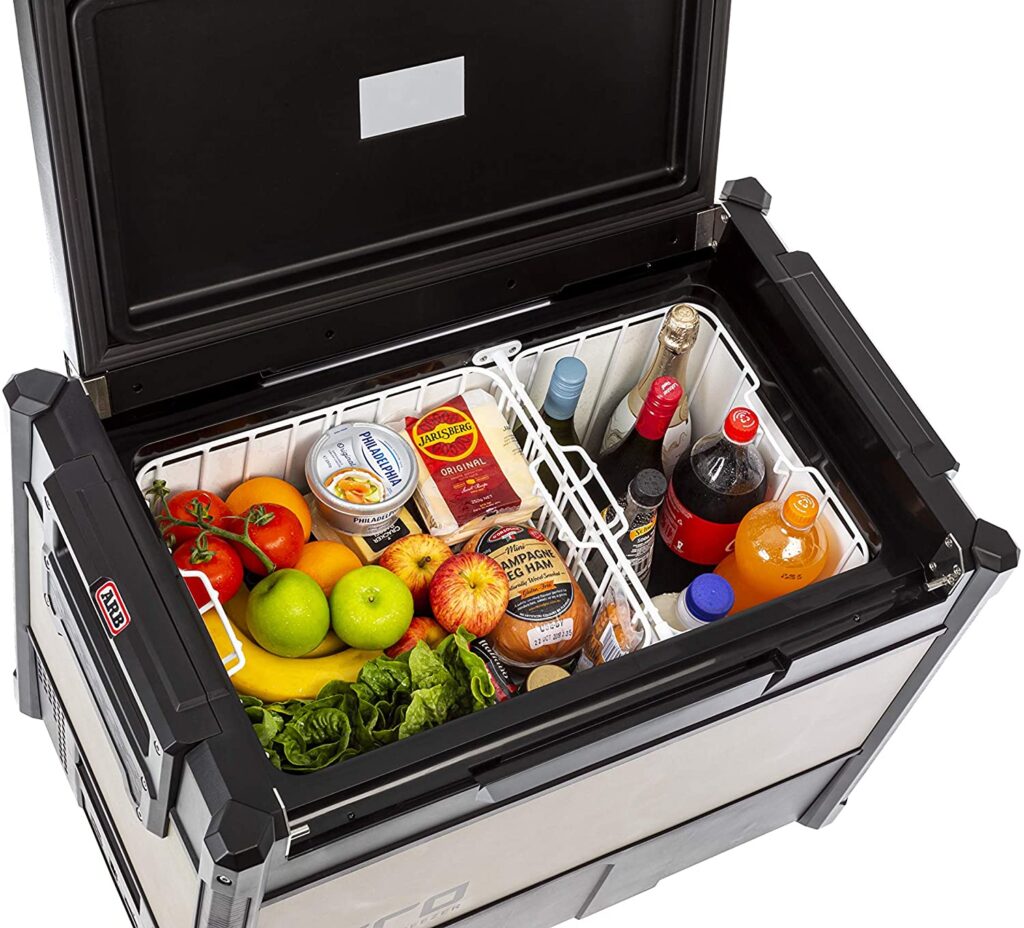 The ARB fridge is a 108 x 375ml Cans Cooling Capacity that is suitable  For Cars, boats, trucks, SUVs, RVs, Ideal for Camping, Outdoor, and Fishing. it has one lid and an internal freezer compartment that can be removed to increase your fridge space.
It features Wireless monitoring, compatible Bluetooth-enabled devices, and a Convenient USB five-volt, 3,000mA outlet for charging phones.
It is designed with adventure in mind. It can withstand any condition and it is extremely sturdy.
The ARB fridge has High-efficient, variable-speed compressor, and Low power draw LED interior light.
SETPOWER AJ30 PORTABLE FREEZER FRIDGE FOR VAN LIFE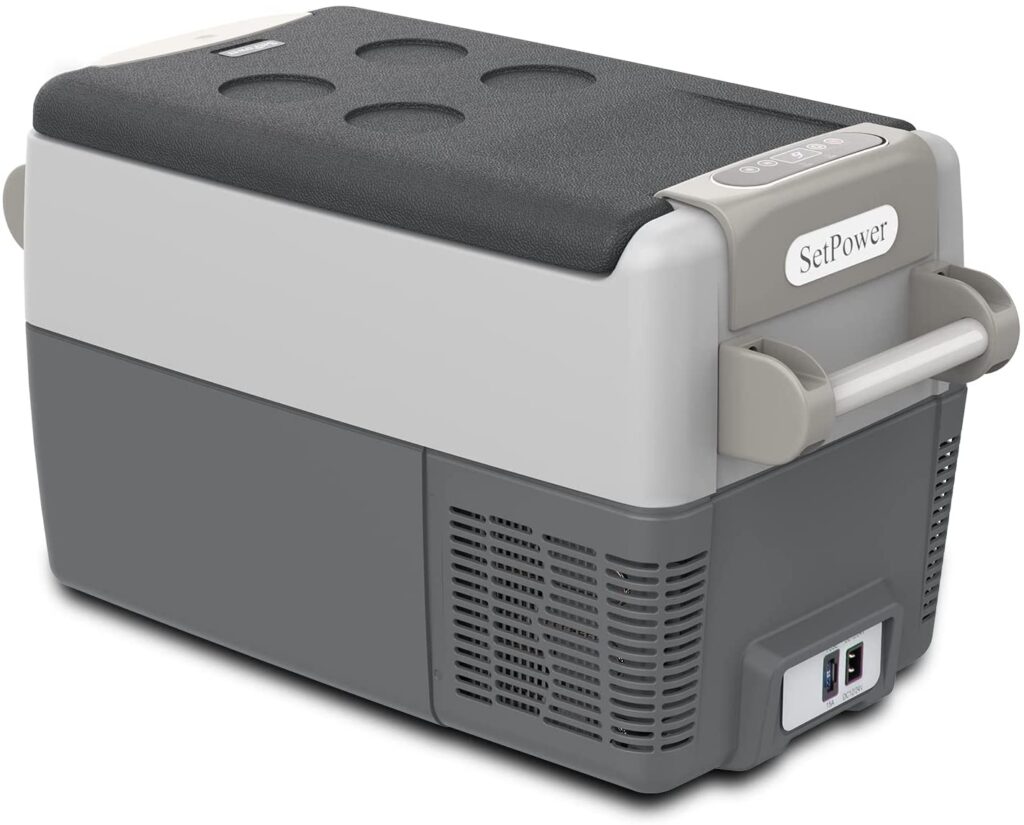 The Setpower portable fridge is an ideal fridge for a van life as its capacity allows for large beverages and drinks.
If you enjoy parties and any other activities, storage and lifting are made easy. It can be used in both AC and DC power.
SetPower AJ30 is equipped with a powerful compressor for fast cooling that can reach 0℉ within 30 minutes.
This fridge's power consumption is only 45W on average, which means you don't need to waste money and time paying the electricity bill and buying ice.
This function model is designed to prevent over-discharge and battery depletion. It's a smart battery protection function that you don't need to worry about running out of car power.
This fridge provides low noise when it is running, which means you and your loved ones will have a quiet and comfortable environment and don't disturb sleeping in the car.
READ ALSO: WHAT SIZE MICROWAVE IS BEST FOR DORM ROOM
VBENLEM FRIDGE FOR VAN LIFE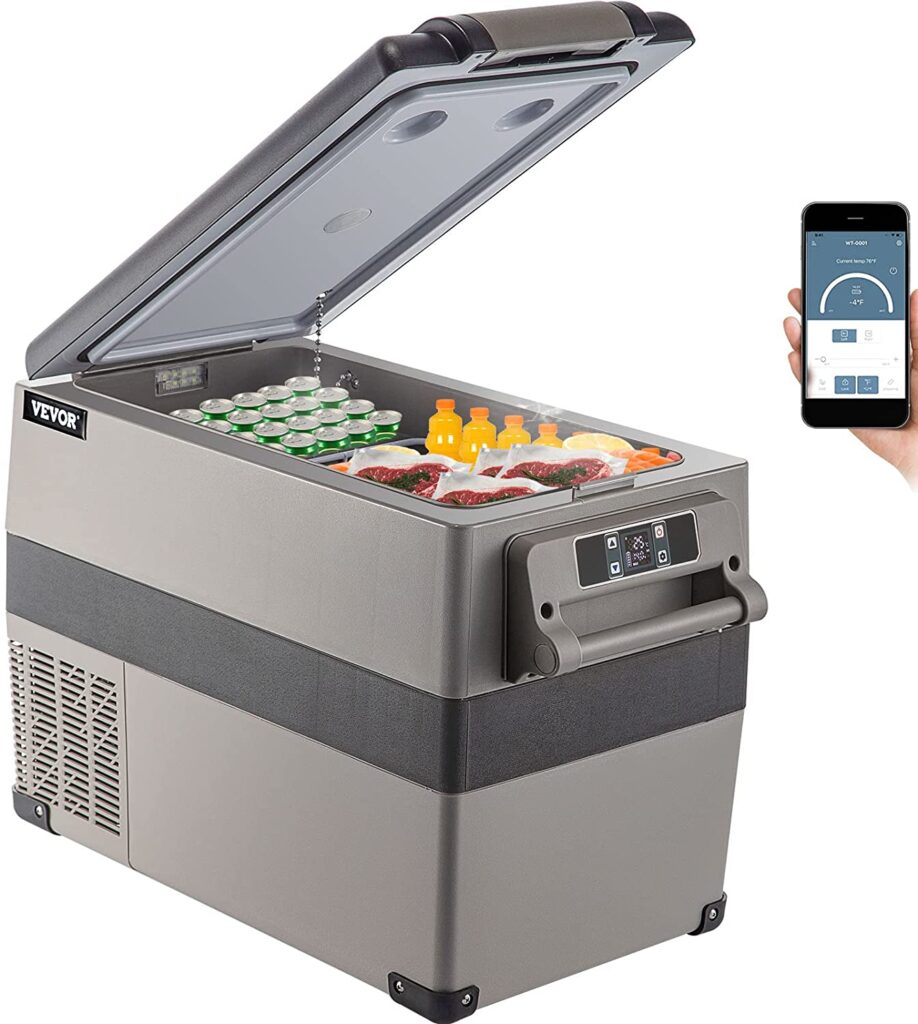 This VBENLEM portable refrigerator with 45L/47.5-quart capacity has sufficient space for you to store food and can hold multiple cans and bottles simultaneously to meet the appetite of different people. So don't worry about food or beverage shortages at events or on the road.
It is perfect for travel, picnic, barbecue, camping, and parties.
VBENLEM is energy efficient, durable, high-quality build designed for harsh conditions. It has both AC and DC capabilities.
This fridge is very quiet, you can use it without any disturbance to your environment.