Hey there! As an Amazon Associate, I earn from qualifying purchases. I greatly appreciate your support!
Corelle dinnerware is good dinnerware manufactured by the Corelle brand that is used on regular basis for serving and eating.
Most people love heating and reheating their food in the microwave and this is one of the frequently asked questions" can Corelle dinnerware go in the microwave"?. In Corelle, you get dinnerwares that offer this desirable need.
Corelle dinnerware which is chip and breaks resistance is made with the user's safety in mind. Corelle plates and bowls can go in the microwave without damage up to a certain temperature when used in accordance with the usage instruction.
Let's see more:
WHAT IS CORELLE MADE UP OF?
Corelle is the name of a brand of glassware and dinnerware. Corelle brand used material that is made of three-layer glass called Vitrelle. Vitrelle glass is resistant to break, chip, scratch, and stain.
Corelle made in the USA is thin, lightweight, easy handling, and stackable saving valuable space in your kitchen cabinet making the kitchen neat and tidy, especially for a smaller kitchen. They are versatile, microwave, and easy to clean.
The non-porous material provides a food-safe and hygienic surface, preventing any absorption of food particles or liquids that may form bacteria over time.
Corelle dinnerware is strong, durable, convenient, attractive and styling making each meal classic.
Corelle plates and bowls are comfortable for everyday occasions and parties. They are also perfect gifts for friends and loved ones.
CAN CORELLE DINNERWARE GO IN THE MICROWAVE?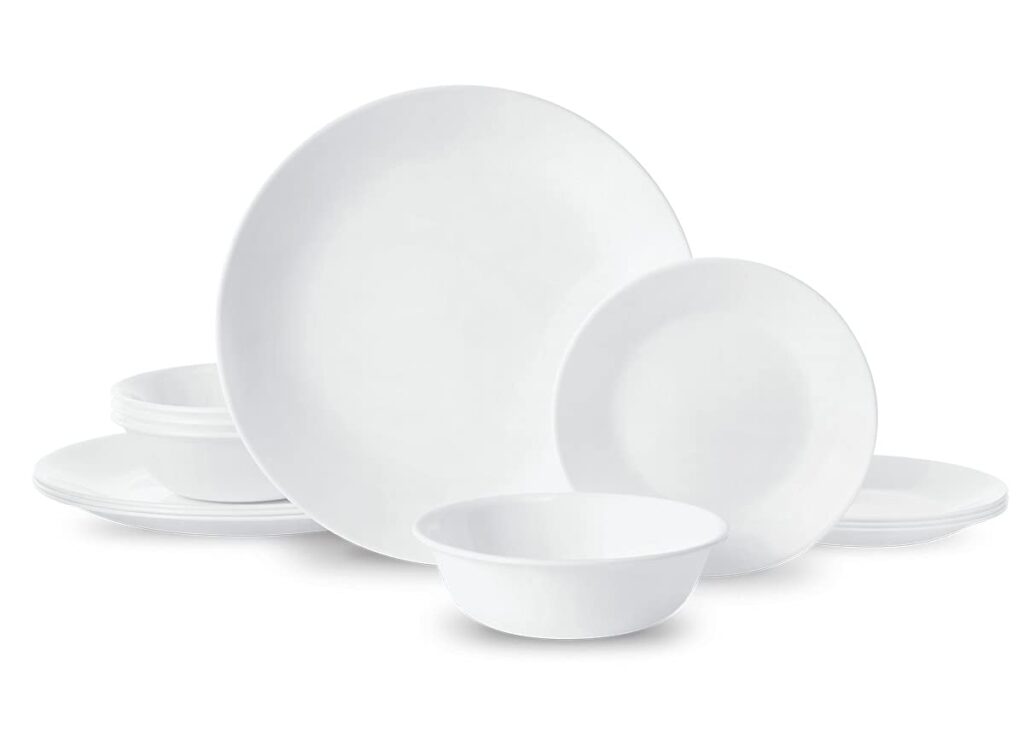 Absolutely yes, Corelle dinnerware which is made of a unique Vitrelle glass is strong and breaks resistant, and can go in the microwave up to 350 degrees Fahrenheit (176 degrees Celsius).
Corelle dinnerware can be used for serving and reheating food in the microwave when used according to the usage instruction.
NOTE: Corelle products should not put used under direct heat sources like stovetop, under griller or broiler, heat vent, or open flames.
Do not use a large Corelle dish, plate, or bowl to heat a small amount of food in a microwave.
Do not heat an empty plate, dish, or bowl in a microwave or avoid crack or break
READ ALSO: DOES ANCHOR HOCKING GLASS CONTAIN LEAD
READ ALSO: IS OPALWARE SAFE FOR HEALTH
HOW YOU CAN TELL IF A DISH IS MICROWAVE SAFE?
The easier way to tell if your dish is safe is to microwave the dish briefly. If the dish is warm or hot after heating, it means the dish is not microwave safe.
However, if the dish is cool and the substance or food is hot it means the dish is microwave safe.
CAN CORELLE DISHES GO IN THE DISHWASHER?
Unfortunately yes, Corelle dishes that are made of tempered glass are durable, strong, and can go in the dishwasher without fear of break or chip. If your dishes are coming from the oven, you should allow cooling before washing the bowl or plate.
IS CORELLE TOXIC?
Dishes can leach toxins into your food by hiding in the glaze of brightly colored dinnerware main for use.
Using dinnerware that is free of toxic is a safe way of healthy eating.
In 1970 lead and cadmium were some of the materials used to manufacturers used to manufacture dinnerware for eating not until the mid-2000s and 2005s when some brands started manufacturing dinnerware that is free of lead and cadmium and Corelle brand is one of them.
NOTE: Not all Corelle dishes are free of lead. It is best to stick to the pure white dishes.
However, testing your dishes by using a home lead test kit before use is necessary and important if you want to know the level of Lead both in the pure white and colored Corelle dishes.
READ ALSO: IS LIBBEY GLASSWARE LEAD-FREE
WHAT IS CORELLE LIVINGWARE?
Corelle Livingware is a Corelle dinnerware set made in the USA. It provides ultimate strength, durability, and beauty that can stand up to even the toughest cooking environments. Corelle Livingware is from a unique glass material called Vitrelle.
Corelle dinnerware is known for being thin, lightweight, durable, and strong.
CORELLE LIVINGWARE 18-PIECE DINNERWARE SET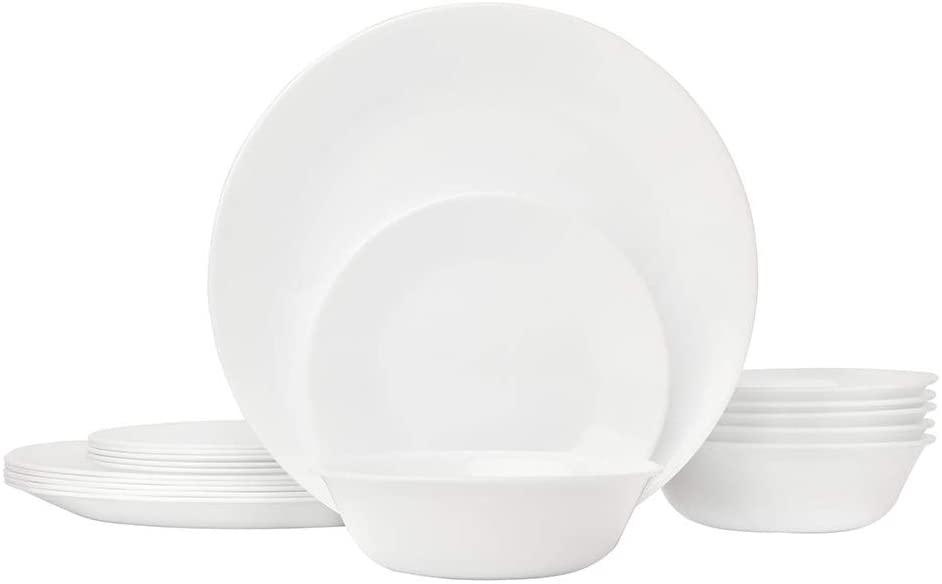 Corelle Livingware Service for 6 includes: Dinner Plates, Bread and Butter Plates, Soup and cereal bowls
Made with break and scratch-resistant patented Vitrelle glass technology, they are much lighter and easier to handle.
Corelle plates and bowls are chip and break-resistant, making them perfect for outdoor and indoor dining. It won't wash, wear, or scratch off.
They are durable, lightweight, thin, and stackable for space-saving.
These Corelle Livingware dinnerware sets are microwave, dishwasher, and oven safe.
Vitrelle Glass Dinnerware is made in the USA and comes with a 3 Year Warranty.
CORELLE LIVINGWARE DINNERWARE SET, SERVICE FOR 6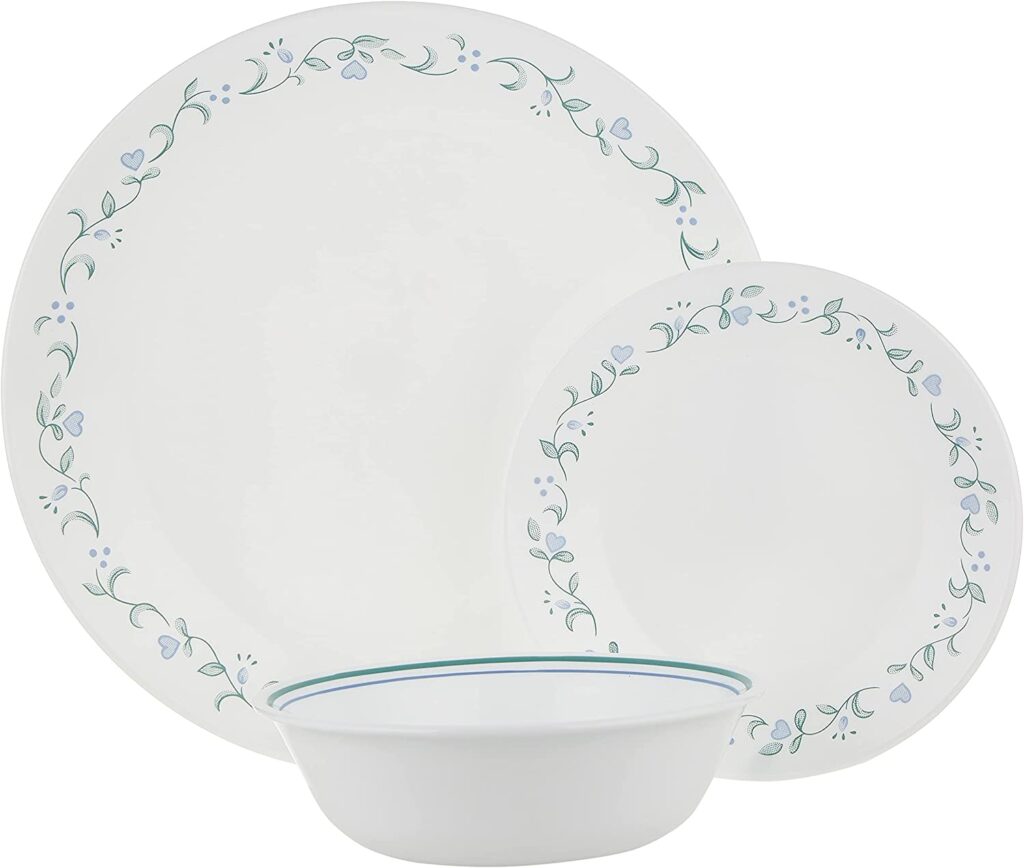 This set includes: 6 Dinner plates; 6 dessert plates and 6 bowls and they are made of Vitrelle glass.
The Corelle 18-Piece Square Dinnerware set has everything you need to go from everyday meals to special occasions.
They are dishwasher and microwave safe.
Corelle dinnerware is both stain and scratch-resistant, so you can use forks and knives without worrying about scratching the surface.
Every piece of Corelle dinnerware is chip and break-resistant making it perfect for Barbecue, picnic, or a dinner party.
When you have finished your party, clean-up is easy with Corelle dinnerware.
Wash your Corelle plates and bowls in your dishwasher and see how even the toughest of food stains just wash off the non-porous surface of a Corelle plate, leaving them looking brand new.
You can simply re-heat your food on Corelle plates in the microwave or oven.
CORELLE WINTER FROST WHITE DINNER PLATES
This set includes 8 dinner plates.
This White dinnerware is as versatile as it is timeless, they are crafted with pride in corning, New York to bring brightness to your kitchen.
They are made of triple-layer-strong glass plates and bowls that highly resist chips and cracks.
These sets are lightweight, microwave safe and easy to handle.
Ultra-hygienic, non-porous and easy-to-clean.
They are stack compactly, taking up half the space of ceramic dishes.
CORELLE WHITE MICROWAVE SOUP AND CEREAL BOWLS SET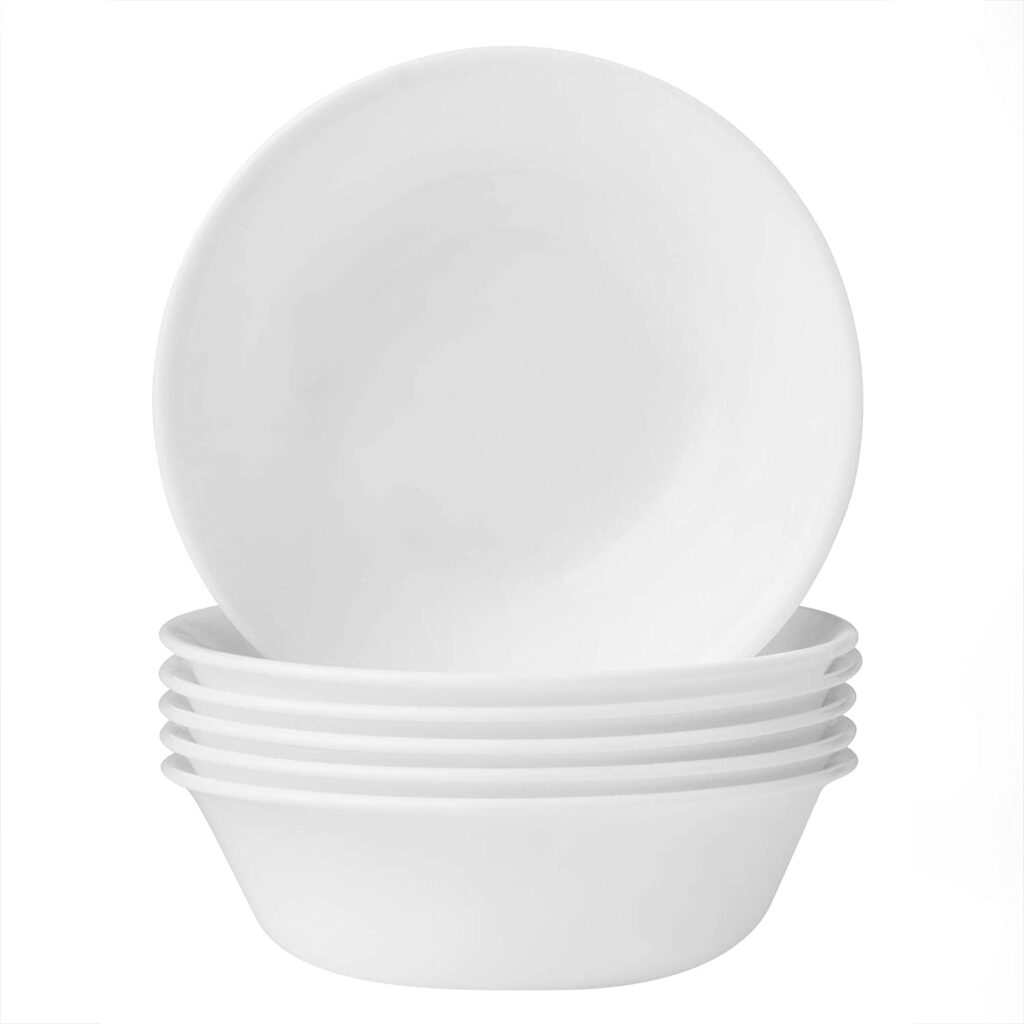 Winter Frost White set includes six (6) 18-ounce soup and cereal bowls.
This set features simple and elegant all-white pieces, perfect for any table setting and any decoration.
All pieces are made of Corelle triple-layer strong glass, which is break and chip resistant.
They are dishwasher safe, lightweight, and easily stackable for space-saving.
Corelle dishes can take the heat, this non-porous and versatile dinnerware can be used in the microwave and oven. No worries
Its triple-layer design is the secret to making dishes that are easy to handle, yet handle nearly everything you whip up in the kitchen.
Corelle dish sets are made with style for stacking to keep your kitchen neat and organized.
CORELLE CHIP RESISTANT DINNERWARE SET
 The 12-piece set includes all the everyday essentials, perfectly coordinated in blue and grey for a tailored table from breakfast to dinner. These dishes are elegant and timeless.
The triple-layer-strong glass plates and bowls are highly resistant to chips and cracks.
The plates and bowls stack compactly for space-saving.
Ultra-hygienic, lightweight, non-porous, and easy to clean.
Microwave and dishwasher safe.
SAFE OVEN TEMPERATURE FOR CORELLE DISHES
Corelle dishes or Corelle dinnerware sets can be used in the oven safety when you don't go beyond the assigned temperature. The thinness and lightweight have nothing to do with its oven safety.
Corelle dishes can be safely used in the oven up to a certain temperature which is 350 degrees Fahrenheit (177 degrees Celsius).
Corelle dishes are safe in the oven, but not safe to use in the broiler.
IS CORELE BREAKABLE?
Every home wants a dinnerware set that is break-resistant for long-lasting. Corelle dinnerware is made from Vitrelle glass that has three bonded layer glass. This bonded glass material is resistant to damage, beak, crack, and chip.
Viterelle is a unique tempered glass that is resistant to breakage and chips making Corelle unbreakable.
DOES CORELLE GET HOT IN THE MICROWAVE
If your plates get hot in the microwave it is an indication that the plates are not meant to go in the microwave, before you use any dish in the microwave make sure it indicates microwave safe.
Corelle products are designed to undergo microwave heat. When you get a Corelle dinnerware, there is any instruction that comes with it for you to follow when using the dinnerware for microwaving to avoid damage.
CAN ANY GLASS GO IN MICROWAVE?
Not all glass is designed to be used in the microwave, so stick to products that indicate microwave safe. If the glassware does not bear microwave-safe labeled, you can check by microwave the glass on high for a minute or two and give it a quick feel. Slightly warm or cool glass is microwave safe.
READ ALSO: CORELLE DINNERWARE