Hey there! As an Amazon Associate, I earn from qualifying purchases. I greatly appreciate your support!
A balanced diet is good, but have you considered the dinnerware you normally used for serving and eating, is it Lead, Cadmium and BPA-free?
Most brands have manufactured numerous dinnerware around the world that you can use in your home. But each brand has its production process, rule, and standard that makes dinnerware different from the other.
Users are concerned when it comes to their well-being because toxic dinnerware can affect their health and reduce daily activity.
In addition, various countries have manufactured dinnerware for use but in this article, let's focus on "Non-toxic dinnerware made in USA.
NON TOXIC DINNERWARE MADE IN USA
Non-toxic dinnerware is dinnerware that is safe to use for either eating or serving.
Users are not happy concerning the use of Lead and Cadmium use to manufacture dishes and over the years now most brands have updated their production process by producing non-toxic, Lead and Cadmium free dinnerware which complies with the FDA rules and USA dinnerware is one of them. Let's look into them below.
Below are the best non-toxic dinnerware made in USA;
Non-toxic Fiesta dinnerware set made in USA.
Non-toxic Corelle dinnerware set made in USA.
Non-toxic Anchor Hocking dinnerware set made in USA.
Non-toxic Lenox dinnerware set made in USA.
Non-toxic HF Coors dinnerware set made in USA.
Non-toxic Pickard china dinnerware set made in USA.
Non-toxic Ohio stoneware dinnerware set made in USA.
NON-TOXIC CORELLE DINNERWARE MADE IN USA
Corelle dinnerware is one of the most searched American dinnerware sets in the market. It is made of a unique glass material called Vitrelle.
Corelle Dinnerware has everything you need to go from everyday meals to special occasions. It is crafted with pride in corning for safe use.
Corelle has inspired cook with its ultra-durable triple-layer glass that is thermally bonded together by laminated to a core center, which makes Corelle dishes lightweight, strong and non-porous.
Corelle dinnerware made with glass is safe and hygienic and nothing sticks to the plate, perfect for easy cleanup.
The special glass makes versatile Corelle dinnerware as thin and translucency as fine china, yet dramatically stronger.
When you invest in Corelle, You don't need to worry about the plate falling down because the Vitrelle material is resistant to break, chip, and scratch.
Plates and bowls stack compactly, taking up half the space of ceramic dishes.
Corelle dinnerware is hygienic, non-toxic, BPA- free, and lead-free.
Corelle plates and bowls are the ideal choices for outdoor dining, whether it is Barbecue, picnic, or dinner party.
Corelle dinnerware is microwave and oven safe up to 180 degrees Fahrenheit. It can also be used in dishwashers, freezers, and refrigerators.
Note: Do not heat an empty Corelle vessel in a microwave oven.
Do not microwave a small amount of food in a large dish.
Do not use Corelle dinnerware under a broiler, on a stovetop, heat vent, oven pilot light, or in a toaster oven.
If you want to use Corelle product on a stovetop and a higher temperature above 180 degrees Fahrenheit use the Corningware.
Do not use an abrasive cleaner, scouring pads, or any object that will scratch dinnerware.
Corelle dinnerware made in pre-2005 is safe and we do recommend the pure white dishes because is completely safe for serving and eating. It comes with a full 3-year warranty after manufacture defect.
Below are examples of the pure white safe Corelle dinnerware set. The dinnerware sets below do not include the cups, because the cups are made in China. So the entire set is made in America.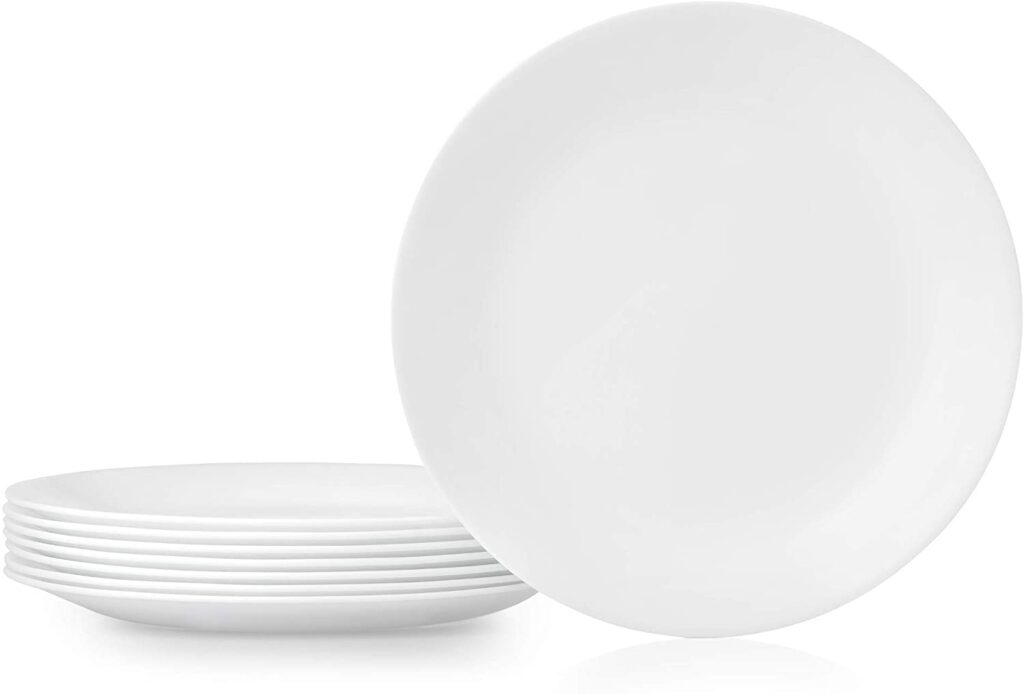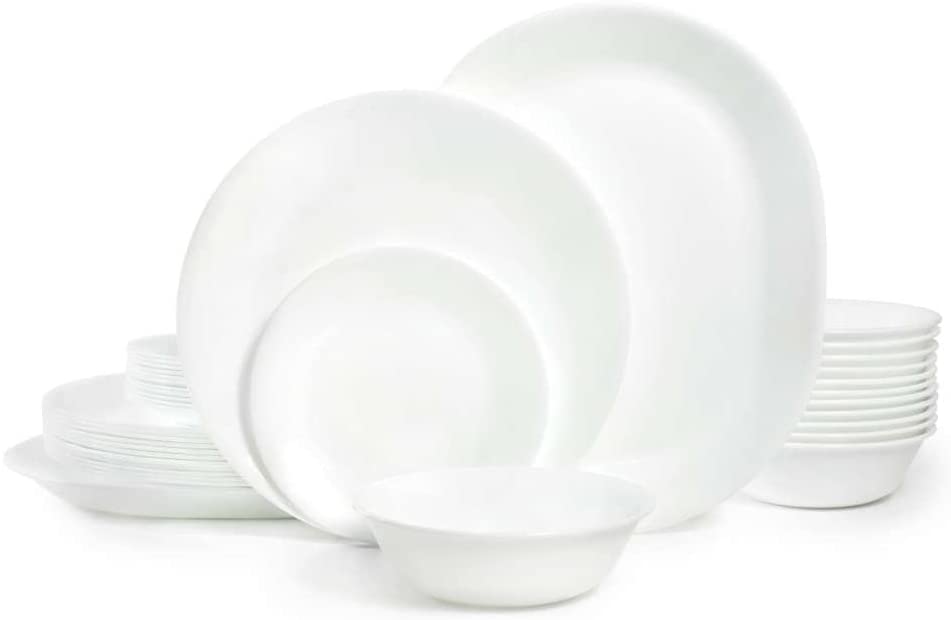 NON-TOXIC FIESTA DINNERWARE MADE IN USA
Homer Laughlin China Company is one of the world's largest American-made restaurant dinnerware manufacturers.
Fiesta is a line of ceramic glazed dinnerware introduced in 1936 by Fiesta Tableware Company in Newell, West Virginia, USA.
In 1936 Fiestaware was manufactured with radioactive glaze which contains uranium. Uranium oxide was used in glaze because of the color it impaired. Dinnerwares that contain uranium oxide are not safe to use so the dinnerware was discontinued.
Fiestaware made in 1936 did not meet the standard of the FDA and was removed from the market.
After the discontinuation, Fiesta pledged to continue to make a safe and reusable product free of harmful materials such as lead.
Fiesta Company saw the need to reintroduce their products but was first sent to the independent laboratory to be tested for leachable lead release. The leachable lead release from Homer Laughin is 250 times lower than the maximum which is good by the FDA.
According to the FDA, a maximum lead release of 0.5 parts per million is allowed.
All Fiestaware produced since its reintroduction in 1986 is dishwasher-, oven-, and microwave-safe, colored with a lead-free glaze, and fully vitrified to result in chip-resistant durable restaurant use. This durable dinnerware stands up to everyday wear and tear beautifully.
According to Fiesta Tableware Company, their consideration for their customer's safety is a long-standing commitment, with the removal of lead from select pieces of their line in 1986, to the complete removal of lead in all products since 1992.
The fiesta dinnerware is made from clay, feldspar, silica, and Alumina which is durable, strong, and long-lasting. The material used is fully verified with lead and cadmium-free glaze.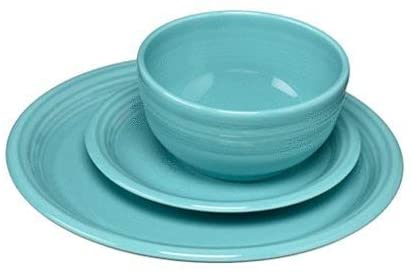 Fiesta dinnerware is oven safe up to 350 degrees Fahrenheit but the bakeware can reach 500 degrees Fahrenheit. The product can go from freezer to the oven, oven to table, and table to dishwasher.
It is safe in the microwave but should not be placed above or directly under a flame. It is resistant to chip and break and has a full 5-year warranty.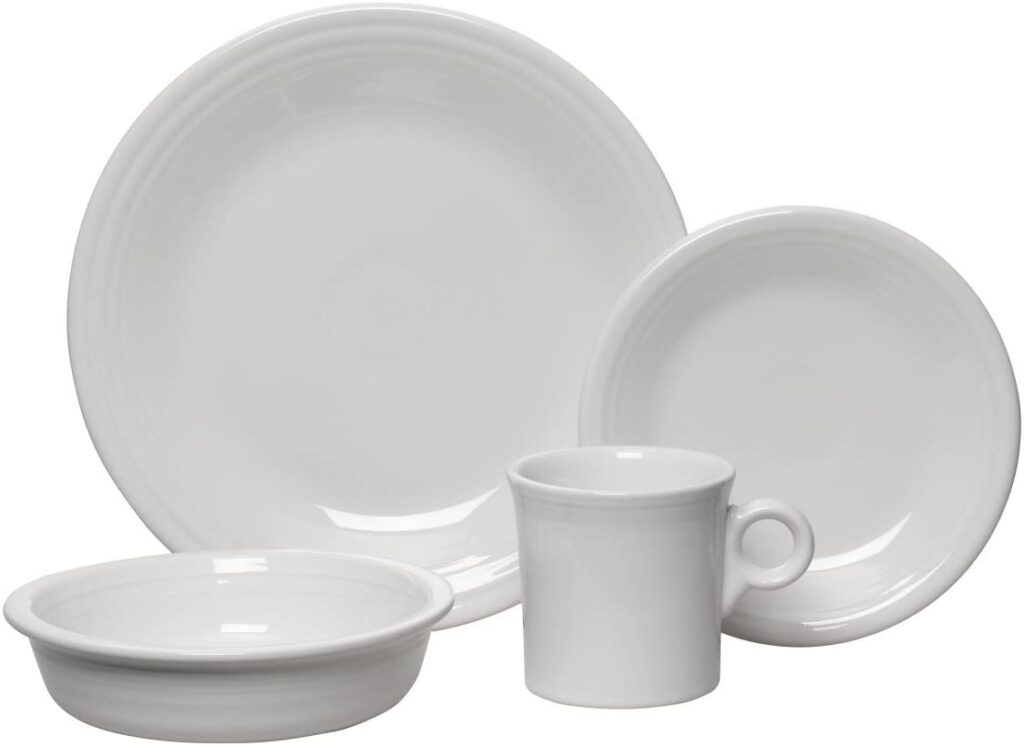 Fiesta is dedicated to the safety of its customers, the preservation of natural resources, and a reduced environmental impact.
READ ALSO: CORELLE VS PORCELAIN
NON-TOXIC LENOX DINNERWARE SET
Lenox is one of the largest manufacturers of fine china in the United States, produced at their state-of-the-art facility in Kinston.
In 1889, Lenox Corporation was created; they are American manufacturing company that sells tableware, giftware, and collectible products under the Lenox, Dansk, Reed & Barton, and Gorham brands.
Lenox was founded by Walter Scott Lenox as Lenox's Ceramic Art Company in Trenton, New Jersey. In the beginning, he made American art pottery before making tableware in standard patterns.
With the help of the famous American artist, William Morley, that decorates his plates, the plates were successful, and he started producing complete sets of dinnerware.
On March 18, 2020, Lenox Ceased production at the Kinston factory due to the COVID-19 pandemic; on April 17 the Company announced that the closure would become permanent, with production expected to resume overseas.
According to the information, Lenox dinnerware is imported from China, Malaysia, and other countries
Each time you buy Lenox, you are buying a versatile and timeless piece crafted with a century-long commitment to quality, artistry, and beauty.
In July 2020 Lenox announced that they would permanently close all their outlet and warehouse stories, also citing the COVID- 19 pandemic.
NON TOXIC ANCHOR HOCKING DINNERWARE SET
Anchor hocking is one of the American brands that manufacture Lead-free glassware, tableware, bakeware, and casserole we use every day in our homes.
It is best known for its high-quality glass tabletop and bakeware products manufactured in the USA since 1905 by Isaac Jacob Collins in Lancaster.
Anchor hocking is a brand known for over 100 years that has prided itself on manufacturing quality glassware used every day. The Anchor hocking products are made of safe materials which make them BPA-free, lead-free, and PVC-free.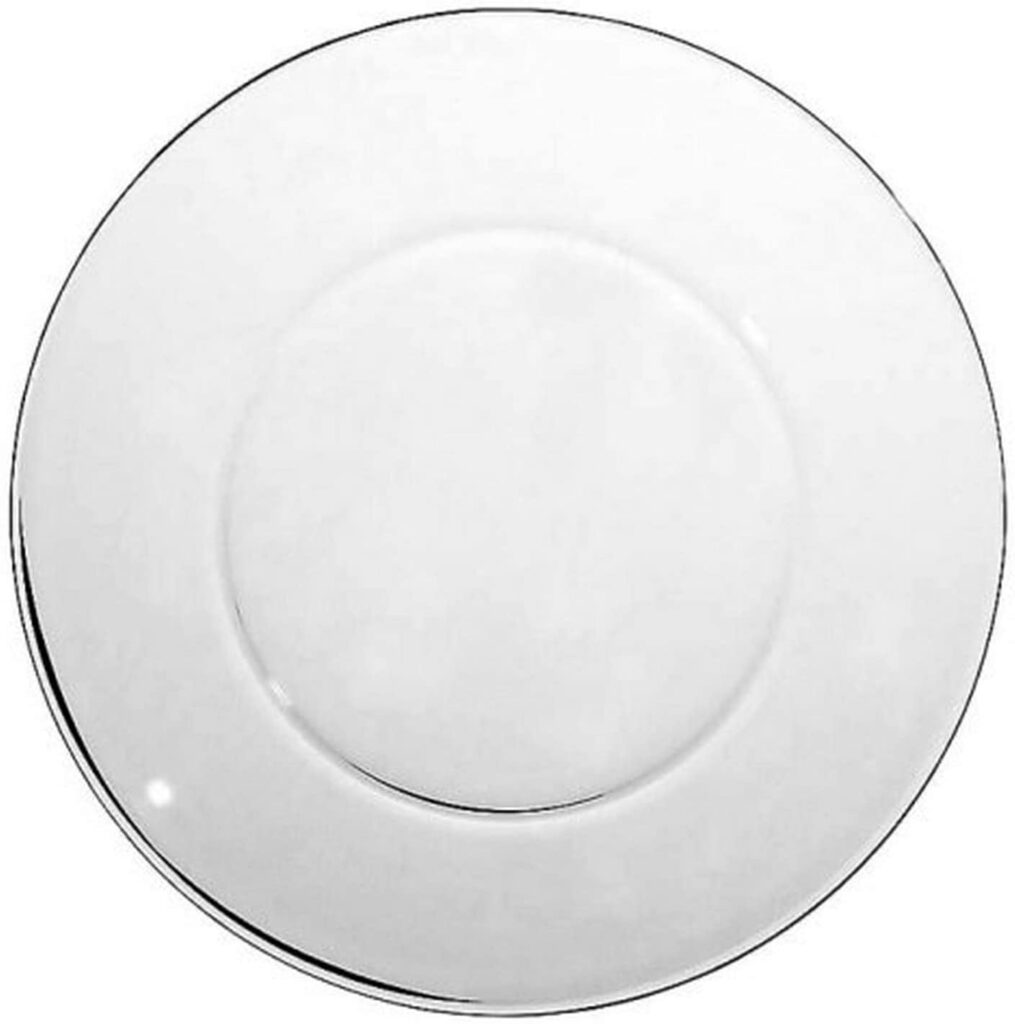 Anchor Hocking Glass is healthier than plastic and metal. It will not warp, stain, retain smells, or leach chemicals into drinks foods, and beverages.
The tempered glass material is strong and able to withstand temperature and is also shatter-resistant. It is easy to clean, safe, and healthier choice for families.
OHIO STONEWARE
Ohio Stoneware is 100% American–made stoneware produced in Zanesville, Ohio. They take pride in manufacturing high-quality American-made stoneware, kitchenware, and bakeware.
The gloss finish used is Lead- free glaze and does not contain any harmful chemicals; making it safe and easy to clean.
The American stoneware is fired at a temperature of 1200 degrees Celsius to 1315 degrees Celsius to withstand breaking.
Ohio stoneware is microwave and oven safe.
NON-TOXIC PICKARD CHINA DINNERWARE SET
Pickard is America's oldest fine china company in Antioch, Illinois United States. It is a fourth-generation family business that maintains the home tradition.
The company was established in 1893, and since then, they still produced ceramic tableware and art ware we see and use daily.
Pickard China has a good reputation because of the special attention and care to each piece of dinnerware it manufactures.
Over the years, Picard China was chosen to produce exclusive and quality fine China services for states and many known institutions.
Pickard China Company made it known that each piece that goes through its warehouse has been inspected by employees with a great experience.
NON-TOXIC HF COORS DINNERWARE SET
The HF Coors Company has made restaurant-grade standard dishes with verified Lead-free and Cadmium-free material for healthy use.
HF Coors dinnerware is made 100% in Tucson, Arizona USA, with nearly a hundred years of experience in the foodservice industry to make beautiful dishes that last, no matter how you cook or what you serve.
All HF Coors ceramic pieces are Lead-free. Lead is not a part of any of the clay or glaze. For safe use, the ceramic pieces including orange or red have gone through CA Prop 65 as well as FDA standards and show no detection of Lead and Cadmium.
HF Coors dinnerware is known for its durability, beauty, and long-lasting use. Most colors of HF Coors dinnerware, including white, are Lead-free and Cadmium.
For beautiful colors orange and red cannot be made without Cadmium, however, because of the utmost safety of users, the HF Coors uses what is called "encapsulated Cadmium".
Cadmium is encapsulated in non-toxic Zircon crystals rendering the Cadmium impossible to leach out of the crystals.
Every piece HF Coors manufacture plate, bowl, mug, platter, tray, serving piece, sail, and pepper shaker, butter dish, mixing bowl, sugar bowl, creamer, or ramekin; it is resistant to chipping and is also a microwave, dishwasher, freezer, oven and broiler safe.
Do not use HF Coors dishes on a stovetop burner and you can also stack by inserting a paper towel between items when nesting.
IS CORE DINNERWARE MADE IN USA
Most Corelle dinnerware is made in the USA. All of the plates and bowls from the Livingware, Lifestyles, Impressions, Ultra, and Corelle Square collections are made in the states.
The mugs in the sets are made in China.
NON TOXIC DINNERWARE BRANDS
Apart from the non-toxic dinnerware made in the USA, there are still other brands that manufacture non-toxic, Lead, and Cadmium free sets.
Examples are;
GLASS LIBBEY BRAND
Glass is one material that is lead-free and does not absorb flavor or odors or leach harmful chemicals into your superfood or drink.
It is durable and dishwasher safe for quick, easy clean-up, but not safe for microwaving.
This 12-piece Dinnerware Set comes in sleek looks, yet is sturdy enough to keep up with you on a busy weeknight or impress guests on the weekend. With service for four, you'll have just what you need to set the table.
EURO CERAMICA ESSENTIAL COLLECTION PORCELAIN DINNERWARE AND SERVEWARE
Euro Ceramica is a brand that manufactures dinnerware sets for daily use. They have prided themselves on quality and design casual dinnerware.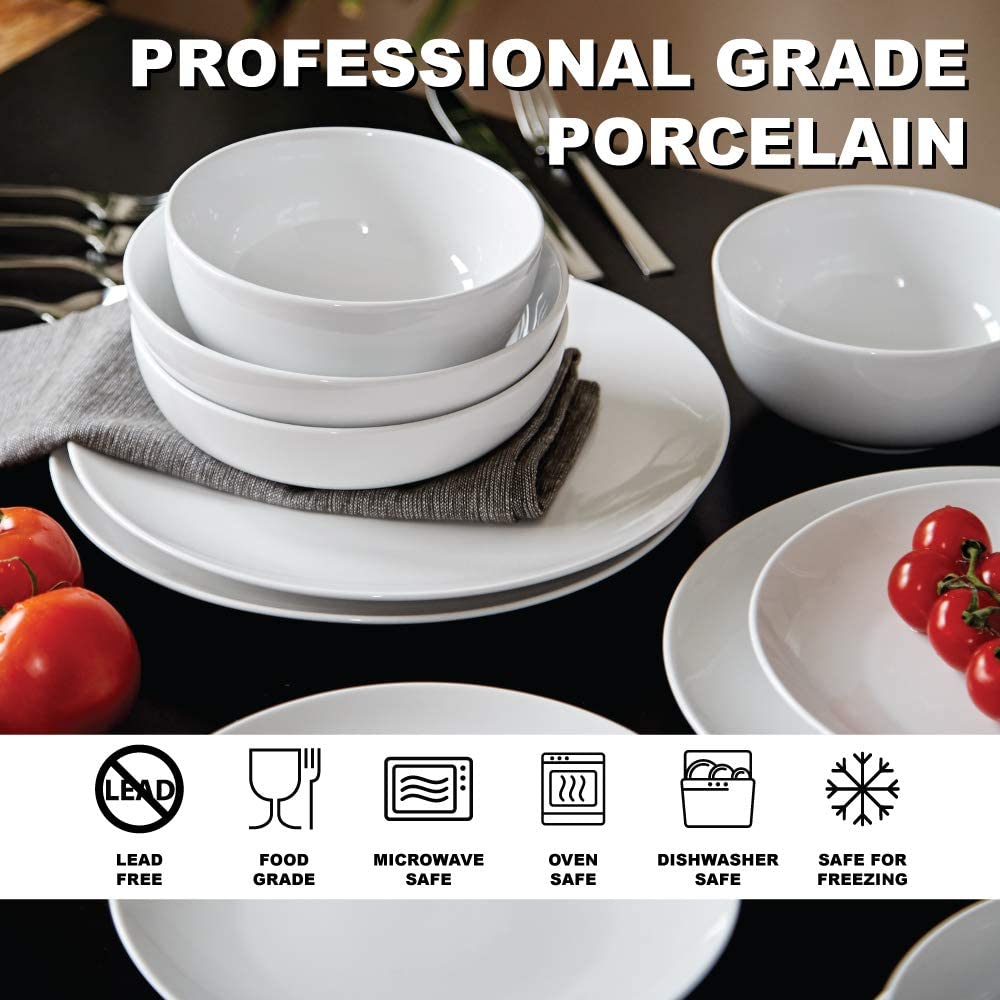 Each dish in this collection has a serving and dining capability that creates a distinct appearance on any table for everyday use and occasions.
The sleek, glossy true-white finish on the dishes will not scratch or fade and is designed to bring the best presentation from any food. It is completely food-safe, non-toxic, and lead-free.
This Professional-Grade set is Chip-resistant, microwave, dishwasher, and freezer safe.
It can also be used to safely warm foods in the oven up to 450°F.
IS BONE CHINA NON TOXIC
Bone China is one of the most durable materials used to produce dinnerware. Ash is added during the mixing process to make it strong, durable, non-toxic, chip, and scratch-resistant.
Bone china is a type of porcelain that is made of feldspathic material, kaolin, and a unique ingredient added and because of this added bone ash; bone china is put in a kiln at a slightly lower temperature.
Bone ash used in bone china is made from animal bones (usually cow bone), mixed into the ceramic material. The added cow bone into the mixture gives bone china a unique, creamy, soft, and smooth color.
READ ALSO: NON-TOXIC POTTERY