Hey there! As an Amazon Associate, I earn from qualifying purchases. I greatly appreciate your support!
We are going to be discussing meat grinder vs blender.
Meat grinder and blender are both great and important kitchen appliances that make your work easy, faster and stress-free.
Can a meat grinder and blender be of help in the kitchen? For chefs and lovers of cooking yes, because grinder and blender are very useful kitchen appliances that can do various kinds of tasks in our kitchen.
MEAT GRINDER VS BLENDER: WHAT ARE THE DIFFERENCES?
Grinder and blender are quite related in function but have their differences.
We use a meat grinder for powdering, mincing, crushing nuts, and mixing while blenders can be used for smoothies, juicing, and mixing substances.
A meat grinder can be used for grinding bones to make animal feed while a blender can be used to grind soft meat that has no bone.
A meat grinder is a great appliance for making sausage, meat pie, and burgers while a blender is used for making nutritional drinks.
READ ALSO: WHAT IS THE BEST JUICER BLENDER COMBO
READ ALSO: DO YOU NEED A BABY FOOD MAKER?
HOW A BLENDER WORK
Blenders are kitchen appliances that mix ingredients together and break down large solid food items into smaller pieces.
The base of a blender machine contains a motor that spins sharpened blades at high speeds. This helps to crush and break down hard items into smaller pieces.
USEFULNESS OF BLENDER IN THE KITCHEN
Blender makes cooking faster and easier in the kitchen. Not only does it save time, but it also promotes healthy eating.
It makes consuming fruits and vegetables easy.
Blending is fast and convenient. If speed is important to you, then a blender can help you prepare food and beverages in an instant with just a touch of a button.
They are also the most used tools to make energy drinks for breakfast and fruit juices. An example of a blender is below;
NUTRIBULLET BLENDER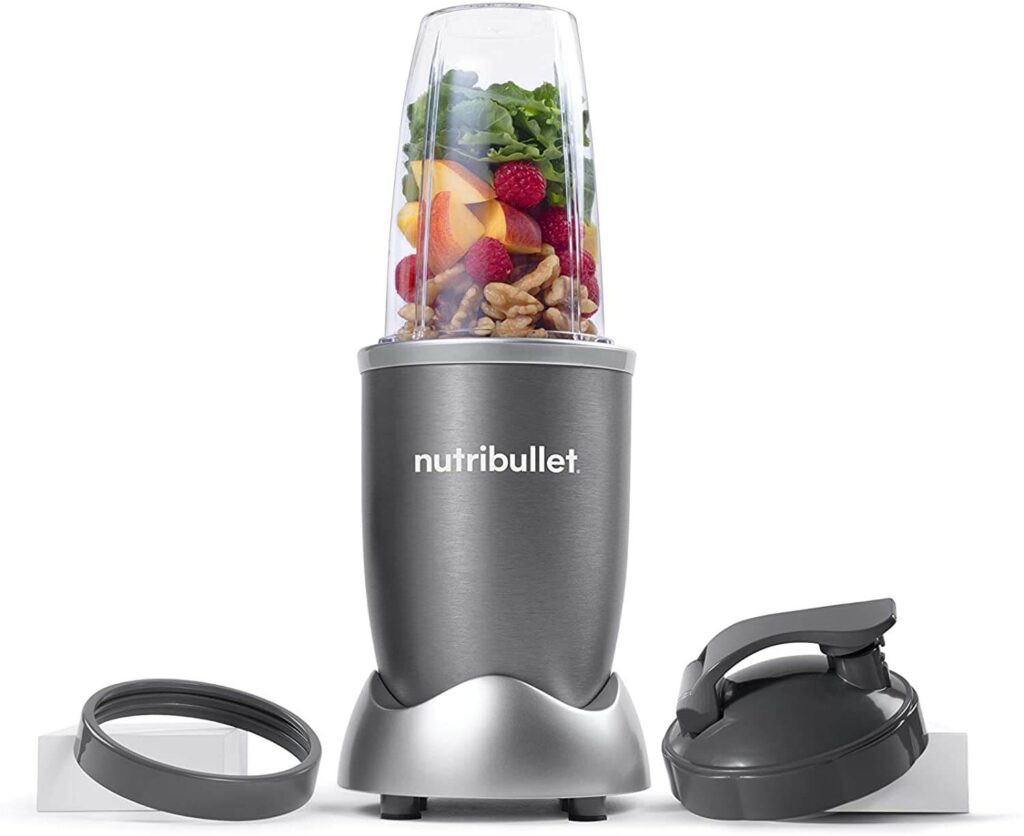 A NutriBullet Blender is capable of making quality smoothies and drinks faster and easier.
It also has a stainless-steel extractor blade that is capable of bringing as many types of healthy nutrients from all types of foods as possible like vegetables, nuts, and fruits
It is made in a way that you can easily wash with soap and rinses with water.
With Nutribullet blender, you can have a healthy dish anytime. Nutribullet can also crush ice for drinks and smoothies.
READ ALSO: CAN YOU SHRED CHICKEN IN A FOOD PROCESSOR
UNIQUENESS OF A MEAT GRINDER
They are not only useful but also unique.
They are used to reduce the particular size of various materials with precision.
It is used for grinding workpieces
It is generally used to precisely shape and finish the given material with low surface roughness and high surface quality.
It helps to reduce the volume of bulky food items.
Here are some unique meat grinders;
ALTRA ELECTRIC MEAT GRINDER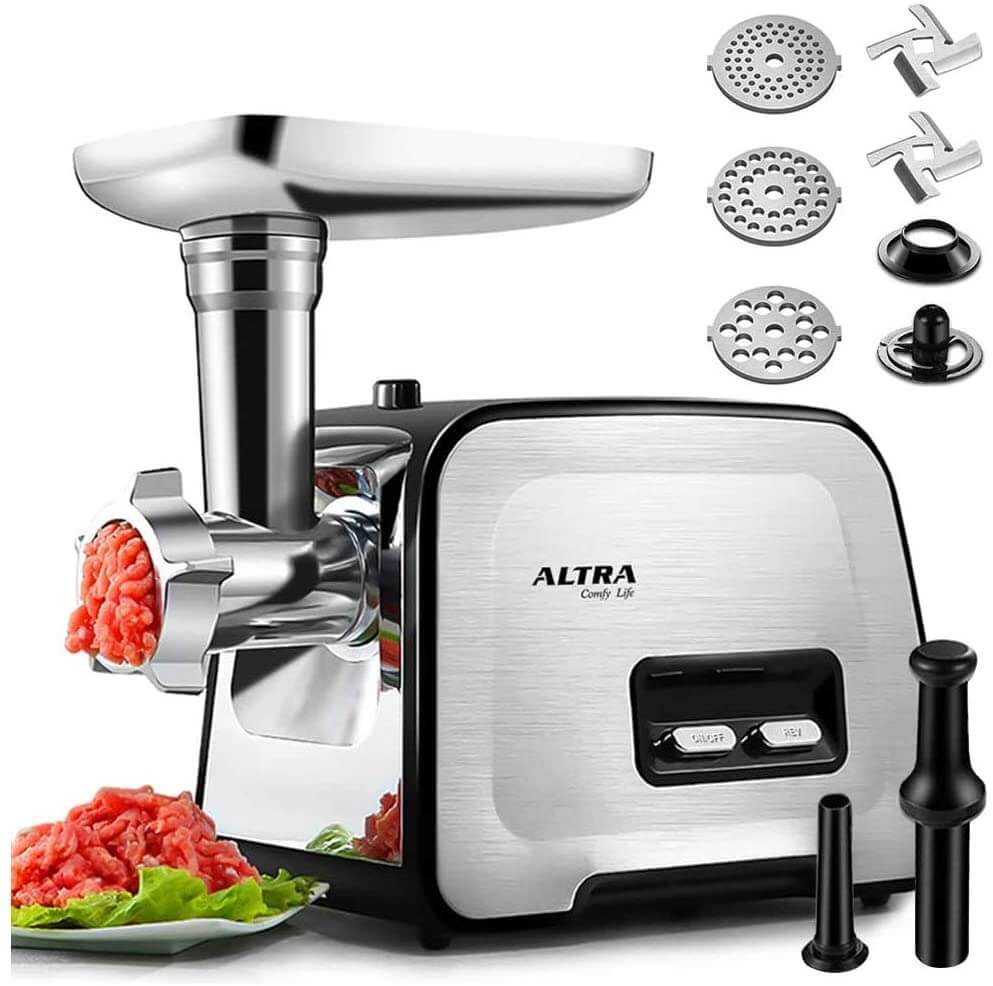 Altra electric meat grinder has a power of 350w. This meat grinder is fast and convenient, it is used to grind meat and stuffing making.
NOTE: PLEASE ALLOW THE MACHINE TO COOL DOWN AFTER TEN MINUTES OF CONTINUOUS WORK.
With the sausage funnels and kibbe attachment, you can start making your burgers, meatballs, meatloaf, sausages, etc.
A private meat grinder can ensure the safety of family food, by creating your own personal meat blends at ease. It can also be used for commercial use.
It is easy to use, convenient to clean, and store.
LOVIMELA MEAT GRINDER
Lovimela meat grinder has 1000w [2600w max] that enables mince of various meat such as beet, chicken, duck, etc.
All attachment of meat grinder made of 420 food-grade stainless steel, does not contain any harmful substances and is very healthy for you and your families.
Lovimela meat grinder can make all your grinding needs perfect, it is also used for mixing other foods to make meatloaf, meat sauce, pizza, sausage, hamburgers, etc.
All attachments can be removed and easy to clean with water and dry quickly with a towel. IT IS NOT DISHWASHER SAFE.
GRINDER VS MIXER; WHAT ARE THEIR DIFFERENCES?
Grinder and mixer are kitchen tools used to make our cooking easier and fast.
Grinder and mixer are great appliances for making sausage, meat pie, burger, etc.
A grinder machine is used for grinding meat and fish into delicious dishes, it is also used to grind bones for animal feed.
A mixer helps mix our ingredients used for baking cake etc.
Example of a very good mixer.
KUPPET STAND MIXER
Kuppet stand mixer is a kitchen helper, it can do anything in the kitchen area such as whipping heavy cream, mixing salad and flour dough, etc.
The mixer has a stainless-steel decoration belt as a power indicator.
It has speed-controlled that enables you to choose from a slow stir to a fast mix with different ingredients.
You tilt the head of the mixer to enable you to put and remove the bowl and other accessories easily.
It is dishwasher safe but does not put the dough hook into the dishwasher.
SPICE GRINDER VS BLENDER
They are both kitchen appliances that help our cooking work go easier and faster.
Spice grinders are used for grinding dry spice while blenders cannot grind dry spice.
SECURA COFFE AND SPICE GRINDER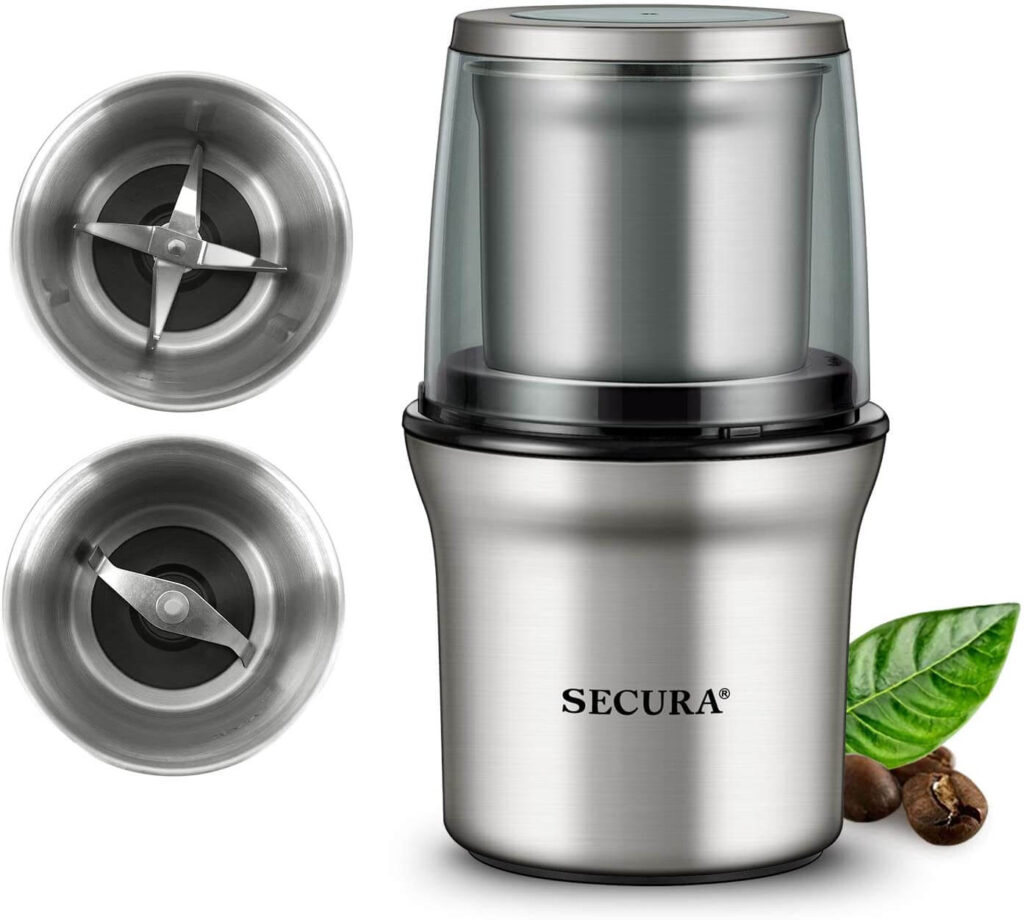 Secura coffee and spice grinder have two removable stainless-steel bowls, one grinder bowl, and one chopper bowl.
It has a stainless-steel blade for grinding coffee beans, spices, chopping nuts, and vegetables.
Secura coffee and spice grinder comes with build-in smart overheat protection.
It is fast and dishwasher-free.
HOW TO MINCE MEAT WITHOUT A BLENDER
If you desire to make your own favorite dishes like breakfast sausage, meatball, beef for burgers, etc, and you don't have a meat grinder or a food processor. You can follow the steps below:
Method to follow:
Chopping meat by hand
Use a very sharp knife, a cutting board, a slice of meat with some fat on it.
Slice the meat into thinner strips: You place the meat on a cutting board.
Chop the meat: Using a sharp knife, slice the meat by chopping it as thin as possible, always practice safety when you're using a sharp knife to chop meat. Make sure that both hands are out of the way of the sharp knife
Turn the stripe meat at an angle of 90 and slice again to make it as thin as possible
Divide the chopped meat into two-part to make the work easier, use one part of the divided meat and start chopping in small pieces until you reach the consistency you are looking for.
READ ALSO: WHICH NUTRIBULLET IS BEST FOR FROZEN FRUIT
READ ALSO: BEST BLENDER FOR GRINDER RICE
BLENDER VS MIXER
A blender is a kitchen appliance that helps make smoothies, crush ice, frozen fruits, and break down food, fruits items into smaller pieces while a mixer is an appliance in the kitchen used for whipping heavy cream and mixing ingredients.
Both blender and mixer display the same purpose of mixing
Examples of a blender:
NINJA 3 IN 1 BLENDER
The ninja 3 in 1 blender is a kitchen appliance that has 1400-watt, 72 oz, and a processor pitcher. In one pitcher, you can make smoothies, crush, chop, and make dough conveniently.
It has a speed variable control for making chopping and mixing.
The 3 in 1 blender comes with a recipe inspiration guide for easy use.
It is easy to clean, dishwasher safe, and has a cleaning brush for handwashing.
WET GRINDER VS BLENDER
Wet grinder is an appliance in the kitchen used for crushing, making smoothies, and pureeing food while blender is used for crushing ice so you can enjoy your drinks.
Wet grinder cannot be used for mixing while blender can be used for mixing.
A wet grinder can be used for making various food in the kitchen.
Example of a wet grinder;
ULTRA WET GRINDER
Ultra-wet grinder is made up of a stainless-steel rotor with a detachable drum. Drum size is 74 x 6.8 inches.
It is used for grinding flour, rice, etc. for your homemade delicious meal.
NOTE: Please read the Instructional Manual before use.
GRINDER WITH BLENDER
Grinder with blender are both important appliances that every home should have, it makes kitchen work easy and faster. Whether you are health conscious or love to prepare different types of food items for you family or your business, a grinder and a blender can do it all.
Grinder with blender gives your food a better texture.
It is used for puree food.
Using a grinder with a blender makes your food delicious and healthy.
Example of a grinder with a blender;
FOSCHEA COMBO BLENDER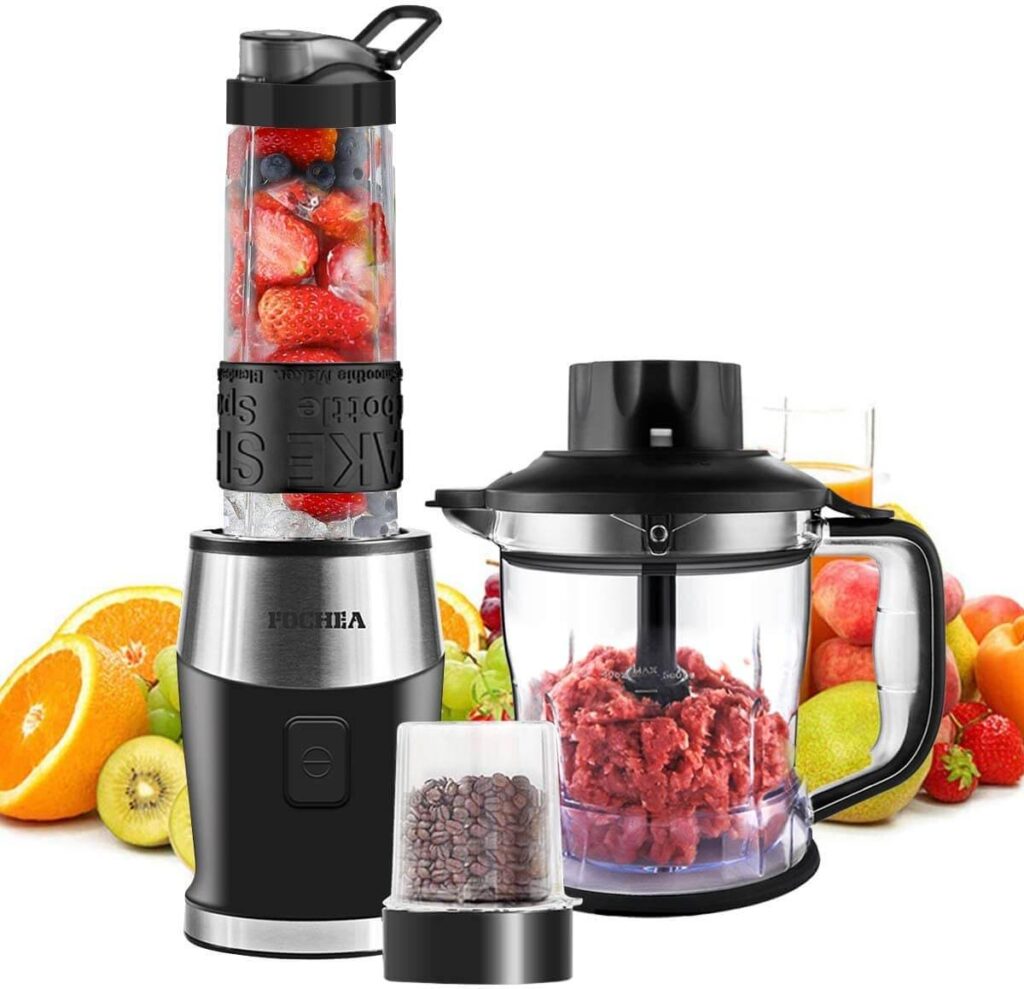 Foschea combo blender is a multifunctional kitchen aid for making smoothies, fruit
Yogurts, and even baby food, etc.
It has 4 stainless steel knives with 700 watts for best mixing results and quick preparation of food. It contains a 570ml odorless bottle that you can take with you anywhere.